March, 13, 2011
3/13/11
9:00
AM ET
Weekend mail call:
Shawn Patterson from Ames, Iowa, wants to know
if the
Kansas City Chiefs
could pursue Alabama running back
Mark Ingram
in the first round to replace
Thomas Jones
.
Bill Williamson:
Hi Shawn, I don't see that happening for many reasons. First, the Chiefs have greater needs. If the Chiefs go for an offensive skill-position player with the No. 21 pick, I think they would draft a receiver not a running back. The Chiefs like Jones. Yes, he'll be 33 this summer and his production dipped toward the end of the season. But the Chiefs love his leadership and he pairs well with
Jamaal Charles
. I think Jones sticks around for another season. I don't see running back being an area of urgent need in Kansas City.
Stuart McNair from Montreal wants to know
if there are any safeties in the draft Denver could focus on.
BW:
It's not a strong draft for safeties. But the
Denver Broncos
should be in position to take one of the better safeties on the board. It just depends on whether Denver thinks it's a major need area in the draft. Denver pursued
O.J. Atogwe
before he signed with the
Washington Redskins
recently, so it's obvious the team wants an upgrade at the position. Denver had three picks in the first 47 picks and four picks in the first 67 picks. I could see the position being addressed. The top safeties available are UCLA's
Rahim Moore
and Oklahoma's
Quinton Carter
. They both should be taken in the early portion of the second round.
Keith Warren from Louisville wants to know
if the Chiefs could go after
San Francisco 49ers
free-agent quarterback
Troy Smith
as a backup option.
BW:
I think Smith will be on the list of backup quarterback options, but I don't think he'll be a favorite. I don't know whether he's a natural fit for what the Chiefs do. While it is not mandatory, often teams try to pair a starter with a backup who has a similar style of play for continuity reasons.
Matt Cassel
and Smith aren't exactly the same type of player. I do think the Chiefs will consider an upgrade from
Brodie Croyle
, but I think they may look in the mid-rounds of the draft for a young quarterback to develop. They are reportedly going to work out TCU quarterback Andy Dalton. He'll probably be taken in the 2-3 rounds.
October, 27, 2010
10/27/10
3:30
PM ET
Denver Broncos
receiver
Brandon Lloyd
said what we were all thinking.
In a radio interview
, Lloyd, who is No. 2 in the NFL in receiving yardage, likened the Broncos' performance in a 59-14 home loss to Oakland on Sunday to a high school game.
"There's really no excuse for getting blown up on like that. That's a high school game," Lloyd said. That's not a professional football game and it's embarrassing. It's just not right and there's nothing really much we can do about that today but learn from it. Maybe there's something during the week that we did wrong as players and coaches and try to correct that moving forward."
Lloyd was also complimentary of the Raiders, calling them a playoff team.
"You look at our division and you can't look at the Raiders anymore and say 'Oh, these guys have great talent and the best athletes in the world and they're not good.' We can't say that because our division is so wide open because every team has an opportunity," Lloyd said. "That makes the Raiders even more dangerous because not only do they have the best athletes in the NFL, but they have confidence and motivation. Now look at them: They're a playoff team."
In other AFC West midday news and notes:
September, 4, 2010
9/04/10
11:30
PM ET
Wrapping up some loose ends on a wild day in the AFC West:
The Raiders final cut,
which they announced several hours after every other cut
, was seventh-round pick
Stevie Brown
. The defensive back opened eyes during the preseason. If he is not claimed, the Raiders can add him to the practice squad.
The Broncos and Lions exchanged undisclosed draft picks as part of the deal that sent 2009 second-round pick
Alphonso Smith
to Detroit. Denver gave up its No. 1 pick in 2010 (No. 14) to get the cornerback last year.
The Ravens cut quarterback
Troy Smith
. He played for new Oakland offensive coordinator Hue Jackson. However, the Raiders are happy with No. 3 quarterback
Kyle Boller
, who also played for Jackson.
April, 4, 2010
4/04/10
11:55
PM ET
The biggest news of an uncharacteristically quiet offseason for the
Oakland Raiders
, so far, is the trade that never happened.
Donovan McNabb
is now a Washington Redskin. So goes the vision of No. 5 wearing the Silver and Black.
It's been a fun 10 days pondering the possibility of McNabb becoming the next leader of the Raiders. The Raiders had been in hot pursuit and ESPN's Adam Schefter reported last week that the Raiders were the front-runner.
In the end, Washington gave up a second-round pick next month (No. 37) and a conditional pick in the 2011 draft. Oakland has the No. 39 pick.
I was torn on the idea of McNabb becoming a Raider and now that McNabb won't be a Raider, I don't think it's devastating to the team.
I liked the idea of Oakland trying to upgrade at quarterback. The
JaMarcus Russell
-
Bruce Gradkowski
pairing is not going to work in the long term. McNabb would have give Oakland's offense some credibility and it would be a better team in 2010 with McNabb.
But there were plenty of negatives involved as well. McNabb will turn 34 in November and he is a free agent after 2010. He is expensive and Oakland would likely have to put the franchise tag on him (which will be an enormous number) to keep him in 2011.
Now, Oakland has to figure how it will move forward. There are limited veteran options available.
At the top of the list is now
Jason Campbell
, who lost his starting gig to McNabb on Sunday night. Campbell is far from a top-level quarterback, but he would be the best quarterback in Oakland and he'd come fairly cheap. He wouldn't be a terrible option for the short term if Oakland doesn't think Russell or Gradkowski could handle the job. Other options include Minnesota No. 3 quarterback
Sage Rosenfels
, Baltimore backup
Troy Smith
and drafting a quarterback.
None of these options will make Oakland markedly better. I wouldn't be surprised if the Raiders let Gradkowski try to develop and become the short-term answer. Gradkowski is feisty and he gave the offense a spark. The Raiders could do worse than having Gradkowski play in 2010. It is clear by Oakland's flirtation with McNabb that the Raiders don't feel Russell is the answer. The Raiders feel like they need to look for an answer at quarterback.
After failing to land McNabb, the question remains.
March, 26, 2010
3/26/10
6:30
PM ET
The Raiders are clearly looking to upgrade their quarterback group.
The team is pursuing
Donovan McNabb
but he is
reportedly reluctant
to go to Oakland. I talked to someone close to McNabb on Friday and that was the feel I was getting.
If Oakland doesn't get McNabb, it will still likely want another quarterback to at least compete with
Bruce Gradkowski
and
JaMarcus Russell
.
However, there aren't many other options. Here are some quarterbacks who could be available for Oakland if McNabb doesn't become a Raider:
Daunte Culpepper, free agent:
The Raiders already went this route. They likely wouldn't want to revisit Culpepper.
Kevin Kolb, Philadelphia:
If McNabb isn't traded, Kolb could be available. But it seems like the Eagles want to move on with Kolb as their quarterback.
Troy Smith, Baltimore:
He is a restricted free agent who will cost a fifth-round pick for a team to sign him. His former coach in Baltimore, Hue Jackson, in the offensive coordinator in Oakland. Smith could come in and compete for the job. But perhaps Oakland isn't interested. He's been available for weeks and the team hasn't made a move yet.
Michael Vick, Philadelphia:
This could be a decent alternative for Oakland. Vick would be cheaper than McNabb and he is just as good as Gradkowski and Russell.
The only quarterbacks in the available in next month's draft who appear ready to compete for playing time are
Sam Bradford
and
Jimmy Clausen
. But both may be gone by the time Oakland drafts at No. 8.
So, if Oakland doesn't land McNabb, it's options to improve the position may be very difficult.
March, 18, 2010
3/18/10
8:25
PM ET
The Kansas City Star
wonders if Kansas City backup quarterback
Brodie Croyle
will get any action on the restricted free-agent market. San Diego was able to trade restricted free agent
Charlie Whitehurst
to Seattle despite him never throwing an NFL pass. Croyle is a former NFL starter.
•
AFC North blogger James Walker
thinks Baltimore backup quarterback
Troy Smith
would be a good fit in Oakland. The restricted free agent would cost Oakland a fifth-round pick. I think it would be a worthwhile investment.
• Oakland's
JaMarcus Russell
reportedly weighed
in at 271 pounds this week, according to the San Jose Mercury News' Tim Kawakami.
• New Denver quarterback
Brady Quinn
spent time in the Broncos' media room watching the final minutes of his alma mater, Notre Dame's NCAA men's basketball
tournament loss
to Old Dominion on Thursday. Quinn spontaneously delayed his first in-person meeting with the media in Denver so everyone could enjoy the end of the game.
March, 10, 2010
3/10/10
4:00
PM ET
Mid-week mail call:

Adam from Rochester, New York wants to know if Jake Delhomme could end up in Denver.

Bill Williamson: I don't think Delhomme goes there as a starter. Maybe as a backup if he can't find a better situation. Delhomme, who Carolina cut last week, may not fit with Denver coach Josh McDaniels. He prefers ball-control quarterbacks. Delhomme is far too careless with the ball for McDaniels' liking. He would offer more insurance as a backup than Chris Simms, I just don't know if McDaniels would want to do down that road.

Coty from Ohio wants to know if Oakland could pursue Baltimore restricted free agent quarterback Troy Smith.

BW: I think this is a good pairing. It would cost a fifth-round pick to get Smith. Smith would reunite with new Oakland offensive coordinator Hue Jackson. If Jackson thinks Smith has a chance to develop, it might be worth the Raiders time to pursue him. I'd think Smith would offer good competition to Bruce Gradkowski and JaMarcus Russell.

Dan from Syracuse wants to know why running back Justin Fargas was released in Oakland.

BW: The Raiders said he failed a physical, but Fargas maintains it was a financial move. I believe Fargas. Oakland owed him a $1.7 million bonus. This was all about money and nothing else.
March, 6, 2010
3/06/10
10:00
AM ET
Occasionally, us blog networkers come together and have a brainstorming session.
This week, we pitched ideas about the best bets from our receptive divisions on the restricted free agent market. The following are some restricted free agents who could fit in the AFC West:
Denver
Rob Sims, guard, Seattle, fourth-round tender:
He weighs 312 pounds. Denver wants to get bigger on the interior line.
Marcus Spears, defensive end, Dallas, second-round tender:
He'd be a solid addition at end in Denver's 3-4 scheme.
Kansas City
Atari Bigby, safety, Green Bay, second-round tender:
Bigby is solid and the Chiefs, who have two second-round picks, need help at safety.
Domenik Hixon, receiver/returner, New York Giants, second-round tender:
He could help Kansas City on offense and special teams.
Leon Washington, running back, returner, New York Jets, second-round tender:
If healthy, he could be a nice fit.
Oakland
Barry Cofield, defensive tackle, New York Giants, second-round tender:
He'd reunite former Giants line coach Mike Waufle in Oakland. I like this fit.
Troy Smith, quarterback, Baltimore, fifth-round tender:
He is likely going to be on the move. Why not reunite him with Hue Jackson in Oakland and throw him in the quarterback competition?
San Diego
Jerious Norwood, running back, Atlanta, second-round tender:
He has big talent. San Diego needs a running back badly. The only hitch is the Chargers may rather use their second-round pick on a player from a deep rookie running back class.
February, 13, 2010
2/13/10
3:00
PM ET
Weekend mail call:
Jared from Junction City, Ore., wants to know
if
Troy Smith
(a quarterback from Baltimore) and
Barry Cofield
(a defensive tackle from the Giants) are potential fits in Oakland.
Bill Williamson:
I like how you are thinking here, Jared. Smith, who wants to be traded, played for new Oakland offensive coordinator Hue Jackson in Baltimore and Cofield, a likely restricted free agent, played for new Oakland defensive line coach Mike Waufle in New York. So there are natural connections. I could see Oakland trying to swing a trade for Smith and it would be worth putting him in the quarterback mix.
Thom from Las Vegas wants to know
if Denver could be interested in
Kevin Kolb
and not
Donovan McNabb
.
BW:
ESPN's Sal Paolantonio reported Denver talked to Philadelphia about McNabb. But teams are calling the Eagles about Kolb as well. I think it makes more sense for Denver to trade for Kolb because he is younger and has a lot of upside. But that could be pricey.
Ray from Lamont, Calif., wants to know
if
Joey Porter
could end up in Oakland.
BW:
Ray, if Porter is open to play in a 4-3 defense, I think it could be a great fit. Porter, who will be released by Miami in early March, said he wants to play in a 3-4 defense near his Bakersfield, Calif., home. He mentioned San Diego, San Francisco and Arizona as possibilities. Perhaps if there isn't a market for him, Porter could widen his search to 4-3 teams. He would give Oakland some leadership and Al Davis never shies from adding aging stars.
January, 29, 2010
1/29/10
2:00
PM ET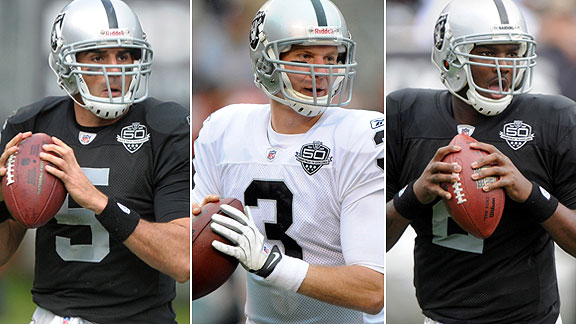 Kirby Lee/Image of Sport/US PresswireBruce Gradkowski, Charlie Frye and JaMarcus Russell started at quarterback for the Raiders in 2009, but looking ahead, there's no clear-cut starter for next season.
The quarterback situation in Oakland is far from settled.
The Raiders clearly want former No. 1 overall pick
JaMarcus Russell
to be the answer. But that is a long way from a sure thing. The Raiders will have to think of other options in case Russell proves again he is not capable of being a winning NFL quarterback.
Here is a breakdown of Oakland's current possibilities, plus some other potential options, as the team hits the early stages of the offseason.

Russell
JaMarcus Russell
Current role:
He is considered the front-runner to be the starter in 2010. But he ended the season as a backup after he was benched because of ineffectiveness.
Why he should get a shot:
He is getting $32 million guaranteed from the team. The Raiders really need Russell to show something. That's why he is still in the conversation. Oakland owner Al Davis apparently still believes in Russell and wants to give him one more shot to produce. One of the reasons Ravens quarterbacks coach Hue Jackson was hired this week as offensive coordinator was to re-energize Russell. Jackson has a history of working with young quarterbacks.
Why he may not be the best option:
He has not been good at all in the NFL and he has taken steady steps backward. Russell is not a leader and his teammates are not inspired by him. If he is given a chance in the regular season in 2010 and fails, it could ruin another season in Oakland.
Prediction:
Russell will go into training camp as the starter, but he will have competition. If he fails early, the Raiders will pull the plug and his days in Oakland will be over.

Gradkowski
Bruce Gradkowski
Current role:
In a lot of ways, Gradkowski has to be considered the returning starter. He replaced Russell on merit in November and then he was sidelined for the season in December with a knee injury. Had he been healthy, he would have ended the season as the starter.
Why he should get a shot:
His teammates and Oakland fans love him. Gradkowski was becoming a cult hero in Oakland. He isn't overly talented, but he has a great heart and he moved the ball. Gradkowski is full of energy and has a will to win.
Why he may be not the best option:
He has been a journeyman to this point. Because of his limited ability, his success may have a short shelf life.
Prediction:
The Raiders will re-sign the free agent. He wants to be in Oakland.

Frye
Charlie Frye
Current role:
Frye was the backup to Gradkowski after Russell was benched. Frye did start when Gradkowski got hurt. But he had a difficult time staying healthy.
Why he should get a shot:
Like Gradkowski, the rest of the Oakland offense responded to Frye. He is a leader and he is a student of the game.
Why he may not be the best option:
He is injury prone, he makes too many mistakes, and he may be, ultimately, a poor man's Gradkowski.
Prediction:
Frye probably won't be in the mix. Oakland probably will add to the position and he may have a hard time making the 53-man roster.
J.P. Losman
Current role:
He was the fourth quarterback on the roster. He was signed after Gradkowski was hurt.
Why he should get a shot:
He is a former first-round pick who has a strong arm. He is the type of player who gets the coaching staff excited.
Why he may not be the best option:
He was just a late-season addition. The team is not married to him.
Prediction:
Unless Oakland gets a late start on adding quarterbacks to the mix, Losman could have an early exit from Oakland.
Draft a rookie early
Possibilities:
Oklahoma's
Sam Bradford
, Texas'
Colt McCoy
, Notre Dame's
Jimmy Clausen
, Florida's
Tim Tebow
and Cincinnati's
Tony Pike
.
Why this may be an option:
If Russell is deemed a bust, Oakland doesn't have a long-term answer at the position.
Why it may not be the best option:
The Raiders may not want to invest another huge contract in a young quarterback so soon after Russell was drafted. The team has other areas to address.
Prediction:
I don't think Oakland will or should take a quarterback in the first two rounds. If a standout falls to the third round who the Raiders believe fits their system, they should take him. Still, drafting a young quarterback early won't cure Oakland's immediate ailments.
Sign or trade for a veteran
Possibilities:
Baltimore's
Troy Smith
, Philadelphia's
Donovan McNabb
, Washington's
Jason Campbell
, Philadelphia's
Michael Vick
, Cleveland's
Brady Quinn
or
Derek Anderson
and free agent
Jeff Garcia
. (These names are listed based on speculation on who might become available as the offseason develops.)
Why this may be an option:
Oakland needs a strong insurance policy. If Russell can't improve and Gradkowski is only a backup, the Raiders will be in bad shape. A proven veteran, even if he is a stop-gap option, would help Oakland get through a transitional season.
Why it may not be the best option:
I don't think there are any negatives in Oakland adding a quarterback who has started in the NFL this year.
Prediction:
Oakland will bring in another veteran quarterback, but it is difficult to figure out now whom it will be. We'll have to see the quarterback market develop, but expect a familiar name to come to Oakland.