December, 23, 2012
12/23/12
12:10
PM ET
Oakland Raiders
linebacker
Rolando McClain
is inactive for the second straight game since his two-game team suspension concluded. Barring a major change of heart from the organization, expect the No. 8 pick in the 2010 draft to be inactive next week at San Diego and be jettisoned from the franchise in the offseason.
Meanwhile, Oakland safety
Tyvon Branch
(neck) is active at Carolina. He was questionable to play.
In other AFC West news:
The Broncos are putting several million dollars into improvements
in Sports Authority Field at Mile High for the 2013 season in attempt to enhance their Super Bowl bid.
U-T San Diego has an intriguing story
of secret cousins on the Chargers' roster.
ESPN's Adam Schefter reported Sunday that Oakland personnel man Joey Clinkscales will be a general manager candidate in the offseason. He joined the staff of Reggie McKenzie, a childhood friend, early in the offseason after being with the Jets.
March, 8, 2012
3/08/12
1:45
PM ET
As expected, the Raiders have begun the restructuring process of contracts as they work to get under the salary cap by Tuesday.

Oakland will restructure several more contracts and may cut a player or two if a restructuring can't be agreed upon.
Oakland reportedly restructured
the deals for defensive lineman
Richard Seymour
and defensive back
Michael Huff
. They were two of the major candidates for restructuring.
Reportedly, Seymour lowered his $7.5 million base salary to $925,000 and turned the rest into a roster bonus that will be spread out over the remaining years of the contract. Another year was tacked on to his deal to make it work. Yet, the reality is, Seymour is probably year-to-year with the Raiders after this season. Remember,
Stanford Routt
had years added to his deal last year and he was cut last month.
Huff reportedly had two years added to his deal to make his restructure work. The two moves saved the Raiders about $11 million in cap room. Earlier this week, they were $20 million over the cap and that was before they committed $6.2 million to safety
Tyvon Branch
when they gave him the franchise tag.
Expect quarterback
Carson Palmer
to soon restructure his deal in addition to some other players. Linebacker
Kamerion Wimbley
remains a prime candidate to be cut if a new deal isn't struck. As of Wednesday, there hasn't been any progress made and those close to Wimbley thought it was likely he would be cut. Yet, Wimbley remains open to being creative. Whatever happens, expect Oakland to be cap compliant by Tuesday's deadline.
In other AFC West notes:
First Take debates
the Broncos' interest in
Peyton Manning
and what it means to
Tim Tebow
. Meanwhile,
a Denver columnist
doesn't think Manning is a good fit for the Broncos.
USC pass-rusher
Nick Perry
could be a target
of the Chargers at No.8. It makes sense since he'd reunite with a former coach there.
October, 10, 2010
10/10/10
11:04
PM ET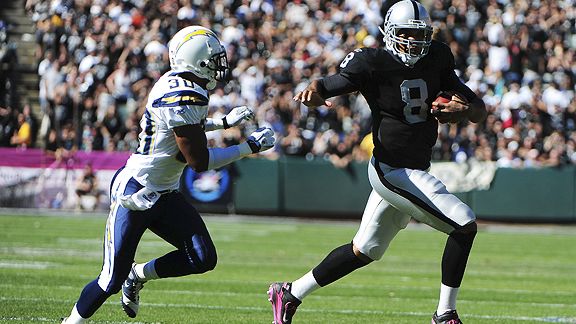 Kyle Terada/US PresswireJason Campbell helped the Raiders end a 13-game winless streak against San Diego.
OAKLAND -- Three weeks ago,
Jason Campbell
was being compared to
JaMarcus Russell
, another Oakland Raiders whiff at quarterback.
Sunday, he was the catalyst behind ending The Streak.
In one of the most wild and entertaining games of the young NFL season, Campbell was the unlikely hero of an unlikely Oakland victory in a game that had mind-numbing twists and turns. Oakland stunned San Diego
35-27
to complicate and tighten the AFC West. The win also ended the Raiders' 13-game losing streak to the Chargers, which was the second-longest streak of dominance in the NFL (New England has beaten Buffalo 14 straight times).
But now the Raiders have a leg up on the Chargers thanks to the forgotten man.
"It feels good after everything I've been through," a composed and humble Campbell said Sunday evening. Campbell was the recipient of the game ball from coach Tom Cable, who may have taken himself off the hot seat with the win.
The Raiders' organization lauded Campbell for being the savior of the franchise when it acquired him in a draft weekend trade with Washington. Oakland soon cut ties with Russell, a major flop after being the No. 1 pick in 2007. This summer, Oakland owner Al Davis compared Campbell to Jim Plunkett, a hero of the Raiders' glory years.
However, the good feelings about Oakland's new quarterback didn't last. He was replaced by spunky backup
Bruce Gradkowski
after six quarters. Gradkowski sparked Oakland to a win over St. Louis. Gradkowski kept the job because he gave Oakland's offense life that Campbell couldn't.
Gradkowski's free-wheeling ways fit with Oakland's athletic skill position players and his never-say-die approach helped him survive poor offensive line play.
However, Gradkowski went down in the first quarter Sunday with a shoulder injury. He played one series to open the third quarter, but it was clear he couldn't perform at a high level.
Campbell, however, could and did. After a sluggish start, Campbell led Oakland on two long drives in the second half.
"I picked up Jason against St. Louis and he picked me up today," Gradkowski said. "It's exciting."
Gradkowski said he should know more about his immediate future Monday. If Gradkowski has to miss some time, Oakland is now confident again in Campbell. Sunday, he managed the offense very well and was much more mobile than he was in his previous stint. He completed 13 of 18 passes for 159 yards.
Oakland, San Diego and Denver, which lost at Baltimore on Sunday, are all tied for second place in the division at 2-3. Kansas City, which became the final NFL team to lose with a defeat at Indianapolis on Sunday, leads the division with a 3-1 record.
Had Oakland lost this game, it would have been 1-4 and the team would be in a major hole. Now, there is hope.
[+] Enlarge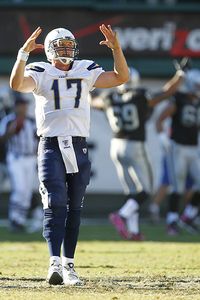 AP Photo/Tony AvelarA fumble by Philip Rivers late in the fourth quarter gave the Raiders some breathing room.
The following are some other key factors in the game:
The call:
It won't make up for the Tuck Rule Game in New England for the Raiders. Nothing ever will.
But the Raiders saw a major call go their way Sunday in a game in which the ball seemed to bounce in Oakland's direction all day long.
Oakland had just taken a 28-27 lead on a 3-yard touchdown run by
Michael Bush
, who had 104 rushing yards on 26 carries subbing for the injured
Darren McFadden
.
Still, there was 3:39 remaining and
Philip Rivers
was having a brilliant game.
Rivers, who threw for 431 yards Sunday (two weeks after throwing for a franchise-record 455 yards in a loss at Seattle), brought San Diego deep into Oakland territory, as he had done all game.
Needing a field goal to take the lead, Rivers brought the Chargers to Oakland's 23, but a penalty knocked them back to the 33. On second-and-20 with 58 seconds remaining, safety
Michael Huff
blitzed and hit Rivers, forcing him to fumble.
The ball bounced towards the Chargers, but ended up in the hands of Oakland safety
Tyvon Branch
, who scooped up the ball and returned it 64 yards for a touchdown, giving Oakland a 35-27 lead.
Of course, the play was reviewed. But replays showed that Rivers' arm was not going forward when he was hit. It was oh-so-close. But it was the right call.
"We were due for one," Cable said.
Something has to be done in San Diego:
Simply put: the
San Diego Chargers
are blowing their season.
This isn't one of the classic San Diego slow starts. This is the case of a team killing itself. In all three San Diego losses, all on the road, the Chargers imploded.
San Diego dominated the Raiders. But it killed itself with terrible miscues. Special-teams disasters and fumbles -- same old 2010 Chargers.
Oakland blocked two punts in the first five minutes of the game, which directly resulted in nine points. San Diego, which had a punt blocked earlier in the season, allowed three return touchdowns in its previous two losses. Giving up 30 points on special teams in five games is not going to fly.
You have to start wondering about the job security of San Diego special teams coach Steve Crosby. Is it all Crosby's fault? Of course not. But the Chargers cannot keep letting the special teams lose games. They are too talented.
However, the special teams are not the lone culprit. San Diego has committed 13 turnovers in five games. San Diego fumbled twice in the red zone Sunday, including once at the goal line in the first half.
These are no longer pesky little problems. They are costing San Diego games and perhaps a chance to defend the division for the fifth straight time.