AFC West:

Vernon Gholston
August, 23, 2012
8/23/12
7:30
PM ET
The following are some highlights from our AFC West chat, which was held earlier Thursday:
DENVER
Mic from work:
Do you think Peyton's neck problems are more than he lead to believe with the talk of problems looking and throwing right? Do you think the dink and dunk short game will be enough?
Bill Williamson:
He's fine to his left. The right side will come back, but right now, it's an issue. Defensive coordinators will try to exploit it, but Manning is smart enough to adjust. But he is at about 85 percent, not 100. That's the reality.
KANSAS CITY
Roger from Ohio:
Given that neither Quinn nor Stanzi has shown much in the pre-season do the Chiefs look for a better No. 2 QB like they did last year? And if so, who might work in their system?
BW:
I think, just an educated guess, that Quinn will be the No. 2 guy. Crennel is comfortable with him and he hasn't been bad.
OAKLAND
Andy from Chicago:
With the Rams signing Gholston does that mean raiders will grab Carter and does that mean they didn't like what they saw in carter
BW:
I think the Rams thought Gholston was a better option than Carter. The Boston Herald reported that Carter is not ready. The fact that Oakland didn't sign him when they had him at camp, may lend credence to that report.
SAN DIEGO
Alex from AZ.:
Bill, shouldn't the Chargers take the cautious path with River's this preseason game and sit him, since the O line is currently starting an undrafted rookie at LT and a 7th round rookie at Center? Jared Allen could seriously kill Rivers and the Chargers entire season in one play?
BW:
It's is a tough situation. I can see your point and keeping Rivers off the field because Gaither and Hardwick are out. However, this is the most important preseason game. Rivers needs the work. So, it would hurt the offense if he doesn't play. Of course, it would really hurt the offense if he gets seriously injured. Really a tough call. Maybe there is a compromise situation and Rivers could play a half instead of three quarters.
UPDATE:
The Chargers will likely be without a third offensive lineman, Tyronne Green in the game. Thus, Rivers will be without three starters.
April, 24, 2012
4/24/12
5:05
PM ET
The
Oakland Raiders
appear to be poised to add an experienced draft evaluator as they continue to rebuild their franchise after Al Davis.
ESPN New York reports
the
New York Jets
and Joey Clinkscales, their top college talent evaluator, will likely part ways after the draft. The report cites that the Raiders are interested in Clinkscales.
This makes sense because since the Raiders are planning to make major changes in scouting after the draft. New Oakland general manager Reggie McKenzie and Clinkscales were college teammates at Tennessee and remain friends.
His move to Oakland would be a lateral move. Clinkscales has been in his current role since 2008 and the Jets have had mixed drafting success since then.
In Clinkscales' first year in his current role, the Jets selected
Vernon Gholston
with the No. 6 pick and he is considered one of the great all-time draft busts. He made $20 million without registering a sack for the Jets in three seasons. Still, Clinkscales is considered a solid football man, who has twice interviewed for general manager jobs.
Davis, who died last October at the age of 82, made essentially every personnel move for Oakland for nearly 50 years. This potential hiring is another example that Oakland is moving toward a more traditional organizational structure.
March, 25, 2011
3/25/11
12:00
PM ET
The three AFC West teams with a first-round pick are in luck.
There could be 12-14 pass-rushers taken in the first round of the April draft. ESPN draft analyst Todd McShay has said this is the biggest and best group of defensive lineman he has seen in years. San Diego general manager A.J. Smith said he thinks the defensive end and linebacker group is particularly strong.
Denver (which has the No. 2 pick), San Diego (No. 18) and Kansas City (No. 21) all need pass-rushers. It's arguably each team's top need. It looks more likely each day that the draft will occur before free agency because of the lockout. There will probably be urgency for each of the three teams (Oakland doesn't pick until No. 48 and doesn't have a pressing need at pass-rusher) to address its pass-rushing needs in the draft.
The following is a look at some of the top pass-rushers who have a chance to end up in the AFC West. We are not including defensive tackles even though both Alabama's
Marcell Dareus
and Auburn's
Nick Fairley
have strong pass-rushing skills. Both could end up in Denver. We're looking just at ends and linebackers. We're going in the order of the range that they could be drafted:
[+] Enlarge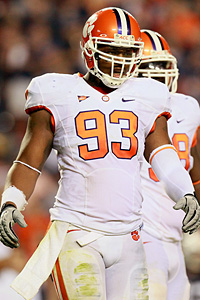 Kevin C. Cox/Getty ImagesDa'Quan Bowers led the NCAA's FBS with 15.5 sacks last season.
Da'Quan Bowers, DE, Clemson
Why he is a candidate:
He is considered one of the best all-around talents in the draft. He led college football's FBS with 15.5 sacks last year.
Warning sign:
He had only one great year of college play and had knee surgery in January. He will need to prove to teams during his April 1 pro day that he is healthy.
Chances of ending up in AFC West:
Denver has a workout set up with him. He could be the No. 2 pick. But he could also fall to the Nos. 5-7 range. I could see Denver potentially trading down to take him.
Von Miller, LB, Texas A&M
Why he is a candidate:
He has been one of the most impressive draft prospects of the entire class this offseason. He has blazing 4.49 speed.
Warning sign:
There has been some concern that his great testing may not translate to great NFL play a la Jets' bust
Vernon Gholston
.
Chances of ending up in AFC West:
Denver has worked out Miller. He is a candidate for the Broncos at No. 2. If he falls to the No. 5 to 7 range (I don't see him falling further than that), I could see either Denver trading down to take him or San Diego considering moving up to get him.
Robert Quinn, DE, North Carolina
Why he is a candidate:
He is considered one of the best performers in the draft. He has game-changing ability.
Warning sign:
Quinn missed the entire 2010 season after he accepted gifts from an agent.
Chances of ending up in AFC West:
I think he'll fall between Denver and San Diego.
J.J. Watt, DE, Wisconsin
Why he is a candidate
: He has scouts drooling this offseason. He is one of the great risers in the draft.
Warning sign
: Some teams may think he looks better in shorts and a T-shirt than on the field.
Chances of ending up in AFC West:
He is the type of player the Chargers could trade up to get. San Diego General manager A.J. Smith was at his pro day. He could go in the 10-12 range.
Cameron Jordan, DE, California
Why he is a candidate:
He is the full package. He performs well. He tests well. He has a high character and his father, Steve, was an NFL tight end.
Warning sign:
There's very low risk here. There may be some worry he is a tad small to make a huge difference as an every-down player.
Chances of ending up in AFC West:
I think San Diego is a prime candidate to get him. He will be popular starting around pick No. 15. The Chargers might have to trade up a few spots to get him.
Aldon Smith, LB-DE, Missouri
Why he is a candidate:
He is supremely talented. He is a game-changer and he's a stats monster.
Warning sign:
He had injury issues and he has not played a lot of college football.
Chances of ending up in AFC West:
Smith could go anywhere from No. 15 to 25. The Chiefs like him and have a workout set with him.
[+] Enlarge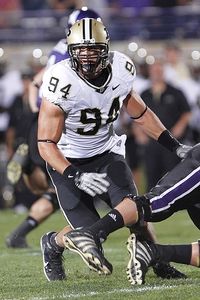 Chuck Rydlewski/Icon SMIRyan Kerrigan led the Big Ten in tackles for loss, sacks and forced fumbles last season.
Ryan Kerrigan, DE, Purdue
Why he is a candidate:
He is classic pass-rusher. He has a high motor and he is relentless in his pursuit of the quarterback.
Warning sign:
He may be a bit small at 6-foot-4, 263 to take the every-down pounding at defensive end.
Chances of ending up in AFC West:
He could be a perfect fit in San Diego.
Kerrigan is already being linked to the Chargers.
If he gets by the Chargers, the Chiefs could take a look at him.
Muhammad Wilkerson, DE, Temple
Why he is a candidate:
Like Watt, Wilkerson is zooming up draft boards. He is big and strong and he can play at end and tackle. He is disruptive.
Warning sign:
He played at a small school and there is always a concern about the move up in competition.
Chances of ending up in AFC West:
He's another name the Chargers will consider. San Diego could move down to get him. The Chiefs are also a serious candidate for Wilkerson. The Chiefs are working him out.
Justin Houston, LB-DE, Georgia
Why he is a candidate:
Big-play performer who dominated at the highest level of college football. He looks like a perfect rush linebacker for a 3-4 team.
Warning sign:
He doesn't have great size, and a lack of production before last season could concern teams.
Chances of ending up in AFC West:
He should be available at No. 21, where the Chiefs would be tempted to take him. Kansas City has a workout set up with him.
Akeem Ayers, LB, UCLA
Why he is a candidate:
He looks like a perfect 3-4 outside linebacker. He appears ready for the NFL game.
Warning sign:
He didn't have a great combine and may fall behind some of the other top prospects.
Chances of ending up in AFC West:
I could see the Chiefs taking him if they traded down to the No. 25 to 28 range. He could also be a fit for the Chargers if they traded down or traded back into the end of the first round by using their extra picks as ammunition.
Adrian Clayborn, DE, Iowa
Why he is a candidate:
He is a big, strong player who was dominant early in his career. He could be a solid 3-4 defensive end.
Warning sign
: His play slipped some in 2010 and there is concern he will not stand out as an NFL player.
Chances of ending up in AFC West:
He could be a secondary selection for the Chargers if they get back into the end of the first round.
Cameron Heyward, DE, Ohio State
Why he is a candidate:
He is a big, strong productive college player with NFL bloodlines. He is the son of the late Craig "Ironhead" Heyward. He can play in both the 3-4 and the 4-3.
Warning sign
: He is not a refined player, and he could have trouble with technique in the NFL.
Chances of ending up in AFC West:
He could be on the Chargers' list and perhaps Denver could look at him if he falls to No. 36 overall in the second round.
March, 9, 2011
3/09/11
1:35
PM ET
So far, Denver's
pro day tour
has been fruitful.
The Broncos have to be pleased with what they have seen from potential choices at No. 2 overall.
GM Brian Xanders, coach John Fox and VP of football operations John Elway attended Texas A&M's pro day to watch pass-rushing linebacker
Von Miller
. He did not disappoint.
He reportedly ran a 4.49 40-yard dash
, which would have tied the best time for a linebacker at last month's combine. Miller ran a blazing 4.53 at the combine.
Miller is rising up draft boards. In addition to his speed and overall strong performance at the combine, Miller shined at the Senior Bowl in January. However,
here's one opinion
on Miller that is not glowing. No prospect wants to be compared to Vernon Gholston these days.
Still, I'm sure Denver will at least think about taking Miller at No. 2.
Tuesday, Denver's brain trust saw
an impressive show
by Auburn defensive tackle
Nick Fairley
and they are soon going to see Alabama defensive tackle
Marcell Dareus
. He is looking to follow up a strong combine with a solid pro day.
The Broncos are going to have a tough decision and these prospects are not making it any easier on them.
February, 28, 2011
2/28/11
8:55
PM ET
The
New York Jets
are
releasing four big-name players.
Let's take a look at if any of these players would fit in the AFC West:
Defensive end Vernon Gholston:
I think Gholston will be considered by most NFL teams. Yes, he's been a colossal draft bust and you have to worry about a player who couldn't develop under the guidance of the Jets' great defensive tutoring. But he'll be cheap and any player who is 24 and three years removed from being the No. 6 overall pick in the draft will get another chance. I wouldn't be surprised if any team in the division looked at him. If I had to guess the team most apt to pursue Gholston, I'd say Oakland. Al Davis loves former first-round picks. Any team that would take a chance on
Jarvis Moss
should take a chance on Gholston.
Defensive tackle Kris Jenkins:
We can probably rule out a reunion with former Carolina coach John Fox in Denver. The two were reportedly not on good terms when Jenkins was traded to the Jets. The Chiefs are interested in
Shaun Rogers
, so it's conceivable to think they could look at Jenkins, too. I know the Chiefs want to add more than one defensive tackle. San Diego also could potentially take a look. Still, there are injury issues. I don't think Jenkins would be a high-priority signing in either city.
Defensive end Jason Taylor:
Taylor is expected to retire. Even if he does play, I don't see a fit. He's been available a couple of times in the recent past and there hasn't been much interest from AFC West teams.
Tackle Damien Woody:
He is 33 and has injury concerns. Woody, who previously was a center/guard, was in New England with Kansas City general manager Scott Poili. I could see potential interest there. Denver and Oakland could also use a right tackle. Woody is a good player if healthy. He is like Jenkins. There could be interest, but I don't think it would come quickly.