December, 4, 2014
Dec 4
7:30
AM ET
ENGLEWOOD, Colo. -- In is four seasons with the
Denver Broncos
tight end
Virgil Green
has caught 20 passes, he's run the ball twice and doesn't have a touchdown.
Yet, Green is a player quarterback
Peyton Manning
has called "one of our tough guys on this team." His work has been important enough that Manning has vowed to try and find a way to get Green his inaugural scoring catch. With Julius Thomas still working his way back from a left ankle sprain he suffered against the
St. Louis Rams
and
Jacob Tamme
having already missed practice time this week with a rib injury, Green is, at the moment, the only healthy tight end on the roster.
So, the guy who has largely been asked to block for other much of the time, may get a few more chances to catch a pass or two.
[+] Enlarge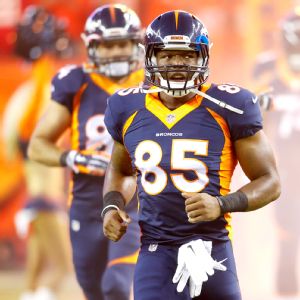 Chris Humphreys/USA TODAY SportsVirgil Green has played an important role in Denver's commitment to the run game.
"Absolutely. I'd be a fool if I said that wasn't in my mind," Green said when asked if he's like to be more involved in the passing game. "But at the same time, I have to do what the team needs me to do to win games and I'm a committed teammate and I want to do things to get wins. I'm not a selfish player. I don't look too much for my own stats. I just look to help my team win games."
For a team still searching at times to find itself offense, Green's presence in the offense allows the Broncos to add a little more power to all of the athleticism they have in the passing game. Green missed three games with a calf injury -- New England, Oakland and St. Louis -- and the Broncos were in a two-tight end look for 23, 0 and three snaps respectively in those three games.
Against the Rams, when Thomas also suffered an ankle injury in the first quarter, the Broncos ran the ball just 10 times for 28 yards, an eye-opening total for an offense even as proficient throwing the ball as the Broncos have been since Manning's arrival.
"[Green] is a physical player who gives us a presence," Manning said.
With Green's return to the lineup over the last two weeks, the Broncos have rushed 80 times combined, the highest total in back-to-back games this season and third-highest of Manning's tenure. Denver pounded the ball out of the two-tight end set 20 times against the Dolphins and 26 times this past Sunday against the
Kansas City Chiefs
. The Broncos rushed for 201 and 214 yards respectively in those two wins.
"I take a lot of pride in it," Green said. "In college we ran the ball quite a bit so it's something that has been ingrained in my mind to make those big blocks and spring guys to get them down the field."
Sunday, the
Buffalo Bills
will be the sixth defense the Broncos have faced this season currently ranked in the league's top 10 in scoring defense. But some offenses have found some room to run on the perimeter, especially outside the right tackle where teams have averaged 6.48 yards per carry against the Bills defense.
With
Mario Williams
and
Jerry Hughes
at defensive end, Buffalo leads the league in sacks with 48 and are one just two teams -- Philadelphia is the other -- to have topped 40 sacks on the season.
"I'd probably say 80 percent is 'want to'," Green said. "As long as you go out there with the willingness to hit somebody, you can move somebody off the line of scrimmage. This week we've got big Mario Williams out there, so we're going to have to get our technique down pat because you just can't win with him just coming off the ball hard. You've got to use technique. … He's going to make sure you don't run that ball outside. He can set that edge and he's 290 [pounds]. I'm about 240, 250 so there is a huge weight discrepancy there, but at the end of the day, I'm going into the game with a mindset that regardless of how big he is I'm going to move him off the ball. Whether that happens on every play or not, I don't know, but that's my mindset and my goal for this game."