December, 29, 2011
12/29/11
3:00
PM ET
Let's look at some key statistics for each AFC West team heading into Week 17, courtesy of ESPN Stats & Information:
DENVER

The Broncos have lost two straight games going into Sunday's home game against Kansas City. Denver will advance to the playoffs for the first time in six years if it wins Sunday. However, Denver has been in this situation before. It was alive in the final week of the season in 2006, 2008 and 2009. It lost all three times. The Broncos are just 7-16 combined in the final four games of the season dating back to 2006.
Denver quarterback
Tim Tebow
has seen 30.8 of his incomplete passes fall due to overthrows. It's the most in the NFL. But his accuracy has improved in the past four games. He has completed 51.4 percent of his passes in the past four games, while he completed just 45.5 percent of his passes in his first seven games.
KANSAS CITY

Former Denver quarterback and current Kansas City quarterback
Kyle Orton
has not been sacked in 68 pass attempts with the Chiefs. Orton has been sacked nine times this season. He has the fourth lowest percentage of pass plays that resulted in sacks in the NFL.
The Chiefs' defense ranks second in the NFL percentage of passes intercepted at 4.4 this season. Kansas City has 19 interceptions this season.
OAKLAND

Oakland's pass defense has been terrific in the red zone. The Raiders have intercepted or defended more passes in the end zone than any team in the NFL. They have a combined 17 of those plays. The next best in the league is New England with 12.
The Raiders have not scored more than seven points in the first quarter of any game this season. They have 49 points in the first quarter, which is the 24th lowest total in the NFL.
The Raiders have allowed the most points in the NFL after halftime with 235. They have scored 153 points after halftime.
Before running back
Darren McFadden
was injured Oct. 23, Oakland averaged 159.3 rushing yards per game and had the No. 2 ranked rushing offense in the NFL. In the eight games since then, Oakland has averaged 111.5 yards per game, which is 18th in the league.
Quarterback
Carson Palmer
has thrown nine of his 15 interceptions this season against AFC West opponents. He has thrown interceptions on 5.3 percent of his passes, which is the second highest percentage in the NFL.
SAN DIEGO

The Chargers have allowed opponents to convert 48.4 percent of their third-down plays. It is the worst percentage in the NFL. It is difficult to win if you can't get your defense off the field.
If quarterback
Philip Rivers
throws one more interception and throws for 186 more yards, he will join the likes of Dan Fouts,
Drew Brees
, Kurt Warner, Warren Moon and Dan Marino, who had seasons in which they threw for more than 4,500 yards and had at least 20 interceptions.
July, 8, 2011
7/08/11
12:00
PM ET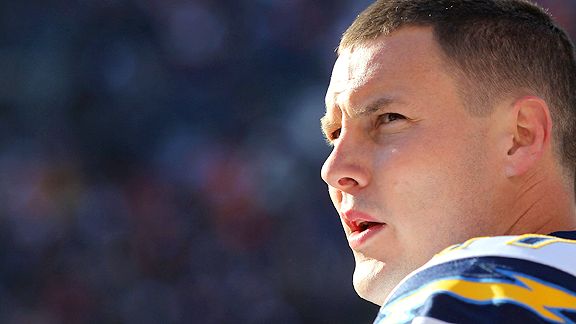 Doug Pensinger/Getty ImagesWithout a Super Bowl ring, will Hall of Fame voters look past Philip Rivers?
There are six active starting NFL quarterbacks who have won a Super Bowl.
Philip Rivers
is not one of them.
That fact hangs over Rivers' head and will be the biggest question mark about him until he wins one. There's little doubt that the San Diego Chargers' prolific, big-armed, big-hearted leader is the best active quarterback alive without a Super Bowl ring.
If Rivers, 29, ends his career without hardware, will it prevent him from being enshrined in the Pro Football Hall of Fame? After his first five seasons as an NFL starting quarterback, Rivers (the No. 4 overall pick in the 2004 draft) has compiled statistics that suggest he is on his way to making the Canton, Ohio, museum.
And, thus far, he compares with non-Super Bowl-winning modern era quarterbacks such as
Jim Kelly
,
Warren Moon
,
Dan Marino
and fellow Chargers quarterback Dan Fouts.
"I think he's on his way," Gary Horton of Scouts Inc. said of Rivers' chances of becoming bronzed. "He's got the look of a Hall of Fame player. He belongs with those names that have made it recently … It would really help his cause if he won a championship, but he's on pace in my mind."
Quarterbacks are judged on championships, and Rivers has pressure because several quarterbacks he is judged directly against have won Super Bowls recently.
New Orleans'
Drew Brees
won the title after the 2009 season. Brees left San Diego after the Chargers decided to start Rivers in 2006. The Giants'
Eli Manning
won the title in 2008. Manning and Rivers were the centerpieces of a 2004 draft-day trade. Pittsburgh's
Ben Roethlisberger
has won two Super Bowls. He was picked seven slots after Rivers in 2004. Green Bay's
Aaron Rodgers
won the Super Bowl earlier this year. He was drafted the year after Rivers.
The two other active quarterbacks to have won the Super Bowl are New England's
Tom Brady
(three rings) and the Colts'
Peyton Manning
(one).
If Rivers doesn't win a Super Bowl in his career, it could be held against him in the Hall of Fame voting room, especially if a few more quarterbacks win titles before he retires. The numbers could be stacked against him.
Brady and Peyton Manning are slam dunk Hall of Famers. I'd think Roethlisberger, Brees and Rodgers are in good shape to make it unless they all totally fall apart. Recent retiree
Brett Favre
will make it, and fellow recent retiree
Kurt Warner
has a great chance to be enshrined. The late
Steve McNair
could also get some consideration. Thus, a lot of quarterbacks who played during Rivers' career could be heading into the Hall of Fame in the next five to 15 years.
[+] Enlarge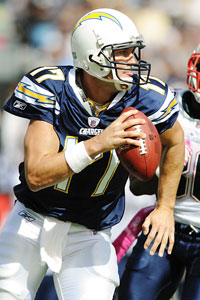 Christopher Hanewinckel/US PresswireDuring his career Philip Rivers has passed for 19,661 yards, 136 touchdowns and has a passer rating of 97.2.
Seven quarterbacks have been enshrined in the Hall of Fame in the past 15 years. But this is a golden age of quarterbacking, so a large number will get in if they are deemed worthy by the voting committee. Winning that elusive ring is always recommended. A title could be the difference for Rivers between getting elected quickly and having a long wait.
Still, Rivers' numbers show he is on pace to be considered seriously for Hall of Fame enshrinement.
In his career, Rivers (who threw a total of 30 passes in his first two NFL seasons) has thrown for 19,661 career yards. He has thrown 136 touchdowns and 56 interceptions. His career passer rating is 97.2. In 15 career seasons, Fouts threw for 43,040 yards, 254 touchdowns and 242 interceptions, and his passer rating was 80.2. Rivers is on pace for a much better career than Fouts, who never went to a Super Bowl but is enshrined in Canton.
Kelly, who lost four Super Bowls, played 11 seasons in the NFL. He threw for 35,467 yards and 237 touchdowns, and his passer rating was 84.4. Moon played 17 seasons in the NFL. He threw for 49,325 yards and 291 touchdowns, and his passer rating was 80.9. Dan Marino played 17 seasons. He threw for 61,361 yards and 420 touchdowns, and his passer rating was 86.4
If Rivers continues to play at a high level, he could be in the neighborhood of some of these Hall of Fame quarterbacks who did not win a Super Bowl.
Of the active Super Bowl-winning quarterbacks, only Rodgers has a better career passer rating than Rivers. Peyton Manning, Brady and Brees have more touchdown passes, and Peyton Manning and Brees have more passing yardage than Rivers since 2006.
"He stacks up with a lot the current guys and the recent Hall of Famers," Matt Williamson of Scouts Inc. said. "I think he is very much in the same class as Kelly or Moon for sure -- and maybe even Marino. Longevity will be key, but his lifetime numbers should be off the charts."
If Rivers (who had a famously speedy recovery from a torn ACL in the 2007 playoffs) can stay healthy, he should make a serious Canton push, ring or no ring.
"The guy has everything," Horton said. "He's a son of a coach. He's a gym rat. He has great skills. He showed last year he can succeed with street free agents because all of his guys were hurt … Philip Rivers is a Hall of Fame type guy, there's no doubt about it."