September, 10, 2014
Sep 10
7:30
AM ET
ENGLEWOOD, Colo. -- The
Denver Broncos
showed how their offense would operate without wide receiver
Wes Welker
in the win over the
Indianapolis Colts
.
And while the Broncos continue to be optimistic about the chances of getting Welker back before Week 6 if a new drug policy is put in place -- so much so they cleared a roster spot and are carrying 52 players -- their work against the Colts is worth a look for what it all means with, or without, Welker in the lineup.
First, if anyone doubted the Broncos could simply put
Emmanuel Sanders
into the offense in place of
Eric Decker
and roll on, they should put those doubts aside. Decker was second on the team in targets (137), catches (87) and receiving touchdowns (11) last season -- a productive, proven quality option.
[+] Enlarge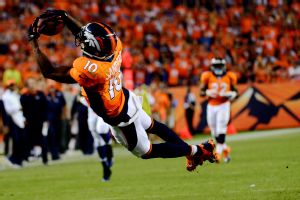 Joe Amon/The Denver Post via Getty ImagesEmmanuel Sanders caught six passes for 77 yards, including this one for 40 against the Colts.
But Sanders, with his ability to play on the outside and in the slot, will squarely be in the No. 2 role behind
Demaryius Thomas
. It's what the Broncos signed him to be and what he showed he will be in his first regular-season outing. His ability to stretch the field from anywhere in the formation will create big plays for him and room for others to work.
"I thought it was a good start for him," quarterback
Peyton Manning
said.
With no Welker, the Broncos played their two-tight end set one snap more than they did their three-wide receiver set. While some said
Andre Caldwell
would start against the Colts in place of Welker, the Broncos actually opened the game in a two tight end look with Demaryius Thomas and Sanders as the wide receivers.
Virgil Green
played 42 snaps as the second tight end and Caldwell played 40 snaps as the third wide receiver. Those numbers figure to shift whenever Welker returns and by what the Broncos believe the opposing defense has to offer week to week.
But their work in camp as well as the opener shows the two tight end look will likely be a bigger part of things than in 2013, when the Broncos had five games when they played out of a three-wide look for at least 69 snaps -- including penalty plays.
And then there's the matter of how
Julius Thomas
fits moving forward. The Broncos saw, and enjoyed, his breakout year in 2013, but start charting how things could go in this offense and the most likely scenario is where Thomas is the third target rather than the third wide receiver.
He figures to get more attention moving forward, especially after what he did to the Colts linebackers and safeties. Sunday he was targeted eight times by Manning, just below Demaryius Thomas' 11 targets and Sanders' nine.
"When you're on defense you have to pick your poison," Broncos coach John Fox said. "You can't double everybody or you'd run out of numbers. I think part of what makes our offense successful is we do have those weapons and we have the trigger guy (in Manning). He can decipher exactly what is taking place in an instant and feed the ball to the guy the defense might be light on."
Rookie
Cody Latimer
also figures to enter the picture at some point. The Broncos have Latimer, as they do all of their receivers, learning all of the receiver spots in their scheme.
In their offense that means not only knowing all of the assignments at all of the outside spots and in the slot positions, it means being able to handle Manning checking out of a play into another play the team has either run in a game or practiced at any point since offseason workouts began.
When Latimer, who admits his head "is spinning sometimes, but you work," has a handle on those audibles, his size and speed will be too much to keep on the bench.
All in all, it means options against a schedule full of defenses that figure to dot the league's top 10 when all is said and done.