AFC West:

Weston Dressler
May, 24, 2014
May 24
5:35
PM ET
KANSAS CITY, Mo. -- Some quick observations from the opening practice of the
Kansas City Chiefs
' three-day rookie camp on Saturday:
Murray

Quarterback Aaron Murray, a fifth-round pick from Georgia, was a full participant. Murray wore a brace on his left knee but moved around well. He is only six months removed from surgery after tearing knee ligaments last fall. Murray's first pass was deflected and intercepted by linebacker Dee Ford, the first-round draft pick. Murray made some nice throws, none better than a fade pass that was caught down the left sideline by former Missouri receiver Jerrell Jackson. But heMurray also threw a number of interceptions.
Ford, of Auburn, signed his contract moments before the start of practice. All six draft picks are now signed and the Chiefs still have two months before the start of training camp.
Fourth-round pick De'Anthony Thomas of Oregon lined up in a variety of spots, mostly as a running back. These three days of practices will be all Thomas can participate in until the mandatory minicamp in the middle of June. School is still in session at Oregon.
Sixth-round offensive lineman Zach Fulton of Tennessee and Laurent Duvernay-Tardif were on the first-team offensive line -- Fulton at right guard and Duvernay-Tardif at right tackle. Duvernay-Tardif jumped the snap count twice.
A handful of veterans are participating in rookie camp. That list includes wide receivers Weston Dressler and Frankie Hammond Jr. and tight end Demetrius Harris.
May, 23, 2014
May 23
10:00
AM ET
»
NFC Wrap:
East
|
West
|
North
|
South
»
AFC:
East
|
West
|
North
|
South
»
Grades

With free agency and the draft in the rearview mirror and training camp just a couple of months away, we assess the
Kansas City Chiefs
' offseason moves.
Best move:
It wasn't a popular move for the Chiefs to allow five of last season's regulars to depart in the opening moments of free agency and another a few days later, but the Chiefs did the right thing in each case. The players are more valuable to their new teams, and Kansas City would have had to overpay to keep them. The Chiefs had also built enough depth to withstand the losses.
[+] Enlarge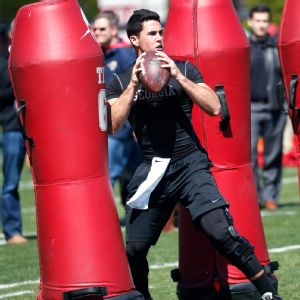 AP Photo/John BazemoreAaron Murray's selection by the Chiefs is surprising, but Andy Reid has been known to develop QBs.
Riskiest move:
The Chiefs failed to add a proven wide receiver, a decision they could easily come to regret later. They had one of the NFL's least productive groups of wide receivers last season and then lost slot receiver
Dexter McCluster
to free agency. They have hopes for improvement from young
A.J. Jenkins
and acquired CFL veteran
Weston Dressler
and speedy rookie
De'Anthony Thomas
, but their needs would have been better served by adding a player with proven production.
Most surprising move:
The drafting of Georgia quarterback
Aaron Murray
was a reasonable gamble because it happened in the fifth round, but the Chiefs looked to be set at the position without him. They have their starter in
Alex Smith
, a veteran backup in
Chase Daniel
and a developmental prospect in
Tyler Bray
. But Murray appears to have the skills to succeed in the offense of coach Andy Reid, who has shown a nice touch in developing quarterbacks. The addition of Murray sets up an interesting training camp battle at the position.
Progress from young players:
It's clear the Chiefs are counting on improvement from a group that includes three of last season's draft picks. Foremost is tackle
Eric Fisher
, who moves to the left side after a rocky rookie season on the right. Tight end
Travis Kelce
missed all of last season with a knee ailment after showing impressive receiving skills in the offseason and training camp.
Sanders Commings
also missed most of his rookie season with an injury but could wind up starting at free safety.
May, 21, 2014
May 21
7:30
AM ET
Bigger is better when it comes to wide receivers. That's not a secret around the NFL, and it's not a notion that's particularly new. Speed matters, but size is generally what wins out.
That's something all teams, the
Kansas City Chiefs
included, believe. Bigger, stronger receivers are more capable of shucking physical coverage and making catches in a larger radius, thus giving the quarterback more room for error. That's accepted fact in the NFL, not opinion.
Now comes my ESPN colleague, Mike Rodak, who covers the
Buffalo Bills
, with an interesting story. Rodak went through NFL rosters and
figured an average height
for the wide receivers for each team.
The Bills led the league with an average height of 6-2. Of more interest to you, the Chiefs came in next to last at slightly less than 5-11 1/2. And that doesn't even count rookie
De'Anthony Thomas
, who should be playing at least some as a slot receiver but is being listed for the time being as a running back.
Thomas is 5-9.
A height of 6-2 is generally considered the dividing line for a receiver between having the right size and not.
Dwayne Bowe
at 6-2 is the only Chiefs' receiver who passes the test. Among the others who could or might play a significant amount next season,
Donnie Avery
is 5-11,
A.J. Jenkins
6-0,
Junior Hemingway
6-1 and
Weston Dressler
5-7.
The Bills, as a comparison, have seven wide receivers who stand at least 6-2.
The Chiefs have some tall tight ends who can help compensate.
Travis Kelce
, who showed some impressive receiving skills last year before a knee ailment ruined his rookie season, is 6-5, as is
Sean McGrath
.
Anthony Fasano
, who caught three touchdown passes last year despite missing seven games with injuries, is 6-4.
But this is an issue for the Chiefs. Their receivers were at or near the bottom of the league in production last year and a lack of size is one reason why.
It's not just my opinion here. Read what Bills general manager Doug Whaley had to say. The Chiefs may not go on the record as saying so, but they agree, too.
April, 21, 2014
Apr 21
10:30
AM ET
They all dream of finding the next star player, the one nobody else knows about. That's how football scouts kill the endless hours on the road. But the reality? It just doesn't happen much anymore. In the age of YouTube, it's as easy for fans to research players as scouts.
That doesn't stop them,
Kansas City Chiefs
general manager John Dorsey included, from trying. His team is no different from any of the others but perhaps a little more inclined to look for players in obscure places.
The Chiefs' roster is well stocked with players from tiny football schools as well as those in the so-called power conferences. They have one player from Alabama, but also one from West Alabama. They have one each from Penn State and Pittsburgh but two from California of Pennsylvania.
They have two former Ivy Leaguers, a guy who before joining the Chiefs never played beyond junior college and one who didn't play football in college at all. He was a basketball player.
[+] Enlarge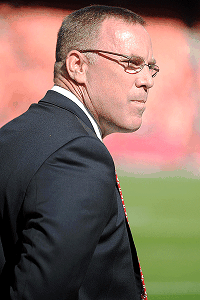 Denny Medley/USA TODAY SportsFrom the CFL to college basketball, Chiefs GM John Dorsey has used numerous avenues to find talent.
While a scout for the
Green Bay Packers
, Dorsey twice went to Australia to find a punter. One of them didn't work out but the other, Chris Bryan, kicked for a time in the NFL, not with the Packers but the
Tampa Bay Buccaneers
.
"We all have our avenues to find players," Dorsey said. "There are different ways of doing it. It's my responsibility to the Kansas City Chiefs to do everything within our power to make sure we've got everything covered. We're going to do that because if you're not out there working, somebody else is and they'll find those guys. Everybody does such a thorough job now.
"In today's football, it's really hard because all 32 teams are doing their due diligence in terms of working to unearth talent. The objective is to get real players. Anybody can go and find obscure players but they have to be able to play at the end of the day."
The ability to mine players from out-of-the-way places isn't a bad one to have this time of year, with the draft looming. The Chiefs are down to six picks this year, having sent their second-round choice to the
San Francisco 49ers
in last year's trade that brought quarterback
Alex Smith
.
So they could use a late-round or undrafted player to come through and replace at least some of the long-term production they probably would have received from that second-round pick.
Perhaps that player is already on their roster. He might be
Weston Dressler
, a tiny but quick slot receiver the Chiefs signed over the winter after he played several seasons in the Canadian Football League. It could be
Mike Catapano
, a seventh-round pick last season from Princeton who showed uncommon ability to rush the quarterback for a one-time Ivy Leaguer.
Yet another candidate is tight end
Demetrius Harris
, who played basketball but not football in college at Wisconsin-Milwaukee. It's no longer rare for football teams to try to make a tight end from a former power forward, but Harris, who was once a standout high school football player in Arkansas, attracted the attention of the Chiefs in a typical Dorsey way.
"I was down at the [high school] all-star game maybe two or three years ago, Texas vs. the Nation. I happened to be out to dinner and was talking to some gentleman and he started talking about great high school players from Arkansas who didn't play football in college. He said to keep an eye on [Harris] because he was all-state and this and that. I always have a Franklin planner with me where I keep notes. I just wrote down his name with the note to research him when he was eligible for the draft.
"I have a lot of those notes in that planner from conversations I've had about players who might not be eligible for the draft for two or three years."
The Chiefs last spring looked into Harris, who had finished his collegiate eligibility. They were in on him early and aggressively.
Word eventually spread around the NFL about Harris and though neither the Chiefs nor any other team drafted Harris, he became the object of a post-draft signing battle with Kansas City and the
Baltimore Ravens
among the finalists.
Harris signed with the Chiefs as much out of loyalty for their early interest as anything else.
"Demetrius just felt comfortable there," said Matthew Pope, Harris' agent. "We needed a long-term commitment and the Chiefs were willing to give us their word on that.
"John's history is that he's not going to look at where the player comes from. He'll just look at what the player does."
Harris spent his rookie season on the Chiefs' practice squad. Much of that time was spent getting reacquainted with football. But late in the year he showed signs of developing into a player.
"He did a nice job in his year on the practice squad," Dorsey said. "Remember that he hadn't played football in four years. He started to get in the groove about Week 12 or 13. He started to feel comfortable and get back in football shape."
The odds against Harris ever becoming another
Jimmy Graham
or
Antonio Gates
are great. But if he does, give Dorsey some credit for finding a great player who at least for a time nobody else knew about.
March, 22, 2014
Mar 22
9:00
AM ET
March, 17, 2014
Mar 17
8:15
AM ET
You might like the
Kansas City Chiefs
to improve at any number of positions before starting the 2014 season and chances are they might agree with you at least in some of those areas. But the fact is they have enough at this point to line up, play a game and at least be competitive with most NFL teams.
You might think the Chiefs have holes in their starting lineup at right guard and free safety, but I don't think the Chiefs agree with you there. Their actions in free agency would suggest they don't. At right guard, they watched without a trace of panic as the two players who shared the starting spot last season walked out the door in free agency,
Jon Asamoah
to the
Atlanta Falcons
and
Geoff Schwartz
to the
New York Giants
. They did sign
Jeff Linkenbach
from the
Indianapolis Colts
and he could wind up claiming that vacant starting spot, though his versatility suggests they prefer him as a backup at both tackle and guard. The Chiefs have three developmental prospects in the middle of the offensive line in
Eric Kush
,
Rishaw Johnson
and
Rokevious Watkins
. At this point, it wouldn't be a surprise if one of them was a starter next season.
The Chiefs don't appear interested in re-signing
Kendrick Lewis
, their starting free safety. But neither have they appeared interested in replacing him through free agency. They could draft a free safety, but the two best prospects will likely be off the board by the time the Chiefs make their first pick. They did re-sign reserve
Husain Abdullah
, but for backup money. All signs there point to
Sanders Commings
, a rookie last season, inheriting that job. The Chiefs were impressed with Commings in offseason practice last year and he was going to challenge for playing time but broke his collarbone in the first practice at training camp. That effectively ruined his rookie season but he's back and will find a role somewhere in their defensive backfield.
Then there's wide receiver, which is a little bit of a different story. The Chiefs were last in the NFL last season in receptions, yards and first downs from their wide receivers, and that was before they lost
Dexter McCluster
to the
Tennessee Titans
as a free agent. It's unfair and inaccurate to blame this problem on quarterback
Alex Smith
. The fact is, receivers weren't getting open enough down the field and dropped too many passes.
The Chiefs tried to sign free agent
Emmanuel Sanders
of the
Pittsburgh Steelers
and thought they had an agreement with him on a contract. They believe Sanders' agent then shopped the offer to other teams and he struck a better deal instead with the
Denver Broncos
. The Chiefs haven't and most likely won't say anything publicly on this matter but they're not happy about things because the loss of Sanders stings. He would have been the solution to many of their receiving problems and they know it.
Instead, this is what they're left with at wide receiver:
Dwayne Bowe
,
Donnie Avery
,
A.J. Jenkins
,
Junior Hemingway
and
Weston Dressler
, plus some developmental prospects. You like that mix? They're good enough for the Chiefs to line up with and not get embarrassed. But probably not much better than that.
In the best-case scenario, Bowe bounces back after a down season, Jenkins plays like the first-round draft pick he once was and Dressler makes the transition from the CFL to the NFL look simple.
The odds are against any of those things happening, much less all three of them. Minus all three things happening, the Chiefs need help at wide receiver in a big way. That's why their priority the rest of the offseason has to be on upgrading their roster of wide receivers.
March, 11, 2014
Mar 11
8:00
AM ET
The free-agent signing period begins Tuesday, and as of now the Chiefs have yet to re-sign any of their significant free agents. The parade appears to be lining up at the exit door. Left tackle
Branden Albert
is at the front, as he reportedly has already agreed on a contract with the
Miami Dolphins
. Receiver/punt returner
Dexter McCluster
, offensive linemen
Jon Asamoah
and
Geoff Schwartz
and linebacker
Akeem Jordan
could be right behind him.
The Chiefs have attempted to re-sign defensive end
Tyson Jackson
, and that could still happen. But the Chiefs didn't appear confident in that happening. They had arranged a free-agent meeting with defensive end
Red Bryant
before he signed last week with the
Jacksonville Jaguars
.
Free safety
Kendrick Lewis
has been a longtime starter and is also a potential unrestricted free agent. But the Chiefs may be ready to move on from him.
The Chiefs have some money to spend in free agency and draft picks to use on potential replacements. In some cases they've already prepared for the eventuality of losing some of these free agents. They drafted tackle
Eric Fisher
in the first round last year knowing this day with Albert would probably come this year. They signed
Weston Dressler
of the Canadian Football League hoping he could be the next McCluster. Last year they drafted linebacker
Nico Johnson
and defensive back
Sanders Commings
, and they are possible replacements for Jordan and Lewis.
That doesn't mean this isn't an meaningful day for the Chiefs. With the exception of Jordan and Schwartz, who were signed to one-year, free-agent contracts last year, these players didn't join the Chiefs as stopgap players but as those they could build around. Albert and Jackson are former first-round draft picks. McCluster was drafted in the second round, Asamoah in the third, Lewis in the fifth.
More importantly, many should be heading into their prime seasons. Albert will turn 30 in November but plays a position where he could retain his skills for the life of the new contract he will sign. Jackson is 27; McCluster, Asamoah and Lewis are 25.
If they're all out the door at a single time, that's a hefty blow to the Chiefs. They made plenty of progress in the past year, going from two wins in 2012 to 11 victories and the playoffs in 2013. Continuing on that track will be difficult enough but perhaps impossible if they lose this entire group of players.
If the Chiefs fall back to the pack in 2014, they may look back on this day as a big reason why.
March, 3, 2014
Mar 3
12:00
PM ET
His acquisition may get lost publicly in the coming months as the
Kansas City Chiefs
go through free agency and the draft, but their recent signing of receiver
Weston Dressler
could wind up as one of their most significant offseason acquisitions.

Dressler caught 442 passes for more than 6,000 yards and scored 43 touchdowns in his six seasons for the CFL's Saskatchewan Roughriders. He's small but quick and his skills were enough to intrigue the Chiefs and coach Andy Reid.
"I remember when he came out [of college],'' Reid said recently. "He was the best player there and the MVP of his team and the league and all that stuff. Then he goes to Canada [and he's a good player]. I had a chance to watch his tape. He transferred from the college level to the Canadian League and it didn't look like there was a big dropoff. So you give him an opportunity here. He had plenty of opportunities to go other places and go back to Canada. He wanted to be here and he wanted this experience.''
The obvious comparison for Dressler is
Dexter McCluster
, the Chiefs' slot receiver the past few seasons. At 5-foot-8 and 180 pounds, Dressler is of similar size to McCluster, who is a potential unrestricted free agent.
Dressler, who signed a three-year contract with the Chiefs for the NFL minimum salaries, is insurance in case the Chiefs don't re-sign McCluster. But if they do?
"They're similar,'' Reid said. "If you told me I could have two Dexter McClusters, that would be a good thing. I wouldn't mind that at all.''
February, 25, 2014
Feb 25
7:30
AM ET
We're continuing our look at potential
Kansas City Chiefs
' free agents. We started the series on Monday with defensive end
Tyson Jackson
. We'll continue here with their only offensive skill player in the bunch.
McCluster
WR/PR Dexter McCluster
Four NFL seasons, four with the Chiefs. He will be 26 when next season begins.
Chiefs career:
Judged solely by the numbers, McCluster's time with the Chiefs has been a success. He has 172 catches, 662 rushing yards and six touchdowns on offense and he has returned a punt for a touchdown three times. But, on offense at least, his impact has been minimal. Big plays from McCluster have been few. The Chiefs have gone through several coordinators during McCluster's four seasons and none has been unable to unlock his big-play potential.
Argument for keeping McCluster:
McCluster is young enough that he should be heading into the prime of his career. McCluster's ability as a punt returner is a plus. Two of his three touchdown returns have been the result of excellent blocking but the one against the
New York Giants
last season was a work of art. He's also shown good judgment on returns and hasn't fumbled much. He's only 5-8 and 170 pounds, but McCluster has been durable. He missed five games as a rookie because of a high ankle sprain but just one game since.
Argument for letting McCluster go:
The Chiefs signed CFL veteran
Weston Dressler
, who is of similar size and has a similar skill set to McCluster. They sure don't need both of them. The Chiefs may be able to get from Dressler , or perhaps a combination of Dressler and
Junior Hemingway
, what they did from McCluster. Because of his size, McCluster is always going to be a part-time player. At some point, he will wear down and the returns will diminish with increased playing time. That would be acceptable if McCluster was more of a threat on offense.
What should happen:
The new contract McCluster signs will probably be the biggest of his career. He's in no position to take a hometown discount so the Chiefs have to ask the hard question: Is he really worth a big contract? The fact is, McCluster may have more value to another team than he does to the Chiefs. If the Chiefs feel strongly enough about Dressler, or their ability to find someone else to replace McCluster, this shouldn't be a difficult decision.
February, 8, 2014
Feb 8
8:45
AM ET
KANSAS CITY, Mo. -- Lots of good
Kansas City Chiefs
questions this week. Let's get to them.
February, 6, 2014
Feb 6
2:05
PM ET
KANSAS CITY, Mo. -- If recently signed wide receiver Weston Dressler doesn't impress the
Kansas City Chiefs
with his play during the offseason, training camp and the preseason, they can release Dressler at no cost.
The three-year contract signed by Dressler is worth $1.53 million but contains no bonuses. The salaries are the minimum each year: $420,000 in 2014, $510,000 in 2015, $600,000 in 2016.
So there's no risk to the Chiefs in at least taking a look at Dressler. The Chiefs are hopeful they will get significant production from the 28-year-old Dressler, a six-year veteran with the CFL's Saskatchewan Roughriders. Dressler caught 70 passes and scored nine touchdowns last year. But they're certainly not tied to him if he's a bust.
Still, his signing is an interesting one as it relates to
Dexter McCluster
, who is scheduled to be an unrestricted free agent. There wouldn't appear to be roster room for two diminutive players with similar skill sets. The best one plays slot receiver and returns kicks. The other does nothing.
So maybe the Dressler signing is just insurance in case re-signing McCluster gets too expensive for the Chiefs. McCluster didn't deliver a lot on offense last season, his first playing for Andy Reid. But Reid liked McCluster going back to his time as the coach of the
Philadelphia Eagles
and was eager to work with him as last year started.
Did he see so little from McCluster that he changed his mind? We'll find out as we get closer to the start of free agency next month.