September, 12, 2013
9/12/13
7:18
PM ET
ENGLEWOOD, Colo. – There aren't NFL personnel people lining up to talk about how they remember
Eli Manning
's workout numbers before the 2004 draft, at least the parts that didn't include throwing the ball.
And yet throughout Manning's career, he has consistently frustrated the defenses trying to chase him. He has accumulated a surprisingly significant pile of plays that includes the
David Tyree
touchdown in Super Bowl XLII when Manning escaped the Patriots pass rush to make the play. The new age of sprinters with cannon arms like
Colin Kaepernick
and
Robert Griffin
III stress pass-rushers with the threat of the run, but the younger Manning stresses with his intent to throw after the escape.
[+] Enlarge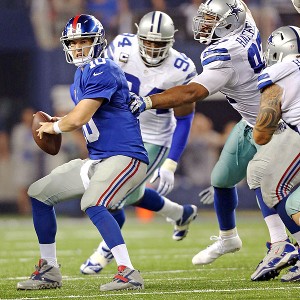 AP Photo/Layne MurdochEli Manning has learned to extend plays by being elusive in the pocket.
"He's probably deceivingly athletic, he's not like some of the quarterbacks out there that are going to win a footrace, but he's mobile enough,'' said Broncos defensive coordinator Jack Del Rio. "And obviously he's very smart, got a great live arm, got a terrific cast of characters he distributes the ball to. He buys the time he needs and does the things he needs to, including with his legs, he'll run for first downs from time to time. He's mobile enough.''
The Broncos have faced Manning twice previously, in 2005 (a 24-23 New York victory in Giants Stadium) and in 2009, a 26-6 Broncos win in Denver. In the '05 meeting, a season the Broncos won the AFC West with a 13-3 record, Manning threw a 2-yard touchdown pass to
Amani Toomer
with five seconds remaining in the game. The Giants went 83 yards in 15 plays on the game-winning drive and the Broncos did not sack Manning in the game.
In '09 -- a Thanksgiving night game -- the Broncos sacked Manning three times.
The challenge Manning presents for opposing rushers is he has taken fewer sacks recently . He was sacked just 16 times in 2010 and 19 times in 2012 as compared to 30 times in '09. Former Broncos defensive end
Elvis Dumervil
said he believed Manning was among the league's best at sensing pressure from behind and also efficiently escaped to keep himself in position to reset his feet to throw.
Del Rio has described them as quarterbacks who "escape with their eyes down the field.''
In the Giants' opener, a loss to Dallas on Sunday night, the Giants often let left tackle
Will Beatty
work in 1-on-1 situations while pushing the help and double-teams elsewhere along the offensive front. That could put
Robert Ayers
or
Shaun Phillips
in some 1-on-1 rush situations against Beatty.
In a week when the Broncos tried to, publicly at least, temper at some of the hoopla after a win that saw Peyton Manning throw seven touchdown passes, wide receiver Wes Welker joined the one-week-at-a-time parade Thursday. Asked if there could any similarities with what Peyton Manning does this season and 2007 when Welker was part of a Patriots offense that featured Tom Brady setting the NFL single-season record with 50 touchdown passes. "[You're] talking about Week 1, there's no telling at this point, it's one game,'' Welker said. "You've to do it every single game.''

Peyton Manning isn't the first Broncos quarterback to wear No. 18. In fact when Manning arrived in Denver after signing in free agency in 2012, the No. 18 was retired. The man who first wore the number for the Broncos -- the franchise's first quarterback -- was Frank Tripucka, who died Thursday after a long battle with Alzheimer's disease. Tripucka was 85. The No. 18 had been one of just three numbers the Broncos had retired, along with John Elway's No. 7 and Floyd Little's No. 44. Elway and Little are both Hall of Famers while Tripucka was put into the team's Ring of Fame in 1986. Tripucka's family, after a phone conversation with Manning shortly after Manning has signed in Denver, said they would "be proud'' for Manning to wear No. 18. Tripucka had been originally hired as a coach when the Broncos began play in 1960, but it wasn't long before the team could see he was the best option as its quarterback. He led the AFL in passing in 1960 with 3,038 yards and his 447 yards passing against the Bills in 1962 is still tied for the fifth-highest single game total in franchise history. Manning threw for 462 yards in last Thursday's season opener.

The Broncos have plans for an indoor practice facility on the drawing board, but they could have used one Thursday. With widespread flooding throughout the state after several days' worth of downpours, the Broncos took to the outdoors Thursday and practiced outside.

Center Manny Ramirez started 11 games at right guard for the Broncos last season and the team went 13-3 with an 11-game winning streak to close out the regular season. This season he is the starting center on a Super Bowl hopeful team who just got a two-year contract extension Wednesday. How is it Ramirez can do that with the Broncos, yet was released by the Lions after playing four games for an 0-16 Detroit team in 2008 and starting 12 games for the 2-14 Detroit squad in 2009? Ramirez said he was part of the equation after spending most of the 2010 season out of football. "But it (was) kind of like it put everything back in perspective as far as what you've done,'' Ramirez said. "Have you done enough? At the time I felt like it wasn't enough that I've done. I just felt like it was time to up my game or whatever my routine was, that it wasn't good enough. I've made quite a few adjustments and they've worked so far.''
September, 10, 2013
9/10/13
5:42
PM ET
ENGLEWOOD, Colo. -- In the mix-and-match approach the
Denver Broncos
have with their pass rush during linebacker
Von Miller
's suspension -- he still has five games to go -- defensive end
Robert Ayers
and linebacker
Shaun Phillips
will have plenty of heavy lifting to do.
Ayers is the starting right defensive end and will usually play in early-down situations, or against the heavier formations on passing downs like two-tight end or two-back looks. The Broncos have used Phillips as a traditional strong-side linebacker at times in practice, and he showed plenty of savvy dropping into coverage against the Ravens. But for the most part the Broncos want Phillips to be a disruptive rush end when it's time to get after the passer.
And the Broncos got a little of everything from the two in the season opener against the Ravens as Ayers finished with a sack and Phillips had 2.5 sacks to go with a forced fumble.
But neither is going to consistently beat
Will Beatty
with speed only, at least not without working to the inside some to keep Beatty from sitting on the move to the outside shoulder and simply waiting for the defensive end to arrive. The 6-foot-6 Beatty plays with quality quickness and is light on his feet for a 319-pounder. Many defensive coordinators believe, however, he can be knocked off his pass sets by an effective bull rush.
Beatty does have good recovery skills so will regain his footing and re-anchor if the defender doesn't keep the pressure when he makes the power move.
Phillips showed plenty of experience when he faced Michael Oher's replacement at right tackle last Thursday night --
Rick Wagner
-- after Oher left the game with an ankle injury. Wagner, also 6-foot-6, had difficulty getting his hands on Phillips despite the reach advantage because Phillips is adept at attacking a blocker's hands on the way in. He consistently swatted Wagner's hands away and gained the advantage.
February, 27, 2013
2/27/13
10:35
PM ET
ESPN's Chris Mortensen reported Wednesday that the Raiders are said to be interested in drafting West Virginia quarterback
Geno Smith
with the No. 3 pick.
We discussed that topic
on the blog last month and I made the case that it would be a bad idea. I feel the same today. I wouldn't worry too much if I was an Oakland fan. It is smokescreen season.
In other AFC West news:
In a close vote
, voters in our AFC West poll think the Broncos should let youngsters
Nate Irving
and
Steven Johnson
battle for the starting middle-linebacker job, but by the smallest of margins.
Some 51 percent prefer to see Denver take that route over drafting a middle linebacker at No. 28. It is a strong draft class and I think Denver might be best served to consider someone such as Georgia's
Alec Ogletree
or Notre Dame's
Manti Te'o
if he is available when the Broncos pick.
The Giants re-signed
left tackle
Will Beatty
to a five-year deal worth $38.75 million. This is significant in the AFC West given the contract situation of Kansas City left tackle
Branden Albert
. Expect Albert to look for a deal worth more than Beatty's. The Chiefs could also franchise him. The two sides are talking.
The Chargers also badly need a left tackle and it is a good free-agent class at the position. But the Beatty signing has made that class one member smaller.