March, 11, 2010
3/11/10
4:45
PM ET
This day has been a long time coming for the family of Darrent Williams.
Justice was their only chance for peace.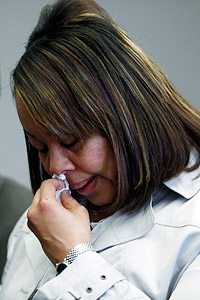 AP Photo/David ZalubowskiRosalind Williams, mother of slain Denver Broncos cornerback Darrent Williams, fights back tears while speaking in Denver on Thursday after Willie Clark was found guilty of murder in the drive-by shooting of her son in 2007.
After three years, it finally arrived in a Denver courtroom Thursday. Denver-area gang member Willie Clark
was convicted of murder in the drive-by shooting death
of Broncos cornerback Darrent Williams on Jan. 1, 2007.
Williams was a wildly popular player in Denver. His death polarized the city. It devastated his family. While in contact with family members Thursday, I got the sense the verdict has brought the closure the family has been searching for the past three years.
Clark's guilt will not bring back the smiling face of the tiny, but feisty defender everyone simply called "D. Will." But it does bring justice.
That's all the family has wanted.
I remember talking to family members after an emotional memorial service the night before Williams' unforgettable funeral in Forth Worth, Texas on a gray Saturday afternoon in January. Between coming down from the emotional public memorial and preparing for more pain that would come the next day, the family huddled around a computer trying to find information on the police's search for D. Will's killer.
It's all they had left.
This week, when speaking to Williams' family members as they prepared for the jury's verdict, they vowed to stay strong whether Clark was found guilty or innocent. Yet, they were hoping and praying for a guilty verdict.
The Williams' family got their justice Thursday. They've long deserved it.
March, 11, 2010
3/11/10
4:00
PM ET
Denver Broncos owner Pat Bowlen released a statement after Denver-area gang member Willie Clark
was convicted on Friday of shooting and killing
Broncos cornerback Darrent Williams on Jan. 1, 2007.
I will have some thoughts on the verdict shortly. Here is Bowlen's statement:
"Nothing can ever bring Darrent Williams back or ease the suffering for Rosalind and her grandchildren.
But after three long years, it is very gratifying to see closure brought to this case. This process has been extremely difficult for the Williams family, his friends and teammates, this community, and the entire Denver Broncos organization.
I would like to praise the long and hard work of the Denver Police Department and the Denver District Attorney's Office. I also want to thank the Denver community for the overwhelming support that both the Williams family and the Broncos have received during this unimaginable tragedy.
Darrent's legacy will live on for all of us in the Broncos organization, and the outstanding work done each day at the Darrent Williams Memorial Teen Center is a tribute to his impact on this community. Our hearts continue to go out to the entire Williams family."
February, 22, 2010
2/22/10
10:00
AM ET
The family of slain
Denver Broncos
cornerback
Darrent Williams
is hopeful their long journey for justice is about to end.
The murder trial of Denver area gang member
Willie Clark
is set to start this week in Denver. Clark is accused of gunning down Williams in the early hours of Jan. 1, 2007 after Williams hosted a New Year's Eve party in downtown Denver. Williams was riding in a rented limousine at the time of his death. Williams was a popular second-year starting right cornerback for Denver.
Williams' family spokesman Troy Asmus said several members of Williams' family, including his mother Rosalind Williams, are expected to attend much of the trial. The family lives in Fort Worth, Texas. The trial may last more than two weeks.
"We're just hoping and praying for the justice to come to light," Asmus said. "The family needs closure."
October, 8, 2008
10/08/08
8:55
PM ET
Posted by ESPN.com's Bill Williamson
Rosalind Williams, the mother of slain Denver Broncos cornerback Darrent Williams, just released a statement on the indictment of a suspect in her son's death:
"This afternoon I did receive a call advising me the news of the indictment of Willie Clark. This is a positive step in the process to the conviction of my son's killer or killers. We still have a long way to go, but I'd like to thank Detective [Michael)] Martinez and everyone else involved for all of their hard work and continued dedication."