September, 19, 2010
9/19/10
3:21
PM ET
Around the AFC West:
The Raiders will be without
running back Michael Bush (broken thumb), offensive lineman Robert Gallery (hamstring) and defensive lineman Richard Seymour (hamstring) against St. Louis. All three players were not doing much all week, so this was expected. Bush didn't play last week, either.
Still, these are three of Oakland's better players. Oakland will be further challenged to rebound from a poor performance in Tennessee in Week 1
The Broncos'
offensive line is in shambles
.
Right tackle Ryan Harris (ankle) and right guard Chris Kuper (ankle, knee) will not play Sunday against Seattle. Harris and Kuper are two of Denver's most stable players. Harris will be spelled by rookie Zane Beadles and veteran Russ Hochstein will play for Kuper. The team's center, J.D. Walton, is a rookie.
The Raiders cut
offensive lineman Erik Pears for the second time this month and signed seventh-round draft pick Stevie Brown form the practice squad.
The speculation is already out there
that Tom Cable's job could be in jeopardy if the Raiders lose to the Rams Sunday. My reaction: Sure, I can believe it.
ESPN's Adam Schefter reports
Denver thought about signing running back Willie Parker before dealing for Laurence Maroney.
September, 4, 2010
9/04/10
2:15
PM ET
There is a lot going on Saturday as teams cut down their rosters to 53 players, and the movement will only get wilder throughout the day. Let's catch up on the early developments of the day:
Mike Reiss of ESPNBoston.com is reporting
that Denver is cutting defensive lineman
Jarvis Green
and
linebacker Darrell Reid
. Green was a free-agent pickup this offseason and Reid was brought in as a free agent last year. Green's release would be a surprise since he was signed to be a starter this year on Denver's new-look defensive line. However, he didn't crack the starting lineup this summer. Perhaps Denver decided to go with youth over a veteran backup. Reid is a special-teamer who has been injured.
ESPN's Adam Schefter is reporting
San Diego has cut receiver
Josh Reed
. That is not a shock. He was signed as insurance earlier this summer, but he never established himself. His fate was sealed when San Diego traded for
Patrick Crayton
on Friday.
NFL.com is reporting
Denver is shopping second-year cornerback
Alphonso Smith
. The report says Denver wants a fifth-round pick for Smith. In the 2009 draft, Denver traded its 2010 first-round pick (No. 14) to trade up and take Smith at No. 37. He has been a major disappointment. It will be interesting to see if Denver cuts Smith if a trade isn't worked out.
Schefter reports
Washington is cutting
Willie Parker
. Denver badly needs running backs, but I'm not sure Parker is the answer.
Schefter reports
defensive lineman
William Joseph
is among Oakland's cuts. He was been on and off Oakland's roster last year.
Tampa Bay has cut
receiver
Michael Clayton
. Add his name to the list of potential receivers who could attract interest from the AFC West. Each team in the division could use receiver depth.
March, 12, 2010
3/12/10
6:20
PM ET
Larry Johnson
will not become a Raider.
ESPN's Adam Schefter is reporting
the former Kansas City standout has signed with Washington. Johnson, who finished last season with the Bengals after being cut by the Chiefs, was supposed to visit Oakland on Sunday.
This isn't a great loss for Oakland. Johnson, 30, is way past his prime. He wouldn't have brought Oakland much.
The team wants a third tailback after releasing
Justin Fargas
. The top free-agent names available are
LaDainian Tomlinson
and
Willie Parker
. Parker would be more likely for Oakland than Tomlinson at this point.
March, 12, 2010
3/12/10
12:00
PM ET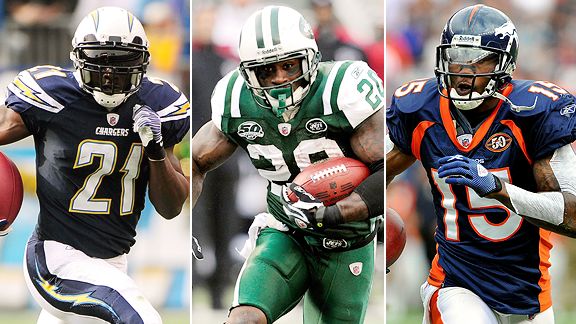 US Presswire/Icon SMI/US PresswireLaDainian Tomlinson is out in San Diego, Thomas Jones has a new home in Kansas City and Brandon Marshall's future in Denver remains uncertain.
We're a week into free agency. Here is a look at the key aspects of the offseason for each team in the division so far and what's ahead:
Denver

Big news: Brandon Marshall.
The Broncos set the stage for Marshall's departure by putting the first-round tender on him. It didn't take long for Marshall to attract interest. Seattle set up a visit to bring in Marshall on the first day of free agency. The Marshall situation could drag on, especially if other teams show interest. But the fact that Marshall was in another team's building over the weekend is big news.
Surprise: The new-look defensive line.
Last year, in his first as Denver's coach, Josh McDaniels remade the Broncos' defensive line. He is doing it again in his second year. The Broncos have signed defensive linemen
Justin Bannan
,
Jarvis Green
and
Jamal Williams
. All three of these players are expected to play major roles.
Best decision: Giving Elvis Dumervil the high tender.
Dumervil, 26, represents the future for Denver. He led the NFL with 17 sacks last season. Had Denver not put the high tender of a first- and third-round pick on Dumervil, he would be popular in free agency. With the high tender, Dumervil probably is staying put.
Worst decision: Not being flexible on Marshall's compensation.
It has been reported that the Broncos will keep Marshall if they don't get a first-round pick in return for him. Perhaps this is posturing. But unless other teams start pursuing him, I don't see Seattle giving up a first-round pick. Yet, the Seahawks could offer other creative compensation. Ultimately, the Broncos want to part ways with Marshall, but this high price tag could prevent that from happening.
What's needed: Continue to get bigger.
The Broncos added size to the defensive front. Now, they have to do so on the offensive line. Denver is moving away from the zone-blocking scheme to a more traditional power-blocking attack. The Broncos need a left guard and a center.
Kansas City

Big news: Thomas Jones signing.
Next to the trade for quarterback
Matt Cassel
last year, this is the biggest move of the Scot Pioli era to date. The addition of Jones shows Kansas City is willing to spend and it wants to get better. The veteran running back will help this offense.
Surprise: How aggressive the Chiefs planned to be.
Last year, the Chiefs were criticized for not being active. This year has been a different story. They were planning to pursue San Diego's
Darren Sproles
had he hit the open market, and they tried to trade for receiver
Anquan Boldin
. Before signing Jones, Kansas City also was considering fellow running backs
Justin Fargas
and
Willie Parker
. It is clear the Chiefs are determined to get better.
Best decision: Re-signing Chris Chambers.
Adding Jones and keeping Chambers will help Kansas City's offense evolve in the first year under new offensive coordinator Charlie Weis. Chambers was Cassel's favorite target when he was claimed off waivers by San Diego in November. A full season of playing with Chambers should help Cassel.
Worst decision: Not trading for Boldin.
A receiving crew of Chambers, Boldin and
Dwayne Bowe
would have been formidable. The Chiefs have two second-round picks next month. It might have been worth it to trade one to get Boldin and really open up the offense.
What's needed: Keep spending.
The Chiefs are on the right track. But they need more talent throughout the team. They need to add more pieces, perhaps on the offensive line and in the defensive back eight.
Oakland

Big news: No big spending.
For the second year in a row, the Raiders are watching free agency as bystanders. Two years ago, the Raiders spent wildly. It didn't work, and most of their 2008 free-agency class has been cut. The Raiders are sitting on the sideline in this uncapped year. You would think Al Davis would make a splash or two, but he has been very quiet.
Surprise: The release of Greg Ellis.
The defensive end was cut after one season with the team. Ellis had seven sacks last year, but he dealt with injuries. Still, he may have a year or two left. Yet, the Raiders decided to go with youth at the position. Perhaps that is a good sign of things to come. Of course, they gave another 30-year-old defensive end,
Richard Seymour
, the franchise tag after giving up a 2011 first-round pick for him. You never know the thought process in Oakland.
Best decision: The release of Javon Walker.
This move was a long time coming. Walker was one of the worst free-agent decisions in NFL history. Oakland gave him a six-year, $55 million deal with $16 million in guaranteed money in 2008. He had 15 catches in two seasons in Oakland. He never helped.
Worst decision: Giving Stanford Routt the high tender.
The backup cornerback was given the high tender of a first- and third-round pick. Routt is not a starter and is a marginal backup. Even if Oakland put the first-round tender on Routt, he wouldn't have attracted interested. The move simply cost the Raiders money and served no purpose.
What's needed: The Raiders have to spend some.
It's admirable that Oakland has learned its lesson from its horrible spending spree of two years ago. But the Raiders need help. This isn't a playoff- quality roster. The team needs help in several areas. The Raiders don't have to spend huge, but they do need some new players.
San Diego

Big news: The team is losing numbers.
The Chargers cut former stars
LaDainian Tomlinson
and Jamal Williams. Then they traded cornerback
Antonio Cromartie
and lost free agents
Kassim Osgood
and
Brandon Manumaleuna
. The Chargers have not added any players of note. San Diego prides itself on its depth and none of these players are irreplaceable, but the Chargers could miss some of them.
Surprise:
The Chargers gave the high tender to running back Darren Sproles. San Diego was expected to let the change-of-pace running back/return star test the market, but Sproles was tendered at the deadline. Good thing for San Diego, because Sproles probably would have been signed within 48 hours on the open market.
Best decision: Trading Antonio Cromartie.
The team grew tired of the cornerback, who struggled at times on the field and had some off-field issues. Cromartie was sent to the Jets for a 2011 third-round pick that could turn into a second-round pick, depending on playing time. It was a good value for a player San Diego couldn't wait to part ways with.
Worst decision: Not re-signing Jamal Williams.
Only because it allowed Denver to sign him. Williams probably doesn't have much left. But if he does, the Chargers will regret seeing Williams play well for a rival.
What's needed: A running back.
The Chargers are taking a calculated risk. They are not impressed with the free-agent class, so they are waiting for the draft. It is a deep draft. The Chargers clearly feel they can get a primary back then. Still, it is a tad scary waiting for an unknown rookie to be the primary back.
March, 9, 2010
3/09/10
6:15
PM ET
Chiefs fans had been worried that their team wouldn't make an impact signing. Fret no more.
[+] Enlarge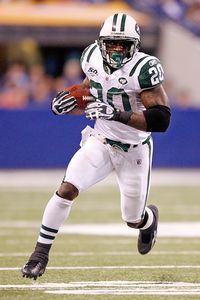 Andy Lyons/Getty ImagesIn Kansas City, Thomas Jones will likely serve as the No. 2 back and the short-yardage specialist.
ESPN's Adam Schefter has reported
Kansas City signed running back
Thomas Jones
. The former Jets, Bears, Tampa Bay and Cardinals runner will be paid $5 million over the next two years.
This is a great deal for Kansas City. Jones may be 31 and he may have worn down some in the playoffs. But he is still a player who can help. He ran for more than 1,400 yards last season.
Jones has shown he is the rare tailback who can succeed after the age of 30. He has rushed for more than 1,000 yards in each of his two seasons after turning 30. According to ESPN Stats & Information, Jones can tie the record -- held by
Emmitt Smith
, Walter Payton and John Riggins -- for having three 1,000-yard rushing season after turning 30.
Don't worry about this guy being finished. He's not.
He gives Kansas City a legitimate NFL running game. It is clear the Chiefs are bound and determine to try to control and win games on the ground.
Jones will team with blossoming star
Jamaal Charles
. He had 1,120 yards in his second NFL season in 2009 despite not becoming the primary back until November.
Expect the game-breaking Charles to be the Chiefs' primary back. But Jones will get plenty of carries and will likely be the Chiefs' short-yardage back. This tandem should work fine. At the combine last month, Kansas City coach Todd Haley said it was imperative Kansas City get Charles some help because he is "200 pounds soaking wet."
The Jones signing will make Charles better because he shouldn't wear down. The Chiefs still have to improve their offensive line this offseason, but the Kansas City offense is on its way.
New offensive coordinator Charlie Weis will have plenty to work with. The Charles-Jones rushing duo should help quarterback
Matt Cassel
. With the run setting up the pass, Cassel won't have to do it alone.
Kansas City has been looking to make an impact move for a week. It was reported the Chiefs were primed to visit with San Diego running back
Darren Sproles
before the Chargers gave him the high tender at the deadline. The Chiefs tried to trade for receiver
Anquan Boldin
on Friday before he was dealt to Baltimore.
After missing out on those productive offensive players, Kansas City -- which re-signed standout receiver
Chris Chambers
on Monday and will likely target a receiver early in the draft -- got itself a fine player in Jones.
He was the team's top choice at running back in free agency. The team had lined up visits with free agents
Justin Fargas
and
Willie Parker
. A source close to the situation said Tuesday afternoon that Parker will not visit Kansas City now that Jones signed. Fargas' visit is likely is jeopardy now as well.
Enjoy this signing Chiefs fans. It's significant.
February, 26, 2010
2/26/10
12:00
PM ET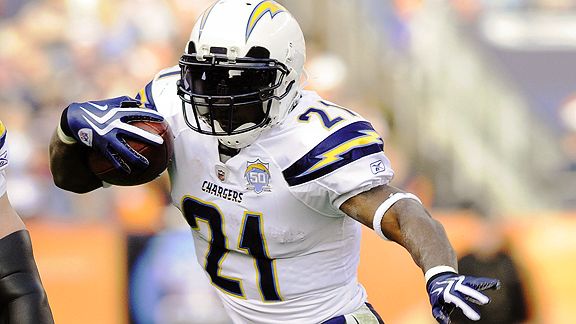 Icon SMIThe Chargers need to find an answer at running back now that LaDainian Tomlinson is no longer with the team.
One of the top story lines of the NFL offseason will be what San Diego does at running back.
The Chargers probably will bring in at least two new running backs. The team released legend
LaDainian Tomlinson
this week after he showed -- in his ninth NFL season -- that he could no longer be a reliable lead running back. San Diego may need another tailback to replace change-of-pace standout
Darren Sproles
, who appears
headed to free agency.
San Diego was 31st in rushing last season. It has to find a new spark. Watch for the Chargers -- who are at the NFL scouting combine this week working on improving the position -- to explore trades, free agency and the draft. Expect the draft to be a major option because the current list of available veteran talent is fairly unimpressive.
Here's a list of running backs who could be headed to San Diego:
Jahvid Best, California
How:
Draft
The skinny:
Best will be closely looked at by San Diego. If he checks out medically --- he had head and neck issues at the end of last season --- the dynamic Best should be available late in the first round. San Diego has the No. 28 pick and may be able to get in on Best. He is a fast, game-breaker type and would work well if San Diego grabbed a big back. But Best also could fit well if the Chargers kept Sproles.
Ahmad Bradshaw, New York Giants
How:
Trade
The skinny:
There has been
some thought
that the Giants could dangle either Bradshaw or
Brandon Jacobs
in a trade for San Diego cornerback
Antonio Cromartie
, who is being shopped. Bradshaw could be the more likely of the two to be dealt. He'd be a decent rotational option.

Bush
Reggie Bush, New Orleans
How:
Free agency
The skinny:
If Bush is cut, the only way San Diego would be interested in this native son is if Sproles left. This is a long shot.
Tashard Choice, Dallas:
How:
Trade
The skinny:
I get the feeling Choice is the Chargers' top choice among the veteran lot. San Diego inquired about the Cowboys' backup in the Cromartie conversations. However, Dallas is reluctant to give up Choice. If that changes, San Diego may pounce on him.
Jonathan Dwyer, Georgia Tech
How:
Draft
The skinny:
Dwyer is a big, strong back. The combine is important for him. If he does well, he could sneak into the first round. If he is average, Dwyer could be had in the second or third round, where San Diego would consider him if it also gets a veteran back.
Toby Gerhart, Stanford
How:
Draft
The skinny:
Gerhart seems like a player who would intrigue San Diego general manager A.J. Smith. He was a very productive college player and has a big upside. He could be a steal in the third or fourth round. The Southern California native is big and rugged. If he and a veteran were brought in, and Sproles was kept, it could be an exciting time in San Diego.

Jones
Thomas Jones, New York Jets
How:
Free agency
The skinny:
Jones is not free yet, but he is expected to be cut. If so, put him at the top of San Diego's veteran wish list. Even though he is 31 and past his prime, Jones is a tough runner who could help for a year or two. Add Jones with a rookie and Sproles, and San Diego's run offense would surely improve in 2010.
Ryan Mathews, Fresno State
How:
Draft
The skinny:
Mathews had a productive season and is one to keep an eye on. He will surely be in San Diego's mix along with Mississippi State's
Anthony Dixon
and USC's
Joe McKnight
.
Willie Parker, Pittsburgh
How:
Free agency
The skinny:
He shouldn't be high on the list. Parker is on the decline, but there aren't many high-quality running backs on the market yet. He could be a backup plan.
C.J. Spiller, Clemson
How:
Draft
The skinny:
He is expected to be the class of the rookie crop. If he does what is expected of him in the next two months, Spiller could be a top-15 pick, which would be difficult for San Diego to get to. If for some reason he fell into the 20s, expect the Chargers to make a draft-day run at this potential difference-maker.

Taylor
Chester Taylor, Minnesota
How:
Free agency
The skinny:
Taylor is 30, but he has fairly low mileage. The most carries he's had in a season was in 2006 when he had 303 and ran for 1,216 yards. He hasn't had more than 160 carries in any of his other seven seasons. It's unclear how he would do if given the opportunity to carry the ball 20-25 times a game.
Pierre Thomas, New Orleans
How:
Free agency
The skinny:
The restricted free agent would be intriguing if he hit the open market. Thomas may not be the answer as the primary back, but he'd help as a rotational back.
LenDale White, Tennessee
How:
Trade
The skinny:
If the Titans were to let go of White at a decent price, San Diego might be tempted. He's big and strong and he can get the job done if not too much is asked of him. Add him to a backfield that included a rookie and Sproles and San Diego would be able to get by nicely.
January, 7, 2009
1/07/09
11:44
AM ET
Posted by ESPN.com's Bill Williamson and John Clayton

This is a debate on Sunday's AFC divisional playoff game between San Diego and Pittsburgh. We will tackle topics on the game. AFC West blogger Bill Williamson will debate the side of the Chargers and senior writer John Clayton will debate the side of the Steelers.

Here we go:
Which quarterback will have a bigger impact?
| | |
| --- | --- |
| | |
| | Harry How/Getty Images |
| | Philip Rivers and the Chargers ride a five-game winning streak into Pittsburgh Sunday. |
Bill Williamson: John, it's going to be San Diego quarterback Philip Rivers. The Chargers are the hottest team in the NFL and Rivers is one of the hottest players in the league. He's playing out of his mind. Why shouldn't he? It's the playoffs and Rivers is a late-season player.
Rivers, taken seven picks higher than Roethlisberger, has developed into one of the great late-season players. He is 14-0 in December games and he is 3-2 in the postseason. While Indianapolis' Peyton Manning got his numbers Saturday night, it was Rivers who led the Chargers to 10 points in the final minute of regulation and in overtime.
Rivers is a big-game player. Yes, Big Ben has his Super Bowl ring and he knows how to get it done in the clutch as well. But Rivers is red hot. His statistics far surpass Roethlisberger's numbers in 2008. Rivers is playing with a purpose. He is a fantastic leader. He will not be intimidated by the vaunted Pittsburgh defense or the miserable weather. Rivers has willed the Chargers to victory during this five-game win streak, and there's no reason not to think Rivers won't do it again, Mr. Clayton.
John Clayton: Billy, you can throw me all the stats you want, but Ben Roethlisberger was the first of the top three quarterbacks taken in the 2004 draft to go to the Super Bowl and win, beating Eli Manning and Philip Rivers to the punch. The 14-0 December stat is nice, but Roethlisberger did get the field goal drive to beat Rivers in Pittsburgh this year. He's a big-time player in big-time games. Rivers is a quarterback who is learning the playoffs. Last year, he learned how to win a playoff game, beating the Titans. Roethlisberger is one of the best in football in the final two possessions of the fourth quarter. He has a presence in those situations that is one of the best in football. He has a strong arm that doesn't have problems in windy conditions. I'm not going to make a pick in this game, but Roethlisberger has the edge during his career in one key stat -- wins. He's 51-20 during the regular season and he's done it against tough schedules. Drew Brees has better stats than both those guys, but don't bet against Roethlisberger in the final four minutes of any game.