September, 12, 2013
9/12/13
12:00
PM ET
For the third time in their careers, brothers
Peyton Manning
and
Eli Manning
will oppose each other as the starting quarterbacks in the same NFL game. Peyton's
Denver Broncos
travel to East Rutherford, N.J., to take on Eli's
New York Giants
at 4:25 p.m. ET on Sunday at MetLife Stadium. Both of these teams have dreams of playing in the Super Bowl in that very same building in February. But while Denver looked the part of the contender in its Week 1 rout of the defending champion Ravens, the Giants turned the ball over six times in an ugly opening-week loss in Dallas. Broncos team reporter Jeff Legwold and Giants team reporter Dan Graziano break down this week's Battle of the Brothers.
Dan Graziano:
So yeah, Jeff, I don't know if you were able to dig this up on your end, but my research does indeed confirm that the two starting quarterbacks in this game grew up in the same house with the same parents. I wonder if others will catch on and ask some questions and write some stories about that angle this week. I don't expect Eli Manning to admit that he's looking for revenge after his big brother beat him twice while he was with the Colts, but I'm sure there's some element of that going on. I have two little brothers myself, and personally I'd be pretty annoyed if I ever lost an NFL game to either one of them. Do you think this game means a little something extra to Peyton Manning?
Jeff Legwold:
Dan, I wasn't planning to ask about this ... but OK, I'm in. I've been around Peyton since my time in Nashville and his at the University of Tennessee, so I'm fairly certain Peyton isn't a big fan of this from a personal perspective. Plenty of his friends said after the Colts released Peyton they didn't even think he would go to an NFC team, let alone the Redskins (pre 2012 draft, of course) because there was far more potential to face Eli if he did. They'll talk this week, but there won't be any football on the phone. From a football standpoint Peyton is in regular-season mode, which is intense, focused and running the show. The Broncos didn't show all of their changes on offense against the Ravens last week -- they have another gear they can hit in the no-huddle they didn't use against Baltimore -- but Peyton has plenty of places to go in the passing game. How do you think the Giants' revamped defensive front will approach all of that?
DG:
Yeesh. Another gear? The rest of the league can't be excited to hear that. The most positive and effective change the Giants made on defense this offseason was at defensive tackle, where they believe they've beefed up and are better suited to stop the run than they were a year ago. But while that sounds nice and useful, the plain fact is that the Giants' defense needs a dominant pass rush from the front four in order to be effective. The linebackers are terrible, and Dallas' short-range-passing game plan Sunday night showed that it's not hard for the rest of the league to figure that out and take advantage of it. The cornerbacks are just so-so, and if
Prince Amukamara
is out with a concussion (still unknown at this time), that unit becomes a liability. The key will be
Justin Tuck
and
Jason Pierre-Paul
generating pressure on Peyton from the edge. Pierre-Paul looked rusty and didn't play a full game Sunday as he was coming off of June back surgery and missed the preseason. If he can take a big step forward this week in terms of conditioning and practice time, that would help. He's the difference-making player in their defensive front -- the one who has the ability to take over a game if he's 100 percent. They need him as close to that as possible if they're going to pressure Peyton Manning enough to limit the time he has to take advantage of all of those options.
Peyton's brother has his share of options as well. Three different Giants receivers had more than 100 yards in the opener, including big second-year wideout
Rueben Randle
. With
Victor Cruz
in the slot and Randle and
Hakeem Nicks
on the outside, how are the Broncos equipped to cover the Giants' receivers?
[+] Enlarge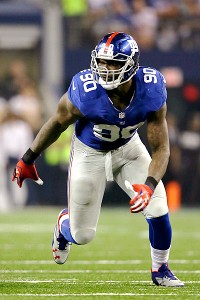 AP Photo/Tony GutierrezJason Pierre-Paul and New York's pass rush may be the key to containing Peyton Manning.
JL:
It is an issue for the Broncos, especially if
Champ Bailey
(left foot) isn't ready to go. He was jogging early in the week, but did not take part in Monday's practice. He has been in for treatment every day, including Tuesday, and still hopes to get himself back in the lineup. The Broncos signed
Dominique Rodgers-Cromartie
in the offseason because they believed he could take his game to another level and that they could help him do that. He played like the former Pro Bowl pick (2009) he was in the opener and shut down
Torrey Smith
and showed plenty of athleticism. But take Bailey out of the mix and the Broncos are small when they go into the nickel. When Bailey doesn't play, the 5-foot-10
Chris Harris
starts and the 5-foot-9
Tony Carter
then comes in for the nickel. Without Bailey that puts Harris in the slot and Carter on the outside and quarterbacks tend to go after Carter in that situation. If Bailey plays -- and he's made no secret he wants to -- that gives the Broncos better matchups. Defensive coordinator Jack Del Rio likes to mix it up overall and uses a lot of people, and if they get the right down-and-distance situations, he likes to even break out a seven-defensive back look and the rushers come from everywhere in the formation.
When Del Rio is looking at the Giants' running game, what will he see?
DG:
Oh, yes. The run game. Better known as "The Only Thing I've Been Writing About Since Sunday Night." I still think the answer to your question is second-year back
David Wilson
, though his much-publicized pair of fumbles (and his less-publicized issues in pass protection) have the Giants tweaking last week's plan to give Wilson a full starter's workload. They had a bunch of veteran backs in for workouts Tuesday and ended up signing
Brandon Jacobs
, but Wilson is still the former first-round pick and the big-play threat who's likely to get the bulk of the first-down and second-down work as long as he doesn't fumble anymore. They had planned to use
Andre Brown
as the passing-downs back and the goal-line back before Brown broke his leg in the final preseason game, and after Wilson's tough opener, it looks as though Jacobs has been brought in to fill Brown's role. But Wilson's still their best running back, and assuming they throw him right back in there, he's someone for whom the Broncos will have to account. When he does hold on to the ball, he's impressive to watch run.
One guy who obviously stood out for the Broncos in their opener was the tight end,
Julius Thomas
. The Giants had no answers for
Jason Witten
on Sunday and, as I mentioned earlier, don't have anyone in their linebacking corps to really cover tight ends. So was Thomas a one-game wonder, or is this a serious candidate for a major role in the passing game?
JL:
Dan, the Broncos and Thomas waited two years to see what folks saw last Thursday night. Since the Broncos took the former Portland State basketball player in the fourth round of the 2011 draft, he offered glimpse after glimpse on the practice field of what the potential was. But he suffered an ankle injury on his first NFL catch -- in the second game of his rookie season -- and wasn't the same after. He had surgery to repair the ankle before last season and spent much of the year simply being a game-day inactive. But coming down the stretch last season, players kept talking about what Thomas was doing in practice, and in training camp this summer he consistently ran away from defensive backs. He's great at getting the ball in a crowd and the Ravens did what most defenses figure to do, rotate coverage to the likes of
Wes Welker
and
Demaryius Thomas
, and leave Thomas with just one defender. Thomas is still raw in some of his route running -- he is in just his fourth year of football after just one season's worth in college -- and sometimes will drop one he shouldn't, but the guy is a matchup problem for defenses, especially since Peyton Manning trusts him enough to throw it to him in almost any situation.
Opposing tight ends did plenty of damage against the Broncos' defense last season with 81 receptions for 948 yards and 11 touchdowns as a position group. They've seen
Brandon Myers
plenty in previous seasons, how does he fit in an offense with so much output at wide receiver?
DG:
Yes, Myers was kind of the forgotten man Sunday night with all of the wideouts going nuts. And as long as those three wideouts are healthy and productive, I wouldn't be surprised to see that continue. Myers is the Giants' fourth different starting tight end in four years. And over the past five years, the Giants' leading tight end has averaged 40.6 catches per season.
Martellus Bennett
's 55 catches last year were the most by a Giants tight end since
Jeremy Shockey
caught 57 in 2007. So while Myers was a big receiving threat in Oakland, I doubt he'll threaten 70-80 catches this year as a Giant. They just don't use their tight end as a weapon in the receiving game the way a lot of teams do. Now, might they pick a matchup, such as this one, in which you say the team hasn't been strong against tight ends, and throw it to him more in such a game? Entirely possible. Myers looked like a significant part of the offensive game plan in training camp practices, so there are definitely some packages in which they'll throw to him. But right now, with injuries on the offensive line and the problems they're having in general with pass protection, I believe they need Myers to stay in and block more.
Speaking of protection, and getting back to what I think is one of the key points at least from the New York end, what's the state of the Denver offensive line in front of big brother Manning? Are the Giants' pass-rushers in for a challenging day?
JL:
That was THE story in the preseason for the Broncos. Two of their starting linemen -- right tackle
Orlando Franklin
and left tackle
Ryan Clady
-- had offseason surgeries and Clady didn't play in the preseason. They lost center
Dan Koppen
to a torn ACL in training camp and spent much of August signing veteran linemen to address depth issues, before finally bringing two of those signees --
John Moffitt
and
Steve Vallos
-- onto the final 53-man roster. They want the three-wide set to be their base formation on offense -- they ran their first 20 plays from scrimmage out of it against the Ravens -- but can't play it if they can't protect. Their first target in free agency, because they felt like they surrendered far too much pressure up the middle, was guard
Louis Vasquez
, who got the longest deal (four years) the Broncos gave to any player they signed in the offseason. They had some bobbles early against the Ravens, went to a two-tight end set briefly in the second quarter to reset things and kept themselves together when they went to three-wide after that. Center
Manny Ramirez
is the key; when he plays well, the Broncos can stay in that three-wide look and they can consistently pressure defenses out of it.
Rushing a Manning is something the Broncos have to consider as well. What do the Giants think of a pass rush without
Von Miller
in it for another five games?
DG:
I'm sure they wish he was coming back in time to face the Eagles in Week 4 and the Cowboys in Week 5. But as a Week 2 development, the Giants will take it. Preseason injuries shook up the Giants' line. They have rookie first-rounder
Justin Pugh
starting at right tackle, which wasn't the plan. They have left guard
Kevin Boothe
playing center and backup tackle
James Brewer
playing left guard for the first time in his life. Add in the blocking downgrade at running back, and Eli Manning's protection is one of the major issues the Giants are having right now. Like his brother, Eli has an insanely quick release, so he doesn't need a Hall of Fame line in front of him in order to be successful. But he does need some level of comfort back there, because he's not at his best when he has to move his feet.
George Selvie
and a cast of backup rushers had success against the Giants' line Sunday night and helped rattle Manning into three interceptions, so it's not as though the Broncos necessarily need Miller to get the job done. What are they doing with their pass rush to overcome that significant loss and the loss of
Elvis Dumervil
to the whims of a fax machine?
JL:
With Dumervil now in Baltimore and Miller suspended for five more games for violating the league's substance-abuse policy, the Broncos are missing 29.5 sacks from last season's defense that tied for the league lead (52) last season. The Broncos talked to plenty of veteran pass-rushers in the offseason and, after deciding
John Abraham
and
Dwight Freeney
wanted too much money, they signed
Shaun Phillips
during the draft weekend. And it's Phillips who is going to have to be the biggest part of the solution in the pass rush until Miller comes back. He was up to the challenge with 2.5 sacks and a forced fumble against the Ravens. Del Rio likes plenty of pressure packages when the Broncos get the lead and will rush players from anywhere in the formation The Broncos are particularly aggressive and creative out of their dime looks as well as the seven-defensive back look. They still have to show they can win one-on-one matchups in the rush when the game is tight, however. The rush didn't really kick in against the Ravens -- Flacco was largely untouched in the first half last Thursday -- until the Broncos had built the lead and the Ravens had to open things up some.
The Giants will be one of three NFC East teams the Broncos will play over the next four weeks, so do the Giants believe the Broncos' no-huddle look will be an kind of preview for what's to come with the Eagles?
DG:
Good question. The Cowboys showed some no-huddle Sunday, and obviously the Giants are going to have to expect it from the Eagles, so perhaps these are some good early tests for them. Makes me think it really would help if they had some better all-around instinctive playmaker types in the linebacking corps. But they don't prioritize that position, and they think if they can get to the quarterback they can make up for deficiencies there and in the secondary. We'll see. It's a lot to ask of Tuck and Pierre-Paul, but they've both been great players at times in the past.
Anyway, I think that about covers it. Should be a fun one Sunday at the Meadowlands. See you there, Jeff.
February, 20, 2013
2/20/13
8:00
AM ET
Mid-week mail call:
Bill Davis from San Diego wants to know
what I thought about
Melvin Ingram
's rookie season with the Chargers.
Bill Williamson:
To be honest, I was expecting more from Ingram. I thought San Diego really scored when he fell to No. 18 last season and I still feel that way. I think he will be a fine player and he showed flashes. But I was looking for more consistency from Ingram because I think he can be special. But the future is bright.
Jesse Howerton from Kansas City, Kan., wants to know
if Oakland could sign running back
Brandon Jacobs
.
BW:
I like the idea of Jacobs because he is big and Oakland could use a player like him. But I worry that Jacobs, 30, may have seen better days. He didn't fit in San Francisco at all and the team moved away from him. On the other hand, I think he can come cheap, so if the price is right and the expectations weren't super high, I could see a possible fit in Oakland.
Rust Crew from Dallas, Pa. wants to know
if I think Andy Reid could turn to Matt Cassel this year.
BW:
I know the Chiefs aren't publicly closing the door, but I highly, highly doubt it. I expect Cassel to be cut. His time is there up. He was connected to the previous regime and he has to go. It's a new beginning in Kansas City and it starts at quarterback.
March, 28, 2012
3/28/12
12:40
PM ET
An NFL.com columnist
reports some scouts believe Peyton Manning began to slide some before his neck injury last season. My thoughts? He's 36. We are not going to see the 2004 Manning, but would you bet against that guy having solid season in the next couple of years? Nah, me neither. Meanwhile,
a Sports Illustrated piece
follows Manning's process as he chose to play with the Broncos.
As expected
, Manny Lawson is not going to be a Raider. The defensive end/linebacker is headed back to the Bengals.
ESPN's Adam Schefter is reporting former Giants' running back Brandon Jacobs is heading to the Bay Area. But he's going to the San Francisco 49ers, not the Oakland Raiders. Jacobs was considered a potential replacement for Michael Bush, who signed with Chicago, but the Raiders have too many other needs and too much salary-cap limitations to sign a player like Jacobs. Oakland will likely look for a bigger back later, perhaps in the draft.
The Denver Post looks at the Broncos' remaining needs.
March, 23, 2012
3/23/12
4:40
PM ET
Free agency is winding down, but there are still some players available who can help each AFC West team.
Let's look at a good fit, in my opinion, for each team. This doesn't necessarily mean any of these players are on the team's radar, but I think they are a good fit:

Denver
Quarterback Billy Volek, released by San Diego
Why:
Denver needs a backup for
Peyton Manning
. Volek would be perfect. The Broncos have had some talks with Volek, who was cut by the Chargers last week. He has backed up
Steve McNair
and
Philip Rivers
. Volek knows what it is like to be an understudy for a star.

Kansas City
Defensive tackle Aubrayo Franklin, New Orleans free agent
Why:
There has been some interest. Franklin is a solid 3-4 nose tackle who can be a solid rotational player for the Chiefs. It is one of the team's biggest needs and the Chiefs could do worse than Franklin.

Oakland
Running back Brandon Jacobs, released by the New York Giants
Why:
I was going to go with Minnesota linebacker
Erin Henderson
. However, he has just re-signed with the Vikings. Outside linebacker is the Raiders' greatest need. The Raiders also need a power running back and Jacobs would be the perfect replacement for
Michael Bush
, who signed with Chicago on Thursday. Because of a lack of money and other needs, the Raiders will likely find a lesser-priced backup. Jacobs would look great in the Silver and Black, though.

San Diego
Defensive tackle Antonio Garay, San Diego free agent
Why:
It may not be sexy for the choice to be an in-house rotational defensive tackle. But Garay is a solid player and I think he is the best available AFC West free agent. If the Chargers don't re-sign Garay, they will have to replace him. There is still a place for him in San Diego.
March, 22, 2012
3/22/12
6:05
PM ET
Here are some highlights from our
AFC West chat
, which was held Thursday:
Denver
Jared from DC:
Denver looking for RBs only in Draft? See Any WRs for Denver coming there?
Bill Williamson:
Likely look at RBs in the draft. I think the added WRS will be vets. Just signed
Andre Caldwell
. Stokley may be next.
Kansas City
Kevin from Kansas City, Mo.:
With the added strength at OL and all our starters coming back off injury, can the Chiefs or any other AFC West team compete with Peyton and the Broncos over the next five years? Or should we all just take 5 and come back when the West isn't won? UGH can't stand PM why did he have to choose the AFC West?
BW:
You are fine. I think Manning will be very good for three years. But the Chiefs are going to be good as well. I really like what your team did in free agency. Manning is the big fish, but Kansas City has done well.
Oakland
Chuck from New York City:
With Bush now in Chicago, do you envision the Raiders signing another backup RB in addition to the injury-prone Jones or trying to get another through the draft?
BW:
Oakland, Denver and San Diego all need a backup. Here are some of the best players available:
Cedric Benson
,
Brandon Jacobs
,
Ryan Grant
,
Joseph Addai
,
Justin Forsett
,
Jackie Battle
and Kevin Smith. The market has been slow so some of these players could come cheaply. I think Jacobs would be a nice replacement for Bush if the price is right.
San Diego
Andrew De Fazio from Canada:
Who do you think the Chargers will draft with the 18th overall pick? or will they trade up?
BW:
They will probably stay put. They will have a lot of choices. However, if they far in love with someone like Melvin Ingram or Courtney Upshaw, they may need to move up.
March, 19, 2012
3/19/12
10:00
PM ET
It was almost 12 hours ago when I first reported that
San Diego Chargers
running back
Mike Tolbert
has signed a four-year deal with the
Carolina Panthers
. I ended the short post by saying I would have more on the story later.
I should have indicated it would be much, much later. I guess I got sidetracked by another little story that developed in the AFC West.
Anyway, without further ado, here are some thoughts on Tolbert's departure:
I don't like it.
Last month
, I wrote the Chargers couldn't afford to lose another running back. Last year, they saw
Darren Sproles
go to New Orleans and he was missed. So will Tolbert.
He is a stud in short yardage, he has nice hands, he is a fine blocker, and he is great on special teams. Winning teams have players like Tolbert.
Ryan Mathews
will need a new complement. Two names to keep an eye on are Kansas City's
Jackie Battle
and Oakland's
Michael Bush
. Bush is getting interest from the Bengals, Bears and Seahawks. Perhaps the Chargers will join the party. Other running backs available include
Cedric Benson
,
BenJarvus Green-Ellis
,
Brandon Jacobs
,
Ryan Grant
and
Joseph Addai
.
The Chargers will see a lot of familiar faces when they play the NFC South in 2012. They will see Tolbert and Sproles as they will see recently departed star receiver
Vincent Jackson
in Tampa Bay and will face former backup running back
Michael Turner
when they play the Falcons.
The Chargers' last real priority in-house free agent is defensive tackle
Antonio Garay
.
March, 9, 2012
3/09/12
5:00
PM ET
The Denver Posts reports
money will not be an issue in Denver's pursuit of Peyton Manning. He is visiting the team Friday.
ESPN's Adam Schefter reports
Carson Palmer's restructured contract got the quarterback $7.5 million more in guaranteed money for 2012 and also will save the Raiders about $9 million in salary-cap room. Oakland is working to get under the salary cap by Tuesday.
UPDATE:
The Raiders have cut cornerback Chris Johnson to save cap room, according to ESPN's Adam Schefter. This move has been expected. Johnson was not in Oakland's plans. Yet, his release signals how big of a need cornerback is in Oakland.
ESPN's John Clayton reports
the Raiders are now $5.6 million over the cap. They have some more easy-to-restructure deals and they may cut a player or two. So, the Raiders will get under the cap by Tuesday.
The Giants are reportedly
cutting running back Brandon Jacobs. I think all four teams in the AFC West could show interest in the bruising Jacobs under the right circumstances. He is not a primary back, but he serves a role that could be of interest to each of the AFC West teams.
February, 26, 2010
2/26/10
12:00
PM ET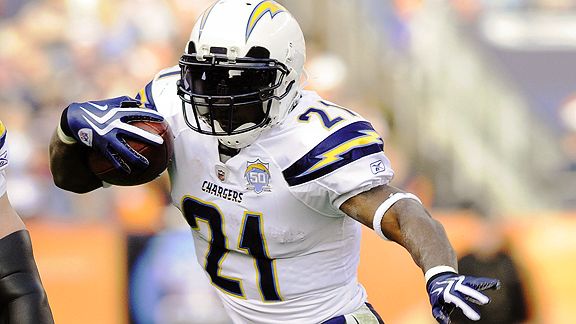 Icon SMIThe Chargers need to find an answer at running back now that LaDainian Tomlinson is no longer with the team.
One of the top story lines of the NFL offseason will be what San Diego does at running back.
The Chargers probably will bring in at least two new running backs. The team released legend
LaDainian Tomlinson
this week after he showed -- in his ninth NFL season -- that he could no longer be a reliable lead running back. San Diego may need another tailback to replace change-of-pace standout
Darren Sproles
, who appears
headed to free agency.
San Diego was 31st in rushing last season. It has to find a new spark. Watch for the Chargers -- who are at the NFL scouting combine this week working on improving the position -- to explore trades, free agency and the draft. Expect the draft to be a major option because the current list of available veteran talent is fairly unimpressive.
Here's a list of running backs who could be headed to San Diego:
Jahvid Best, California
How:
Draft
The skinny:
Best will be closely looked at by San Diego. If he checks out medically --- he had head and neck issues at the end of last season --- the dynamic Best should be available late in the first round. San Diego has the No. 28 pick and may be able to get in on Best. He is a fast, game-breaker type and would work well if San Diego grabbed a big back. But Best also could fit well if the Chargers kept Sproles.
Ahmad Bradshaw, New York Giants
How:
Trade
The skinny:
There has been
some thought
that the Giants could dangle either Bradshaw or
Brandon Jacobs
in a trade for San Diego cornerback
Antonio Cromartie
, who is being shopped. Bradshaw could be the more likely of the two to be dealt. He'd be a decent rotational option.

Bush
Reggie Bush, New Orleans
How:
Free agency
The skinny:
If Bush is cut, the only way San Diego would be interested in this native son is if Sproles left. This is a long shot.
Tashard Choice, Dallas:
How:
Trade
The skinny:
I get the feeling Choice is the Chargers' top choice among the veteran lot. San Diego inquired about the Cowboys' backup in the Cromartie conversations. However, Dallas is reluctant to give up Choice. If that changes, San Diego may pounce on him.
Jonathan Dwyer, Georgia Tech
How:
Draft
The skinny:
Dwyer is a big, strong back. The combine is important for him. If he does well, he could sneak into the first round. If he is average, Dwyer could be had in the second or third round, where San Diego would consider him if it also gets a veteran back.
Toby Gerhart, Stanford
How:
Draft
The skinny:
Gerhart seems like a player who would intrigue San Diego general manager A.J. Smith. He was a very productive college player and has a big upside. He could be a steal in the third or fourth round. The Southern California native is big and rugged. If he and a veteran were brought in, and Sproles was kept, it could be an exciting time in San Diego.

Jones
Thomas Jones, New York Jets
How:
Free agency
The skinny:
Jones is not free yet, but he is expected to be cut. If so, put him at the top of San Diego's veteran wish list. Even though he is 31 and past his prime, Jones is a tough runner who could help for a year or two. Add Jones with a rookie and Sproles, and San Diego's run offense would surely improve in 2010.
Ryan Mathews, Fresno State
How:
Draft
The skinny:
Mathews had a productive season and is one to keep an eye on. He will surely be in San Diego's mix along with Mississippi State's
Anthony Dixon
and USC's
Joe McKnight
.
Willie Parker, Pittsburgh
How:
Free agency
The skinny:
He shouldn't be high on the list. Parker is on the decline, but there aren't many high-quality running backs on the market yet. He could be a backup plan.
C.J. Spiller, Clemson
How:
Draft
The skinny:
He is expected to be the class of the rookie crop. If he does what is expected of him in the next two months, Spiller could be a top-15 pick, which would be difficult for San Diego to get to. If for some reason he fell into the 20s, expect the Chargers to make a draft-day run at this potential difference-maker.

Taylor
Chester Taylor, Minnesota
How:
Free agency
The skinny:
Taylor is 30, but he has fairly low mileage. The most carries he's had in a season was in 2006 when he had 303 and ran for 1,216 yards. He hasn't had more than 160 carries in any of his other seven seasons. It's unclear how he would do if given the opportunity to carry the ball 20-25 times a game.
Pierre Thomas, New Orleans
How:
Free agency
The skinny:
The restricted free agent would be intriguing if he hit the open market. Thomas may not be the answer as the primary back, but he'd help as a rotational back.
LenDale White, Tennessee
How:
Trade
The skinny:
If the Titans were to let go of White at a decent price, San Diego might be tempted. He's big and strong and he can get the job done if not too much is asked of him. Add him to a backfield that included a rookie and Sproles and San Diego would be able to get by nicely.
December, 5, 2008
12/05/08
12:05
PM ET
Posted by ESPN.com's Bill Williamson
When the Denver Broncos selected Peyton Hillis in the seventh round of the April draft, they weren't expecting him to their next standout tailback.
They simply liked Hillis as a football player. They liked him as an under-the-radar tailback. But they didn't think of him as a starter in the NFL. They liked him equally well as a soft-handed fullback who could be a receiving threat out of the backfield. They also liked him as a potential H-back. The Broncos looked at the big, fast kid from Arkansas _- who was best known as Darren McFadden and Felix Jones' lead blocker in college - and they saw a Dallas Clark-like player.
Denver saw a lot they liked in a player they had a fourth-round grade on. When Hillis was still available in the seventh round, Denver, which thought it solved its need at running back in the fifth round in the form of Arizona State rookie Ryan Torain, the Broncos jumped at the chance to take him. They didn't know where they'd play him, but they knew they got a good football player.
With four games remaining in the regular season and a playoff berth looming for the 7-5 Broncos - whose magic number to win the AFC West is two heading into Sunday's home game against Atlanta -- Hillis has become much more than just a good football player.
He is becoming a savior to their offense. If it wasn't for Hillis, the balanced attack for which Denver is famous for, wouldn't be possible. Hillis is saving Denver's running game.
After season-ending injuries to Torain, Michael Pittman, Andre Hall, Anthony Alridge and a long injury suffered by Selvin Young, the Broncos broke the emergency glass and inserted Hillis in the lineup as a tailback. They had no other choice.
And he has been flourishing.
"We knew he was an athlete when he first stepped foot here in Denver, the way he can catch the ball and the way he can run with the ball, we knew we had somebody special," Denver wide receiver Brandon Marshall told reporters in Denver's locker room Thursday. "There definitely hasn't been a dropoff at running back since he's been back there."
The Broncos are used to this type of sudden impact at this position. Denver has had nine different running backs rush for a 100 yards in a game since 2004. It leads the NFL.
But Hillis? Really? This is a guy who was the fullback. He's only playing because of five, yes, five injuries. But he's made an instant impact. Hillis' rushing yard totals increased in each of his last four games. He had 129 yards on the ground in Denver's 34-17 upset win at the Jets on Sunday. He is averaging 4.8 yards per carry and he has four rushing scores.
With McFadden struggling all season because of turf toe injuries and Jones done for the season in Dallas, the lead blocker for the two first-round picks from Arkansas is stealing the show in the NFL. Hillis' early success after an obscure college existence reminds some in the NFL about the situation Brandon Jacobs endured while at Auburn. He was overshadowed by Ronnie Brown and Carnell Williams before he transferred to Southern Illinois. Now, in the NFL, Jacobs is making his own name for himself.
Hillis, 22, is certainly making a name for himself in Denver. His teammates love the happy go-lucky runner with that lovable southern twang. Hillis won over his teammates in Cleveland on Nov. 6 when he converted a first down on fourth and short with a second-effort run. The play ignited a Denver comeback win which was a spark to a streak in which the Broncos have won three of four games despite all of the injuries at tailback and on defense.
"I'm just glad I have come in here and fit in," Hillis said. "I think some people might be surprised but I feel like I'm a versatile guy who could come in here and help and I hope that's what I'm doing."
The Broncos are winning and Hillis, who is 6-2, 250 pounds, is a big reason why. Denver quarterback Jay Cutler said Hillis, who has 4.5 speed, is a perfect Denver running back.
"I think this running scheme is kind of designed for him," Cutler said. "It is one cut, get downhill, get your five or six yards and every once in a while you can break a 30 or 40 yarder if you get up on the safeties. He has done a good job. He is a smart kid, and I think we have used him effectively. We have tried to play off his strengths. We haven't put him in the position where we have had to ask him to do things he can't do. He has stepped up to the challenge and has been fun to watch."
The Broncos aren't necessarily looking at Hillis as a stop-gap answer at tailback. Yes, that's how he got the job, but the team loves his rugged running style. There are those in the Denver organization who believe he will have a role as a tailback next season. The team also likes Torain and he will get a chance to play next year when he recovers from a knee injury. And it wouldn't be a surprise if Denver added a veteran. But there will be room for Hillis.
"He has proven that he can play tailback," Denver coach Mike Shanahan said."He is better with the ball in his hands at the tailback position running the football or catching the pass out of the backfield. He is going to get a chance to play more tailback because of what he has done and how he can break tackles."
Hillis, a high school star tailback in Arkansas, wasn't expecting the chance to be a running back in the NFL, but he isn't ready to let it go, either.
"I hope I get to continue to play tailback," Hillis said. "But I'll do anything the team wants me to do."
And that's exactly why Denver drafted him in the first place.