February, 18, 2015
Feb 18
6:00
PM ET
INDIANAPOLIS -- Technically,
Oakland Raiders
coach Jack Del Rio can't specifically talk about signing soon-to-be-free-agent
Terrance Knighton
, but Wednesday Del Rio made it clear he likes the
Denver Broncos
defensive tackle plenty.
Free agency doesn't open until March 10 -- a negotiating window opens the week before that -- so under the league's tampering rules coaches and general managers can't talk about acquiring players under contract with other teams. Contracts from the 2014 season do not expire until March 9, the last day of the current league year. But there is history at work given Del Rio was the
Jacksonville Jaguars
coach when the team selected Knighton in the third round of the 2009 draft and he was the Broncos defensive coordinator when Knighton signed in free agency in 2013.
[+] Enlarge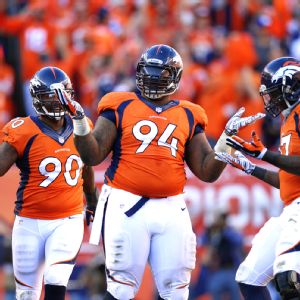 Joe Amon/The Denver Post/Getty Images"We drafted him," said Raiders coach Jack Del Rio of Terrance Knighton, "we thought at that time he was kind of a dancing bear type. A big powerful man that could stay on his feet and run down the line."
And with Knighton scheduled to be an unrestricted free agent and Del Rio on the hunt for more players in his new job as Oakland Raiders coach, it's clear there will be interest in the Bay Area.
"We drafted him, we thought at that time he was kind of a dancing bear type," Del Rio said Wednesday at the NFL's scouting combine. "A big powerful man that could stay on his feet and run down the line. So, you know, this game is about big, powerful men so the guys that have the skill level can do their things. This big powerful man played well in Jacksonville, we got back together, he played well in Denver and so I appreciate that and I respect. We have to have those kinds of people in our trenches in the offensive and defensive line in order to play the kind of football we expect to play."
Del Rio even used some of his question-and-answer session with the media at the combine to put the word out the Raiders have money and are ready to spend as well.
"I think it's important that the prospective players out there understand that things have changed," Del Rio said. "Our practice fields are all being re-done, our weight room will be expanded, we have a steam room going in, there's a freshness going on. ... As you go in this phase of free agency and acquiring players, we have cap space, we have cash, and we have a new staff full of teachers and we have a good young quarterback, we have a good man off the edge
Khalil Mack
, we've got a good left tackle, we've got good corners, so the things we needed when we started we have."
Knighton, a team captain this past season for the Broncos, was a key voice in the locker room and a key part of the team's defense as well, especially on early downs. For his part Broncos coach Gary Kubiak said Wednesday the team hopes to retain as many of its own free agents in the coming weeks, including Knighton.
Knighton would be a nose tackle in the Broncos' new 3-4 defense.
"We've got a few (free agents) obviously," Kubiak said. "The key in this business is holding your football team together and getting better at the same time. We've got some key free agents. … I know we're going to do everything we can to hang on to our players, but at the same time you have to put yourself in position through free agency and the offseason to get better as a football team. John's track record has proven he's doing a great job of that so I'll leave that to him. We would like to hang on to everybody. We want to keep the team intact as best we can."