Arizona Cardinals:

2013 Week 12 IND at ARI
November, 24, 2013
11/24/13
10:15
PM ET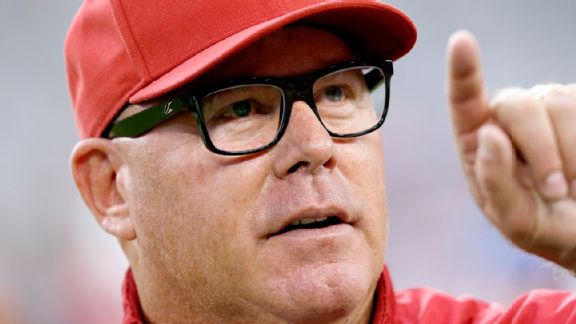 AP Photo/Ross D. FranklinArizona Cardinals coach Bruce Arians has his team pointing towards the postseason.
GLENDALE, Ariz. -- For the first 11 weeks of the season, Bruce Arians would stand at the podium following wins and losses and dissect the
Arizona Cardinals
' performance.
He'd talk about big plays, crucial stops, failed third-down conversions and the Cards' inability to convert inside the red zone -- but never about individual performances. That was saved for Monday mornings.
That was then.
This is now: "Normally, I'll come in and talk about a statistic or two, but the only one that matters is a W," Arians said following the Cardinals' 40-11 rout of the
Indianapolis Colts
. "From here on in, it doesn't matter about third-down statistics, red zone statistics, rushing statistics or anything like that.
"It's just about winning damn games."
That's what happens when the offense finally clicks, and it leads to four straight wins, putting the Cardinals in the thick of the playoff race.
Oh, you haven't heard? This season's Cardinals aren't the same team opponents used to beat up on after a weekend vacation in Scottsdale, Ariz. There's no more penciling in wins against the Cards. At 7-4, Arizona is barely sitting on the outside of the NFC wild-card race. If the
San Francisco 49ers
fall Monday night, the Cardinals will take over their place as the sixth seed and hold the tiebreaker over No. 5 Carolina.
The last time Arizona was 7-4 was in 2009, and they went to the playoffs.
Yet nobody is paying attention to what's happening in the desert. While the rest of the country is dusting off its winter coat, buying new snow boots and debating on whether to shovel or use a snow blower, the Cardinals are enjoying more than the sunshine in Arizona.
That's just how the Cardinals prefer it.
"I kind of like flying under the radar," quarterback
Carson Palmer
said. "You want to earn your respect in January and February. Right now, being 7-4 and beating Carolina, Detroit and now these guys [the Colts] -- we've beaten some good teams. We're giving teams our best shot.
"We go to Philly next week, St. Louis knows us and Tennessee. You look at records this time of year, and you start realizing who teams have beaten, and I think we'll start gaining that respect."
After putting up 40 on the Colts and limiting them to 96 total yards through three quarters, that respect might be here before they know it. Arians has seen firsthand how a good story and a winning record can attract national media.
He'd prefer the attention stay away, but he brought it upon himself by believing in a 33-year-old quarterback and a system that carried Arians to two Super Bowls as a coordinator. By running over a division leader that had a 7-3 record, that noise is going to get louder by the day.
And it's all because of an offense that took the Cardinals weeks longer than anyone expected to learn. But that begs the question: Why, during the past four games, has it just started working the way it was intended to?
"We haven't changed the way we have prepared," center
Lyle Sendlein
said. "We've been doing what we've been doing. I think we're a confident team right now. I think everybody's starting to believe in each other, and it's starting to show."
That confidence isn't built on false hope.
A few weeks into the season, players were saying the offense was complex, but, like anything, with time came the understanding. The receivers aren't asking each other if their alignment is right just before the ball is snapped. And during practice, players are asking each other questions instead of running to Arians.
It doesn't matter what finally clicked; it did, and the offense just keeps getting better. Last week in Jacksonville, Palmer threw for 416 yards. This week, the Cards scored 40. In the end, the opponents don't matter.
"I think we're finally where we need to be to be a team that, you're not going to fear us, but you're going to respect us," Arians said.
With an offense that has three formidable receivers, a tight end rotation that can burn teams on any given play and a backfield that's capable of getting third-and-1 as much as it's able to break an 80-yard run, the respect is deserved.
Yet, as well as the defense had been playing and the offense finally matching their effort recently, something was missing. Until Sunday, the Cardinals had yet to play a game that put them on the map.
"We've won some games, but we don't feel like we've made like a statement game," left tackle
Bradley Sowell
said. "We've kinda chipped away at some, won some, but we haven't put the whole thing together yet.
"All week we were like, 'We're at home against a team we're familiar with. Let's make a statement game.' And, man, we got out there and we executed exactly how we wanted to execute. I've probably never been part of a game like that, where everything was going our way. And everything -- whatever we worked on -- we ended up getting done. It was an awesome statement game."
But the Cardinals are not done yet, running back
Rashard Mendenhall
said. A big win in an emotional game in November is nice, but it isn't what Arizona is striving for. The Cardinals are playing for January and, hopefully, February.
"I think there's [an] understanding in this locker room," Mendenhall said, "that we control what's going to happen to us."
November, 24, 2013
11/24/13
7:06
PM ET
GLENDALE, Ariz. -- A few thoughts on the
Arizona Cardinals
' 40-11
win
over the
Indianapolis Colts
.

What it means:
Not only are the Cardinals winning games this season, but they're winning games they're supposed to win. That hasn't happened in Arizona in a while. The worst-kept secret in the NFL is how the Colts struggle in the first half. After Arizona scored on its first possession Sunday, it just kept piling on, but it wasn't just the offense that carved apart the Colts. The Cards' defense kept Indy under 100 yards for three quarters, and the Colts' first touchdown was on a broken play with a great catch. But Arizona isn't playing like a team waiting to lose like it was last season. This is a legitimate contender this season, and if it wasn't for a new offense that took almost half the season to get going, we would've been talking about the Cardinals for weeks now.
Stock watch:
Rashard Mendenhall
might not have ran for the most yards of the season, but there was something different about him Sunday. He had an extra pep in his step, or a set of afterburners on his heels. The veteran running back bounced outside throughout the first half instead of his typical inside-the-tackles bulldozing. He burned some rubber on his few plays, including a 13-yard run in the first half on which he hit the corner and shot up the sideline. Mendenhall looked more like rookie running back
Andre Ellington
than his usual self, but if Mendenhall can produce burst plays, Arizona's options at running back just got deeper.
Hitting their goals:
The Cardinals hit most of their offensive goals Sunday. Their 40 points exceeded their time of possession (36:49) and Arizona converted 50 percent of their third downs, another area of focus for the Cards.
Floyd keeps it up:
Michael Floyd
set a career high last weekend with 193 yards, but he didn't let up Sunday. His 104 yards were his second-highest total of the season and the first time he went over the 100-yard mark in back-to-back games in his career. But it wasn't just the quantity of yards, it was the quality. Normally facing single coverage, Floyd's catches were mostly highlight-worthy and made against the sideline. He's able to benefit from the attention
Larry Fitzgerald
gets, but he's still making great catches.
What's next:
The Cardinals face the
Philadelphia Eagles
on Sunday at Lincoln Financial Field.