Arizona Cardinals:

2013 Week 15 ARI at TEN
December, 16, 2013
12/16/13
8:15
AM ET
By
ESPN.com staff
| ESPN.com
December, 15, 2013
12/15/13
11:59
PM ET
NASHVILLE, Tenn. -- They looked confused at times and frustrated throughout. Something was off all game.
Unlike the secondary that was running like a well-oiled machine until the third quarter last weekend, the Cardinals' back-end didn't play like itself in Sunday's
37-34 overtime victory
against the Tennessee Titans. Three days of practice with a new rotation, implemented to replace rookie free safety Tyrann Mathieu, whose season ended last Sunday because of a knee injury, wasn't enough.
Mathieu's loss meant the Cardinals had to insert a new starter at free safety (Rashad Johnson), a new nickel slot back (Jerraud Powers) and a new nickel corner (Antone Cason). Johnson and Powers had experience playing together all season, even after Mathieu took over as the starting free safety in Week 4, but Cason was the wild card. He only saw sporadic action this year until he replaced Mathieu in nickel against the Rams.
The cohesion, however, wasn't automatic. Coverages were busted all afternoon against the Titans, and receivers roamed free. Tennessee quarterback Ryan Fitzpatrick threw a career-high 402 yards against a defense that had not allowed more than 319 yards in a game this season -- and that was to Drew Brees.
But cornerback Patrick Peterson believes all the kinks got worked out Sunday.
"I think it takes a game," he said. "I thought we did OK. I thought the quarterback made some good throws today, putting them in some tight spots. Just got to communicate better and overall, I thought we did play well just the communication part wasn't there.
"Now that we got a feel for one another, it's just time to go play."
This week will be spent learning how to play with each other in new roles. Cason felt like the unit embraced him this week and that support helped him get two interceptions.
Cardinals coach Bruce Arians said there was no question the Cardinals would have liked to have Mathieu, but there's no looking back. All eyes are on the players who can help the Cards.
And to do that, the communication must improve.
Peterson said the nickel corners need to improve their communication with the nickel backs. The safeties need to do a better job of relaying the audibles. The secondary, as a whole, needs to work on making sure the linebackers know where to be when receivers go under.
"I don't want to say the game was moving fast," Peterson said, "it's just everybody wasn't on the same page."
December, 15, 2013
12/15/13
11:15
PM ET
NASHVILLE, Tenn. -- It got repetitive last season.
The defense would always be there, following behind the offense with a broom and dustpan cleaning up their weekly mess. That clearly didn't work out well, especially if the defense also had a bad game. Just look at Seattle, when the Seahawks took it to the Cards, 58-0.
This year, it's different for the
Arizona Cardinals
. The offense is more than capable of not just holding their own but putting the defense on its back when necessary, as was the case Sunday against the
Tennessee Titans
.
[+] Enlarge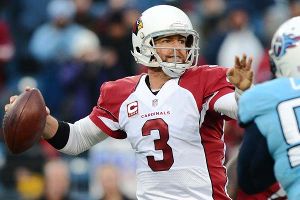 Don McPeak/USA TODAY SportsIn the Cards' OT win at Tennessee, Carson Palmer threw for 20 completions, 231 yards and one TD.
Arizona's pass rush was stagnant and the secondary was working through communication issues that accompany a new rotation. All the while, after recovering from a slow start, the offense was steady and effective, scoring 30 points in the Cardinals'
37-34 overtime win
. The other seven came on an interception return by
Antoine Cason
.
"The defense bailed us out before and this week we got the opportunity to save them," left guard
Daryn Colledge
said. "It's going to take everybody on this team to win the games we need to."
But it doesn't always happen that way.
The difference this season is the Cardinals are making plays when they need them most, and on Sunday they didn't come in chunks. Quarterback
Carson Palmer
threaded two passes to running back
Andre Ellington
that took advantage of a wrinkle in the passing game. He hit Ellington deep for 26 yards in the first quarter and then in the third for 38 yards.
While Palmer went to
Larry Fitzgerald
six times throughout the game for 49 yards, two passes in the fourth quarter kept a drive going that eventually put the Cardinals up by 10. All night, the offense was slow and steady, not turning the ball over, which has been an Achilles' heel for them all season.
And it saved Arizona.
"They did a good job with that," linebacker
Daryl Washington
said. "They had our back this game, which we expect that. But, I think defensively we have to do a better job starting a game fast."
In a reversal of roles, the defense let the Titans back in it in the fourth quarter after it went into a prevent defense. And it almost prevented the Cardinals from winning.
Arians said
Todd Bowles
went through every play on his play list trying to find something that would work. But the offense, which also went conservative at Arians' direction because of the Cards' penchant for turning the ball over, watched from the sideline helpless.
Then, ironically, thanks to Cason's second interception, the offense moved easily on Tennessee's defense for a winning field goal in overtime.
"Good to get a win like this," Palmer said. "Last couple weeks we've kinda been cruising through the last quarter or so with big leads. It's good to get one in overtime when there's a little more pressure.
"We might have got a little too comfortable at the end of this one, but the important thing was defensively we stepped up and made the play."
The defense might be saying the same thing about the offense.
December, 15, 2013
12/15/13
10:28
PM ET
NASHVILLE --
Antoine Cason
knew all week his time had finally come.
It had been a tough season for Cason, who went from being an everyday starter at cornerback for the
San Diego Chargers
to being the third or fourth option for his new team, the
Arizona Cardinals
. But when rookie safety
Tyrann Mathieu
went down with a season-ending knee injury, the direction of Cason's season changed.
And he proved to everyone during the Cardinals'
37-34 overtime victory
against the
Tennessee Titans
that he's more than capable of seeing the field. But he wasn't the only one who made a statement. Tight end
Jake Ballard
replaced
Rob Housler
in the starting lineup and while catching all three of his targets for just 13 yards, he had the Cardinals' lone receiving touchdown.
"Jake played great," Cardinals coach Bruce Arians said. "They were going to play a ton of cover two and the tight ends were going to have to play big and they did."
But it was Cason who stole the show and saved the day.
He had two interceptions, one returned for a touchdown in the fourth quarter that put the Cardinals in what they thought was command, 34-17, and then another in overtime that led to the winning field goal.
"They picked on the wrong guy once too many times," Arians said. "Twice too many times and Antoine has been waiting his turn and it was great to see him make those plays. It was huge plays, especially the touchdown."
Cason nearly dropped the interception he returned for a touchdown but was able to keep his focus long enough to secure it. But just because he had two interceptions in his first significant action of the season doesn't mean the six-year vet is going to bask in the afterglow.
"It feels really good," Cason said. "I know I have a lot of work to do, so this week for me now that I'm thinking about the game and everything that's happened to get back to my fundamentals this week and try to get better.
"I will get better for next week. So, that's really what's going through my mind as crazy as it sounds. I definitely feel I will get better throughout the rest of the season."
Quarterback
Carson Palmer
said Cason's heroics set an example for the younger Cardinals, who Palmer had to make sure didn't lose focus heading into overtime. He made sure they understood what was at stake.
But for them to see Cason come off the bench and make two influential plays against the Titans shows that it's possible for anyone to play that role.
"Cason hasn't played much [and] he can make the critical play, the game-saving, the game-winning play," Palmer said. "It's good for guy's confidence."
December, 15, 2013
12/15/13
7:42
PM ET
NASHVILLE, Tenn. -- A few thoughts on the
Arizona Cardinals
'
37-34 overtime victory
against the
Tennessee Titans
.
What it means:
It hasn't happened often this season, but the Cardinals' defense had an off day and it nearly cost them. The late collapse can't be blamed on the offense this week. Despite the poor coverage and stupid penalties, the offense made the plays when it needed to. It was the defense that let Arizona down, but it was also the defense that saved the Cards.
Antoine Cason
stepped into a more prominent role and had two interceptions Sunday, the second of which led to
Jay Feely
's winning, 41-yard field goal in overtime. The pass rush wasn't up to its usual snuff but, unlike last season when the defense had a bad game and eliminated any chance of the Cards winning, this season, the offense put together some nice drives that resulted in touchdowns.

Stock watch:
Andre Ellington
had been quiet for a few weeks but he returned with a bang. His 71 rushing yards were his second most of the season and his 87 receiving yards set a new career high. He showed again how formidable the one-two punch of himself and
Rashard Mendenhall
could be. Ellington's athleticism was on display from the onset in both facets, receiving and rushing. He caught two passes threaded through the secondary from
Carson Palmer
, showing his value in the passing game, and he made a couple
Chris Johnson
-esque runs in front of the star back's home crowd.
Missing Mathieu:
One of the primary concerns when rookie safety
Tyrann Mathieu
went down with a season-ending knee injury was how the secondary was going to be reshuffled. Mathieu played three positions: free safety, cornerback and nickel back. His versatility allowed the Cardinals to not substitute; however, on Sunday, the secondary looked confused and out of sorts throughout the game. Coverages were mishandled, allowing Titans receivers to be left open in the middle of the field, and linebackers, at times, were matched up on running backs and receivers. The first week will most likely be the hardest, but now the Cards can re-evaluate their substitution patterns and coverages and make the necessary changes.
Penalties add up:
Although the Cardinals had just nine penalties for 69 yards, it was the stupidity of the penalties that will irk Bruce Arians. On one drive in the third quarter,
Marcus Benard
was called for roughing the passer on a senseless hit. Then on the next play,
Rashad Johnson
was flagged for a questionable unnecessary roughness penalty for hitting a defenseless receiver. In the fourth, linebacker
Daryl Washington
was flagged for taunting and
Dan Williams
received a late unnecessary roughness. All penalties that could've -- and should've -- been avoided.
What's next:
The Cardinals head to Seattle for their second-to-last game of the season against the Seahawks at 4:05 p.m. ET Sunday at CenturyLink Field.