Arizona Cardinals:

2013 Week 3 ARI at NOR
September, 22, 2013
9/22/13
8:45
PM ET
NEW ORLEANS -- The cover of the New Orleans Saints' game day magazine featured a photo of defensive end
Cameron Jordan
with the headline: "The sky's the limit."
Maybe the team knew something the
Arizona Cardinals
didn't.
[+] Enlarge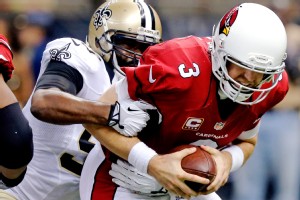 AP Photo/Bill HaberSpeed rusher Junior Galette gave Carson Palmer and the Cardinals problems.
Jordan caused fits for Arizona throughout the Cardinals'
31-7 loss
, keeping right tackle
Eric Winston
busy all afternoon while rushing quarterback
Carson Palmer
off the edge. He finished with four tackles -- two for a loss -- three quarterback hits and two sacks.
"When you get on the road and you get behind, as a tackle, it's tough. It's a tough day," Winston said. "I felt overall I played alright. I wish had a couple plays back."
When Jordan wasn't getting to Palmer,
Junior Galette
was making life hard on the left side for
Levi Brown
. He also had three quarterback hits and finished with a sack.
Speed rushers continued to find their way around Brown. Galette was the second speed rusher Brown has faced in the first three weeks of the season, and it's becoming a liability for the Cardinals, who needed to stack a tight end on the end or in the backfield for added protection. Against St. Louis, Brown gave up three sacks to
Robert Quinn
.
Cardinals coach Bruce Arians emphasized protecting Palmer again after the game.
Palmer, who was sacked four times, was complimentary of the Saints' pass-rush tandem.
"There's two very good pass rushers that people don't know a whole lot about," Palmer said. "You hear a lot (about)
Will Smith
and
Jonathan Vilma
(who are both injured), but Cameron Jordan is really good. He showed that today. Junior Galette is really good. They're physical guys. They stop the run and they rush the passer. A really good combination of strength and speed, and enough strength to hold up against the tackles and play the run well, and enough speed and athleticism to get around the corner and make plays in the passing game."
It looks like the Cardinals know who they are now.
September, 22, 2013
9/22/13
8:00
PM ET
NEW ORLEANS --
Darnell Dockett
had a career day but the 10-year veteran wouldn't speak of it.
For just the third time in his career -- and the first in four years -- Dockett recorded three sacks in a game. Yet, he didn't want to focus on his the superlative day following Arizona's
31-7 loss
to New Orleans.
"We played well up front. We got chances to get after the quarterback, we did a great job at it," Dockett said. "Me, personally, I don't care about what I did in the game. I don't care about stats. I'm not one of those stats people. I care about wins and losses. Anytime I go on the road, you can give me zero tackles, zero everything and give me a win, and that's good enough for me.
[+] Enlarge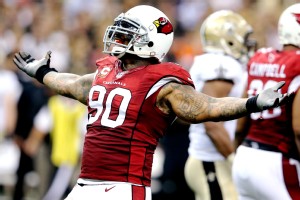 Chuck Cook/USA TODAY SportsDarnell Dockett celebrates one of his three sacks against the Saints.
"That's my main focus. We fell short as a team and this business is all about wins and losses, and we lost today."
Dockett picked up the slack from
Dan Williams
' absence. Williams missed Sunday's game after his father, Thomas, was killed in a car accident while driving from Memphis to New Orleans. Williams' nose tackle position was filled on a rotation, but Dockett was steady all day.
He had four quarterback hits and was disturbing the Saints' offense on a few plays.
"There were times I thought he got after the quarterback and was back there in the backfield being disruptive," said Cardinals coach Bruce Arians, who wouldn't elaborate on Dockett's play until he watched the game film.
Dockett was emotional, even introspective, after the game, showing a renewed passion that coincided with Todd Bowles' new one-gap, 3-4 defense.
"We were better than that," Dockett said. "I mean, Saints is a good team. They're not that good. They made plays. They made more plays than we did. I told my team today, 'The only thing about today is we can't go 15-1. It's the only thing bad about today.'
"There's a lot of football left. Nobody should be feeling sorry for themselves, pointing fingers and all that. Sometimes it takes a good loss like this to re-evaluate yourself and tell yourself you're not that good and you work harder with your craft. We will perform better next week, I'll be sure of that."
September, 22, 2013
9/22/13
7:10
PM ET
NEW ORLEANS -- The shift started on a third down late in the first quarter.
Until then, the
Arizona Cardinals
looked smooth as their offense produced a nearly flawless opening drive that quieted the Superdome crowd, momentarily taking the air out of the New Orleans Saints' rowdies. Arizona's 31-7 loss to the Saints began with the Cardinals taking a 7-0 lead. The Saints responded, tying the game on their first possession, and then it happened.
On third down from the Cardinals' 28-yard line, quarterback
Carson Palmer
looked to rookie running back
Stepfan Taylor
. They needed three yards to convert their third third down of the quarter, instead Taylor ran a two-yard route.
Arizona punted. And punted. And punted.
[+] Enlarge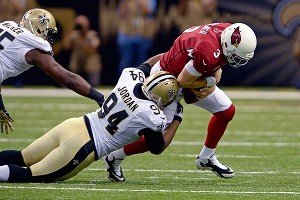 AP Photo/Bill FeigCarson Palmer and the Cardinals offense couldn't get anything going in the second half, gaining just 95 yards.
The Cardinals' offense slowed to a grinding halt starting with that third-down failure and never was able to get out of neutral. Arizona punted on eight straight drives and was outscored 31-0.
"I thought we had a conversion on [Taylor's] third down but we didn't quite get there and that was kind of when they turned the momentum on us," right guard
Eric Winston
said. "We never did anything to get it back."
The Cardinals got away from what worked for them on that opening drive, which went 80 yards in 11 plays. Instead of varying the weapons, as they used three running backs and five receivers on that opening drive, the Cards' offense became stale.
Palmer began relying on rookies, throwing to
Jaron Brown
on two plays and targeting
Andre Ellington
twice as many times in the second quarter as
Larry Fitzgerald
.
Even after
Javier Arenas
had his best return of the season, 46 yards with less than 3 minutes left in the first half, the Cardinals couldn't convert inside New Orleans' territory, going three and out.
"We still are a team that can run to the 50-yard line and kill ourselves," Cardinals coach Bruce Arians said. "It seemed like we did it all day -- we'd get first downs and first downs and then boom, we'd get to the 50-yard-line and then not convert a third down when the play was there to be made."
After halftime, however, the offense slowed to a crawl. It managed just 22 yards in the third quarter on eight plays.
Third down again plagued the Cardinals, who converted just 5-of-13 opportunities. Arizona finished with 247 yards, less than Palmer threw for in each of his first two games. He finished with 187 yards on 18-of-35 passing and was sacked four times.
Arians said a few dropped balls and players lining up in the wrong positions didn't help the cause.
Palmer shouldered the blame to an extent. He said a few of his passes were bad, such as the interception he threw in the fourth quarter after the Cardinals found their legs again with back-to-back passes to Larry Fitzgerald for 26 yards and Michael Floyd for 13, respectively.
For three quarters Sunday, the Cardinals' offense looked like it was playing in 2012, when many of the same issues hampered its progress.
Palmer wouldn't say whether Sunday was just an off day or if there were deeper problems within the offense.
"We need to get better. I need to get better. We need to get better as an offense," Palmer said. "Our defense played great for three quarters and really slowed them down -- got a turnover, gave us some momentum. We just didn't give them enough to feed off of. We weren't successful enough and staying on the field long enough to get them a rest and give them something to keep fighting for.
"It just wasn't good enough."
September, 22, 2013
9/22/13
4:07
PM ET
NEW ORLEANS -- A few thoughts on the
Arizona Cardinals
'
31-7 loss
to the
New Orleans Saints
.

What it means:
The Cardinals' offense was in a state of disarray for three-and-a-half quarters. They had a picturesque opening drive and then slowed down to a crawl, punting on eight straight possessions before quarterback
Carson Palmer
threw an interception. The Cardinals abandoned what worked, running the ball, and then lookied to
Larry Fitzgerald
and
Michael Floyd
. It resulted in 22 yards offense in the third quarter. The middle of Sunday's game reminiscent of last year's offense under former coach Ken Whisenhunt.
Stock watch:
Darnell Dockett
is back. He had three sacks for the third time in his career, twice as many as he had all of last season (1.5). He was dominant inside without nose tackle
Dan Williams
, who missed Sunday's game after his father was killed in a car accident en route from Memphis to New Orleans for the game. Dockett got to
Drew Brees
almost at will.
Taking off the edge:
Levi Brown
found himself facing another speed rusher Sunday and Saints OLB
Junior Galette
made him pay. Brown struggled off the edge and Galette had one sack. On the other side,
Eric Winston
couldn't contain New Orleans defensive end
Cameron Jordan
, who had two sacks. The Cardinals gave Winston help early, stacking multiple tight ends on his side, but when the formation called for no help, the Saints took advantage.
Missing Washington:
The Cardinals saw it last week against the Lions and then this week in New Orleans -- they don't have a fast enough linebacker to match up with the other team's stars.
Jimmy Graham
had 134 yards receiving, largely because the Cardinals don't have anyone to hang with him. Tight ends have hurt the Cardinals all season, starting with St. Louis'
Jared Cook
and now Graham. The Cardinals' secondary was too small to defend Graham effectively, but then again so is every secondary.
What's next:
The Cardinals will spend a week in Florida before taking on the
Tampa Bay Buccaneers
at 1 p.m. ET on Sunday.