Arizona Cardinals:

2013 Week 5 CAR at ARI
October, 6, 2013
10/06/13
11:30
PM ET
GLENDALE, Ariz. --
Patrick Peterson
had a little extra vested in the Arizona Cardinals' final drive of the first half Sunday against the
Carolina Panthers
.
The Pro Bowl cornerback intercepted Panthers quarterback
Cam Newton
at the 1-yard-line and weaved his way 43 yards to give the Cards' offense prime real estate to score before halftime. But within 16 seconds, the Cardinals managed to throw away another opportunity to score when Cardinals quarterback
Carson Palmer
was picked off trying to squeeze a pass to
Larry Fitzgerald
.
The interception is not what bothered Peterson. The fact that Carolina turned the interception into three points and a 6-3 lead at the break after marching 47 yards in 30 seconds did.
In the locker room, the coaches didn't need to yell or scream. The players did it themselves.
"I think we all cursed each other out so bad in here," defensive tackle
Darnell Dockett
said. "It was bad. We should never have gave up that three points."
Usually mild mannered, Peterson wasn't pleased. He came into the locker room in a fit. That got everybody listening.
"I think that kind of woke everybody up and it was like, 'OK, that's it. They're not going to score no more,'" Dockett said. "We just came out, made some adjustments and played well, man."
If playing well means sacking Newton four times and intercepting him twice while outscoring the Panthers 19-0 in the second half of
a 22-6 victory
, then, yes, the Cardinals played well.
They didn't let Newton run -- at all -- holding him to no rushing yards in the final two quarters. Arizona slowed Newton to just 93 passing yards in the second half, after he threw for 215 in the first. It wasn't just Newton, however. Carolina running back
DeAngelo Williams
had just 18 yards in the second half. Fullback
Mike Tolbert
had three.
"I thought defensively we went out and dominated the second half, but offensively I thought we played good football," Cardinals coach Bruce Arians said. "As a team it might have been our best 30 minutes in a long time. Those are the types of games we're going to need to keep putting together.
"You can get all them ugly wins or any kind of wins you want, as long as they're wins I love them. Best birthday present in a long time, that second half of football."
Last year, the defense was the lifeblood of this team.
This year, it's the heartbeat, which only beat faster and harder this week with
the return
of linebacker
Daryl Washington
from a four-game suspension.
And like it has all season, the defense kept the Cardinals in the game. But Sunday was different. The defense wasn't just holding the Panthers to give the offense a chance to score. The defense was putting the offense in a position to score and to win.
There were the three straight stops on second-, third- and fourth-and-1 from the Cardinals 15 late in the second quarter.
There were the seven sacks, two by Washington, linebacker
Karlos Dansby
and defensive end
Calais Campbell
and one by rookie safety
Tyrann Mathieu
. There were the three interceptions, one each by Peterson, Dansby and Washington.
There was the safety by Campbell in the third.
"That's where we're built and that's the way we want to be," Arians said. "We want to have a defense that's dominating and a special teams that are dominating. I thought they both did that, and the offense is just going to continue to grow and learn and get better each week."
This isn't a defense that relies on one area. Sunday was the perfect example of that.
Campbell got to Newton twice for sacks, forcing a fumble once that was scooped up by cornerback
Antoine Cason
and returned to the 9-yard-line. Three players later, the Cardinals tight end
Jim Dray
scored with 2:28 left to put the game out of reach.
And the linebackers dominated early.
Dansby had two sacks within three plays midway through the first half, leading to a new wave of excitement because of the Dansby-Washington tandem.
"That combination can be scary for a long time to come," Campbell said.
Then Mathieu came on a blitz and brought down the much larger Newton. The rushing defense was already ranked second in the NFL, but the entire defense proved it's a one of the preeminent units in football. And it's not just getting turnovers. Arizona held Carolina to 5-for-12 on third down and 95 yards rushing.
While the offense continues to struggle, the defense carries the team -- but with sturdier and stronger shoulders than it did a year ago. The energy the defense creates is contagious.
"When your defense is creating that momentum for you, creating that spark," Palmer said, "it rubs off offensively."
Campbell said: "I think our defense can be very special. But we still made too many mistakes. In the second half, we did what we had to do, made our corrections.
"We could still get better."
October, 6, 2013
10/06/13
10:12
PM ET
GLENDALE, Ariz. --
Larry Fitzgerald
first paused.
Then he winced. Then he smiled. Then he looked down. The wide receiver wasn't sure how to answer the question: How surprised was he that points have been hard to come by this season for the
Arizona Cardinals
?
The pause, the wince, the smile, the look down were the real answer. Then Fitzgerald spoke.
"We've got to do better," he said. "That's as simple as that. We've just got to do better and find a way to get it done."
A 22-6 victory
against the
Carolina Panthers
can ease the pain of another brutal offensive showing, but it can't mask the issues. The Cardinals again struggled to move the ball in the first half, gaining 118 yards in the first two quarters and scoring three points. And the issues were the same ones that plagued Arizona against New Orleans and Tampa Bay: third downs weren't being converted (4-for-12), the Cardinals were unsure of formations (one illegal formation penalty), quarterback
Carson Palmer
was ending drives with interceptions (three).
"We are fortunate to get 22 points," Palmer said. "The field position really helped us out but we didn't capitalize enough.
"We should have won by a much larger margin."
But interceptions again halted drives dead in their tracks. Palmer's first was on a flee-flicker to
Michael Floyd
early in the first quarter. The next two were on plays targeting Fitzgerald, one deep in the end zone in the second quarter and another in the third on a short pass.
"When you try to force it to Larry, you're going to have problems, especially when he's double covered," Cardinals coach Bruce Arians said. "You've got to fit it in such a tight hole."
The Cardinals are lucky the Panthers only held a 6-3 lead at halftime.
And like they've done all season, the Cardinals started the third quarter on a tear. In its first drive that stanza, Arizona found a balance in its running and passing games. It sparked a 19-0 run.
But why do the Cards find their rhythm in the second half?
"I think that having the chance to go in at halftime and have a look at what we're seeing and look at what we're doing and kind of pull some counter punches to some things," Palmer said. "I know we've made some really good adjustments. This week we made some good adjustments."
October, 6, 2013
10/06/13
9:57
PM ET
GLENDALE, Ariz. --
Arizona Cardinals
linebacker
Daryl Washington
didn't want anyone to confuse the 58 on his chest for an S -- as in Superman.
He knew after missing the first four games because of a suspension the chances of him playing too fast, too strong, too hard were high. But Washington made it a goal to simply play within his limits.
All he did was go out and get nine tackles, two sacks and an interception. Sounds like a typical day for Washington.
Washington
"I didn't anticipate a game like this," Washington said. "I just wanted to play the best football I could and help my teammates out, and [knowing] they were going to be supportive it made it a lot easier on me."
Washington's impact was felt from the
Carolina Panthers
' first offensive snap, when he chased running back
DeAngelo Williams
out of bounds. And Washington only got better from there, finishing the first half with five tackles. His return made an already very good defense great Sunday. The Cardinals sacked Panthers quarterback
Cam Newton
seven times and intercepted him three times.
Washington's first sack came early in the third quarter, and he put a bow on his return when he made one-handed interception at the beginning of the fourth quarter. Washington was chided on the sideline for letting Newton, who's taller and bigger, catch him on the run back.
"He was in great condition," Cardinals coach Bruce Arians said. "I had to kid him. I thought [Cardinals strength and conditioning coordinator] John Lott had him in better shape for a quarterback to catch him on an interception."
Washington must like playing against Newton. His last game with a sack and an interception was in the 2011 season opener against the Panthers, and two of his five career interceptions have come off Newton's hand.
But Washington's game wasn't a surprise to any of his teammates.
"It was amazing to see him go out there and do his thing," defensive tackle
Darnell Dockett
said. "The guy works hard. All the plays that you all see him make, the plays during the game, we're blessed to see him do those plays in practice. We watch him all the time."
After watching the way he played and the energy the Panthers had to expend focusing on Washington, his fellow defenders were sure glad he was finally back.
"Man, that guy is special," defensive end
Calais Campbell
said. "That guy, he makes everybody else around him better because he's so good that people have to concentrate on him and focus 'round him and it makes all of our jobs easier."
October, 6, 2013
10/06/13
9:10
PM ET
GLENDALE, Ariz. -- The first few seconds Sunday had barely ticked away when
Bradley Sowell
noticed his gum was stuck to the top of his parched mouth.
Think he was a little nervous for his first NFL start?
It only took him a few plays -- nearly costly ones at that, however -- to settle down and show the
Arizona Cardinals
that life after
Levi Brown
at left tackle wasn't all that bad. Sowell, in his second season out of the University of Mississippi, didn't allow a sack while facing a combination of his college teammate,
Greg Hardy
, and
Charles Johnson
, who provided a formidable edge rush for the
Carolina Panthers
.
[+] Enlarge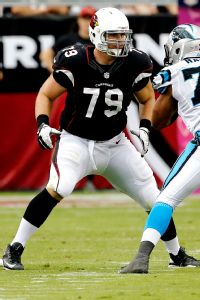 AP Photo/Matt YorkBradley Sowell did not allow his man to get a sack on Sunday.
They also provided the type of matchup a first-time starter has nightmares about, but Sowell held his own.
"At the end of the day my guy had zero sacks and that's a heck of a ball player," Sowell said. "Every down I had to fight.
"Once I got in a rhythm I felt so comfortable I really felt like I belonged, so it was nice."
Arizona quarterback
Carson Palmer
thought it was also nice that he didn't spend the afternoon picking himself up off the manicured grass at University of Phoenix Stadium. The Panthers finished with just two sacks and both through the interior of the offensive line.
"That's all you can ask for from a left tackle," Palmer said. "If you can block those guys, you can block just about anybody."
Sowell and Hardy spent the day jawing at each other, but it wasn't your typical trash talking. They were reaching back in the memory banks for ammunition, talking about their college days together.
But now Sowell has a brand new arsenal to use when the two see each other next. His main weapon: Sowell held Hardy without a sack.
"To get out of that game with no sacks I feel very blessed," Sowell said.
At some positions in football, the less noise you make, the better. Coaches especially want their left tackles to be seen and not heard from, an issue that plagued Brown throughout his career. The more sacks they allow, the more their names get mentioned.
Nobody heard from Sowell on Sunday, including his head coach.
"When he's not noticed," Arians said. "That's a pretty good thing."
October, 6, 2013
10/06/13
7:07
PM ET
GLENDALE, Ariz. – A few thoughts on the
Arizona Cardinals
'
22-6 win
over the
Carolina Panthers
.

What it means:
The Arizona defense solidified its place as a premier unit in the NFL. It sacked
Cam Newton
seven times -- including once for a safety – and intercepted him three times. With the offense continuing to struggle to find any rhythm, Arizona's defense -- which just got better with linebacker
Daryl Washington
's return -- shouldered the load Sunday. But this is a slippery slope because when the defense has an off game and the offense is still finding its way, it can be a long day. Just look back to 2012.
Stock watch:
Bradley Sowell
came in and showed the Cardinals what life without
Levi Brown
could look like, and it wasn't a bad thing. He played well in his first NFL start, slowing down the outside rush and even pancaking his college teammate,
Greg Hardy
, a couple times. The Cardinals' brain trust must be feeling good about its decision to entrust Sowell with
Carson Palmer
's blind side.
Washington returns:
What were the Cardinals missing without Washington? Oh, just two sacks and an interception … and sideline-to-sideline speed that can bring down a running back. His impact was felt on the Panthers' first offensive play when he chased Carolina running back
DeAngelo Williams
out of bounds. Washington's presence opened gaps for
Karlos Dansby
, who also had two sacks and an interception, but as the game progressed, Washington started doing what he wanted at will.
Drives derailed:
As good as Arizona's defense is, the offense is not. They are forcing the defense to play more snaps than it should. Palmer threw three interceptions, two of which were picked off in the end zone and killed productive drives at times when the Cardinals desperately needed rhythm. The boos rang down on Palmer after his third, which, again, like the other two, was thrown inside Carolina territory. Sustaining drives has been an issue all season, especially on third down, but Palmer single-handedly ended three.
What's next:
The Cardinals face their second NFC West foe when they travel to San Francisco on Sunday to play the
49ers
at 4:25 p.m. ET for the last time at Candlestick Park.