Arizona Cardinals:

2013 Week 6 ARI at SFO
October, 14, 2013
10/14/13
12:22
AM ET
SAN FRANCISCO -- It's pretty typical for the offense to praise the defense and the defense to do it right back.
But it's not as often the offense flat out says the defense saved its rear.
"I really tip my hat to the defense in the first half because we could've been out of it in (the first) seven minutes," Cardinals left tackle
Eric Winston
said.
Without the Cardinals' defense, Sunday's 32-20 loss to the
San Francisco 49ers
could've been over long before seven minutes passed. Arizona held the Niners to no more than four plays on their first four drives, two of which ended in field goals. Arizona's offense, however, kept giving the Niners opportunities, throwing two interceptions in the game's first 6 minutes.
[+] Enlarge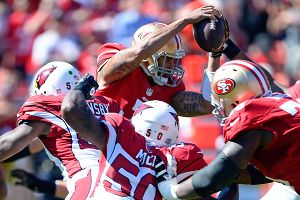 Bob Stanton/USA TODAY SportsThe Cardinals defense limited the 49ers to field goals on several red zone trips in the first half.
But it wasn't just that the Cards were stopping the Niners on third down, it was where they were doing it. Arizona held on its own 7-yard-line for three straight plays and then from its 11, 6 and 8 on another drive. Then in the second quarter,
Yeremiah Bell
intercepted
Colin Kaepernick
on the goal line from the 2.
Another red zone trip. Another trip without points.
"Our motto on defense, like Coach always said, (is) defend every blade of grass," nose tackle
Dan Williams
said. "Just cause they're down there, doesn't mean they have to score a touchdown.
"We actually don't want to give up any points. They get down there and we want to hold them to a field goal and when they get to a field goal we want to block that."
Before San Francisco started its last drive of the first quarter, the one that ended with Bell's interception, the Niners had a total of minus-1 yard. The defense saw the dividends of its work when the offense turned a corner midway through the second with a three-play touchdown drive.
But it started to slow in the second half, when the defense began not adhering to gap assignments and freestyling more, Williams said. The Cardinals couldn't stop the same running play no matter how many times the Niners ran it, rookie safety
Tyrann Mathieu
said.
"I thought our defense played outstanding until they were out there too long again," head coach Bruce Arians said.
Sunday, linebacker
John Abraham
said, was an example of a true team effort. One side wasn't going to let the other fail. They'd have each other's backs, Williams added.
"I think it's just the character of our defense," Bell said. "We feel like we're a strong unit. We feel like we can hold up against anything."
Against the 49ers, the Cardinals showed they could.
October, 13, 2013
10/13/13
11:36
PM ET
SAN FRANCISCO -- By time the clock ticked past six minutes in the first quarter, the headlines had already been written.
Arizona Cardinals
quarterback
Carson Palmer
had just thrown his second interception before most of the seats inside Candlestick Park had a body in them. It was like déjà vu. Turnovers would again be the Cardinals' demise.
But by the end of Arizona's 32-20 loss, it wasn't just the turnovers that let a crucial NFC West game slip away. Two fumbles, one each in the third and fourth quarters, ended any chance of the Cardinals pulling off an upset which would've left them alone in second place.
"We're not going to beat anybody on the road turning it over four times," Arizona coach Bruce Arians said. "When we had the game in hand, going in to take the lead and [we] try to make too much out of something and we fumbled the football. Then we have a chance to get back in it, we fumble on second-and-1. And you're not going to beat anybody that way with self-inflicted wounds."
Now that their offense seems to have found its way during the 49ers game, if the Cardinals can figure out a way limit turnovers -- now up to 15 for the season -- they can become the team Arians has been talking up since minicamp.
Arizona was marching, down 22-20 late in the third, on the 49ers 31 and poised to take a lead when
Larry Fitzgerald
lost the ball just moments before he hit the ground.
"I am not going to sleep at all," said Fitzgerald, who said he was trying to score on that play. "I let my team down in that situation. I wish I could take it back."
Alfonso Smith
coughed up the second fumble on his only carry of the game in the fourth when the Cardinals were trailing 29-20.
"[We're the] best offense to shoot ourselves in the offense," left guard
Daryn Colledge
said. "We have the chance to be a really great offense, and if we keep shooting ourselves in the foot like this we're going to be just a mediocre offense.
"The potential's there but we have to find a way to capture it."
October, 13, 2013
10/13/13
9:50
PM ET
SAN FRANCISCO --
Arizona Cardinals
defense end
Calais Campbell
gave the crowd at Candlestick Park a thumbs up as he was carted off the field late in the fourth quarter of Arizona's 32-20 loss to the
San Francisco 49ers
.
Campbell went down with 4 minutes, 56 seconds left in the game and was quickly attended to by Cardinals doctors and trainers. The team did not have an official announcement on the cause of Campbell's injury, although team trainer Tom Reed was holding Campbell's head steady while emergency personnel arrived.
An NFL source said doctors were looking at Campbell's neck.
"He left the field with movement and the feeling was coming back," Cardinals coach Bruce Arians aid. "He had extreme numbness."
According to a tweet from ESPN NFL Insider Adam Schefter, Campbell was taken to Bay Area Hospital where doctors believe "he will be sore but OK."
Mark Dalton, Cardinals' vice president of media relations, tweeted that Campbell underwent a precautionary MRI and CT scan and initial results were positive.
Cardinals nose tackle
Dan Williams
said Campbell told him he was "good" before being wheeled off the field by EMTs.
Williams believes it's a stinger but wasn't for certain. Former Cardinal and current Niner receiver
Anquan Boldin
stood close to Campbell throughout the entire ordeal. At one point, San Francisco offensive lineman
Adam Snyder
, who played for the Cardinals last season, joined Boldin in talking to another Cardinals trainer.
Arians didn't share any more details but said the team will have more news on his injury at a later time.
Campbell's sister, Keyonne Campbell, tweeted that her brother is "doing okay."
Calais is doing okay. Thank you for continued well wishes and prayers. Will update soon.

— Keyonne Campbell (@KeyonneCam) October 14, 2013
October, 13, 2013
10/13/13
9:12
PM ET
Observed in the locker room after the
Arizona Cardinals
'
32-20 loss
to the
San Francisco 49ers
.
Arians
Play to win:
Cardinals coach Bruce Arians didn't enjoy leaving San Francisco with what amounted to a moral victory. "We only play to win," he said. The Cardinals fell to 3-3 and into a tie for third -- and last -- in the NFC West. Arians added the Cardinals let a win slip out of their grasp.
Running game returns:
One constant throughout the postgame locker room session was how Arizona's running game, which came to life on the first drive of the second half, is necessary to win. With a running game that was eating yards and time, the 49ers pass rush wasn't as effective.
No D, no W:
Left tackle
Eric Winston
wasn't shy about it. He said without the Cardinals' defense Sunday, the Niners would've been in the driver's seat in about seven minutes. But, he added, when the offense is struggling, the defense needs to come to the rescue.
TOs cause L:
Arians and Winston said it: Four turnovers will not beat a team like the 49ers. The one positive, however, was that the Cardinals were able to keep it close until the fourth despite two early interceptions but two late fumbles did them in.
October, 13, 2013
10/13/13
7:56
PM ET
SAN FRANCISCO -- A few thoughts on the Cardinals' 32-20 loss to the 49ers.

What it means:
The
Arizona Cardinals
showed Sunday they aren't a pushover in the NFC West. Even though the offense started out looking pitiful with turnovers , the defense carried the Cardinals while making the
San Francisco 49ers
look human. By playing the Niners tough until about seven minutes left, the Cardinals put the
Seattle Seahawks
on notice, essentially telling them that no matter the venue, their defense will come to play. Although the offense continued to have its issues, especially in the first quarter and a half, it showed what coach Bruce Arians' offense could accomplish, when tweaked.
Stock Watch:
Rookie running back
Andre Ellington
has been establishing himself all season, but he showed what he could do when being entrusted during crucial situations. Ellington provided a burst, the proverbial lightning to veteran Rashard Mendenhall's thunder. He scored his first career rushing touchdown on a 15-yard run in the second quarter in which he cut out wide to the right and turned on the jets to hit the end zone.
Two Palmers:
Arizona quarterback
Carson Palmer
may very well have turned a corner. He started horrendously Sunday, throwing two interceptions in the first nine minutes of the game, and then was sacked early in the second quarter for a safety, although that wasn't totally Palmer's fault. But then something happened. With backup
Drew Stanton
looking like he was preparing to get his first snaps since 2010, Palmer executed a nearly perfect three-play drive that pulled the Cardinals within 15-14 late in the first half. Palmer's resurgence continued in the second half, when he threw a touchdown to
Michael Floyd
off his back foot, a play that has been intercepted in the past.
Drive killers:
It's not just interceptions that hampered the Cardinals on Sunday. Two fumbles derailed drives when Arizona needed them most. In the third,
Larry Fitzgerald
's fumble at San Francisco's 23-yard line ended a drive that could've given the Cardinals the lead. And then in the fourth quarter,
Alfonso Smith
fumbled his only carry of the game, ending a drive that would've helped cut into the Niners' lead. To compete in the NFC West, of all divisions, the Cardinals need to keep their hands on the ball.
What's next:
The Cardinals face their second straight NFC West foe in a week when they host Seattle at 5:25 p.m. MT Thursday at University of Phoenix Stadium.