Arizona Cardinals:

Andrew Luck
May, 1, 2014
May 1
8:00
AM ET
There are few secrets about Bruce Arians as a coach.
He likes to throw long and deep, and he likes to put up a lot of points. And here's another thing we know about Arians: He's had some great quarterbacks.
With the draft less than a week away and speculation increasing that the
Arizona Cardinals
will take a quarterback with one of their six picks, what kind of quarterback Arians favors has become a hot topic.
Here is what we know: Arians has had a lot of success with taller quarterbacks who don't run much. Just look at
Peyton Manning
,
Ben Roethlisberger
and
Andrew Luck
. They can run, but don't in Arians' system. And most every quarterback that fits those dimensions has succeeded in his scheme.
Here's a look at the past six quarterbacks Arians has coached and the top 10 quarterback prospects in this year's draft, according to ESPN:
February, 21, 2014
Feb 21
12:05
PM ET
INDIANAPOLIS -- Former
Indianapolis Colts
coach and current
Arizona Cardinals
coach Bruce Arians was in his comfort zone while meeting with the media at the scouting combine Friday morning.
Arians, who stepped in for Chuck Pagano while he battled leukemia during the 2012 season, said the Cardinals would have "some damage" if they would have made the playoffs last season. Arizona missed making the playoffs despite finishing with a 10-6 record in the NFC West, the best division in football, last season.
Luck
Arians made sure to praise Colts quarterback
Andrew Luck
, who he coached during his rookie season when Indianapolis went 11-5 and reached the playoffs.
Luck led the Colts to another 11-5 season, an AFC South title and a playoff victory despite missing five offensive starters and having an inconsistent defense last season. He improved his completion percentage and cut his interceptions in half.
"I saw great improvement this year," Arians told reporters. "I thought he carried the football team to the playoffs. His performance in the playoffs I thought was one of the best I've ever seen. He just refuses to lose. It's not about who's calling plays or any of that stuff. Just let him play football and he'll win for you. He is a flat winner, and he was a true joy to coach.
"You've got a chance to win your division every year if he's playing for you."
November, 18, 2013
11/18/13
9:49
PM ET
TEMPE, Ariz. -- If it were up to
Arizona Cardinals
coach Bruce Arians, Sunday's game wouldn't be on the schedule.
Not this soon. Not this year. Not ever.
In his 11th game as a head coach, Arians will have to defog his glasses and coach against the one team that may tug at his heart the most, the
Indianapolis Colts
. The story is well-known. After three games last season, Arians took over for Chuck Pagano, who was being treated for leukemia, and led the Colts to a 9-3 record and the playoffs as interim coach.
Those 12 games led Arians to coach of the year and eventually the Cardinals job.
Because of how the NFL rotates its scheduling, Arians knew Arizona would be playing Indianapolis when he was hired in January. He had to wait until April, however, to find out where.
"I was hoping it would never be on the schedule because too many emotional ties to what happened last year to have to play them," Arians said. "I'm glad we are playing here and not there. That would really be tough to walk into that stadium.
"But it will be fun to see those guys, especially those young kids on offense that we had a chance to work with last year. It's going to be a challenge defensively to stop them."
Arians will spend his time this week figuring just how to do that. Preparing for his former student, Colts quarterback
Andrew Luck
, may just be the easiest part of Arians' week.
"It's seeing them in person where you get emotionally involved because it was such an emotional year last year," Arians said. "Get through that in warm-ups.
"But the preparation for the ballgame will be just like every other."
His former players, however, can't wait to see Arians.
"Oh yeah, I'll be excited to see him," Colts receiver
T.Y. Hilton
said. "I texted him this offseason, so it'll be good to see him again."
Arians typically wears his heart on his sleeve when it comes to football. He'll tell a player exactly how he feels. And he doesn't shy away from expressing himself on the sideline.
Sunday won't be any different. He'll be as emotional if not more.
"But I will hide it very well," Arians said.
October, 19, 2013
10/19/13
9:00
AM ET
TEMPE, Ariz. -- All it took for Bruce Arians to know what kind of quarterback the
Indianapolis Colts
had just drafted was
Peyton Manning
walking through the door in Indianapolis.
Manning
It was 1998, and Manning was entering the NFL as the first overall pick. Awaiting him in America's heartland was a first-year quarterbacks coach who had a penchant for details and an imagination for the long ball. But Manning wasn't the typical rookie. He wasn't a blank canvas like many of his peers. His reputation as a studious signal-caller preceded him. He entered the league ready to learn the NFL way, ready for Arians to mold him into one of the greatest quarterbacks of this era.
"I always called Peyton 'The Piranha,'" Arians said. "I mean, you couldn't feed him enough information. The hardest guy I ever coached was Peyton because if you had a two-hour meeting, you better have two-and-a-half hours worth of stuff ready, because he was going to eat it up and spit it out.
"Andrew has that same capability. You tell him once and he's got it. It's scary. They both have unbelievable recall."
Andrew as in Luck, the Colts' second-year quarterback, who has the unenviable task of filling Manning's shoes in the Circle City.
Like Manning, Luck entered the NFL as the first overall pick. And awaiting him in Indianapolis was Arians, 14 years after he welcomed Manning to the league. It's rare for a coach to get to tutor one franchise quarterback -- as Arians is learning in Arizona -- but he's mentored two at their most impressionable times, their rookie seasons.
When Arians turns on Sunday night's Colts-Broncos game, the flashbacks will be coming fast and often, like a Manning audible, and they won't relent. It'll be a three-hour walk down two memory lanes that look an awful lot alike.
"For me, it's very gratifying because I had both at the same time, their first years," Arians said. "As a coach, you always want to say I might have had a fingerprint on this guy, and you hope that you did.
"I have a very close relationship with all my players, especially quarterbacks. Peyton and I are still close, still to this day, and Andrew, I love to death. I'm very, very proud that maybe I had an impact on them as young players."
Bill Polian's tenure as Colts president coincided with Manning's and Arians' arrival in Indy, giving Polian a front-row seat to the budding relationship between quarterback and his coach.
[+] Enlarge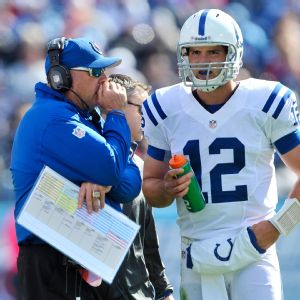 Jim Brown/USA TODAY SportsBruce Arians said he feels spoiled to have mentored two franchise quarterbacks during their rookie seasons, but he also doesn't envy Andrew Luck's situation in Sunday's showdown with Peyton Manning.
"He did a great job breaking Peyton into the National Football League, teaching him what to expect in terms of defenses and in terms of tendencies," Polian said of Arians. "[He taught Peyton] how to watch tape, how to begin to formulate a game plan. He taught Peyton how to have input into the game plan. Enunciate what was appropriate. Enunciate his preference.
"It was a very strong mentoring relationship."
Polian was fired after the 2011 season, Manning's last year in Colts blue, so he wasn't able to watch Arians' relationship with Luck unfold. It's safe to guess, however, that it wasn't so different from Arians-Manning.
After spending a year with Luck, Arians has the perspective to compare the two after their rookie seasons.
There was the obvious, such as Luck's athleticism. And the detailed, such as how both quarterbacks pump-fake.
"They're so different athletically but mentally they're the same guy," Arians said. "Of course [with] Andrew, Peyton's one of his idols so he has a lot of his mannerisms, having gone to the Manning Passing Academy.
"He has pump-fakes and he does things that Peyton does, but his athletic ability supersedes anyone I've ever coached, even [
Pittsburgh Steelers
quarterback] Ben [Roethlisberger]. I think Ben is a phenomenal athlete for his size, but Andrew doesn't get the credit for the athlete that he is."
Manning's return to Indianapolis is being billed as the celebration of a hero, a man who is widely credited in Indiana for helping football surge on the youth and high school levels, challenging basketball as the sport of choice.
Arians doesn't think the extra attention will be a distraction for Manning, even if, as Arians joked, Colts owner Jim Irsay unveils a statue of No. 18. But as proud of Manning as Arians is, he feels bad for his other pupil in blue.
"I think Andrew is the guy being put in a tough spot because it's his home team, it's his home game," Arians said. "And he's taking a back seat to somebody, and you never want to do that to your quarterback."
On Sunday, while Arians is enjoying a rare weekend off after the Cardinals played Thursday night, he'll take in a rarer event. Two former students whose careers have Arians' fingerprints and influence on them will be squaring off.
There's no question he made Manning and Luck better, but how did the two reciprocate?
"Spoiled the hell out of me," Arians said with a laugh. "It was fun. It was great."
August, 30, 2013
8/30/13
11:40
AM ET
Six projected starting quarterbacks played in their teams' final exhibition games of the 2013 preseason. The
Seattle Seahawks
'
Russell Wilson
and the
San Francisco 49ers
'
Colin Kaepernick
were two of them, and both led touchdown drives before exiting after one series. None of the NFL's projected starters got hurt Thursday night.
The chart shows week-by-week snap counts for quarterbacks I singled out as projected starters heading into preseason. NFC West alums
Kevin Kolb
and
Matt Flynn
might not start after all, but I've left them in the chart for context.
St. Louis Rams
coach Jeff Fisher has generally played starters in the final preseason game. He did not this time.
"Typically I have, but I guess in the new world that we're in, it's hard to," Fisher told reporters after the Rams' game against Baltimore. "What that implies is that I'm pleased with where they are right now, those guys that sat. They worked hard. We got a great workout and it allowed them to fast-forward their minds to Arizona."
Fisher could have been alluding to the run of higher-profile injuries around the league this summer. Last year, the Rams lost rookie defensive tackle
Michael Brockers
to a high-ankle sprain in the final preseason game.
The Rams emerged from this preseason healthier than their division rivals. That did not stop the 49ers from playing their offensive starters or the Seahawks from playing starters on both sides of the ball Thursday night. The
Arizona Cardinals
rested most of their starters, though
Michael Floyd
was one notable exception.
San Francisco coach
Jim Harbaugh
offered no explanation for playing his starting offense one series. Kaepernick hadn't gotten many snaps through the first three games, however. Getting additional reps for Kaepernick and the team's group of emerging receivers made some sense on the surface.
Seahawks coach Pete Carroll went into the final preseason game saying he wanted starters to play because the team values this games as competitive opportunities.