Arizona Cardinals:

Arizona Cardinals
March, 6, 2014
Mar 6
11:00
AM ET
Todd McShay's
third NFL mock draft
for 2014 is out on ESPN Insider today.
Finding a left tackle has to be priority No. 1 for the Cardinals this offseason, but how this draft class is shaking out doesn't bode well for Arizona with the 20th overall selection. McShay had
Cyrus Kouandjio
going here in his last mock, but Kouandjio's stock has plummeted since the NFL combine and it will be difficult for other suitable options to fall past Baltimore and Miami. The Cardinals don't have a lot of cap room, but should be able to make a move or two of note. They would be best served to address left tackle in free agency with a player like
Anthony Collins
and then take a "Best Player Available" approach to the draft with defensive back and a developmental quarterback high on the wish list. Whom does McShay have the Cardinals drafting at No. 20?
Let's take a look:

To continue reading this article you must be an Insider
December, 15, 2013
12/15/13
2:30
PM ET
By
ESPN.com staff
| ESPN.com
Join our ESPN.com NFL experts as they break down the Arizona Cardinals' visit to the Tennessee Titans. Contribute your thoughts and questions beginning at 4:15 p.m. ET. And, be sure to visit our
NFL Nation Blitz page
for commentary from every game, as well as fan photos and the latest buzz from Twitter. See you there.
December, 13, 2013
12/13/13
10:00
AM ET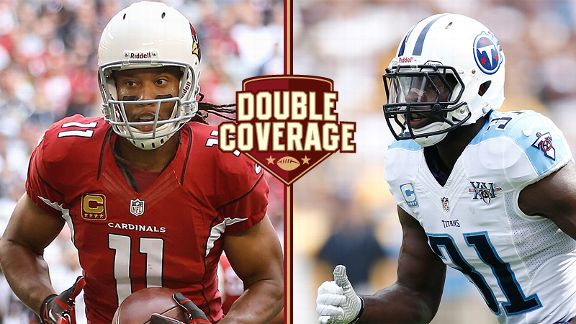 Getty Images, AP PhotoBernard Pollard and the Titans will try to hamper the playoff hopes of Larry Fitzgerald and Arizona.
In 2011, the
Tennessee Titans
had a new coach and a new feel. Mike Munchak's team missed the playoffs by a game.
Things seemed new and fresh. Since then, however, the Titans are 11-18.
The
Arizona Cardinals
come to Nashville in a position not unlike those Titans from two years ago. Arizona's on the playoff fringe, playing well and looking for its ninth win this season.
ESPN.com Cardinals reporter Josh Weinfuss and ESPN.com Titans reporter Paul Kuharsky discuss the two teams in advance of Sunday's game.
Paul Kuharsky
: Bruce Arians did masterful work filling in for Chuck Pagano in Indianapolis last season. He has a legitimate case for a second consecutive coach-of-the-year award. What have been the main ingredients in his first-year success with the Cards?
Josh Weinfuss
: There have been a few contributing factors as to why Arians has had success this season, but it starts with him changing the culture of the entire organization. He's not a micromanager around the building and he's open with the players, and they love it. Like past regimes, he doesn't sugarcoat his feelings or his perceptions of a player. He'll tell them how it is, and they've responded well to the criticism. One obvious difference is the quarterback situation, and Arians handled it differently here than in the past, naming
Carson Palmer
the starter early and sticking with him. That gave players a chance to spend all of minicamp and the offseason knowing that Palmer was in charge, and they were able to get to know him and his rhythm. Even though it took about seven months for them to pick up the offense, it would've been longer had there been any wavering with the QB decision. Lastly, Arians is simply a great offensive coach and his ability to adapt his scheme to the personnel is showing.
How much credence is there to Munchak being on the hot seat and what kind of impact has this prospect had on the team?
Kuharsky
: Oh, he's on the hot seat. How can he not be when his team is in the worst division in the league and is 0-4 against that division (1-9 if we look at 2012 and 2013)? Players remain behind Munchak and I think they respect him immensely based on his Hall of Fame playing career. There is a certain chemistry that comes out of playing for a guy who has played at the highest level. But the standard is winning, and Munchak's team has regularly lost to winning teams and to AFC South teams. An offseason revamp was supposed to brand the Titans as a team with a dominant offensive line and run game, and things haven't panned out along those lines at all. The $10 million back,
Chris Johnson
, is averaging 3.8 yards a carry, and the offensive line hasn't jelled.
How has the offensive line in Arizona come along, and how much has running back
Rashard Mendenhall
(3.1 yards a carry) yielded to rookie
Andre Ellington
(5.8)?
Weinfuss
: It sounds cliché, but the proverbial light switch was flipped in Week 8 against Atlanta. Since then, the Cardinals' linemen been corralling pass rushes, creating holes for the running backs and, maybe most important, keeping Palmer upright. The tackles were still struggling with fast and powerful edge rushers, but left tackle
Bradley Sowell
did a good job of slowing St. Louis'
Robert Quinn
last Sunday. As for the guys for whom the line is blocking, Mendenhall and Ellington have two very distinct roles on this team. Mendenhall is the workhorse, the every-down back who will pound in between the tackles until he breaks free. He suffered from a turf-toe injury for most of the season but has been healthy for a few weeks. Ellington, on the other hand, has been more of the outside back. He has an extra gear Mendenhall doesn't, where he can hit the corner and take off. And Arians likes to use Ellington out wide more. So the two are quite different and each has accepted his role.
Is it just the Titans offensive line to blame for Johnson's decline in yards per carry or is there something else in play? Backs like that can only last so long in this league. In Year 6, how much longer do you think he has?
Kuharsky
: It's definitely not just the line. That group's been slow to jell. Right tackle
David Stewart
is banged up and doesn't move well. Rookie right guard
Chance Warmack
is too inconsistent. Rookie center
Brian Schwenke
started late because of a camp injury and now has a bad ankle. Left tackle
Andy Levitre
, the big free-agent prize, has admitted he needs an offseason to get right and get to playing up to his standard. I give the line a third of the blame, Johnson a third and the play calling a third. Johnson is just too tentative and doesn't make anybody miss. And offensive coordinator Dowell Loggains can't get CJ or
Shonn Greene
into a rhythm when one of them starts to get something going. They don't seem to know how to solve a 3-4 defense, so advantage Cardinals there.
Inside linebacker
Karlos Dansby
is having a big year and could be in the Defensive Player of the Year mix. How does defensive coordinator Todd Bowles' scheme set him up for success?
Weinfuss
: Bowles made a tweak up front and it has had a ripple effect throughout the defense, helping Dansby flourish. Bowles stayed with a 3-4 scheme but changed the defensive line's responsibilities up front from a multi-gap system to single-gap. It freed up the down linemen to pin their ears back and attack, which has flushed quarterbacks out of the pocket more quickly and made runners bounce outside. That, in turn, has helped Dansby get in front of more passes and allows him to roam sideline to sideline. He leads the league with 100 solo tackles and, with the help of a new diet, is playing at the level of a linebacker five years younger.
Tight ends have raked the Cardinals' defense for most of the season, one of the few weak spots in an otherwise-talented unit. How do the Titans use
Delanie Walker
, and can they exploit Arizona's undersized secondary?
Kuharsky
: I would think they like the matchup. Walker is a tough, physical tight end who can run. He's particularly effective when he gets angry. He's coming off a game missed due to a concussion, so he could be at some risk if he takes a big shot. But I would expect
Kendall Wright
gets the most targets and Walker is second. Maybe the Cards have some insight into Walker from seeing him twice a year when he was with the 49ers. The Titans surely hope that doesn't matter at all.
November, 17, 2013
11/17/13
10:00
AM ET
By
ESPN.com staff
| ESPN.com
Join our ESPN.com NFL experts as they break down the Arizona Cardinals' visit to the Jacksonville Jaguars. Contribute your thoughts and questions beginning at 1 p.m. ET. And, be sure to visit our
NFL Nation Blitz page
for commentary from every game, as well as fan photos and the latest buzz from Twitter. See you there.
October, 27, 2013
10/27/13
2:00
PM ET
By
ESPN.com staff
| ESPN.com
Join our ESPN.com NFL experts as they break down the Atlanta Falcons' visit to the Arizona Cardinals. Contribute your thoughts and questions beginning at 4 p.m. ET. And, be sure to visit our
NFL Nation Blitz page
for commentary from every game, as well as fan photos and the latest buzz from Twitter. See you there.
September, 29, 2013
9/29/13
12:39
PM ET
By
ESPN.com staff
| ESPN.com
Join our ESPN.com NFL experts as they break down the Arizona Cardinals' visit to the Tampa Bay Buccaneers. Contribute your thoughts and questions beginning at 1 p.m. ET. And, be sure to visit our
NFL Nation Blitz page
for commentary from every game, as well as fan photos and the latest buzz from Twitter. See you there.
September, 23, 2013
9/23/13
12:30
PM ET
A review of four hot issues from the
Arizona Cardinals
' 31-7
loss
to the
New Orleans Saints
:
No stopping Jimmy:
The Cardinals shouldn't feel bad. Saints tight end
Jimmy Graham
is doing this to everyone he plays against. He finished with 134 yards and two touchdowns on nine catches, and just abused whoever the Cardinals sent out to defend him. However, stopping big tight ends has been troublesome for the Cardinals this season without linebacker
Daryl Washington
.
"I mean, he's tough," cornerback
Patrick Peterson
said. "He's a big body. It's hard to cover those big-body guys, especially by him being a basketball player. He knows how to maneuver his body real well and he did a great job of boxing us out and going up and getting the ball.
"All Drew has to do is throw it in his vicinity."
Everyone knew he was good when he averaged 65 yards per game, but he's at another level thus far in 2013, averaging 119 per game.
[+] Enlarge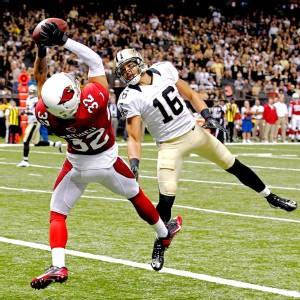 AP Photo/Bill HaberRookie Tyrann Mathieu, who intercepted this pass, is looking like a third-round steal.
Third-down progress?:
Winning can heal a lot, such as last week's 1-for-11 performance on third down. However, a loss and a 5-for-13 day on third downs? That won't please anyone. The Cardinals can't seem to figure out how to get first downs when the down marker rolls to third. Palmer was 3-for-11 on third-down dropbacks against New Orleans, according to ESPN Stats & Information. Just on third downs, Palmer was 4-for-9 for 46 yards, threw for three first downs and was sacked twice. And the Cardinals aren't looking for their best receiver on third downs, either. In the past two weeks, Palmer has targeted Fitzgerald just once on third downs in each game.
Mathieu proving himself:
Three games, three big plays. The cream of the rookie class may be rising from the third round.
Tyrann Mathieu
proved he doesn't just make big plays in the NFL, but he does it on the biggest stage. Sounds familiar? It's the storyline of his career. Mathieu had another play Sunday, intercepting
Drew Brees
in front of Mathieu's hometown crowd at the Superdome. Mathieu downplayed the pick, but it was hard to ignore the media attention he received. He could be the biggest steal of the 2013 draft when it's all said and done.
When it rains it pours:
Any time a player
tweets the words
, "God has a plan," attached to a photo of his foot on a private jet, it can't be good. Those words and that photo came from linebacker
Sam Acho
, one of three starters left Sunday's game and didn't return. He was out with an ankle injury, while linebacker
Lorenzo Alexander
suffered a foot injury and safety
Rashad Johnson
left the game with a finger issue. Injuries are a part of the game, and they can quickly derail a season (see: 2012), but the Cardinals have enough depth at those positions to help make up for their losses. With how poorly the offense played after that initial touchdown, the injuries were adding insult to literal injury.
September, 22, 2013
9/22/13
8:00
PM ET
NEW ORLEANS --
Darnell Dockett
had a career day but the 10-year veteran wouldn't speak of it.
For just the third time in his career -- and the first in four years -- Dockett recorded three sacks in a game. Yet, he didn't want to focus on his the superlative day following Arizona's
31-7 loss
to New Orleans.
"We played well up front. We got chances to get after the quarterback, we did a great job at it," Dockett said. "Me, personally, I don't care about what I did in the game. I don't care about stats. I'm not one of those stats people. I care about wins and losses. Anytime I go on the road, you can give me zero tackles, zero everything and give me a win, and that's good enough for me.
[+] Enlarge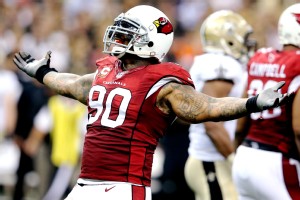 Chuck Cook/USA TODAY SportsDarnell Dockett celebrates one of his three sacks against the Saints.
"That's my main focus. We fell short as a team and this business is all about wins and losses, and we lost today."
Dockett picked up the slack from
Dan Williams
' absence. Williams missed Sunday's game after his father, Thomas, was killed in a car accident while driving from Memphis to New Orleans. Williams' nose tackle position was filled on a rotation, but Dockett was steady all day.
He had four quarterback hits and was disturbing the Saints' offense on a few plays.
"There were times I thought he got after the quarterback and was back there in the backfield being disruptive," said Cardinals coach Bruce Arians, who wouldn't elaborate on Dockett's play until he watched the game film.
Dockett was emotional, even introspective, after the game, showing a renewed passion that coincided with Todd Bowles' new one-gap, 3-4 defense.
"We were better than that," Dockett said. "I mean, Saints is a good team. They're not that good. They made plays. They made more plays than we did. I told my team today, 'The only thing about today is we can't go 15-1. It's the only thing bad about today.'
"There's a lot of football left. Nobody should be feeling sorry for themselves, pointing fingers and all that. Sometimes it takes a good loss like this to re-evaluate yourself and tell yourself you're not that good and you work harder with your craft. We will perform better next week, I'll be sure of that."
September, 19, 2013
9/19/13
1:30
PM ET
TEMPE, Ariz. -- Just how good is the Arizona Cardinals' rushing defense?
Well, according to the numbers, it's very good.
Arizona is ranked third in the NFL in yards per game (58) and fourth in yards per play (2.64), a drastic difference from a year ago. In 2012, the Cardinals were 28th in the league, allowing a porous 137 yards per game. On each play, they surrendered an average of 4.3 yards, 22nd best in the NFL.
After watching it during training camp, Arizona coach Bruce Arians saw glimpses of what this year's run defense has become.
"I think that was one of the major faults of the defense last year," Arians said. "You never want your defense ranked in the low 20s against the run and we talked about that all the time."
Arizona hasn't allowed a rushing touchdown and has yielded just eight rushing first downs.
New Orleans is running outside the tackles more often this year (29 percent) compared to last season (20 percent), but their productivity has declined. Running back
Mark Ingram
, who led the Saints in rushing outside the tackles last year, has -1 yard on eight carries this season compared to 5.7 yards per rush outside the tackles last year.
As a team, the Saints' first-down percentage outside the tackles is down by 50 percent, and they're facing a defense that has been stout on the edge. The Cardinals have allowed 5.67 yards off left end but haven't given up a yard on the right side.
"They're very strong," Saints coach Sean Payton said. "I think you see those guys playing the edge very well. They've got very good tacklers. Their scheme is outstanding. It's a physical front and they do a good job in the back end of being on the same page and understanding how they're fitting their gaps."
September, 6, 2013
9/06/13
12:00
PM ET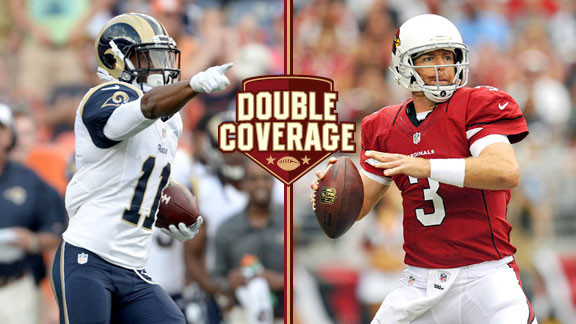 USA TODAY SportsTavon Austin and Carson Palmer were part of overhauls on offense for the Rams and Saints.
The St. Louis Rams and Arizona Cardinals are widely regarded as the afterthoughts of the difficult NFC West Division.
Sure, both teams have done enough to draw optimism from their respective fan bases but when it comes to high expectations, neither team is supposed to keep pace with chic Super Bowl picks Seattle and San Francisco.
If the Rams or Cardinals intend to keep pace with the Seahawks and Niners, it would serve them well to beat the other to open the season.
Rams reporter Nick Wagoner and Cardinals reporter Josh Weinfuss discuss the important topics that will shape Sunday's outcome.
Nick Wagoner:
Sitting here in St. Louis, it looks like it's been a busy offseason out there, the type that I'm used to seeing around here. The Cardinals had a major makeover in the front office and with the coaching staff. The obvious first question here is what type of impact has new coach Bruce Arians made since his arrival?
Josh Weinfuss:
Pretty much from the get-go, Arians has changed the culture throughout the organization. He's not a micromanager. All he cares about is winning football games. Arians cleaned house almost immediately and brought in his own staff, save for two holdovers -- quarterbacks coach Freddie Kitchens and defensive assistant Ryan Slowik. But it was more than the personnel he changed. The mindset was different, too. Players were excited again after losing seasons two of the past three years, and Arians established respect throughout the locker room quickly. He was open and honest with the players, even if it wasn't what they wanted to hear, and the players appreciated it, some even relished in it.
It's not like you haven't seen some change there in St. Louis. With the loss of
Steven Jackson
and
Danny Amendola
, how has the Rams' offensive identity changed this season?
Wagoner:
After eight years of Steven Jackson punching the clock and picking up 1,000 yards or more on the ground, things are quite a bit different in that regard. The Rams are faster with tight end
Jared Cook
and receivers
Tavon Austin
and
Chris Givens
. They've added those guys to give quarterback
Sam Bradford
every chance to succeed. The offense has been rebuilt to feature Bradford and allow him to take the next step. While offensive coordinator Brian Schottenheimer says the tempo and style of offense will change from game to game and be more game-plan specific, there's little doubt the offense will look much different than it has been around here in some time.
Speaking of building around quarterbacks,
Carson Palmer
is an obvious upgrade at quarterback but how much will that improve the offense?
Weinfuss:
I think it'll improve the offense more than most people think, but for a few reasons. Not only will the Cardinals now have a capable quarterback who threw for 4,018 yards and 22 touchdowns last season -- they'll have consistency. The Cardinals trotted out four different starters in 2012 and there was no unity that kept the offense together. Combined, they threw for 3,383 yards and 11 touchdowns -- that's 635 fewer yards and half as many scores. In Arians' downfield offense, having a big arm and a smart quarterback is as important as any factor. And Palmer showed during the preseason that he can launch it.
You talk about the new weapons around Bradford, but
how will the addition of left tackle Jake Long help the Rams' offense, specifically the running game?
Wagoner:
The Rams did everything they could during the preseason and training camp to ensure Long is healthy and ready to go when the season begins. They limited his reps in practice to keep him fresh, and he responded with solid performances in the three preseason games in which he appeared. He says he feels as good as he has in three years and from talking to him, he's got something of a chip on his shoulder. He was told for years he was an elite tackle then people began doubting him last year. He looks poised to bounce back and be effective in pass protection and the run game.
While we're on the topic of offensive lines, it certainly seems to be the ongoing saga out there. The Rams had nine sacks last year when Arizona came to town. Has the offensive line improved enough to keep Palmer upright on a consistent basis?
Weinfuss:
The short answer is yes. The long, complicated answer is we'll see. Last year the Cardinals allowed a league-high 58 sacks, but that was with a patchwork offensive line that saw seven different starters. This year, the unit is more solidified with the return of
Levi Brown
, who missed last season with a torn triceps, and the addition of free agent right tackle
Eric Winston
, who has started every game since 2008. The biggest question mark will be the interior. First-round pick
Jonathan Cooper
is out for the year with a broken leg, which forced
Daryn Colledge
to move from right guard back to left and opened the door for
Paul Fanaika
at right guard. He was out of football last season. Overall, this year's line is a veteran, improved unit and I expect it to protect Palmer, who was sacked 26 times last year, better than he's seen in a while.
Let's flip to the other side of the ball. How much can the Rams rely on solid corner play to make up for having no starting experience at safety?
Wagoner:
Well, the Rams have talent and experience returning at every position on the defense except for safety. Rookie
T.J. McDonald
and second-year undrafted free agent
Rodney McLeod
are the likely starters Sunday and they have a total of zero starts between them. They do have veteran
Cortland Finnegan
to provide leadership in the secondary and McDonald seems wise beyond his years. Still, it may be tough on those young safeties against Arians' vertical passing attack. McDonald figures to play more of the box safety role and McLeod is a better fit as a center-field type on the back end.