Arizona Cardinals:

Colin Kaepernick
October, 11, 2013
10/11/13
12:00
PM ET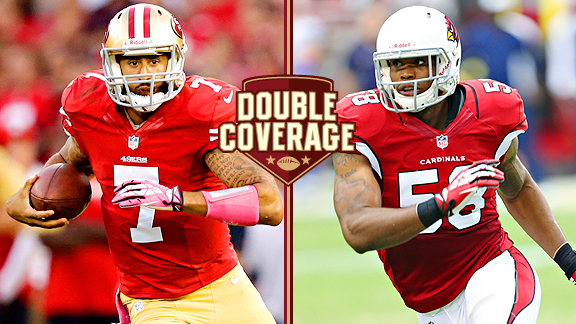 Getty Images, AP PhotoIf 49ers QB Colin Kaepernick wants to run, he'll have to contend with Cardinals LB Daryl Washington.
A battle of 3-2 NFC West teams is on hand as the
San Francisco 49ers
welcome the
Arizona Cardinals
on Sunday. ESPN.com's Cardinals reporter Josh Weinfuss and 49ers reporter Bill Williamson discuss the key division game:
Weinfuss:
Has
Colin Kaepernick
hit any form of a sophomore slump?
Williamson:
I can see why you'd think that -- his numbers are down. However, he is not playing terribly. The big issue is the 49ers really miss injured receivers
Michael Crabtree
and
Mario Manningham
. Frankly, other than
Anquan Boldin
and tight end
Vernon Davis
, Kaepernick is not throwing to NFL-quality receivers. So the 49ers are relying on the run game. Still, Kaepernick is the long-term prospect we all thought he was after his Super Bowl run last season.
Do you get the sense the Cardinals think they can shut down Kaepernick?
Weinfuss
: After what the Cardinals were able to do last Sunday against
Cam Newton
-- all but shutting him down in the second half -- their confidence is sky-high right now, especially the defensive line. There's no shutting down a quarterback as good as Kaepernick, but with linebacker
Daryl Washington
back, the Cards have someone athletic enough to put on spy patrol, which could limit some of the things Kaepernick can do running-wise. Arizona saw what Kaepernick did last year, but the Cardinals are feeling good about their chances.
What has Boldin, a former Cardinal, added to the 49ers' offense?
Williamson:
Oh, the 49ers would be lost without Boldin. Acquiring him for a sixth-round pick from Baltimore was a potential season-saver. He is Kaepernick's safety net. He had a whopping 13 catches in the season-opening win over the Packers, and though he hasn't made quite that big an impact since, he has been vital to this offense. I think he will be even more dangerous when Crabtree and Manningham come back because of the matchup issues he'll present.
Do you think the Cardinals' secondary can contain Boldin?
Weinfuss:
Yes, I do, but only to a certain point. If cornerback
Patrick Peterson
lines up on him, Boldin could have a tough day just based on what Peterson has done to guys like
Calvin Johnson
. Expect to see the Niners run Boldin over the middle, because in their last few games the Cardinals have left that part of the field wide open. If cornerback
Jerraud Powers
is on Boldin, expect the receiver to get some big yards before contact. But with Arizona's recent success against wide receivers, I can see Boldin being limited.
Can the 49ers repeat in the West and the NFC and head back to the Super Bowl?
Williamson:
The 49ers trail Seattle by a game in the division. They simply want to stay on the right track after their 1-2 start and get into the playoffs, and then try to repeat as conference champions. But if the 49ers can get all their injured players back, and
Aldon Smith
can come back from his treatment for substance abuse, there is no reason to think this team can't make a serious Super Bowl run.
Do you think the Cardinals can get in the way of the 49ers' and Seahawks' plans?
Weinfuss:
That's a great question. Not sure if they can get in the way, but the Cardinals have the potential to be nipping at their heels -- if only they could get their offense going. Coach Bruce Arians seems to think they're getting closer, and to his credit, they are eliminating more mistakes every game. But the offense still has a way to go. The only way the Cards can get in the way of the Niners -- I don't see them bothering the Seahawks -- is if the defense starts scoring points and lessening the load on the offense. Then we might see the Cardinals making a race out of the second spot.
.
August, 31, 2013
8/31/13
1:40
PM ET
San Francisco 49ers
and 13
Seattle Seahawks
helped the NFC West account for a disproportionate number of players listed in the #NFLRank project from ESPN.
Sixty-three voters helped rank 100 top players on each side of the ball. NFC West teams accounted for 20 players on defense and 16 on offense. The 36-player total works out to 18 percent representation for the NFC West, above the 12.5 percent expectation for any division.
The chart shows where NFC West players ranked on each list. I shaded offensive players in gray to better distinguish the rankings.
The 49ers' Patrick Willis and the
Arizona Cardinals
' Larry Fitzgerald have long been perceived as the best players in the division. They've got additional competition, but those two ranked higher than anyone else in the NFC West.
There were sure to be oversights in a project of this scope. Defensive end
Calais Campbell
of the Cardinals stands out to me as the most glaring one. I might have placed him between Patrick Peterson and Chris Long in defensive rankings as they stood for this project.
Three Seahawks cornerbacks earned spots on the list even though one of them, Antoine Winfield,
reportedly could be released by the team
Saturday in the reduction to 53 players Saturday.
A quick look at ranked players by team:
San Francisco 49ers:
Patrick Willis (3), Aldon Smith (10), Justin Smith (11), Vernon Davis (18), NaVorro Bowman (18), Joe Staley (25), Mike Iupati (32), Frank Gore (37), Colin Kaepernick (42), Ahmad Brooks (56), Anthony Davis (60), Donte Whitner (64), Michael Crabtree (78), Anquan Boldin (83) and Jonathan Goodwin (92).
Seattle Seahawks:
Richard Sherman (8), Earl Thomas (17), Percy Harvin (26), Marshawn Lynch (27), Brandon Browner (46), Russell Wilson (47), Russell Okung (49), Kam Chancellor (49), Max Unger (57), Bobby Wagner (67), Winfield (70), Cliff Avril (74) and Chris Clemons (85).
St. Louis Rams:
Long (40), James Laurinaitis (57), Jake Long (61), Cortland Finnegan (63).
Arizona Cardinals:
Larry Fitzgerald (7), Patrick Peterson (19), Daryl Washington (59) and Darnell Dockett (79).
Fifteen
August, 30, 2013
8/30/13
11:40
AM ET
Six projected starting quarterbacks played in their teams' final exhibition games of the 2013 preseason. The
Seattle Seahawks
'
Russell Wilson
and the
San Francisco 49ers
'
Colin Kaepernick
were two of them, and both led touchdown drives before exiting after one series. None of the NFL's projected starters got hurt Thursday night.
The chart shows week-by-week snap counts for quarterbacks I singled out as projected starters heading into preseason. NFC West alums
Kevin Kolb
and
Matt Flynn
might not start after all, but I've left them in the chart for context.
St. Louis Rams
coach Jeff Fisher has generally played starters in the final preseason game. He did not this time.
"Typically I have, but I guess in the new world that we're in, it's hard to," Fisher told reporters after the Rams' game against Baltimore. "What that implies is that I'm pleased with where they are right now, those guys that sat. They worked hard. We got a great workout and it allowed them to fast-forward their minds to Arizona."
Fisher could have been alluding to the run of higher-profile injuries around the league this summer. Last year, the Rams lost rookie defensive tackle
Michael Brockers
to a high-ankle sprain in the final preseason game.
The Rams emerged from this preseason healthier than their division rivals. That did not stop the 49ers from playing their offensive starters or the Seahawks from playing starters on both sides of the ball Thursday night. The
Arizona Cardinals
rested most of their starters, though
Michael Floyd
was one notable exception.
San Francisco coach
Jim Harbaugh
offered no explanation for playing his starting offense one series. Kaepernick hadn't gotten many snaps through the first three games, however. Getting additional reps for Kaepernick and the team's group of emerging receivers made some sense on the surface.
Seahawks coach Pete Carroll went into the final preseason game saying he wanted starters to play because the team values this games as competitive opportunities.
August, 26, 2013
8/26/13
8:00
AM ET
A potential competition for the
San Francisco 49ers
' No. 2 quarterback job might have dissipated before it really began.
Colt McCoy
is the guy behind the No. 1 guy,
coach Jim Harbaugh told reporters
Sunday night following a 34-14 victory over the Minnesota Vikings at Candlestick Park.
A chronology provides some context:
March 12:
The trade sending backup
Alex Smith
to Kansas City becomes official.
April 2:
The 49ers acquire McCoy to be their presumed No. 2 quarterback.
Aug. 8 and 16:
McCoy performs unconvincingly in the 49ers' first two exhibition games.
Aug. 22:
The 49ers sign free-agent quarterback
Seneca Wallace
.
Aug. 24:
McCoy accepts a reduced salary. The news comes out a day later, at which point McCoy confirms that he accepted the reduction on Saturday night, the 24th.
Aug. 25:
McCoy completes 11 of 15 passes for 109 yards and an interception during the 49ers' preseason game against Minnesota. Wallace hardly plays. After the game, Harbaugh tells reporters he "feels real good about Colt as the backup quarterback."
The timeline suggests Wallace's signing helped the 49ers secure a pay reduction from McCoy while providing insurance. That may or may not be the case. We know
Colin Kaepernick
is the starter and McCoy is the heavy favorite to serve in the No. 2 role, and that Wallace could have some additional time to learn the offense -- perhaps so the 49ers could turn to him later if a need arose.
Teams have until Tuesday to reduce their rosters from the 90-man limit to no more than 75 players. The mandatory reduction to 53-man limits is Saturday.