Arizona Cardinals:

Darren Fells
February, 14, 2015
Feb 14
8:00
AM ET
TEMPE, Ariz. -- Teams have less than a month to get their top 51 salaries under the 2015 salary cap, which has yet to be determined, by March 10, when the new league year begins.
The
Arizona Cardinals
' top 51 salaries are currently worth $148.9 million, with four players --
Larry Fitzgerald
,
Patrick Peterson
,
Calais Campbell
and
Carson Palmer
-- eating up 45.4 percent of that sum.
Over the course of 11 days, the Cardinals' salary-cap situation will be broken down here by position.
John Carlson
Cap hit:
$1.5 million
Final season under contract:
2015
Cash value:
$1.6 million
Notes:
Carlson can earn a roster bonus of $37,500 per game he's active with a maximum value of $600,000. He missed out on an $150,000 bonus by not getting at least 55 receptions last season.
Troy Niklas
Cap hit:
$914,386
Final season under contract:
2017
Cash value:
$602,877
Notes:
Niklas' base salary is fully guaranteed in 2015.
Darren Fells
Cap hit:
$510,000
Final season under contract:
2015
Cash value:
$510,000
Notes:
The Cardinals wouldn't incur any financial hit if they release Fells.
Currently not signed for 2015:
Rob Housler
January, 17, 2015
Jan 17
8:00
PM ET
With the Arizona Cardinals' loss in the playoffs still fresh in their memories, it's time to review the 2014 season, while also previewing 2015. Over the next 11 installments, I'll look back, and then ahead, at every position for the Cardinals.
2014 Review:
Heading into training camp, the Cardinals tight ends were set. Jake Ballard and
John Carlson
would be the combination Bruce Arians needed to make his offense run as a well-oiled scheme. Arizona drafted
Troy Niklas
in the second round of last May's NFL draft. And basketball-player-turned-football-newcomer
Darren Fells
was expected to be the fourth in the quartet. Then Ballard retired, opening a roster spot for
Rob Housler
. And it took about a month for more injuries to impact Niklas. The Cardinals turned to Carlson as their primary tight end, but a series of drops midway through the season were the catalyst for a decline in playing time. On Nov. 18, after his second severely sprained ankle of the season, Niklas was placed on injured reserve. A week later, Fells' snaps began increasing as Arizona started focusing on the run, utilizing his size and quickness as a blocker. In Arizona's final four games, Fells saw twice as many snaps as Carlson.
2015 Preview:
All of Arizona's tight ends except Housler are under contract for 2015. It's a long shot that he returns. Housler hasn't fit Arians' offense for the past two years because he's built more to receive than to block. The Cardinals coaches trusted Fells more as the season progressed, which likely won't change. With another offseason to learn how to improve his blocking and absorb the NFL speed and style, Fells will only improve. The offseason will be important for Niklas, who needs time to heal from a series of injuries dating back to early last year. It'll be imperative for Niklas to enter offseason workouts completely healthy since he was limited last OTAs and minicamp. The biggest question surrounding the Cardinals' tight ends will be the future of Carlson, who has a year left on his contract. He's scheduled to earn a base salary of $1 million next season but that could increase with $600,000 on the table for a per-game roster bonus. He missed out on a $150,000 bonus because he didn't have at least 55 receptions in 2014. Carlson's decreased playing time toward the end of the season was a sign the coaching staff didn't believe he could be an effective blocker. His six dropped passes, according to Pro Football Focus, didn't help Carlson's cause. Arizona needs another burly, blocking tight end who has good hands that could be among the anchors for Arians' scheme.
Coming Sunday:
Offensive line
December, 19, 2014
12/19/14
5:30
PM ET
TEMPE, Ariz. -- Sometimes what looks like a coincidence isn't a coincidence at all.
Case in point: As tight end
Darren Fells
' snaps have increased the last two games, so have the
Arizona Cardinals
' rushing yards.
Fells
Before Week 14, Fells played a combined 52 snaps this season, according to ESPN Stats & Information, and Arizona averaged 69 rushing yards per game. When he played 41 snaps in a win over the
Kansas City Chiefs
in Week 14, Arizona ran for 141 yards. A few days later in St. Louis, Fells played 44 snaps and the Cardinals ran for 143.
"I think there's a correlation, yeah, between him blocking the edge with his big body and helping us maintain the line of scrimmage and not have it come back at us," Cardinals coach Bruce Arians said.
There were other factors involved in the Cardinals having their two best rushing games of the season, like Arizona committing more to the run game, a new rotation in the backfield of
Kerwynn Williams
and
Stepfan Taylor
in place of the injured
Andre Ellington
, and changes on the offensive line with
Jonathan Cooper
getting the start as the guards were shuffled with
Paul Fanaika
out.
Sometimes, it's as simple as having just the right combination. While Fells' contributions may fall anywhere on that list, it's tough to ignore the impact of the 6-foot-7, 281-pound former power forward.
"Obvioulsy, Rob [Housler] and John [Carlson] are decent blockers but basically when you got a [former] basketball [player]/tight end [and] offensive lineman in there at tight end, it's a good deal," offensive coordinator Harold Goodwin said. "He can catch. He can protect and also he can block, but just having that big frame in there versus those defensive ends is huge, especially when you're playing a 4-3 team like this one."
With him controlling the edges, Arizona has been able to run better inside.
In weeks 1-13, including all 52 of Fells' snaps, Arizona averaged 2.7 yards per carry in between the tackles, according to ESPN Stats & Information.
With Fells on the field in Weeks 14 and 15, Arizona has averaged 4.48 yards per carry inside.
"As big as he is -- he' 6-7, 280 pounds -- it's like a 6-7, 330-pound offensive tackle at times," tight ends coach Rick Christophel said. "The edge becomes longer. He's not a bad athlete, which helps, and he keeps learning every week."
Fells' road to the NFL took an
international detour
.
He never played college football, trading in scholarship offers from UCLA, Arizona State and Washington, among others, to play basketball at UC-Irvine. From California, his career took him to Belgium, Finland, Mexico and Argentina. After tiring of the finesse style of European basketball, Fells yearned for the weight room and more -- any -- physical contact.
He landed on the Cardinals practice squad last October as a project for Christophel but was too raw to get called up to the active roster. He was learning how to become an NFL tight end without having played since high school. After last season, Fells began making noticeable progress.
"I think he grew a lot from OTAs through training camp," Christophel said. "What I mean by that, he started to understand his role in the offense and what he had to do. With a basketball player's background, a lot of times those guys envision [themselves] sometimes as more as pass catchers but he's taught himself to be a better blocker."
Fells can tell his footwork and hand placement has improved since training camp, but he's learned the most important lesson about blocking for the run: hit before you get hit. Even though right tackle
Bobby Massie
said he doesn't usually know when Fells is on the field, he's seen the tight end use his size to move defenders out of holes, creating space for Williams and Taylor.
The work Christophel has put in with Fells is finally paying off and Arizona's running game is the biggest benefactor.
"He's a huge body out there at tight end so that's the thing that helps," Massie said. "He's not just a basketball player anymore. He can play football, too. I think that's the thing that clicked in his mind. He's a football player now."
August, 9, 2014
8/09/14
1:00
PM ET
GLENDALE, Ariz. -- With the Cardinals' first preseason game approaching, the starters have been written about, dissected, and analyzed plenty during the first two weeks of camp. The coaching staff knows what they're capable of. It's the guys behind them that will be fighting for jobs.
Here's a breakdown of five offensive reserves to watch Saturday against Houston:
August, 7, 2014
8/07/14
8:10
PM ET
GLENDALE, Ariz. – A daily review of the hot topics coming out of
Arizona Cardinals
training camp:
It didn't take long for Darren Fells to start climbing the depth chart. Handed an opportunity in the wake of Jake Ballard's retirement, Fells took a few snaps with the first team on Thursday and it looks like Arizona will take advantage of his athleticism by using him in various positions and formations, including sending him in motion. He showed off his sure hands on a touchdown catch from Drew Stanton that he hauled in between two defensive backs. When Fells wasn't working with the first team, he was playing on Stanton's second-team unit.
Wide receiver Ted Ginn appeared to hurt his right leg while working on punt returns early in practice. He walked off the field gingerly and spent the next few minutes stretching, but soon returned to practice.
Cardinals coach Bruce Arians mentioned Thursday morning that Stanton and wide receiver Jaron Brown have been building a good rapport, especially on deep throws. It was on display Thursday afternoon when the two connected on two long passes.
Cornerback Antonio Cromartie did not practice Thursday.
Earl Watford worked at first-team left guard for a couple of series, but Jonathan Cooper took the majority of the snaps there.
After consecutive days of not being able to finish practice because of fatigue, John Brown's energy looked strong early. He had a nice catch on a Stanton throw, beating Jerraud Powers to the pass by a split second. He later split coverage to catch a touchdown from Stanton.
The Cardinals have Friday off and will return to practice Monday from 2-4:30 p.m. at University of Phoenix Stadium. Arizona hosts the Houston Texans on Saturday in its first preseason game.
Injury report: Lyle Sendlein (calf) did not practice.
August, 4, 2014
8/04/14
10:30
PM ET
GLENDALE, Ariz. --
Darren Fells
caught Bruce Arians' attention.
Now he just has to keep it.
Fells, the 6-foot-7 former power forward turned tight end who spent last season on the practice squad, has turned heads by rocking them, Arians said. But even that may not be enough to make the 53-man roster.
"The best thing he's doing is he's coming of the ball blocking people," Arians said. "That's the hardest thing for basketball players to ever learn. He's coming off the ball extremely well knocking some people back and he's doing it every day.
[+] Enlarge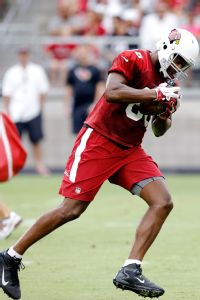 AP Photo/Ross D. Franklin"He'll still make an occasional mistake because of his lack of experience," Bruce Arians said, "but he's doing the one thing that he needs to do to make the football team and that's hit people."
"He'll still make an occasional mistake because of his lack of experience, but he's doing the one thing that he needs to do to make the football team and that's hit people. He's had an outstanding week last week."
Last season, Arians said Fells, whose brother Daniel had a five-year NFL career, had the tools to be a good tight end -- the body control, the hands, the size -- but needed to work on his blocking. That became Fells' priority during the offseason. Hitting someone was a mentality he had to adopt. After years of being taught not to be overtly physical on the basketball court, Fells came into training camp this year comfortable hitting someone.
"Just coming out there saying you're not going to be afraid of contact no matter who's in front of you, whether it's the third string or it's a Pro Bowler, you're going to go at him, you're going to make the contact," Fells said.
Last season was the first on a football field since high school for Fells, who played basketball at UC Irvine, and the learning curve was steep. Compared to 2013, Fells said he's grasping everything "90 to 100 percent better."
"Last year, it was like a foreign language to me," Fells said after Monday's practice. "Now, I'm starting to learn pretty much the football language and just getting the grasp of everything. It's funny, I was just talking with a bunch of teammates how I can understand the whole play now instead of just my spot.
"So it's coming to me."
But Fells' toughest battle won't come against a defensive player. It'll be supplanting one of the top four tight ends on the depth chart. Fells is currently fifth, a precarious position to be in since Arians said Monday that it'll be tough to keep five, but the 28-year-old may not stay there for long.
Just eight practices into his second season, Fells isn't concerning himself with the numbers game of making the roster. He wants to stay focused on not making mistakes and playing physical. When the pads come on, Fells said, he turns into a different person.
Last year, Arians didn't see much of that person but that's since changed. Arians likes what he sees, especially when Fells catches passes with his hands "about that big," Arians said, implying the size of Fells' giant mitts.
"It was almost like, 'I don't think the light was gonna come on,' and all of a sudden the light came on," Arians said. "He's improved his technique and his pad level and he's striking people very well.
"Right now," Arians added, "he's moving up the depth chart fast."
August, 3, 2014
8/03/14
2:30
PM ET
Welcome to
#CardsMailbag
, a weekly installment that allows you to ask me questions about the
Arizona Cardinals
throughout the week via Twitter
@joshweinfuss
. I'll answer them every week during training camp. Make sure to use the hashtag
#CardsMailbag
.
"@joshweinfuss: First call for #CardsMailbag do you see Feeley winning the job again? Which rookies stand out (besides Brown)?

— $teve dams ® (@ssadams12) August 1, 2014
@joshweinfuss
: As it stands right now, I think it's a close race.
Jay Feely
has the experience of a 14-year vet who's had plenty of big kicks, but
Chandler Catanzaro
has a bigger foot and is a cheaper option. Catanzaro has more of an upside long term than Feely does. But what might win the job for Catanzaro is his ability to place kickoffs in the end zone, something Feely struggled to do at times last year. With the kickoffs starting at the 40-yard line, it's almost necessary and expected for every kick to end up either being booted out of the end zone or deep enough to where teams have to settle for a touchback. Catanzaro's leg is strong enough for that. As for rookies who are standing out besides wide receiver
John Brown
, I think all the draft picks have impressed at some point.
Walt Powell
is making a name for himself with his speed.
Ed Stinson
and
Kareem Martin
will have major roles as backups on the defensive line as well. Linebacker
Glenn Carson
, an undrafted free agent, is working as the backup long snapper.
@joshweinfuss @BruceArians said good things about Darren Fells. How has he looked can he beat out Housler? #CardsMailbag

— Himself (@himself1234) August 1, 2014
@joshweinfuss
:
Darren Fells
has looked good, but he won't be winning a job over
Rob Housler
any time soon. Fells will likely be on the practice squad again until he's smoother as a receiver and route runner. Remember, he just started playing football a couple years ago, so his progress is pretty incredible. But he still has work to do.
@joshweinfuss #CardsMailbag How is Brown doing now with pads on? Any specific examples of good or bad?

— B Psi (@DJ_BPsi) August 1, 2014
@joshweinfuss
: Well, if John Brown's teammates' words mean anything, he's doing great. And it's pretty obvious from our standpoint on the sideline. He's as fast with pads on as without them, which is what a lot of coaches and players were waiting to find out. The next step is to see how he does against live defenses, which won't occur until the preseason starts Saturday.
@joshweinfuss is Coop starting to look like a dominant first round pick? #CardsMailBag

— David Roberts (@DavidRoberts20) August 1, 2014
@joshweinfuss
: Short answer: No.
Jonathan Cooper
has been struggling to get back in the groove he had last year coming out of North Carolina as a rookie, and the Cardinals have noticed. In Saturday's practice, he split time with
Earl Watford
at left guard, the first sign that there's been an issue with Cooper's game. It'll take him some time to grow back into the player he entered the league as.
@joshweinfuss #cardsmailbag what's a realistic return date for Honey Badger? Week 4 after the bye?

— Antonio Esquivel (@HoneyBucketHero) August 2, 2014
@joshweinfuss
: I think that's the safe bet.
Tyrann Mathieu
has said that Week 4 is his goal, and I think it would be the best option for him at this point for the earliest he can return. He recently started making football moves, which is significant progress, but he needs to be able to be fluid and confident in his moves before he can return to the field.
@joshweinfuss who do you think the signing of @maxstarks78 signals the end for sowell or potter?

— aaron deyoung (@aadeyoung) August 2, 2014
@joshweinfuss
: I think
Bradley Sowell
may end up getting squeezed out of the rotation with
Max Starks
' addition. Sowell lost the battle for the starting right tackle job to
Bobby Massie
and was playing as his backup until Starks came along. Now, Sowell is playing with the third team. While his ability to play left and right tackle could keep him on the roster, Starks is capable of playing both positions also. And with Starks already running with the second team, it's more likely he'll be the swing tackle.
@joshweinfuss Mathieu wants off the PUP list to increase his workload. What are the pros and cons of activating him?

— sacred reich (@SacredReich) August 2, 2014
@joshweinfuss
: The pros are that he can begin going through drills and getting back into football shape. He'd be able to rejoin his teammates and continue building that bond with them. And he'd be able to start working into the defensive rotation, practicing any new plays or schemes, instead of just watching them on film. There is one major con, however: He may not be ready to practice, and knowing that it's tough for these guys to slow down once they hit the field, he could reinjure himself and set himself back for months and potentially miss the whole season.
January, 2, 2014
1/02/14
8:25
PM ET
TEMPE, Ariz. -- The Cardinals began filling out their 90-man offseason roster Thursday.
They re-signed nine practice-squad players to future contracts for the 2014 season. The group included center
Philip Blake
, wide receiver
Dan Buckner
, linebacker
Kenny Demens
, center Tom Draheim, tight end
Darren Fells
, running back
Robert Hughes
, safety
Orhian Johnson
, defensive tackle
Anthony McCloud
and linebacker
Kenny Rowe
.
Fells is the most intriguing of the group because of
his potential
. He's 6-foot-7 and 281 pounds, and with a full offseason of training under the Cardinals' system, he could be part of the team's plans at tight end come 2014.
December, 25, 2013
12/25/13
8:00
AM ET
TEMPE, Ariz. -- When Darren Fells told his father he was getting recruited to play big-time college football, his father thought it was all but a done deal.
He thought it was a foregone conclusion that his son, all 6-foot-7, 281 pounds of him, would accept one of the football scholarships offered from either UCLA, Arizona State, Washington, Washington State or any of the other then-Pac-10 schools. So when Fells, who was all-state in football in California, accepted a scholarship to UC-Irvine -- to play basketball -- everybody was floored.
"Pretty much every single person I know thought I made a mistake doing basketball over football," Fells said. "Even my dad was shocked. My dad was extremely shocked that I was doing basketball.
"Especially when I was getting those UCLA letters, he was telling everybody, 'Oh yeah, my son is about to get a full ride to UCLA, be a tight end.' And then when he found out I signed, that shocked him. He was proud of me but it just shocked him. He thought for a fact I was going football because both my older brothers went football."
[+] Enlarge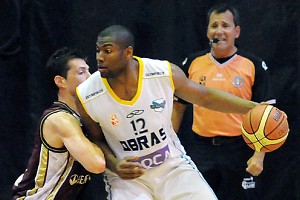 Courtesy of Obras SanitariasDarren Fells, once an international basketball player, is working on the Cardinals' practice squad with hopes of making the 53-man roster.
But Fells is proof that people can make the most out of second chances.
Basketball was good to him, taking Fells around the world and filling his bank account. He played in Belgium, Finland, Mexico and Argentina.
About two years ago, however, the passion for the game that drew him toward it against everyone's expectations began to wane. But Fells didn't know how to quit. As the seasons wore on, he knew more and more basketball wasn't for him. He loved lifting and being in the weight room. He was a physical player in a game that was shifting toward the finesse.
Those feelings piqued last year and Fells knew it was time to walk away.
"It just got to the point where I felt like something was missing," Fells said. "Basketball wasn't what I was looking for. I talked to my brother (former NFL tight end
Daniel Fells
), and he told me why don't I give football a try? I was like OK. I never thought about it but I'd give it a try."
Fells traded in his high tops for cleats, the hard wood for the perfectly manicured grass of football fields, and began training in California. He began training as a defensive end at the urging of his agent and the coaches at Athletes' Performance, and at his size, he'd be a formidable challenge for any offensive tackle.
Fells' first NFL tryout came with the
Seattle Seahawks
last summer. After 30 minutes of being put through a gauntlet of defensive end drills, which just "destroyed" Fells, he said, Seattle tight ends coach Pat McPherson approached Fells and asked him to run a few routes.
The last time Fells ran a route, in high school, Seattle coach Pete Carroll was still at the University of Southern California. But he ran five patterns as requested.
"I don't know how I looked," Fells said. "I probably looked really awkward out there but I guess I looked better than I thought."
Even though the Seahawks felt Fells was more natural at tight end than at defensive end, they were surprised he caught everything thrown his way.
"The first thing that popped in my head was, 'You only threw the ball to me five times. What did you expect? Me to drop four out of five?'" Fells said with a smile. "It was weird. I said, 'OK, thank you.'"
While he was waiting in the locker room after the tryout, Fells' phone rang. It was his agent calling to say Seattle was signing him to a three-year deal. Fells, still naïve to the practices of the NFL, was shocked himself. Three years? Why would they invest that much into him, of all people, such an unproven commodity? But Fells was explained that a three-year, non-guaranteed deal was standard in these situations. If he blew up to be the next
Jimmy Graham
, Seattle had him locked down for cheap. If he was a bust, they could cut him without a penalty. It was win-win for the team.
And Fells was just happy to have a shot.
But if Fells could've bottled the reaction when his friends and family found out he signed with Seattle, he'd still have it on his mantel at home. If they were shocked he decided to play college basketball instead of football, then this practically gave them all heart attacks. Especially his brother, who last played in the NFL in 2012 with the
New England Patriots
.
"He was like, 'Wait, what?'" Fells said with a laugh. "That's been everybody's reaction. Just shock. Even my girlfriend, my parents, my friends. People send articles to me on Facebook and it's like, 'I think they spelled Daniel Fells wrong.'
"I'm like, 'No, that's me. I'm going to Seattle.'"
The next question Fells usually got was: For basketball? Seattle doesn't have a basketball team anymore since the SuperSonics moved to Oklahoma City in 2008.
No, not basketball. Fells was a professional football player and was about to find out how tough it was to stay in the league. He lasted through OTAs, minicamp and training camp before Seattle released him during final cuts. If that was his first and last shot at the NFL, Fells felt good about it.
"Honestly, my whole feeling in this situation right now is still surreal to me," Fells said. "The first (preseason) game I was out there, I didn't even feel real. I just walked through the tunnel hearing the crowd roar and everything, I was just pinching myself like, 'Is this really happening?' Exactly a year ago, I was overseas in Argentina, not even understanding the language, not even speaking Spanish, and next thing I know, I'm here in Seattle. It was crazy."
Three days after Seattle cut him, Fells said Arizona brought him in for a tryout. They put him through a different gauntlet, this time with Fells as a tight end. His fortune wasn't the same in Arizona. He didn't leave with a contract, but the Cardinals told him they liked what they saw. There wasn't room on the roster spot for him. Then Fells had a tryout with St. Louis and got the same answer.
He started seeing a trend.
Three weeks later, on Oct. 9, Arizona called Fells back and signed him to the practice squad.
For the better part of the past three months, Fells has been learning how to play tight end in the NFL facing one of the league's best defenses. With a stocked depth chart at tight end, it's not surprising Fells didn't see any action this season. He's still a project.
"He's got great hands, unbelievable body control for a tight end," Arizona coach Bruce Arians said. "Just (needs to) continue to work on his blocking. He's one of the guys, we were hoping in the open date that somebody would separate themselves, and they weren't quite ready. I really like where he's at. I think he's got a bright future.
"I won't talk too highly of him; somebody might try to poach him."
One way to avoid Fells from being poached is if he's promoted to the 53-man roster ahead of Sunday's game against San Francisco. That'd trigger his contract and make it impossible for another team to go after Fells until that contract expires.
Every day is another step forward for Fells, who said he's still making mistakes every day.
"I don't mind where I'm at," he said. "I would love to be moved up and be on that field and show them what I could do what little ability I have in the NFL.
"I definitely feel like I have potential," Fells said. "I'm not going to say a Jimmy Graham or Gronk kind of player, but I feel like I can help the team out."
Arizona obviously feels the same way. He's been giving the Cardinals' defense looks against a big, fast, physical tight end in practice. And his upside far outweighs his downside.
All Fells needs is time to grow.
"I feel," Fells said, "like I wouldn't be here if they weren't going to give me that shot at some point."