Arizona Cardinals:

Frank Gore
May, 29, 2014
May 29
10:00
AM ET
By
ESPN.com staff
| ESPN.com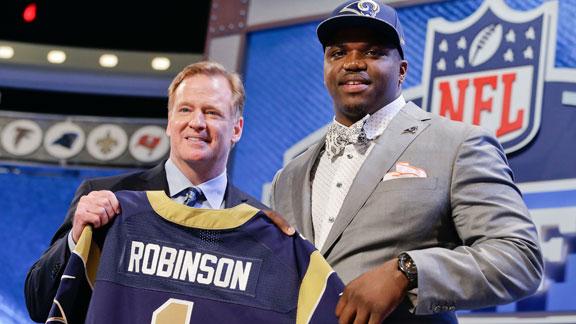 By almost everyone's estimation, the rough and rugged NFC West was the best division in the NFL in 2013. It had the Super Bowl champion
Seattle Seahawks
, two teams in the NFC Championship Game (Seattle and the
San Francisco 49ers
) and another 10-game winner in the
Arizona Cardinals
. The
St. Louis Rams
were 7-9 but likely would have had a winning season in any other division.
And now? Other than adding Godzilla and three superheroes to the four teams, they could not get much better. It looks like the big boys on the NFC block will remain out west.
Most experts believe the Rams had one of the best drafts in the NFL, adding Auburn offensive tackle
Greg Robinson
and Pittsburgh defensive tackle
Aaron Donald
, giving St. Louis four first-round picks on what is arguably the best defensive line in football.
The 49ers had 12 draft picks, including seven in the first four rounds, and made a trade during the draft for talented Buffalo receiver
Stevie Johnson
.
The Cardinals signed gigantic left tackle
Jared Veldheer
and blazing kick returner
Ted Ginn
in free agency. They also added a vicious hitter, Washington State safety
Deone Bucannon
, with their first draft pick.
As always happens with Super Bowl champs, the Seahawks lost a few key players to free agency, but they kept the man they really wanted to keep in defensive end
Michael Bennett
and locked up "Legion of Boom" stars
Earl Thomas
and
Richard Sherman
to long-term deals.
Believe it or not, the best division in the NFL just got better.

As usual, the Seahawks drafted some players other teams would have taken later, if at all. Should people question their choices, or have they earned the benefit of the doubt?
Terry Blount: Have we learned nothing from the past? Questioning Seattle's draft strategy, along with undrafted signees, now seems a little foolish. Shall I name a few who stand out that other teams passed up or the experts questioned? Sherman, Russell Wilson, Doug Baldwin and Malcolm Smith, for starters. The Seahawks bring in players with specific traits -- unusual athleticism, driving competitiveness and obvious intelligence. Where those players rank on another team's draft board means nothing to them. And at first glance from rookie camp, they found some winners in receivers Paul Richardson and Kevin Norwood, along with defensive end Cassius Marsh.
Nick Wagoner:
At this point, it's hard to argue with the results the Seahawks are getting from the players they draft. It is interesting that it seems like the first-round picks (such as
James Carpenter
and
Bruce Irvin
) are the ones who seem to struggle most relative to draft position. But the thing Seattle does so well is find players who fit the confines of who they want to be on both sides of the ball. Then they develop them and have them ready to go. It is why they never seem to miss a beat when injuries hit or a player is suspended. The results speak for themselves.
Josh Weinfuss: A little leeway should be given to the Seahawks because, first, they are the reigning NFL champions, and second, their personnel department has been able to piece together a pretty good roster with players who were not highly rated. With that being said, good will should only go so far. Sometimes a general manager and coach think they have the secret recipe and get cocky about their ability to find talent. When that happens, bad decisions are made. Obviously, the Seahawks have a reputation for picking good players, but they won't be right every time. Every team has an off draft and picks who don't pan out. It is also too early for us to know if some of their "rogue" picks will do anything. Their picks should definitely be questioned until they have a chance to show us their stuff.
Bill Williamson: The glue to the Seahawks is general manager John Schneider. Yes, coach Pete Carroll is a tremendous fit for the franchise and is a big part of the team's success. But Schneider is the architect of this franchise. He built this roster. There is little doubting the way he has drafted. Look at the core of the team -- they were all great value choices by Schneider. The tie goes to Schneider. You can doubt him if you choose, but it would be a lousy idea. Expect these Seattle rookies to develop into players. Schneider always wins.
@TerryBlountESPN No. People questioned Russell Wilson immediately after 2012 draft. We all know how that turned out! Takes time.

- Tina Metcalf (@girlinseattle) May 27, 2014
---

Do the additions of Johnson and Carlos Hyde give the 49ers the most dangerous offense in the division?
Blount: Both players will help, but the real key for the 49ers is quarterback Colin Kaepernick. Having enough weapons wasn't really the problem. Using them effectively on a consistent basis and cutting down on mistakes is the issue. Kaepernick's extraordinary talent is unquestioned. But can he be the same type of team leader that Wilson is and make the big play in the most difficult moments? He couldn't do it last year in the fourth quarter of the NFC Championship Game. If he shows he can do that consistently when the big game is on the line, watch out.
Wagoner:
Well, the competition for that crown isn't exactly daunting in a division known mostly for grinding it out offensively and dominating defensively. But the 49ers probably do have the most dangerous offense in the division. I don't personally think Johnson or Hyde will be a major difference-maker right away, but they don't have to be. Putting Johnson with a healthy
Michael Crabtree
at receiver and tight end
Vernon Davis
should allow Johnson to operate free of the pressure of being a No. 1 wideout. Hyde can learn from
Frank Gore
before taking over the reins. In terms of top-to-bottom talent across the roster, yes, the 49ers look to have the most dangerous offense in the NFC West.
Weinfuss: It is certainly looking like the 49ers have one of the most dangerous offenses in the division, if not the most dangerous. San Francisco has the right pieces at every position, from quarterback to running back to wide receiver to tight end. But the first question that came to mind when going through San Francisco's offensive depth chart is this: Will one football be enough to go around? This might turn into a case of the 49ers being better on paper than they are on the field, which has happened many times throughout the NFL. The Cardinals bolstered their skill positions during the offseason, giving themselves a lot of talent at wide receiver and tight end to complement two young running backs and a veteran quarterback who finds ways to win. A team can have all the ammunition in the world, but if the coach doesn't know how to use it, it will be stockpiled for naught.
Williamson: I think so. There is nothing missing from this offense. We saw how dynamic it can be when Crabtree returned from a torn Achilles last December. Put Crabtree, the clutch Anquan Boldin and Johnson together and that is a great veteran group of receivers. Someone is always going to be open. Rookie Bruce Ellington was added to give the 49ers the ability to take the top off of defenses, an aspect they didn't possess last season. We didn't even mention Davis at tight end. Really, how is this offense going to be stopped? Kaepernick looked like a completely different quarterback when Crabtree played last season. Kaepernick with all of these weapons? Oh, and we didn't even mention the bread and butter of the 49ers' offense -- the running game. Hyde, Gore and a healthy Marcus Lattimore? How do you defend this group?
@BWilliamsonESPN sure does...how can you spy Kap now with 3 legit wrs + VD...Hyde taking on a 7 man front with our bulldozing line. #1

- CDM (@CDM49er) May 14, 2014
---

After a narrow miss last season, have the Cardinals made enough of the right moves to get into the playoffs?
Blount: I don't think they needed to make many moves to reach the playoffs. Record-wise, they were a playoff team last season, but a victim of circumstances in the playoff structure. So the real question is can the Cardinals catch Seattle and/or San Francisco? And my answer is yes, especially the 49ers. Quarterback Carson Palmer will be better after having a full season in the Arizona offense. Bruce Arians might be the most underrated coach in the NFL. The team clearly is on the rise, while San Francisco's offseason turmoil could come back to bite it.
Wagoner:
I like what Arizona did this offseason. The offensive line should be much better with the addition of Veldheer and the return of
Jonathan Cooper
. Cornerback
Antonio Cromartie
was a nice pickup, and first-round safety Bucannon should be a good complement to the Honey Badger,
Tyrann Mathieu
. But it is still going to be difficult for them to make the playoffs. The Seahawks and 49ers remain at the top of the heap, and until we see otherwise, it's hard to see how they fall from that perch unless injuries strike. That would still leave one playoff spot for the Cardinals. Three teams from the same division can make the playoffs, and it just happened last season, but I expect Arizona to take a small step back and just miss the cut again.
Weinfuss: The Cardinals have made enough moves to make the playoffs this season. They missed the postseason a year ago by a game, which might have been different if Arizona had been stocked with a better kick returner, left tackle, second cornerback and safety. The Cards addressed those issues in the offseason, which should make them better in 2014. Adding left tackle Veldheer to anchor the offensive line should ease Arians' concerns about Palmer's blind side. One thing Ginn has shown throughout his career is that he can return kicks with the best. But the biggest difference for the Cards will be their improved secondary. Signing talented veteran Cromartie gives the Cardinals two lockdown cornerbacks (along with Patrick Peterson) and drafting Bucannon gave Arizona an instant upgrade against tight ends and big receivers -- which there are plenty of in NFC West.
Williamson: I really like how well the Cardinals are coached. I think Arians is on to something. His players seem to respond to him. So the program will continue to rise under Arians. Also, I love the defense; it is nasty, aggressive and ball-hawking. Add great defense and a well-respected coaching staff and a team is going to win a lot of games. I think the bottom line with the Cardinals is quarterback play. Palmer had his moments last season, but I'm not a big believer in him. I think he will cost the Cardinals at some point. Maybe this is a playoff team, but I think the Cardinals are a couple of steps behind the Seahawks and the 49ers. The deficit starts at quarterback.
@joshweinfuss no. if o-line depth isn't addressed, look out for consistent pressure off the right side and more INTs from cardiac carson

- Sean Kirchheimer (@stkirch) May 21, 2014
---

The Rams decided not to draft help at wide receiver and waited until the sixth round to add a young quarterback. Will their offense score enough to make up ground in the NFC West?
Blount: Sure, it would have helped to add a top receiver, but is there a bigger unknown in the entire division than Sam Bradford? What the Rams, and everyone else, have to find out is whether Bradford is an elite quarterback. Frankly, I have my doubts, but he did play well last season before his injury. Bradford's situation is much different than that of Kaepernick, who is as gifted a player physically as you will ever see. In Bradford's case, it's hard to know how good he really is or can be, because he hasn't had top talent around him. And it doesn't help that he has to play six games against three of the of the best defenses in the NFL. It's time for Bradford to step up, no matter whom he is throwing the ball to each week.
Wagoner:
The Rams are clearly hoping they will be able to win games in classic heavyweight slugfests by playing good defense and running the ball. The Rams did put up points against playoff teams like New Orleans and Indianapolis without Bradford, and most of the same cast of characters returns this season. The question is if they can score enough to overcome teams following a similar blueprint within the division? Adding Robinson and running back
Tre Mason
and having a full season of
Rodger Saffold
at guard should certainly help the run game. But until one or more of the young receivers proves himself and Bradford can consistently take advantage of play-action opportunities down the field, I don't see the offense being able to do enough to win games without the help of a special-teams or defensive score from week to week. The Rams should be better against division foes than they were a year ago and might be able to push Arizona, but it still seems unlikely it will be enough to overtake Seattle or San Francisco.
Weinfuss: The depth of the NFC West makes this the toughest question of the four. The Rams' additions weren't significant improvements to their offense, but will help. Bradford will come back with a vengeance and try to light up the scoreboard. He will have a talented group of receivers, but can they score enough to close the gap from the bottom of the West? Not sure that can happen. Rookie Robinson will take his lumps and bruises and might not come into his own until the second half of the season, so the Rams have to be hoping it's not too late by then. Points will be at a premium in the West, especially considering how good the three other defenses are, so the Rams will have to be even better than expected to make up ground, and I'm not sure they are ready for that just yet.
Williamson: Points scored? Who needs points with that defense. Man, the Rams' defense is getting silly good. Adding Donald to that defensive front should have been banned. It's simply unfair. The Rams are not going to allow many points this season. So the offense won't have to be overly dynamic. With that said, I am not a big Bradford fan. I don't think he is the answer. Until the Rams upgrade at quarterback, I don't think they will reach their full potential or be able to hang in the division race. But they will dangerous every week because of the defense.
@nwagoner NFC West teams have proven big O isn't necessary. Healthy SB and improved Oline could be enough paired w/GW defense. #FourDowns

- Troy Vandenbark (@troilus22) May 15, 2014
August, 31, 2013
8/31/13
1:40
PM ET
San Francisco 49ers
and 13
Seattle Seahawks
helped the NFC West account for a disproportionate number of players listed in the #NFLRank project from ESPN.
Sixty-three voters helped rank 100 top players on each side of the ball. NFC West teams accounted for 20 players on defense and 16 on offense. The 36-player total works out to 18 percent representation for the NFC West, above the 12.5 percent expectation for any division.
The chart shows where NFC West players ranked on each list. I shaded offensive players in gray to better distinguish the rankings.
The 49ers' Patrick Willis and the
Arizona Cardinals
' Larry Fitzgerald have long been perceived as the best players in the division. They've got additional competition, but those two ranked higher than anyone else in the NFC West.
There were sure to be oversights in a project of this scope. Defensive end
Calais Campbell
of the Cardinals stands out to me as the most glaring one. I might have placed him between Patrick Peterson and Chris Long in defensive rankings as they stood for this project.
Three Seahawks cornerbacks earned spots on the list even though one of them, Antoine Winfield,
reportedly could be released by the team
Saturday in the reduction to 53 players Saturday.
A quick look at ranked players by team:
San Francisco 49ers:
Patrick Willis (3), Aldon Smith (10), Justin Smith (11), Vernon Davis (18), NaVorro Bowman (18), Joe Staley (25), Mike Iupati (32), Frank Gore (37), Colin Kaepernick (42), Ahmad Brooks (56), Anthony Davis (60), Donte Whitner (64), Michael Crabtree (78), Anquan Boldin (83) and Jonathan Goodwin (92).
Seattle Seahawks:
Richard Sherman (8), Earl Thomas (17), Percy Harvin (26), Marshawn Lynch (27), Brandon Browner (46), Russell Wilson (47), Russell Okung (49), Kam Chancellor (49), Max Unger (57), Bobby Wagner (67), Winfield (70), Cliff Avril (74) and Chris Clemons (85).
St. Louis Rams:
Long (40), James Laurinaitis (57), Jake Long (61), Cortland Finnegan (63).
Arizona Cardinals:
Larry Fitzgerald (7), Patrick Peterson (19), Daryl Washington (59) and Darnell Dockett (79).
Fifteen