Arizona Cardinals:

Gary Kubiak
November, 8, 2013
11/08/13
10:00
AM ET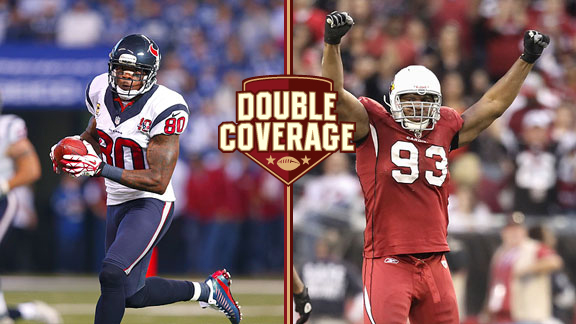 Getty ImagesAndre Johnson and the Texans visit Calais Campbell's Cardinals without head coach Gary Kubiak.
TEMPE, Ariz. -- Emotions will be at a peak for the
Houston Texans
when they make a midseason trip to the desert Sunday. They will be without head coach Gary Kubiak, who will be at home recovering from a mini-stroke, but Houston brings the league's top-ranked defense to Arizona in hopes of ending a six-game losing streak.
Awaiting the Texans will be a team with confidence. The Cardinals come off the bye week healthy and rested, having played only one game in 24 days when kickoff arrives. That'll either be a blessing or their demise, as the rust may have set in.
ESPN.com Cardinals reporter Josh Weinfuss and Texans reporter Tania Ganguli discuss Sunday's matchup.
Weinfuss:
What kind of impact will Kubiak's health issue have on the Texans this week and on Sunday?
Ganguli:
It was a chaotic, confusing and scary halftime for the Texans when Kubiak collapsed as he left the field Sunday. Kubiak is well liked by his coaches and players, so they'll miss him, but knowing he will make a full recovery will help the team emotionally. On the football side, the biggest change will be on offense. He's handing off offensive play-calling duties to coordinator Rick Dennison, who called the second half from the press box against the Colts. Defensive coordinator Wade Phillips takes over as the overall decision-maker. They've tried to let their head coach rest, but they can't keep him from thinking about the team. He calls to check in a fair amount.
Can you give me one player who has been a pleasant surprise and another who has been an unpleasant one for the Cardinals this year?
Weinfuss:
It might seem obvious but
Tyrann Mathieu
has been a pleasant surprise to a lot of people. He not only has earned playing time by making game-changing plays, but he recently has become a starter. I think the Cardinals expected Mathieu to be good eventually, but the fact that he has come on so quickly has been a pleasant surprise for everyone. As for the flip side, tight end
Rob Housler
has been an unpleasant surprise. After finishing strong last season, Housler's progress was hampered by a severely sprained ankle during training camp. It caused him to miss the first two weeks of the season and he hasn't returned to last season's form.
Does
Case Keenum
have what it takes to right the ship for the rest of the season?
Ganguli:
Keenum is still learning a lot about being a quarterback. Phillips noted Wednesday that it's important for the team to not try to do too much with a young quarterback. He's learning how to read defenses and learning what chances to take and not take. I was always of the minority opinion that the quarterback situation was only part of the problem for the Texans rather than the whole problem. They're still having issues on special teams and defense that they had with Schaub.
It has been a frustrating season for
Andre Johnson
but he has been part of a lot of bad teams and doesn't complain.
Larry Fitzgerald
is another elite receiver who has seen some lean years, though he does have a Super Bowl berth while Johnson doesn't. Has Fitzgerald ever shown frustration with his team's situation, or is he also a guy who keeps that to himself?
Weinfuss:
Larry Fitzgerald isn't the type of person to air his dirty laundry no matter how bad it gets, such as last season when he caught passes from four quarterbacks. There's no doubt he has been frustrated, especially during the past few seasons when his production has decreased. But Fitzgerald has kept his opinions to himself and I don't see him venting in the locker room. Fitzgerald has been the prototypical team player. He doesn't bash anyone and keeps talking about trying to improve and getting back to the playoffs, even making a run to the Super Bowl again.
Speaking of the playoffs, what do the Texans have to do during the final eight games to make a run to the postseason?
Ganguli:
They have to be able to finish and put together a complete game. They've got to stop committing costly penalties. The most recent example was a hold on the return after the Colts' final punt lost them critical yards on a drive that ended with a failed 55-yard field-goal attempt. And speaking of that, kicker
Randy Bullock
has to improve. Being 2-6 means the margin for error is tiny. The Texans have shown the ability to dominate good teams in spurts (they had double-digit leads over the Seahawks and the Colts and played the 9-0 Chiefs close). But spurts won't get them there.
How do you explain the discrepancy between the Cardinals' road and home records?
Weinfuss:
Like a lot of teams, the Cardinals are simply more comfortable at home. Their routines are set, they know what's coming, they know their surroundings. And University of Phoenix Stadium is also a tough place to play because of the noise levels, which the Cards have become accustomed to. Some might scoff at the notion of a true home-field advantage, but the Cardinals have one. As for why they can't win on the road, if I had that answer, I'd be making a lot more money.
November, 6, 2013
11/06/13
8:15
PM ET
TEMPE, Ariz. -- It's not just the
Houston Texans
who'll have to adjust to a new head coach and a new defensive coordinator on Sunday when they play the
Arizona Cardinals
.
Without head coach Gary Kubiak, who suffered a mini-stroke at halftime of Sunday's game against the
Indianapolis Colts
, the Texans aren't the same team. Interim coach Wade Phillips will continue to run the defense from the sideline but now offensive coordinator Rick Dennison will take over the play-calling duties. But it goes beyond the coaching personnel.
"Once you have a different playcaller, that's a change," Cardinals coach Bruce Arians said. "There are no tendencies. You have to throw all of that out the window and just play the offense the way it's designed to be played. Defensively, you play your defense.
"There's nothing that we have on Rick Dennison other than a half of football."
While the Cardinals scrambled to adjust their game plan and watch their game film, the Texans are trying to focus on Sunday. Fortunately for them, Kubiak left the hospital Tuesday morning and returned home, putting their minds at ease for the time being.
But halftime Sunday was nothing short of chaotic.
Phillips, whose coaching resume now includes three stints as an interim coach to complement his three head coaching jobs, said immediately after the Texans' loss that he didn't think halftime had an impact on Houston's second half. But as he spent more time thinking about it, Phillips now believes it did.
"Even I, along with everybody else, was kind of at halftime [wondering] 'What's going on? What happened? Where is he? Is he OK?'" Phillips said. "We didn't even know those things during the ball game in the second half. You always certainly have concerns for people that you care about and that's one that everybody cares about with our football team, our head coach.
"There were a lot of unknowns. You still have to play football and you have to do what you have to do, but there was certainly kind of a haze there as far as what was going on."
Phillips listed the types of decisions a head coach has to make compared to a coordinator, and it could be overwhelming to someone who hasn't been in that position before. A lot of the decisions made by a head coach are based on situations, Phillips said, and most of those are based on offensive strategy. There's deciding whether to go for it or kick a field goal or punt, when to use time outs, or when to slow down or speed up.
But if there's one person to assume those responsibilities, Texans defensive end
J.J. Watt
feels comfortable with it being Phillips.
"You never want to be in a situation like this but when you are put in a situation like this, it's good to have a guy who has head coaching experience and a guy like Coach Phillips, who has been around the game for a long time and is knowledgeable and knows how to handle the situation," Watt said.
Watt has texted with Kubiak, who's stayed in touch with Phillips and Dennison.
Even without Kubiak, it's business as usual in Houston. The Texans are trying to snap a six-game losing streak, which means more practice, more film study, trying to find a way to "get the ball rolling," Watt said.
And while the Cardinals are spending their time figuring out a way to defend a Dennison-coached offense, the Texans are just as focused.
"Obviously, you think about your coach and it will always be on your mind but we're professionals," Watt said. "We come in here and we know we have a job to do."