Arizona Cardinals:

Javier Arenas
March, 6, 2014
Mar 6
7:01
PM ET
Cornerback starters:
Patrick Peterson
,
Jerraud Powers
Backup:
Javier Arenas
,
Antoine Cason
Under contract in 2014:
Peterson and Powers
Cash committed in '13: $8.1 million
Cap committed in '13: $9.17 million
Peterson
Recap:
Consistency was key at cornerback for the Cardinals in 2013. Patrick Peterson, who has continued to improve every year, was rewarded for his work with a third-straight trip to the Pro Bowl and his first All-Pro nod as a cornerback. While his numbers weren't Peterson-esque -- 42 tackles, 13 passes defensed, 3 interceptions -- he has solidified his reputation as a shutdown cornerback. Peterson regularly covered the opponents' top receiver and regularly shut them down. He had 17 tackles on the left side of the field and 22 on the right. When he wasn't on the field -- which wasn't often -- opposing quarterbacks were 3-for-4 for three touchdowns. With Peterson on the field, opposing quarterbacks completed 58.6 percent of their passes and threw 26 touchdowns and 20 interceptions. Throughout the season, quarterbacks had a tendency to stay away from Peterson, a testament to his ability. Across from Peterson, Powers struggled at times, namely because of his size and strength. He led the team with nine missed tackles, according to Pro Football Focus, but came on in the final half of the season, which included an interception against Houston. The backups -- Arenas and Cason -- didn't see much time, but Cason found a role in the final few games as the Cardinals' nickel back when rookie safety
Tyrann Mathieu
went down. Cason had the game-winning interception at Tennessee in Week 15.
Safety starters:
Yeremiah Bell
,
Rashad Johnson
, Tyrann Mathieu
Backup:
Tony Jefferson
,
Curtis Taylor
Under contract in 2014:
, Johnson, Mathieu, Jefferson and Taylor
Cash committed in '13: $3.8 million
Cap committed in '13: $2.7 million
Mathieu
Recap:
Arizona's secondary improved as Mathieu gained experience. The Honey Badger started seeing regular playing time in Week 4, the game after Rashad Johnson lost the tip of his left middle finger against New Orleans. From then, Mathieu started the next nine of 10 games before getting hurt, giving Arizona a versatile secondary. Mathieu could play safety, cornerback or nickel back, giving the Cardinals opportunities to change defenses on the fly without substituting. Johnson began filling in when healthy and had a solid season. Bell showed that at 35 -- he just turned 36 on Monday -- he still had what it takes to play safety at a high level. The biggest knock against Bell, who had 69 tackles, two interceptions and a sack, was that he wasn't fast enough to keep up with younger, quicker receivers or tight ends. But he was certainly strong enough. The Cardinals are in good shape going forward with Jefferson entering his second season. He's athletic and fast enough to cover ground, but his size might be his biggest hurdle, especially since the Cardinals need a regular safety to defend tight ends.
February, 27, 2014
Feb 27
8:00
AM ET
Starters:
Justin Bethel
,
Javier Arenas
,
Bryan McCann
,
Teddy Williams
Under contract in 2014:
Bethel, Williams
Cash committed in '13:
$1,567,235
Cap committed in '13:
$1,595,791
Recap:
Although
Patrick Peterson
didn't make the Pro Bowl as a punt returner, the Cardinals can boast that their 2013 special teams' unit produced two all-stars -- Peterson and gunner Justin Bethel. Bethel was the perfect complement to punter
Dave Zastudil
on Arizona's punt defense because of his ability to beat the double – and sometimes triple – teams to the returner, limiting opponents to just 9 yards per return. But for as good as Bethel was in stopping returners, Peterson and Arenas struggled to find a rhythm returning punts and kicks, respectively, last season. Peterson averaged 6 yards per return last season while Arenas averaged 21.4 yards per kickoff return, only returning about 61 percent of his attempts past the 20, according to ESPN Stats & Information. As for Bryan McCann and Teddy Williams, the two split time as gunners the second half of the season, with McCann taking over when Williams tore his Achilles in Jacksonville.
February, 13, 2014
Feb 13
4:30
PM ET
There is one certainty at cornerback for the
Arizona Cardinals
in 2014.
That is
Patrick Peterson
. The three-time Pro Bowl corner enters his fourth season as one of the foundations of the Cards' defense. He will for sure be on one side of the field, lining up across the opponent's best receiver. But it's unclear who will start opposite Peterson.
Powers
Last season it was
Jerraud Powers
, a cerebral player who Cardinals coach Bruce Arians brought with him from Indianapolis. Despite leading the Cardinals' corners with nine missed tackles, according to Pro Football Focus, he was the most productive cornerback on the roster. He had a secondary-best 14 pass breakups and disrupted 15 dropbacks according to ESPN Stats & Information. He also led Arizona's cornerbacks with 65 tackles.
But there is a chance -- a good chance -- that Powers could be a cap casualty because his cap number jumps to $4.75 million in 2014. Then what would the Cardinals do?
Arizona is scheduled to lose cornerbacks
Antoine Cason
,
Javier Arenas
and
Bryan McCann
to free agency on March 11, but that might not be a bad thing. The crop of free agent cornerbacks is strong, but could be expensive. Last offseason, Arians and general manager Steve Keim stocked the position with inexpensive talent. Only Cason of that group made more than $1 million.
There are some big names on the market this year, such as
Asante Samuel
, who was cut by the
Atlanta Falcons
, Chicago's
Charles Tillman
, former Cardinal and current Denver Bronco
Dominique Rodgers-Cromartie
, New England's
Aqib Talib
, Miami's
Brent Grimes
and Washington's
DeAngelo Hall
. And there is a slew of cornerbacks who made less than $1.5 million in 2013 who would be solid additions to the Cardinals, but most aren't standouts.
While Arizona won't shell out a lot of money to a backup cornerback, it will be looking for a versatile defensive back to fill the role of
Tyrann Mathieu
, who will most likely be out until at least September. And the Cardinals might have to pay for that.
Among the best options at cornerback within the Cards' price range are Rodgers-Cromartie at the high end and Seattle's
Walter Thurmond
at the low end. In between includes Green Bay's
Sam Shields
, Oakland's
Tracy Porter
, and Tennessee's
Alterraun Verner
.
Arizona could also consider someone like Giants cornerback
Aaron Ross
, who missed significant time last season with a back injury but would be healthy this year, or San Francisco's Terrell Brown, who made $1.5 million last season, but was injured.
If the Cardinals choose to release Powers to save money, they could opt to make the cornerback opposite Peterson as tough to play against as the two-time All-Pro with someone like Rodgers-Cromartie, Talib, or Shields. Two of Washington's cornerbacks, Hall and
Josh Wilson
, could also fill that void.
How the Cardinals handle their own free agents will determine how much they want to spend on other free-agent cornerbacks.
January, 2, 2014
Jan 2
2:00
PM ET
Arrow indicates direction team is trending.

Final Power Ranking:
9
Preseason Power Ranking:
26
Biggest surprise
: No one expected Arizona to struggle like it did throughout the first half of the season because an offensive mastermind, Cardinals coach Bruce Arians, was in charge. Likewise, nobody expected the Cardinals to go on a tear through the final nine, going 7-2 to finish 10-6. A 10-win season for the Cardinals isn't to be ignored. They're tough to come by, but Arians was able to accomplish it in his first season, which nobody expected. He proved himself as a head coach at 61 and showed how great his offense is when a team can learn and execute it.
Biggest disappointment
: Arians was dead set on riding running back
Rashard Mendenhall
this season with rookie
Andre Ellington
as his backup. And while Mendenhall was serviceable, it wasn't a successful move. Mendenhall finished with 687 yards on 217 carries, an average of 3.2 yards per carry -- just 35 more than Ellington on 99 more carries. Partially to blame for Mendenhall underachieving was a turf-toe injury that limited him for most of the season, but when he was healthy, he showed his true speed in only two games. Other than that, he struggled to break through the line as often as the Cardinals needed him to. He's not the future for Arizona at running back. That belongs to Ellington.
Biggest need
: Everyone thinks the most obvious need is a left tackle, but with how the offensive line played during the last eight games, it may be the least of the Cardinals' worries. Arizona needs a big, fast safety who can defend tight ends. The 29 tight ends who faced the Cardinals this season accounted for 1,247 yards and 17 touchdowns on 98 receptions. The yards accounted for 30.7 percent of the total by opposing receivers and the 98 receptions were 26.7 percent of the catches made by opponents. But the most telling stat, and the difference between wins and losses, are the 17 touchdowns by opposing tight ends, which are 58.6 percent of the 29 total allowed by the Cardinals' secondary.
Team MVP
: There were a handful of Cardinals who had good seasons on both sides of the ball, but there was one who really kept the pulse of the team alive. Veteran linebacker
Karlos Dansby
was shunned by Miami and took a huge pay cut to come to Arizona, and he proved to everyone in the league that, at age 32, he still had it. He was second in the NFL with 114 solo tackles, 6.5 sacks -- his most since his eight in 2006 -- and a career-high four interceptions. But his ability to impact a top-six defense near the line of scrimmage, sideline-to-sideline and then dropping back in coverage made him the most important player on the team.
December, 29, 2013
12/29/13
8:00
AM ET
TEMPE, Ariz. – Sunday's game against San Francisco may not just result in a playoff berth.


It could end with a host of milestones being reached:
With a victory, Cardinals coach Bruce Arians would match Norm Barry with 11 wins, the most in team history for a coach in their first season.
A win would also set the best turnaround in franchise history (six games).
With a TD catch, Larry Fitzgerald would set the record for most TD receptions against the Niners with 13.
Quarterback Carson Palmer needs 133 yards to reach 4,000 in a season for the fourth time.
Running back Andre Ellington needs 19 yards to hit 1,000 all-purpose yards, the first time since 2003 a rookie could reach that mark and the fifth time ever.
Wide receiver Michael Floyd needs 50 yards to reach 1,000 receiving yards.
Returner Javier Arenas needs 54 yards to reach 500 return yards.
December, 16, 2013
12/16/13
8:00
AM ET
NASHVILLE, Tenn. -- A review of four hot issues from the
Arizona Cardinals
' 37-34
win
over the
Tennessee Titans
.
Javier Arenas
must want the Cardinals to play in cold-weather cities more often. For the second time this season he had at least three kick returns.
On Sunday, he returned those kicks for 72 yards, his second-highest total of the season. At the rate he's been going, Arenas didn't expect to return more than one, maybe two kicks -- if he even had the opportunity to return any.
Arenas
"It was the wind conditions," Arenas said. "It's cold outside so he had a couple bad kicks. It shocked me as well.
"It felt pretty good. Great opportunity to get a lot of kicks and get a feel for it as opposed to once every two or three weeks."
Leading the way:
Followers of the Cardinals are used to
Bobby Massie
substituting in on offense as an eligible receiver. But when No. 66 was announced twice Sunday, a few eyebrows were raised.
Nose tackle
Alameda Ta'amu
entered the game as a fullback to lead the way for
Rashard Mendenhall
, and on both plays Mendenhall scored. It was the first time Ta'amu had lined up at fullback since high school, and it didn't take long to remember what to do: put your head down and go.
He hopes to get another opportunity to block for Mendenhall, but he hopes Mendenhall will actually use him. On both runs, Mendenhall didn't follow Ta'amu's lead.
Was the big man mad?
"I mean ..." Ta'amu hesitated, then laughed, "yeah."
Game-winning machine:
Sunday marked the 11th game-winning field goal of
Jay Feely
's career and his second this season. He hit from 41 yards with 10:22 left in overtime to clinch the win. Feely's last game winner was in Week 3 at Tampa Bay.
It was the fifth game winner of longer than 40 yards.
Road warriors:
Cardinals coach Bruce Arians didn't care about stats or "anything else." He just wanted to get a win on the road.
"It's hard to get a win on the road in the NFL, but we did," Arians said.
Only three of the Cardinals' nine wins have come on the road, but if you asked
Darnell Dockett
where he'd go to play a game, he doesn't discriminate.
"I don't care if you go to the Middle East, South America, as long as you get a win, it doesn't matter," he said.
October, 25, 2013
10/25/13
8:29
PM ET
TEMPE, Ariz. – Returning kickoffs isn't cut and dry anymore.
Ever since the NFL moved kickoffs up 5 yards to the 35-yard line in 2011, it's stopped being a catch-and-run job. It's evolved into a decision-making post that forces players to think fast because one wrong step could change the course of a game.
When
Arizona Cardinals
returner
Javier Arenas
fields a kick, he's instantly processing a handful of factors that determine whether he brings a kick out: How deep in the end zone is he? What was the hang time? How much penetration does the opponent already have? Can he get the kick back to the 20-yard line?
And, if that's not enough, Arizona special-teams coordinator Amos Jones wants Arenas to take other factors into consideration: How much time is on the clock? What quarter is it? What's the score? What's the wind like?
[+] Enlarge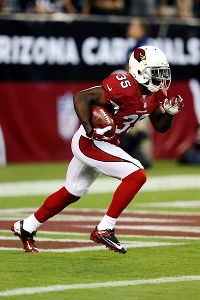 AP Photo/Paul SpinelliJavier Arenas returns a kick out of the end zone, something the Cards may not always want him to do.
It's a lot to process in about four to six seconds.
"The hang time won't allow the returner to be as successful because those guys have time," Arenas said. "When I catch the ball, they're damn near on the 30, 35. From where the ball lands, it may look like it can be brought out, but now you got to be super-smart in making [a] decision back there. You got to be accurate as well."
Arenas has learned his lessons the hard way.
Against St. Louis in Week 1, Arenas fielded his first kickoff as a Cardinal 6 yards deep in the end zone and decided to return it. He made it 14 yards before being stuffed at the 8-yard-line. Had he knelt for a touchback, Arizona would've started with the ball at the 20. Arenas' second return that game also began deep in the end zone. He managed 18 yards before fumbling.
As the season has progressed, Arenas' opportunities to return kicks have declined, partly because his decision-making has improved and partly because too many kickoffs are unreturnable. The Cardinals have been kicked to 37 times this season. Of those, 33 have landed in the end zone and 26 have been touchbacks.
Six of Arenas' eight returns have started inside the end zone, anywhere from 1 to 8 yards deep, and of those he returned just one past the 20.
However, the Cardinals may prefer Arenas not return any kicks. They've won the three games in which he hasn't had a return, and lost all four he has.
Since those two in Week 1, he's returned just six kicks in six games. They've all been calculated decisions, even though not all of them have given the Cardinals good field position. When he's broken loose, Arenas has showed his talent. Against New Orleans, Arenas got free from the 5-yard line for a 46-yard gain. But that doesn't happen often. Of his eight returns for 185 yards, just three, including the long one in New Orleans, gave Arizona the ball outside the 20. He hasn't returned any for a touchdown this season.
"I think the biggest thing there is, when a guy matches hang time and distance, you have to really put yourself in situations where you're gonna say, 'You know what? We're probably not going to bring that ball out.' And two times that's happened."
Arenas' opportunities are limited, but the one question that supersedes all others is this: Can he return it to the 20?
For kick returners, 20 is the magic number. Take the touchback, and the Cardinals need 80 yards for a touchdown. Risk the return – Arenas has been stuffed anywhere form the 8 to the 19 – and Arizona finds itself with a longer field ahead.
Jones said the decision is to play field position first and return it second.
"I've made my mistakes early in the season, bringing those balls that land in the middle of the end zone out but that has had a lot of hang time," Arenas said. "Now I get stuffed on the 10- or 15-yard line because they penetrate by time I got my hands on the ball.
"But if I feel I can really get it back to the 20, why not take that chance sometimes."
And Jones doesn't mind that. He knows Arenas is trying to make a play, but Jones said it's a double-edge sword. Jones won't harp on Arenas' bad decisions or poor returns, because he'll be the first person to slap Arenas on the helmet for a good run.
"You got to rely on his experience," Jones said. "You got to rely on his judgement."
Before he takes the field for kickoff, Jones grabs Arenas and gives him last-second instructions. Invariably, at some point Jones makes sure to tell Arenas to make smart decisions.
It's been frustrating at times for Arenas. He's seen at least once a game slapping the football with his hands after fielding a kick too deep to return. While Jones tries to stay calm, Cardinals coach Bruce Arians sees Arenas' frustration.
"And I see the frustration in me when he's brought it out and we didn't get it to the 20," Arians said. "He's been smart with it."
September, 24, 2013
9/24/13
9:45
AM ET
SARASOTA, Fla. – Everyone on the
Arizona Cardinals
' sideline was waiting for
Javier Arenas
to break loose.
Arenas
The free-agent defensive back was given Arizona's kickoff-return duties when the team released
William Powell
, but Arenas had yet to have a return early in the season that showed everyone -- teammates and fans -- that he was the man for the job.
Then, with just under 3 minutes left in the first half Sunday in New Orleans, Arenas fielded a kick at the Cardinals' 5. He started left and then broke right, accelerating with every hash mark he passed. Forty-six yards later, Arizona had the ball inside Saints' territory, and Arenas finally had his big run this season.
"I thought Javi did a nice job, popped out of there, made a great decision," Arizona coach Bruce Arians said.
Even though the Cardinals couldn't capitalize on their prime field position, Arenas' return helped more than the team.
He didn't get to return any kicks the previous weekend, surrendering to four touchbacks. In Week 1 against St. Louis, he struggled, uncertain if he should take certain kicks out. Instead of downing one, Arenas ran it out from six yards deep, to the Cardinals 8. He fumbled another after bringing it from deep. A teammate recovered.
Arenas said there's a rule of thumb: If he's in the end zone, he typically takes the touchback. If the clock is within a few minutes of either halftime or the end of the game, he won't run it out.
Of course, there are exceptions, as he's learned.
"If I'm just feeling a type of way and it's an in-between type ball, I might just bring it out," he said. "I feel like I can get the offense more than 20 yards. If it's deep enough where I don't think it can happen, I've got to make a decision."
Heading into last weekend, his poise was gone. He was second-guessing himself. He wasn't taking chances.
Then he hit the 46-yarder in the Big Easy.
"Honestly, the confidence wasn't all there," Arenas said. "The blocks was there. Last week, I didn't get an opportunity to return the ball. Was itching to get one, got one and they had it."
September, 4, 2013
9/04/13
7:36
PM ET
Arizona Cardinals
coach Bruce Arians doesn't want to rush
Rob Housler
back from a sprained right ankle.
The tight end missed Wednesday's practice, spending portions on a stationary bike and working on leg drills outside while the rest of the team practiced inside the bubble.
Housler is too valuable to Arians' tight-end-heavy offense to risk an injury that could nag all season. Arians would rather sacrifice the practice time until Housler is 100-percent healthy.
"He's still day-to-day," Arians said. "He's making great progress.
"I don't want this thing to linger for a month. We want to get him well, like we did with (tight end)
Kory Sperry
. We got him well. We didn't hurry him back and sting it again and again and again and be limping all year."
The other Cardinals listed on the injury report are more for precautionary reasons. They're all are expected to play Sunday at St. Louis. And all, with the exception of
Javier Arenas
, missed time during training camp because of injuries.