Arizona Cardinals:

Jerraud Powers
December, 7, 2013
Dec 7
10:00
AM ET
Welcome to #CardsMailbag, a weekly installment that allows you to ask Josh Weinfuss questions throughout the week via Twitter
@joshweinfuss
. He'll answer them every week. Make sure to use the hashtag: #CardsMailbag.
.
November, 20, 2013
Nov 20
8:00
AM ET
Flush the Pocket will be your daily morning dose of the
Arizona Cardinals. It'll recap the top story line from the previous day and give you a look at what everyone is saying locally and nationally.
TEMPE, Ariz. -- We all know it's Movember.
Just look around anywhere and you'll see men of all ages, shapes and sizes rocking mustaches. Some are legendary, some are pitiful, yes some are worthy of national TV.
On Tuesday afternoon, Cardinals quarterback
Carson Palmer
was on ESPN's "NFL Live," looking like this:
Carson Palmer's mustache is all sorts of AWESOME -> pic.twitter.com/a8QnMjHJs4

— NFL on ESPN (@ESPNNFL) November 19, 2013
We all know it's for a good cause, to support men's health. And sometimes it's just down right funny.
Even backup quarterback
Drew Stanton
got into
the Movember mood
.
When Palmer shaved last week, he came into the locker room with, what he calls, a "cop 'stache." Palmer said he'll keep it for all of November but no longer.
"We've got a long season to go, so I don't know how long I can get away with this."
In other news…
Kent Somers of AZCentral.com writes about
the optimism and pessimism
surrounding the Cards.
Bob McManaman of AZCentral.com
gets to know cornerback Jerraud Powers
.
Kyle Odegard of AZCardinals.com writes about what's happening
around the NFC West
.
October, 23, 2013
Oct 23
8:15
PM ET
TEMPE, Ariz. – Last week,
Atlanta Falcons
receiver
Harry Douglas
caught seven passes for a career-high 149 yards. The week before that he had two catches, one for 7 yards and the other for minus-1 yard.
That's just how Douglas' career has gone. One game he can blow up, the next he's barely a glimmer in quarterback
Matt Ryan
's progressions. That's what happens when you're the fourth option behind two of the game's best in wide receiver
Julio Jones
and tight end
Tony Gonzalez
and another top receiver in
Roddy White
.
[+] Enlarge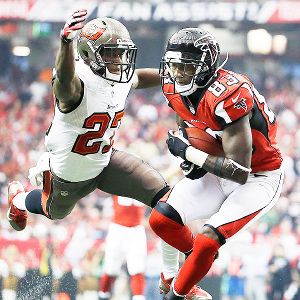 AP Photo/David GoldmanWith their top receivers injured, the Falcons have turned to Harry Douglas as their go-to option.
But that's all about to change for Douglas. Jones is out for the season, and White's status for Sunday's game is uncertain as he recovers from hamstring and ankle injuries. Douglas was Ryan's primary option last week without White, and that title will most likely carry over to this weekend.
And the
Arizona Cardinals
are preparing as such.
"Harry Douglas is, I think, one of the most underrated receivers in the league," Cardinals coach Bruce Arians said.
Falcons coach Mike Smith said Douglas is a product of an overcrowded situation. There are only so many passes to go around, and those are typically earmarked for Jones, White and Gonzalez. But Atlanta's staff was confident he'd respond if ever needed, Smith said.
Sure, Douglas, who's had 31 and 48 yards receiving in his two games against the Cardinals, has been overshadowed by his talented peers, but he proved he was capable of being a reliable threat last weekend. And t
hat didn't surprise Cardinals cornerback
Jerraud Powers
.
"He's definitely Ryan's No. 1 target and Ryan gave him the ball," Powers said. "He's been doing what he's always done and he's caught the ball well and gets a lot of yards-after-catch, so he's definitely a dependable receiver. I think Matt knew he was very dependable and what he was capable of.
So I don't think it was surprising to anybody."
Last weekend was Douglas' second career game of more than 100 yards, and he has three others with more than 90. This season, Arizona has allowed four players to get at least 100 receiving yards, and three were tight ends.
To avoid another 100-yard day by an opponent, Powers said there's no special formula to stopping Douglas. If White doesn't play, the passing game will be funneled through Douglas again, making the Cardinals' focus obvious.
But that doesn't mean Douglas will go down without a fight.
"Just know that he's going to try all the savvy vet moves to get open," Powers said. "You just got to retaliate and make sure you do your job better than he does his."
October, 17, 2013
Oct 17
4:29
PM ET
TEMPE, Ariz. -- Something was said at halftime of the Arizona Cardinals-Carolina Panthers game on Oct. 6.
What it was may be lost in the annals of locker room lore, but whatever the Cards coaching staff told its players, it was short and poignant. And it worked. Arizona came out looking like a new team. Its 18 rushing yards in the first half turned into 90. A deficit turned into a win.
Halftime has been the turning point for Arizona all season. And all it takes is a brief huddle and a few quick decisions. But, like any meeting, there's an order, a Robert's Rules of sorts, but for halftime meetings.
[+] Enlarge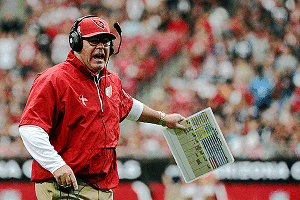 Matt Kartozian/USA TODAY SportsCardinals coach Bruce Arians has earned praise from his players for his work during halftime.
"We all come in and we all get together, and pretty much all of us kinda congregate together, and obviously we talk about the run game, protection and adjustments that need to be made and go for the passing game after that," offensive coordinator Harold Goodwin said. "That's about all we do. It's real brief because, you know, halftime is real short.
"So I throw in my two cents, Coach [Tom] Moore throws in his two cents and move on."
But the changes aren't major.
Usually, it's something minor yet important enough to make a difference, like changing assignments in coverage or tweaking a route.
"It's just small things that can determine an outcome of the game," cornerback
Jerraud Powers
said. "Small things, but a big deal."
There have been two common halftime adjustments this season for Arizona: Throw to
Larry Fitzgerald
and start running the ball more.
Or both.
Against the Panthers, the Cardinals came out on their first drive of the third quarter with a pass to Fitzgerald for 6 yards and then ran the ball seven times. They scored and went on to win 22-6.
But why is this staff so good about noticing what works and what doesn't, and then fixing it? Quarterback
Carson Palmer
said it's because of their longevity in the league.
"There are a lot of games under those belts," he said. "You look at Coach [Tom] Pratt, he's been around forever. Coach Moore's been around forever. There is a lot of time logged, a lot of halftimes they've been in where they've been behind or been up and had to make adjustments."
All those halftimes have also helped Arizona coach Bruce Arians develop a philosophy he instituted last season in Indianapolis and carried over to Arizona. He breaks the game into two 30-minute segments, the first and second half.
Arians' message is the same every game: Play the first 30 minutes to see what has to happen the second 30. If the Cardinals play well in the first half, they build on it. If they don't, Arians has been known to wipe the first 30 minutes clean at halftime and start over.
"We go out there up 14 after the first half or down 14 after the first half, he's still thinking about the next 30 minutes and what we got to do to win the game," Powers said. "He was like that last year when he was in Indy. When he took the job that's one of the first things he said."
The coaches are all on the same page when it comes to halftime adjustments, Powers said. That may not be the case elsewhere, but it works for Arizona.
As any coach would, Arians would prefer not to have to adjust drastically during halftime, but he works with what he's given. And most importantly, he has a staff that's able to not just adjust and do it quickly, but it makes the right corrections to fix the Cardinals' issues.
"I've been around some pretty good ones and these are about as good as it gets," Arians said of his staff. "I think the second half proves it."
October, 16, 2013
Oct 16
4:00
PM ET
Welcome to #CardsMailbag, a weekly installment that allows you to ask Josh Weinfuss questions throughout the week via Twitter
@joshweinfuss
. He'll answer them every
Friday
(except this week because of short week leading to Thursday night's game). Make sure to use this hashtag: #CardsMailbag.
October, 11, 2013
Oct 11
12:00
PM ET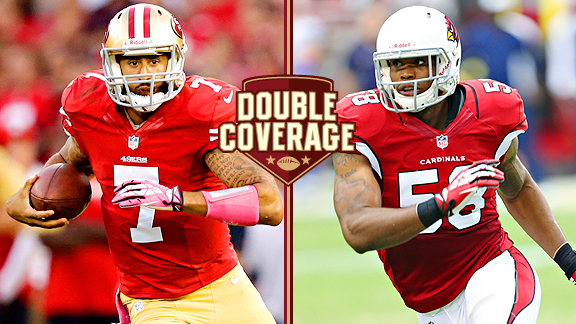 Getty Images, AP PhotoIf 49ers QB Colin Kaepernick wants to run, he'll have to contend with Cardinals LB Daryl Washington.
A battle of 3-2 NFC West teams is on hand as the
San Francisco 49ers
welcome the
Arizona Cardinals
on Sunday. ESPN.com's Cardinals reporter Josh Weinfuss and 49ers reporter Bill Williamson discuss the key division game:
Weinfuss:
Has
Colin Kaepernick
hit any form of a sophomore slump?
Williamson:
I can see why you'd think that -- his numbers are down. However, he is not playing terribly. The big issue is the 49ers really miss injured receivers
Michael Crabtree
and
Mario Manningham
. Frankly, other than
Anquan Boldin
and tight end
Vernon Davis
, Kaepernick is not throwing to NFL-quality receivers. So the 49ers are relying on the run game. Still, Kaepernick is the long-term prospect we all thought he was after his Super Bowl run last season.
Do you get the sense the Cardinals think they can shut down Kaepernick?
Weinfuss
: After what the Cardinals were able to do last Sunday against
Cam Newton
-- all but shutting him down in the second half -- their confidence is sky-high right now, especially the defensive line. There's no shutting down a quarterback as good as Kaepernick, but with linebacker
Daryl Washington
back, the Cards have someone athletic enough to put on spy patrol, which could limit some of the things Kaepernick can do running-wise. Arizona saw what Kaepernick did last year, but the Cardinals are feeling good about their chances.
What has Boldin, a former Cardinal, added to the 49ers' offense?
Williamson:
Oh, the 49ers would be lost without Boldin. Acquiring him for a sixth-round pick from Baltimore was a potential season-saver. He is Kaepernick's safety net. He had a whopping 13 catches in the season-opening win over the Packers, and though he hasn't made quite that big an impact since, he has been vital to this offense. I think he will be even more dangerous when Crabtree and Manningham come back because of the matchup issues he'll present.
Do you think the Cardinals' secondary can contain Boldin?
Weinfuss:
Yes, I do, but only to a certain point. If cornerback
Patrick Peterson
lines up on him, Boldin could have a tough day just based on what Peterson has done to guys like
Calvin Johnson
. Expect to see the Niners run Boldin over the middle, because in their last few games the Cardinals have left that part of the field wide open. If cornerback
Jerraud Powers
is on Boldin, expect the receiver to get some big yards before contact. But with Arizona's recent success against wide receivers, I can see Boldin being limited.
Can the 49ers repeat in the West and the NFC and head back to the Super Bowl?
Williamson:
The 49ers trail Seattle by a game in the division. They simply want to stay on the right track after their 1-2 start and get into the playoffs, and then try to repeat as conference champions. But if the 49ers can get all their injured players back, and
Aldon Smith
can come back from his treatment for substance abuse, there is no reason to think this team can't make a serious Super Bowl run.
Do you think the Cardinals can get in the way of the 49ers' and Seahawks' plans?
Weinfuss:
That's a great question. Not sure if they can get in the way, but the Cardinals have the potential to be nipping at their heels -- if only they could get their offense going. Coach Bruce Arians seems to think they're getting closer, and to his credit, they are eliminating more mistakes every game. But the offense still has a way to go. The only way the Cards can get in the way of the Niners -- I don't see them bothering the Seahawks -- is if the defense starts scoring points and lessening the load on the offense. Then we might see the Cardinals making a race out of the second spot.
.
September, 28, 2013
Sep 28
8:00
AM ET
SARASOTA, Fla. -- With the possibility of the
Arizona Cardinals
being down as many as four starters for Sunday's game, I took it upon myself to lend a helping hand sorting through the injury-riddled mess. Here's my breakdown of the projected depth chart Sunday's game at Tampa Bay. Arizona coach Bruce Arians said Friday that he couldn't name starters at outside linebacker because they'll be determined by the defensive packages.
The key:
Bold
-- My projected starters.
Crossed out
-- Players that will not be playing Sunday.
Italicized crossed out
-- Players who may play but won't start.
Here's my best shot:
DE:
93 Calais Campbell
, 96
Ronald Talley
NT:
92 Dan Williams
,
66 Alameda Ta'amu
DT:
90 Darnell Dockett
, 98
Frostee Rucker
SAM:
57 Alex Okafor
,
50 Dontay Moch
, 59
Vic So'oto
ILB:
52 Jasper Brinkley
,
51 Kevin Minter
ILB:
56 Karlos Dansby
,
51 Kevin Minter
WILL:
91 Matt Shaughnessy
, 55
John Abraham
LCB:
21 Patrick Peterson
, 35
Javier Arenas
RCB:
25 Jerraud Powers
, 20
Antoine Cason
, 31
Justin Bethel
SS:
37 Yeremiah Bell
, 22
Tony Jefferson
FS:
26 Rashad Johnson
,
32 Tyrann Mathieu
September, 14, 2013
Sep 14
1:30
PM ET
TEMPE, Ariz. – There are a couple of Cardinals –
Jerraud Powers
and
Drew Stanton
– who firsthand saw Bruce Arians assume the interim head-coaching role last season in Indianapolis. But they also saw Chuck Pagano's influence on that team from the start of training camp.
Arians
To
Bradley Sowell
, Arians is practically the only coach he's ever known. An undrafted free agent last year, Sowell signed with the Colts just before Week 2 off Tampa Bay's practice squad. After the next game, Pagano took a leave while he was treated for leukemia. Arians took over and coached Sowell for the next eight weeks.
When Sowell joined the Cardinals this year prior to Week 1, he found the same old Arians.
"It's exactly the same," Sowell said. "He's the same guy, he's real upfront. I like that. He's real honest with guys and he lets you know where you stand right way, whether you like it or not."
Arians runs the same offense as he did in Indianapolis, so there wasn't much of a learning curve when Sowell joined the Cardinals, not with the offense nor with the staff.
"He's kept it just the same," Sowell said. "He's the same guy here that he was there."
September, 10, 2013
Sep 10
1:25
AM ET
When the Cardinals took an 11-point lead in St. Louis with 1 minute, 53 seconds left in the third quarter, the Bruce Arians Era looked like it was getting off to a good start.
Then it all started to unravel.
First, the Cardinals let Rams quarterback
Sam Bradford
orchestrate an 80-yard drive capped by a two-point conversion. Then Arizona's offensive line woes continued, leading to a strip-sack of Cardinals quarterback
Carson Palmer
. The Rams recovered and four plays later they tied the game at 24. All it took was 7:46.
[+] Enlarge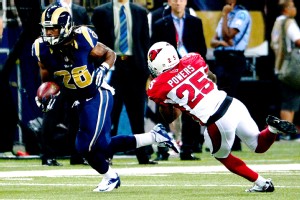 Scott Rovak/USA TODAY SportsDaryl Richardson and the Rams picked up 184 yards after the catch, according to Pro Football Focus.
St. Louis' game-winning field goal with 45 seconds left came after the Cardinals failed to convert two crucial third downs.
But Arians wasn't dejected Monday morning.
"You never accept losing, but there are some very good things and some very correctable things," he said. "I think disappointed? Yes. Discouraged? Not at all, would be the way we describe where we're at right now.
"We wanted that win desperately. It's a big win in the division on the road. We had it on our grasp."
And part of the reason the Cardinals lost was that they literally let the Rams out of their grasp. Arians identified the following three areas of concern stemming from Sunday's game.
Here's how they impacted the Cardinals' 27-24 loss:
"Really poor tackling"
The Cardinals' inability to bring down the Rams wasn't just an isolated incident that happened a time or two. It was an issue all game. Cornerback
Jerraud Powers
missed a tackle on Rams running back
Daryl Richardson
on the first drive, which led to a 15-yard gain. Arians pointed out another missed tackle on Richardson in the right flat two plays before St. Louis' game-winning field goal.
In all, 184 of the Rams' passing yards were after the catch, according to Pro Football Focus.
Eight Cardinals missed at least one tackle in the game and they finished with 10 total, according to PFF. Powers and
Jasper Brinkley
had two each.
This was an issue for last year's team, as well, which is ironic considering the amount of turnover on defense. Like Arians pointed out with almost all the concerns after the game, these are correctable mistakes.
2-minute defense
Arians said Monday the Cardinals prided themselves on being a good situational football team, but that wasn't the case in the final 2 minutes of each half.
In the second quarter, the Rams had gone 40 yards in 3:23 when the 2-minute warning hit. Then they went another 40 yards in six plays in the last two minutes with three plays of 9 or more yards.
In the fourth, the Rams regained possession with 1:45 left at their own 20. They only went 50 yards in 1 minute to set up kicker
Greg Zuerlein
's 48-yard game-winner.
When the Rams were pressing, the Cardinals couldn't respond and let medium-sized chunk plays lead to scores. The Cards gave up a total of 10 points inside the 2-minute warning Sunday. Hold the Rams to either a field goal or no points, and the Cardinals leave with a win.
Pass rush lacking
Arians was pleased with the drive
Calais Campbell
and
Dan Williams
provided up the middle, but he was less than thrilled with the edge rush from the rest of the defensive linemen.
Darnell Dockett
played 58 snaps -- 25 runs and 33 passes -- and managed just one quarterback hurry, according to PFF. Just six of the Cardinals' 17 total hurries came from the edge. Arians chalked up the underwhelming pass rush to the need for better technique and fatigue from the starters.
It was also the defensive line's first game in defensive coordinator Todd Bowles' new one-gap system, which allows the front three to attack the line instead of reacting to which way the center moves.
The line, however, did pave the way for the linebackers.
Lorenzo Alexander
had five quarterback hurries in 16 pass rushes, while Brinkley hit Rams quarterback Sam Bradford three times.