Arizona Cardinals:

Kareem Martin
October, 7, 2014
10/07/14
4:20
PM ET
TEMPE, Ariz. -- Good luck trying to project the
Arizona Cardinals
' defensive depth chart for Sunday's game against the
Washington Redskins
.
With defensive end
Calais Campbell
out for at least a week with a strained MCL and linebacker
Matt Shaughnessy
to be placed on injured reserve this week with a knee injury, the Cardinals' backups will have more of a role this week than they did the first four games of the season.
But who'll back up the backups?
When it comes to replacing Shaughnessy, Cardinals coach Bruce Arians said second-year linebacker
Alex Okafor
will be inserted into the starting lineup.
"Alex has got a big opportunity for himself," Arians said. "He's more than talented enough. He just has to stay healthy and play."
That move leaves Arizona with just two options on the roster at backup outside linebacker:
Thomas Keiser
-- who was inactive Sunday in Denver -- and
Lorenzo Alexander
, who hasn't played a defensive snap this season. On Monday, Kent Somers of the Arizona Republic saw Marcus Benard pull into the Cardinals' facility. If he's re-signed, Benard will, at the least, give Arizona more depth and he's a capable pass-rusher.
Keiser will return to the rotation this week.
"He'll get his opportunity back in there now," Arians said.
Alexander isn't even listed as an outside linebacker on the depth chart, although, last season, he started the first three games at OLB. Arizona was already thin at outside backer and struggling with its pass rush, but losing Shaughnessy was a major setback.
Campbell's injury may have been worse for the Cardinals, though. Campbell had 16 tackles and a sack through four games.
Without Campbell, Arizona only has one starter in its front seven from Week 17 of last season -- nose tackle
Dan Williams
. Arians said Monday the Cardinals won't replace Campbell with just one player, instead using various combinations that'll include Williams,
Kareem Martin
,
Frostee Rucker
and
Tommy Kelly
. The Cardinals have had 82 different defensive lineups this season.
Martin, who was drafted to be Campbell's protégé, is just four games into his NFL career and hasn't shown the maturity on the field to handle filling Campbell's void. He had six mental errors against the Broncos, Arians said. Some came against Denver's running game, which finished with 92 yards Sunday -- 21 above Arizona's average heading into the game.
"He flashed," Arians said. "He stopped those running games when they got in the right gap. Just better preparation when you're called on."
Martin will play both inside and outside until Campbell returns.
Through four games, Arizona has used 31 different lineup combinations on its defensive line ranging from five linemen (two groupings) to two (eight combinations).
Defensive coordinator Todd Bowles' favorite combination has been Campbell and Kelly, who have played 66 snaps together. In the three-linemen combination, Bowles has used Campbell, Kelly and Kareem Martin most, who have played 38 snaps together.
"We have such good position flexibility within the group," Arians said. "Dan can play end. Tommy Kelly doesn't need to be out there 60 plays and that's what happened in this one (against Denver). We had some guys that got overloaded because of injuries.
"We'll have to get some rotational substitutions going."
August, 19, 2014
8/19/14
8:45
PM ET
This wasn't quite the type of scenario the
Arizona Cardinals
were preparing for, but they were ready if they needed to replace
Darnell Dockett
.
Rucker
It was impossible for the Cards to predict that Dockett
would tear his ACL in Monday's practice and face season-ending knee surgery
, but waiting in the wings is a trio who's ready to fill his void.
As of Monday afternoon, the threesome included Arizona's immediate answer to Dockett's injury as well as the future.
Veteran defensive end
Frostee Rucker
will step into Dockett's spot in the starting lineup beginning Wednesday. Entering his ninth season, Rucker is two seasons removed from starting all 16 games for Cleveland in 2012, when he had four sacks and 48 tackles. A season earlier, he had 60 tackles and four sacks while starting 11 of 16 games for Cincinnati.
Rucker has been playing well in camp, and, at 30, is capable of being an every-down lineman. He's had three quarterback hurries, two tackles and two stops in 40 plays this preseason, according to Pro Football Focus.
Behind Rucker will be a pair of rookies drafted in May with the idea they'd be the future of the defensive line.
Ed Stinson
is the better prepared of the two to replace Dockett. He's similar in size at 6-foot-4 and 287 pounds and is stronger in the interior. He was Rucker's backup Monday when the Cardinals resumed practice after Dockett's injury. At Alabama, Stinson had just 1.5 sacks along with 42 tackles while playing all 13 games for the Crimson Tide in 2013. He's flourished against the run during the preseason while playing in 64 snaps, according to PFF.
Kareem Martin
is the other rookie defensive lineman who could see a few snaps in place of Dockett, but Martin is built to be a defensive end rather than an interior defensive lineman. He has long arms, and his versatility will land him on the field quickly. Through the first two preseason games, Martin has played at nose tackle and on the edges, including three plays in between Dockett and
Calais Campbell
.
Added depth might be coming soon.
The Cardinals are expected to meet with free-agent defensive tackle
Isaac Sopoaga
, according to a source. And earlier Tuesday, they were briefly linked with
Brett Keisel
, who reportedly declined an invitation to meet with Arizona before re-signing with Pittsburgh.
Free-agent pickings are slim for now, but if Sopoaga doesn't work out, the Cardinals might wait until the market is flooded with cuts both on Aug. 26 and 30th to restock their depth.
August, 9, 2014
8/09/14
2:00
PM ET
GLENDALE, Ariz. – With the
Arizona Cardinals
' first preseason game approaching Saturday against the
Houston Texans
, the starters have been written about, dissected and analyzed plenty during the first two weeks of camp. The coaching staff knows what they're capable of. It's the guys behind them who will be fighting for their jobs.
Here's a breakdown of five defensive reserves to watch Saturday against Houston:
Williams

Teddy Williams, CB: Williams isn't just returning from an Achilles' tendon injury, he's making his debut at cornerback. Last season he displayed his speed at wide receiver but was moved across the line of scrimmage due to added depth at receiver. He's a special-teams dynamo, especially at gunner, but Williams will need to prove starting Saturday that he could be a reliable backup for an already deep cadre at cornerback. Mistakes are expected, but he's confident he'll make this team.
Kenny Demens, LB: After spending all but two games either on practice squad or injured during his rookie season, Demens returned in 2014 in the middle of a stiff competition at inside linebacker. He's the youngest of the trio competing for one spot alongside Kevin Minter, and while Larry Foote and Lorenzo Alexander have the experience, Demens has youth, quickness and durability on his side. The biggest knock on Demens has been his size but he can start proving Saturday that's irrelevant.
Justin Bethel, CB: He made the Pro Bowl last year as a gunner on special teams, but since returning from Hawaii, Bethel has been making major strides as a defensive back. He'll starting showing his new skills – which Cardinals coach Bruce Arians said this offseason could end up be being better than Patrick Peterson's – on Saturday. Expect him to have a solid game because he's a relative unknown as a cornerback and the tape that's out on him isn't strong, but in practice he's been light years better than he was a year ago, getting his hands on passes and making plays. But there's still work to be done.
Kareem Martin, DE: Like Ed Stinson, the other defensive lineman drafted in May, Martin will be charged with proving he's a viable backup on a defensive line that finished last season as No. 1 against the run. Martin's reputation to get to the quarterback will follow him this year. Saturday will be his first chance to show any improvement to his pass-rushing techniques. With John Abraham still not in camp, Martin could be working toward a pass-rush role.
Ed Stinson, DE/DT: The rookie will get his first shot as a backup on the Cardinals' vaunted defensive line, a role he and Martin will share all season. And this will be coaches' and fans' first chance to see the guy who Darnell Dockett tweeted will be the next Dockett, if not better. The pressure is on.
July, 23, 2014
7/23/14
4:00
PM ET
Change is inevitable in the NFL but most teams often don't replace what they lost.
Such as is the case with the
Arizona Cardinals
' defense.
Arizona lost three starters and a combined 270 tackles, according to ESPN Stats & Information. Linebacker
Daryl Washington
, a Pro Bowl alternate in 2013, was lost for the season due to a suspension. Linebacker
Karlos Dansby
, who had a Pro Bowl-esque season, signed with Cleveland. And safety
Yeremiah Bell
wasn't re-signed in free agency. They were Arizona's top three tacklers last season.
Losing Washington, who had 75 tackles in 12 games, and Dansby will hurt Arizona's defense. Washington had the size and speed to play sideline-to-sideline. Dansby's instincts and refined physique were on display in his return to Arizona. To help replace last year's starters, Arizona signed
Larry Foote
, who missed all but one game due to injury, and
Ernie Sims
, who also played a fill-in role for 12 games in Dallas.
Bell's experience will be missed in the secondary but his size and speed won't be. He had trouble matching up with taller tight ends and his speed, at 35, diminished with age.
Rookie
Deone Bucannon
will shoulder the responsibility of replacing Bell. As an All-American at Washington State, Bucannon's production increased in all four of his seasons. He finished his career with 286 tackles and 15 interceptions.
Arizona also parted ways with
Jasper Brinkley
,
Antoine Cason
and Ronald Talley, all of whom had sporadic starting roles but were primarily backups.
In addition to Foote, Sims and Bucannon, Arizona either signed or drafted cornerback
Antonio Cromartie
, defensive end
Kareem Martin
and defensive end
Ed Stinson
during this past offseason. Other defensive players were signed but in all likelihood, they won't make it out of camp.
May, 14, 2014
5/14/14
6:30
PM ET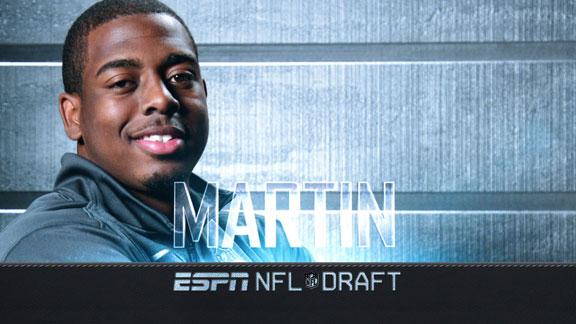 TEMPE, Ariz. -- This week has been all about transitions for
Kareem Martin
.
The
Arizona Cardinals
' third-round pick had never been to Arizona or this side of the country before. He's learning how to play at the speed of the NFL. And the former North Carolina sack specialist is adjusting to playing in a 3-4 defense.
But give Martin a month, he said, and he'll have the defense "down pat."
"There's definitely a transition when going from one level to another," Martin said. "It's a lot more communication. I've seen that from our first couple of practices.
"Once I learn everything I can get up to speed with the other guys."
Martin played mainly with his hand in the dirt in North Carolina's 4-2-5 defense. In three days of practice, the Cardinals have already played him at outside linebacker and on the line. While Martin is more comfortable on the line, he thinks he'll end up playing both on the line and standing up.
In the Cardinals' defense, linebackers tend to play more of a defensive end role, Arizona coach Bruce Arians said, which will help Martin transition to a 3-4. Eventually, however, Martin wants to end up in a similar role as
Calais Campbell
.
The two are most comparable in terms of body type, size and position.
At 6-foot-6 and 272 pounds, Martin is two inches shorter than Campbell and about 10 pounds less than Campbell was as a rookie. But give Martin a couple months, Arians said, and he'll grow into Campbell's size, which is pushing 300 pounds.
"He said he came in about my weight and in no time he put the weight on," Martin said of Campbell. "With my frame I feel like I can hold the same or just as much as he can.
"He's kinda took me under his wing."
Campbell will be a good asset for Martin to turn to throughout his rookie seasons.
There are parts of Arizona's defense that Martin has never seen before. On top of that, he's learning new terminology.
"I don't think that'll be a tough transition but I think it'll take some time," he said.
Martin exploded his senior season with the Tar Heels, thanks to defensive line coach Keith Gilmore refining Martin's long-arm stab. It resulted in Martin getting 11.5 sacks, up from four in each of his sophomore and junior seasons. He's hoping the upward trend will continue in the NFL, where he can have a career as a pass-rusher.
"With my long arms," Martin said, "he showed me it can be something that can make me a lot of money someday."
May, 10, 2014
5/10/14
6:38
PM ET
»
NFC wrap-ups
:
East
|
West
|
North
|
South
»
AFC
:
East
|
West
|
North
|
South
TEMPE, Ariz. -- A wrap-up of the
Arizona Cardinals
' draft.
Click here
for a full list of Cardinals draftees.
[+] Enlarge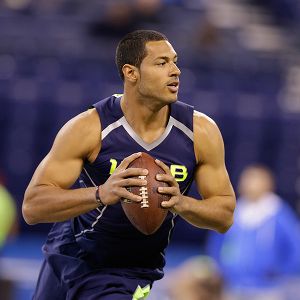 AP Photo/Michael ConroyVirginia Tech's Logan Thomas could be the Cardinals' starter by 2015.
Best move:
Drafting
Logan Thomas
. Quarterback has been a touchy subject around the Cardinals all offseason, especially since
Carson Palmer
has just one more year on his contract. Adding Thomas gives the Cardinals an option for the future. The best part of drafting Thomas is, as long as Palmer stays healthy, he won't be forced into action this coming season. The longer Thomas can sit behind Palmer and learn Bruce Arians' offense, the better he'll be in the long run. Anyone watching the Cardinals in 2013 saw how long it took for the offense to grasp the intricate scheme Arians installed. Having a young quarterback immersed in it for about 10 months before he's handed the keys will allow him to make a seamless transition. It'll also take at least that long for Thomas to be ready to start. He has the physical tools, but there are accuracy issues that need to be addressed. It's a small trade-off for having a quarterback who can eventually be a starter.
Riskiest move:
Trading out of the 20th pick in the first round ended up working out for the Cardinals, but it was their riskiest move of the draft. Had the Cardinals missed out on safety
Deone Bucannon
, the shape of their entire draft would have changed. And if there was one pressing need for Arizona this year it is at safety. Their inability to cover tight ends was no secret, so finding a tall, physical safety in the first round was almost imperative for the Cardinals to make a run at the playoffs. If Bucannon had been off the board before No. 27, the Cardinals would've been in trouble.
Most surprising move:
Drafting multiple players at the same position. The Cardinals used this draft to stock up at wide receiver and defensive end, but they left a few needs on the board. Arizona wanted to improve at speed receiver but picking
John Brown
in the third round and then
Walt Powell
in the sixth round created a logjam. Both bring different attributes to the field, but they're similar in stature and rely on speed to earn their keep. How many of the same type of player is needed? The same question can be asked about the defensive ends Arizona selected. The Cardinals drafted
Kareem Martin
in the third round and then
Ed Stinson
in the fifth. General manager Steve Keim said Stinson was the backup plan if another team had drafted Martin, but Arizona opted for both. Like the receivers, Martin and Stinson are touted as different pass-rushers but either one would've fit Arizona's need. The Cardinals finished the draft with holes at right tackle and linebacker.
File it away:
This draft class will have three players who'll be considered "hits" in a few years. Bucannon can become an instant starter while utilizing his range and size, especially against the run. Tight end
Troy Niklas
has the size and athleticism to emerge as one of the best tight ends in the league, especially in Arians' offense. And if Thomas can fix his accuracy issues, he can wind up being the Cardinals starter in 2015.
May, 10, 2014
5/10/14
1:30
AM ET
TEMPE, Ariz. -- For months, the message from Arizona Cardinals general manager Steve Keim was the same.
Arizona would use its 120-man draft board to pick the best player available, regardless of need. And if you asked Cardinals coach Bruce Arians, the team didn't have any glaring needs. But with three rounds of the NFL draft in the books, the Cardinals have four new players and each addressed a specific need.
[+] Enlarge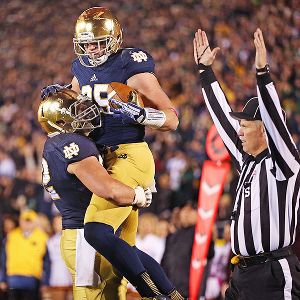 Jonathan Daniel/Getty Images)Troy Niklas is expected to solidify a Cardinals tight end corp that is the foundation of Bruce Arians' offense.
Safety. Tight end. Pass rusher. Speed receiver.
Coincidence? I think not. And Keim all but said it was a smokescreen.
"I told you we were the only two you can believe," Keim said with a smile.
To which Arians followed: "Truth kills, baby."
But this was a draft in which Arizona could get away with picking for need. The work done over the last 16 months has put the Cardinals in a position in which they were a few specific positions away from turning a long-term corner. They addressed a handful -- left tackle, third receiver, kick returner and cornerback -- in free agency. The rest, as Keim would prefer it, would be found through the draft.
"I think that's the emphasis you put into building that board," Keim said. "We saw best player available but there is an emphasis on who impacts our football team the most. We are never going to leave a good player on the board to the side, but we do want to find guys who are going to impact us the most."
Sometimes who that is and who's atop their boards may not match up.
Arizona's first-round pick,
Deone Bucannon
, plugged a hole at strong safety. Second-round pick
Troy Niklas
solidified a tight end corps that is the foundation of Arians' offense. The Cardinals used their first third-round pick on
Kareem Martin
, who can provide relief on the defensive line while evolving into a pass rusher, and their second third-round pick on
John Brown
, a small-school speedster who can take the top off defenses and return kicks.
Of the group, Bucannon and Niklas probably were among the best players available when Arizona went on the clock. But Martin was a pick with the future in mind. And Arizona was high on Brown from the start.
"You have to almost look at it with a three-year view and understand that when we are talking about certain positions, they may not be the biggest need right now but in 2015, that may be our biggest need," Keim said a week before the draft. "So, if you can continue to have rollover and develop players, young players that can replace those guys when either their contracts are up or players move on, I think that's the way that ultimately you'd love for it to go."
That didn't seem committed to best-player available, rather than to picking for need. By late Friday, Keim said, the Cards' board was starting to look a little picked over.
"There are still quite a few players that we covet that are left," Keim said. "Rounds four, five and six should be fruitful for us. It has been picked pretty good."
May, 9, 2014
5/09/14
11:33
PM ET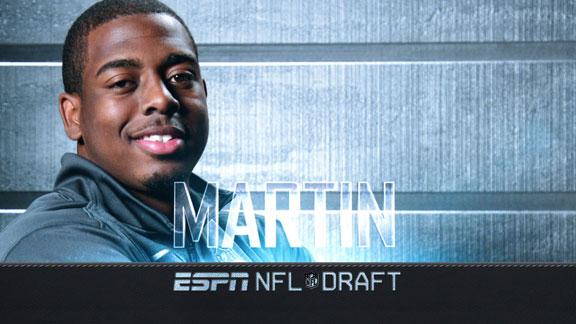 TEMPE, Ariz. --
The pick:
Kareem Martin
, DE, North Carolina
My take:
Arizona has been in need of an improved pass-rusher, but Martin might not provide the instant upgrade the Cards were searching for. He has the size and strength -- and his numbers are similar to
Jadeveon Clowney
's, but that's where the comparisons should end -- to eventually turn into a dominant pass-rusher, but Martin has too many areas of concern to provide an instant impact. He's versatile and is willing to learn different positions. He played mostly with his hand in the dirt in a 4-2-5 defense in college.
Building for the future:
If he keeps his head in the playbook, Martin will find a way onto the field as a rookie, possibly on special teams. His impact on defense might not be felt for a few more seasons. He has the size to compete in the NFL, and he's still growing, but there are too many holes in his game to see the field on a regular basis. As a rookie, Martin will have the luxury of learning behind another tall lineman,
Calais Campbell
, which can aid in his growth as much as anything. If the Martin project pans out, it'll be a long-term feather in GM Steve Keim's cap.
What's next:
If the Cardinals continue to pick on need, as it appears they will, a defensive lineman, linebacker and possibly a running back could be in store in the Cards' final three picks.