Arizona Cardinals:

Kenny Demens
October, 22, 2013
Oct 22
8:00
AM ET
Flush the Pocket will be your daily morning dose of the
Arizona Cardinals. It'll recap the top story line from the previous day and give you a look at what everyone is saying locally and nationally.
TEMPE, Ariz. -- There was no escaping the news at it flowed it all weekend.
Injuries claimed the seasons -- or at least large chunks of seasons -- for some of the game's biggest names. Indianapolis'
Reggie Wayne
went down with an ACL, so did St. Louis'
Sam Bradford
. Chicago's
Jay Cutler
is out at least four weeks with a groin sprain. Houston's
Brian Cushing
is out with an lateral collateral ligament and broken fibula.
There were more, but those were the biggest names injured in Week 7 and they opened the eyes of the rest of the league, including Arizona Cardinals coach Bruce Arians.
Arians said one reason for giving his younger players more reps Monday was
in case the injury bug hits the Cardinals
.
"It's that time of year," Arians said. "You hit the halfway part, before your open date and guys get injured. That's why we're looking at those five or six guys today, in case it happens to us. When I say we're looking at opportunities, that's the opportunities we're talking about."
The Cardinals added cornerback
Teddy Williams
today and waived linebacker
Kenny Demens
, but according to reports, Arizona will use Williams as a receiver.
In other news...
Kent Somers of AZCentral.com writes about Bruce Arians
looking at younger players
.
Bob McManaman of AZCentral.com writes about
Karlos Dansby's quest to lose weight
and play better.
Jack Magruder of FoxSportsArizona.com writes about
John Abraham still making plays at 35
.
Darren Urban of AZCardinals.com also writes about
Abraham's appreciation of quarterbacks
.
October, 11, 2013
Oct 11
8:43
PM ET
TEMPE, Ariz. --
Arizona Cardinals
wide receiver
Larry Fitzgerald
is questionable for Sunday's game at San Francisco with a hamstring injury, head coach Bruce Arians said Friday.
Fitzgerald
Arians said it's the same left hamstring Fitzgerald tweaked Sept. 11, but the injury is in a different spot.
"We'll wait and see by game time," Arians said.
Fitzgerald was limited Wednesday and Thursday but practiced in full Friday. After seeing how the hamstring hampered him during the Lions game, Fitzgerald will be cautious Sunday.
This is just the latest setback for Fitzgerald, who has 24 receptions. That's fewest through the first five games of a season since 2004, his rookie year, when he had 22, according to ESPN Stats & Information.
Fitzgerald hasn't lived him to his Hall of Fame standards in his last 21 games. He has just two games with at least 100 receiving yards during that span and has a total of 1,086 yards, far less than the 1,411 yards he had in 2011.
Other injury news"
Rookie LB
Kenny Demens
(hamstring) was also listed as questionable.
Listed as probable were LB
John Abraham
(shoulder), LB
Jasper Brinkley
(groin), G
Daryn Colledge
(shin), DT
Darnell Dockett
(groin), S
Rashad Johnson
(finger), LB
Kevin Minter
(hamstring), DE
Ronald Talley
(wrist), LB
Daryl Washington
(knee).
October, 9, 2013
Oct 9
8:30
PM ET
When the
Arizona Cardinals
' injury report came out late Wednesday, the list of limited players was long.
Only rookie linebacker
Kenny Demens
(hamstring) didn't practice but that was expected. Limited, however, were linebackers
John Abraham
(shoulder),
Daryl Washington
(knee),
Jasper Brinkley
(groin) and
Kevin Minter
(hamstring), defensive tackle
Darnell Dockett
(groin), wide receiver
Larry Fitzgerald
(hamstring), safety
Rashad Johnson
(finger) and defensive end
Ronald Talley
(wrist).
Left guard
Daryn Colledge
(shin) practiced in full.
A few players stood out on the report. Washington played in his first game of the season Sunday and was all over the field. As long as that knee doesn't bother him, he can continue to have a Pro Bowl-caliber season. Cardinals fans -- and players -- never like seeing Fitzgerald on the list. He was hampered by his hamstring during the Detroit game earlier this season.
On Monday, Cardinals coach Bruce Arians said Dockett "was not close to being himself" in Sunday's 22-6 win over the Panthers. The Cardinals' training staff initially expected Dockett's groin injury, which caused him to leave the Tampa Bay game, to be a two-week injury but he returned in just a week.
Johnson returned to the practice field Wednesday for the first time since losing the tip of his left middle finger Sept. 22 in New Orleans. He practiced with a splint wrapped in black tape.
October, 7, 2013
Oct 7
4:32
PM ET
TEMPE, Ariz. -- As an offensive coach, it isn't hard for Bruce Arians to accept the
Arizona Cardinals
being known for their defense through five games.
"I love it," Arians said. "That's always been my motto. We want to be dominate on defense. We'll scratch some points out. We always want to be a dominating defensive football team and special teams."
"Offensively, we'll get the job done, sooner or later."
Here are a few notes from Arians' Monday news conference:
The Cardinals escaped Sunday relatively healthy, Arians said. LB Kenny Demens is doubtful with a hamstring injury.
Arians expects to get S Rashad Johnson back with a little splint instead of the big "mitt" of a cast he' s been wearing. Arians also said Johnson's finger is "all healed up."
DT Darnell Dockett was not himself, Arians said. His groin injury was expected to be a two-week issue but he played a week later.
Arians likes the 30 snaps RBs Andre Ellington and Rashard Mendenhall got Sunday. He called it a "real good mix."
Arians said the reason WR Andre Roberts' numbers have dwindled is because of TE Rob Housler's return. Roberts was inside when Housler was out and he's playing outside with Housler back.
Housler hasn't been on the same page with QB Carson Palmer since he returned, Arians said.
Arians saw Washington's ability to impact his teammates during OTAs.
September, 26, 2013
Sep 26
6:57
PM ET
SARASOTA, Fla. -- Amos Jones has been around for a long time and he's seen his fair share of oddities in football.
And that includes Arizona coach Bruce Arians with hair.
But Jones, the
Arizona Cardinals
'special teams coordinator, had never seen 11 substitutions on special teams in one game, the number Arizona totaled last weekend against New Orleans because of injuries. Jones' previous high was nine.
Already down one special teams starter, rookie linebacker
Kevin Minter
(hamstring injury), Jones lost one of his special teams captains, linebacker
Lorenzo Alexander
, who ruptured his Lisfranc ligament, and another stalwart, linebacker
Sam Acho
, who broke his fibula. If that wasn't enough, backup rookie linebacker
Alex Okafor
tore his left biceps and is out for the season. He played the second-most snaps on special teams against the Saints.
"I compared it to coaching in the Canadian League or coaching in high school ball where somebody gets hurt, you gotta go," Jones said. "Same thing in the NFL when you only have 53 men. You just got to be prepared for those scenarios. Luckily our guys have accepted that from Day 1."
It didn't take long for their losses to impact the Cardinals.
Without Alexander and Acho, Arizona's punt-return defense suffered. It came into Sunday's game allowing 0.8 yards, in large part because of second-year gunner
Justin Bethel
. But without Alexander, who would command a double team, thus opening lanes for his teammates to streak down field, the Saints could focus more on Bethel and slow the downfield stampede. After their 31-7 loss to the Saints, the Cardinals are allowing eight yards per punt return, still impressive, but 10 times what they were previously giving up.
Assuming the roles vacated by Alexander, Acho and Okafor will be the Cardinals' three most recent additions:
Dontay Moch
,
Vic So'oto
and
Kenny Demens
.
Their first challenge will be a top-10 punt return unit and the third-best kickoff return team. Tampa Bay averages 7.8 yards per punt return and 31.3 per kickoff return. The Bucs have had three players return kicks this season and all averaging at least 25 yards per return.
Arizona, meanwhile, has allowed 17.3 per kick return.
"We [are] ready with the backups," Jones said. "Some of those backups will be starting this week. We went out and acquired three guys that have unique skill sets so we'll utilize them the best we can.
"So, it'll be a bunch of unselfish guys who'll step up and fill in. Some guys will get a little bit more playing time at other positions, and some of these guys we just acquired will come in and put a hand in the pile."
Alexander was the NFC's Pro Bowl special teams representative last year with the
Washington Redskins
and Acho was starting to hit a stride on special teams, but it's not their physical skills Amos will miss most.
It was their leadership, their dependability, their experience. Amos could look at Alexander and bounce ideas off him.
"Those guys had great presence in the room," Jones said. "We have other guys. We're not just about one or two guys, that's not how we're built, but it was always a pleasure."
September, 26, 2013
Sep 26
10:25
AM ET
With the addition of Zack "Sack" Nash to the practice squad, the Cardinals capped a whirlwind week of additions and subtractions to and from their 53-man roster.
It started Monday, when Arizona placed OLBs
Lorenzo Alexander
(Lisfranc) and
Sam Acho
(fibula) on injured reserve, and promoted OLB
Dontay Moch
from the practice squad.
On Tuesday, the Cardinals signed LB
Vic So'oto
to the 53-man and added LB Bruce Taylor to the practice squad.
Then came Wednesday, when the Cardinals relegated LB
Alex Okafor
(biceps) to injured reserve and promoted LB
Kenny Demens
from the practice squad.
The flurry of signings came to a close Thursday morning, when Nash was re-signed to the Cardinals' practice squad. That gave Arizona eight practice squad players and 53 active-roster men.
Chances are the Cardinals aren't done wheeling and dealing just yet. This was all mostly a stopgap until
Daryl Washington
returns Monday, and Arizona's braintrust will determine what spots need to be filled and by whom. If Moch can hold his own against the Bucs, he could stay up. But don't expect this bunch to be the linebackers for the next 13 games.
Breaking down the linebackers:
53-man roster
ILB
Jasper Brinkley
ILB
Karlos Dansby
ILB Kenny Demens
LB Vic So'oto
OLB
John Abraham
OLB Dontay Moch
OLB
Matt Shaughnessy
Practice squad
ILB Bruce Taylor
OLB
Zack Nash
OLB Kenny Rowe
Injured reserve
OLB Sam Acho
OLB Lorenzo Alexander
OLB Alex Okafor
Injured
ILB
Kevin Minter
September, 25, 2013
Sep 25
3:57
PM ET
SARASOTA, Fla. -- As the
Arizona Cardinals
try to figure out what to do at outside linebacker for the long term, they've been restocking their roster to prepare for Sunday's game at Tampa Bay.
One move was to promote rookie linebacker Kenny Demens from the practice squad. Arizona coach Bruce Arians announced the move Tuesday night on SiriusXM NFL Radio and the Cardinals made it official Wednesday.
Demens is an undersized backer (6-foot-1, 242 pounds) who flew through training camp relatively unknown. He was a surprise to make it through final cuts in late August but was released Sept. 1, only to be re-signed to the Cards' practice squad on Sept. 3.
I reached out to my colleague in Detroit, Lions reporter Michael Rothstein, who covered Demens at the University of Michigan, for a scouting report.
Here's what Rothstein had to say:
"Kenny Demens was a silently productive player in college at Michigan. He never got a lot of attention because he rarely did anything flashy, but he helped run the Wolverines' defense his last two seasons in Ann Arbor. In college he always appeared better against the run than the pass, although by the end of his senior season, Michigan would occasionally line him up against slot receivers or tight ends based on coverage. He doesn't have great size, but he can move fairly well from sideline to sideline, at least as a college player."
September, 25, 2013
Sep 25
8:00
AM ET
SARASOTA, Fla. -- Handling a loss is part of the game. And waiting on a star to return from an injury also comes with the territory.
Having to rebuild an entire position because of injuries, well, that might have been coach Bruce Arians' "Welcome to the NFL" moment. And how he responds could spell out the rest of the season for the
Arizona Cardinals
.
A depth chart is built with this type of situation in mind. Both of Arizona's starting outside linebackers,
Lorenzo Alexander
(Lisfranc) and
Sam Acho
(fibula), left Sunday's 31-7 loss to the
New Orleans Saints
with season-ending injuries. It was a blow to the defense, but it's not the end of the world. Enter the backups. Rookie
Alex Okafor
filled in for Acho, but saw only five plays. Which, Arians said on national radio Tuesday night, was all he needed to tear a biceps tendon.
Okafor is out for the season, too.
Enter … well, nobody.
Teams aren't built to back up the backup. Anyone who posits otherwise simply doesn't understand the dynamics of football. With a 53-man roster, 22 spots are slotted for starters. Give each one a backup and that's 44 players, with nine openings left for special teams and specialists.
[+] Enlarge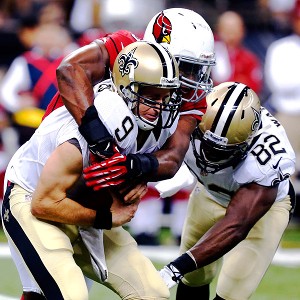 AP Photo/Bill HaberSam Acho recorded a sack of Saints QB Drew Brees before leaving with a broken fibula.
The only two outside linebackers to survive Sunday were
John Abraham
and
Matt Shaughnessy
, both of whom tend to play as outside rushers off the line, or, in Shaughnessy's case, sometimes in the middle of the line.
Losing three of a unit's five players, no matter what team it is, can bring panic. But the Cardinals have reacted swiftly, trying to piece together a competitive outside-linebacking unit.
They filled out the roster with a couple of internal promotions,
Dontay Moch
and rookie Kenny Demens, from the practice squad (the latter move according to Arians) and signed
Vic So'oto
to the active roster. It's a solid start to a process that may last the rest of the season. The outside linebackers could be liability until at least two of the injured players return next year.
Arians likes Moch's speed, which can help this defense improve its pass rush. Arizona has recorded just one sack off the edge this season, by Acho, against the Saints.
The Cardinals have three primary options at this point: Stay with the new outside linebackers, revamp the entire unit -- inside and out -- when
Daryl Washington
returns Monday or change the defense, putting more men at the line of scrimmage and keeping the inside guys at their natural position.
If Arizona stays in a 3-4 with its current players, there's a good chance the outside backers will be rotated throughout the season because of general manager Steve Keim's penchant to comb the waiver wire. If Moch produces, he can earn himself a consistent starting job because of how Arians operates. Arians works with who's in front of him, and if Moch can prove he's worthy of staying on the field, Arians will leave him there.
But if the Cardinals decide to revamp the entire unit, the new faces on the roster may be relegated to the sideline. There'd be a learning curve, however. With Washington returning, Arians and defensive coordinator Todd Bowles could play him,
Karlos Dansby
and
Jasper Brinkley
together. Herein lies the problem. All three are inside backers -- and so is rookie
Kevin Minter
, who's out with a hamstring injury and isn't expected back for a few weeks. If one is willing to convert to outside and the Cardinals want to keep their 3-4 scheme, they could move Moch or another addition to the outside until Minter returns.
If Arizona decides to change schemes, it could keep Washington, Dansby and Brinkley as the linebackers, although two would have to learn outside-LB tendencies. Then the Cardinals could bring Abraham off the edge more often, especially against pass-happy offenses -- of which the NFC West is full. According to Pro Football Focus, Abraham led Arizona with five quarterback hurries on 29 pass rushes.
There's a lot to be decided in the next couple weeks, although most of the major decisions that would affect the rest of the season won't likely happen until Washington returns.
This is the equivalent of a vacation gone wrong but you can't leave. The weather is bad. Nothing seems to go right. But the Cardinals are just trying to get through this week, miles away from home, and salvage their trip by getting back to .500.
September, 4, 2013
Sep 4
9:00
AM ET
Flush the Pocket will be your daily morning dose of the Arizona Cardinals. It'll recap the top storyline from the previous day and give you a look at what everyone is saying locally and nationally.
The main news coming out of the Cardinals on Tuesday, the team's first regular-season day off, was the addition of three more players to the practice squad, putting the group at the eight-man maximum.
Undrafted free-agent linebacker Kenny Demens was re-signed Tuesday, two days after he was released from the 53-man roster. Defensive tackle Anthony McCloud and wide receiver Sam McGuffie were also signed Tuesday.
I was a bit surprised when the Cardinals kept Demens, a rookie, on the 53-man roster earlier this week, partly because he flew under the radar during training camp and partly because he was the fourth inside linebacker, behind
Karlos Dansby
,
Jasper Brinkley
and rookie
Kevin Minter
. But I've come to learn everything head coach Bruce Arians does has a reason behind it. And sure enough, Arians wanted Demens, so he kept him around long enough to get him.
With the players being off Tuesday, it was a slow news day around the Cardinals' world:
Bob McManaman of AZCentral.com talked to safety
Tyrann Mathieu
about containing his excitement
ahead of playing in his first NFL game.
Over at FoxSportsArizona.com, Craig Morgan
asked and answered a series of questions
about the Cardinals' cornerbacks.