Arizona Cardinals:

Matt Shaughnessy
March, 7, 2014
Mar 7
11:00
AM ET
»
AFC Free-Agency Primer
:
East
|
West
|
North
|
South
»
NFC
:
East
|
West
|
North
|
South
Key free agents:
LB
Karlos Dansby
, RT
Eric Winston
, S
Yeremiah Bell
, K
Jay Feely
, LB
Matt Shaughnessy

Where they stand:
Arizona has talked to all of them, but it's unlikely the Cardinals re-sign any of the team's key free agents until after March 11. Dansby could be the trigger, however. If he re-signs for an affordable price or doesn't re-sign, Arizona may be able to re-sign some of their veteran free agents instead of opting for cheaper options. According to reports, Arizona has been negotiating with linebacker Shaughnessy. Bell has expressed his desire to return to Arizona mainly because of what the Cardinals' defense started last year. Winston may be the Cardinals' best option at right tackle for another season and his camp has begun talks with the Cardinals. Feely has said he talked to the Cardinals this week.
What to expect:
Don't expect Dansby to re-sign before free agency begins. If it hasn't happened yet, it probably won't until he tests the market to see what his worth is. Then the Cardinals could come into play again. Winston could be whom Arizona needs to anchor the line for another year. He, along with the rest of the offensive line, matured together and were protecting quarterback
Carson Palmer
better in the second half of the season than the first, momentum that can only continue to grow. Bell isn't likely to return because his size and speed make him a liability against bigger, faster receivers and tight ends. Even though he was in Bruce Arians' dog house at the end of the season, Feely can return because of the limited number of good kickers available. Shaughnessy is also likely to re-sign because of his value at a low cost.
March, 5, 2014
Mar 5
11:15
AM ET
Starters:
John Abraham
,
Lorenzo Alexander
,
Sam Acho
,
Matt Shaughnessy
Backups:
Marcus Benard
,
Dontay Moch
Under contract in 2014:
Abraham, Alexander, Acho, Dontay Moch and
Alex Okafor
.
Cash committed in '13:
$7.39 million
Cap committed in '13:
$5.75 million
Recap:
Any plans defensive coordinator
Todd Bowles
had for the Cardinals' outside linebackers were blown up in New Orleans. Within the course of one game, Arizona lost Sam Acho, Lorenzo Alexander and rookie Alex Okafor. The fretting over who would fill the roles of two starters and a seldom-used substitute lasted a week when John Abraham and Matt Shaughnessy filled in at left and right outside linebacker, respectively, and never looked back. Abraham added to his impressive résumé with 11.5 sacks in 2013 -- all coming after Week 6. That gave him 133.5 for his career and moved him into ninth on the all-time sack list. Healthy, Shaughnessy flourished as a 3-4 linebacker with is hand in the dirt, finishing with 62 tackles and three sacks. The Cardinals got a brief spark from Moch, who was promoted to the 53-man roster after Week 3 and then played well at Tampa Bay with two tackles and a sack. But he finished the season inactive for nine of the past 10 weeks. And Benard was signed after Week 4 and played a solid role coming off the bench with 17 tackles and 2.5 sacks. With Alexander, Acho and Okafor back, Arizona's depth is set for 2014, but it's unlikely that Alexander regains his starting spot with the kind of season Abraham is coming off.
February, 10, 2014
Feb 10
6:30
PM ET
The
Arizona Cardinals
won't draft Missouri defensive end
Michael Sam
in May.
And it has nothing to do with his sexual orientation.
The Cardinals are stocked, if not overstocked, at outside linebacker, the position Sam will most likely have to transition to if he gets drafted in a 3-4 scheme, which the Cardinals run. At about 6-foot-2, 260 pounds, he's too short to play off the edge for Cardinals defensive coordinator Todd Bowles – especially when Arizona's starting defensive end is 6-8, 300-pound
Calais Campbell
.
Sam would be better fit as an OLB, but during their mad dash through free agency last year, the Cardinals made the position a point of emphasis. Already with
Sam Acho
, Arizona added
Lorenzo Alexander
,
Matt Shaughnessy
and
John Abraham
through free agency and drafted
Alex Okafor
. During the season, the Cardinals signed
Dontay Moch
and
Marcus Benard
, who also contributed this past season.
Sam's spot on the Cardinals' roster is essentially filled by Acho, who at 6-3, 257, has the most similar body type to Sam. And Acho, most likely, isn't going anywhere anytime soon.
Arizona was able to fight through a decimated OLB corps last season to still register the top-ranked run defense in the league and the sixth-best defense overall. In Week 3 against New Orleans, the Cardinals lost Acho, Alexander and Okafor in a freak series of injuries within one game. In their place, Abraham became an every-down linebacker and Shaughnessy stepped up and proved worthy of his one-year deal.
Sam came out publicly Sunday night, making him the first openly gay college prospect in the history of the NFL. By now, less than 24 hours after his story was aired on ESPN and printed in The New York Times, it's well known. He came out to his Missouri teammates back in August and proceeded to have a stellar season.
If the Cardinals pass on Sam, it's not because he's gay. It's because they don't need him. It's a football decision.
February, 5, 2014
Feb 5
8:00
AM ET
TEMPE, Ariz. -- With the ink on
Larry Fitzgerald
's restructured contracted barely dry, it's time to look at what Arizona may do with the extra cap room the Pro Bowl receiver provided them. Arizona has 15 free agents left to sign after securing punter
Dave Zastudil
last month, but they won't bring them all back.
I ranked all 15 from highest priority to lowest and told you why:
November, 29, 2013
11/29/13
12:00
PM ET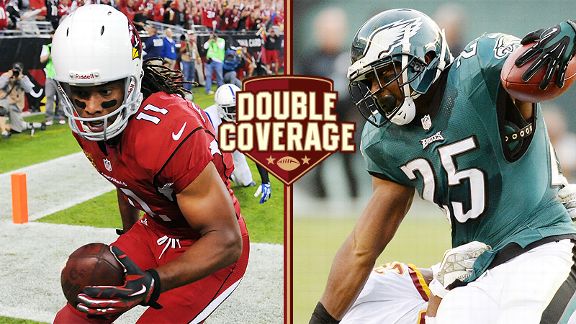 Getty ImagesLarry Fitzgerald and LeSean McCoy will look to keep their teams streaking on Sunday.
Bruce Arians and Chip Kelly come at their news jobs from very different places.
Kelly was the hot college head coach of the moment, hired by Eagles owner Jeffrey Lurie to replace the institution that was Andy Reid. Arians was a college head coach, too, at Temple back in the 1980s. He got his job with the
Arizona Cardinals
, though, based upon years as an often-overlooked NFL assistant.
And now here they are. Arians' Cardinals are 7-4 with a four-game winning streak, while Kelly's Eagles are 6-5 after a three-game winning streak. Their teams meet at Lincoln Financial Field Sunday in a game with major NFC playoff implications.
ESPN.com reporters Josh Weinfuss, who covers the Cardinals, and Phil Sheridan, who covers the Eagles, take a closer look at the matchup.
Phil Sheridan:
Bruce Arians is best known in Philadelphia as one of the rare coaches to survive a stint at Temple University. Nationally, he's known for winning the Coach of the Year Award after filling in for Chuck Pagano last year in Indianapolis. How has he conducted business and how much of this four-game winning streak results from that?
Josh Weinfuss:
I think all of it. Arians is the ultimate players coach and from everything I've heard about him from former players and current Cardinals who were with him in other places, he hasn't changed a bit. He'll tell the players like it is and if they can't handle it, they have to figure out a way to deal with it. He's not big on the sugarcoating, and the players appreciate it. As a head coach, he's taken a little bit from each of the coaches he worked for and put it into play in Arizona. He's learned how to delegate and put together a staff that complements him very well. On top of it all, he's an offensive genius who stayed patient with this team while they learned his scheme, and it's paying off.
On the topic of schemes, is Kelly's high-octane offense here to stay or will he need to adapt as the season progresses?
Sheridan:
Probably a little of both. Kelly already has adjusted to some degree. The foundation of his approach seems to be figuring out how a defense is designed to stop his offense and then exploiting whatever weaknesses and mismatches created by that design. When teams played man coverage and pressed to eliminate his bubble screens, Kelly shrugged and started throwing deep. When the Giants and Cowboys found a weakness in his run-blocking scheme, Kelly adjusted and got
LeSean McCoy
back on track. Kelly seems to enjoy the cat-and-mouse game with opposing coaches. That said, the foundations of what he does -- creating mismatches and exploiting weaknesses -- are as old as football. He just has some intriguing ways of getting there.
While we're on that side of the ball, how has Todd Bowles been able to win the hearts and minds of a defense that thrived under former coordinator Ray Horton? And how important is having
Karlos Dansby
back in the fold?
Weinfuss:
Bowles made one minor change up front and he's been the glimmer in the defensive line's eyes ever since. He went from a multi-gap system to a one-gap scheme, which has taken out the thinking from football. Now, the Cardinals front line can just rear back and go, and the changes are obvious.
Darnell Dockett
is having his best season in a while,
Calais Campbell
has emerged as one of the toughest defensive ends in the league and nose tackle
Dan Williams
has plugged the holes in the middle, forcing plays out to the edges -- and right into the hands of guys like
John Abraham
,
Matt Shaughnessy
,
Daryl Washington
and, of course, Dansby. He's playing at the lowest weight of his career and he's been able to fly around, going from sideline to sideline with relative ease for a guy who's been in this league for 10 years. While everything for the Cardinals' defense starts up front, each level has been benefiting from the line's presence.
Let's stay on defense. The Eagles have the worst pass defense in the league. How can they muster enough plays to slow the Cardinals' recently high-flying passing game under
Carson Palmer
?
Sheridan:
Josh, that could be the question that determines the outcome of this game. The only answer I have is that, somehow, that's just what the Eagles' defense has been doing in the seven games since
Peyton Manning
hung 52 points on them. They give up a lot of yards, but they haven't given up more than 21 points in a game since then. They've been good in the red zone and have started generating pressure and, in turn, turnovers. Palmer provides a very good measuring stick. The Eagles have thrived against the
Mike Glennon
s and
Scott Tolzien
s of the world, although in fairness they played well against
Eli Manning
and
Tony Romo
, too. But Palmer and that
Larry Fitzgerald
fellow definitely represent the kind of test the Eagles must pass before being considered a good defense.
Speaking of Palmer, the NFC Offensive Player of the Week, there seems to be a Kurt Warner vibe at work here -- veteran guy getting one more shot to prove he still has it. Warner did -- does Palmer? What's the ceiling on the offense with him at the helm?
Weinfuss:
All the evidence from the past four games points to yes -- Palmer does have a Warner-esque resurgence in him, but that's only because the Cardinals' offense is finally working. If it was still struggling, we'd be talking about Palmer being replaced either now or after the season. Crazy how that works. Palmer is the perfect quarterback for a Bruce Arians scheme. He has a big arm and can make throws on a dime. And those two things will carry this offense as far as it can until Palmer makes bad decisions. Even though the bad decisions have been cut down during the Cards' four-game winning streak, it would be naïve of anybody to think they're totally done with. Arizona is just getting lucky. Twice against the Colts, Palmer had probable interceptions dropped, and against Jacksonville two weeks ago, a well-timed timeout by Arians saved Palmer from a potentially costly interception. If Palmer can take chances without making ill-advised throws, the ceiling is quite high, especially with the depth at receiver, tight end and running back.
A lot of University of Arizona fans out this way are loving the fact that
Nick Foles
is starting and playing well. Is he Mr. Right for the Eagles in Kelly's offense or Mr. Right Now?
Sheridan:
That's the question that will haunt the Eagles through the offseason. Foles has had some of the luck you described Palmer having. That seven-touchdown game against Oakland was partly the product of some of the worst defensive football I've ever seen (and I watched
Nnamdi Asomugha
jog through two years here). But Foles is smart, he's accurate and you can see him gaining confidence and comfort with every game. Clearly, he is not the quarterback Chip Kelly would order from the factory. But as he continues having success and winning games, you have to wonder how far Kelly is willing to tailor his offense to Foles for the long haul. It's the decision that will define the Kelly era, at least for the next few years. My gut says Foles is a good NFL quarterback, but Kelly will make a move to find his guy at the earliest possible convenience. If Foles keeps this up, though, my gut might be proven wrong.
November, 6, 2013
11/06/13
7:30
PM ET
TEMPE, Ariz. -- It looks like the time off helped
Larry Fitzgerald
.
Fitzgerald
The
Arizona Cardinals
wide receiver wasn't listed on Wednesday's injury report, but coach Bruce Arians wasn't sure if his star was back to 100 percent. Quarterback
Carson Palmer
said Fitzgerald didn't do much in practice Monday, most likely giving his left hamstring an extra two days to heal before Wednesday's practice.
Before the Cardinals play Houston on Sunday, they will have played just one game in the last 23 days, and that's been the best therapy, Palmer said.
"You can get treatment on a lot of things, but a lot of the time the best remedy is just rest," Palmer said. "For Larry to have a good 10-day period where he really didn't do much and just had a chance to let that thing heal up, that will be really good for us in the second half of the season."
Running back
Rashard Mendenhall
was still on the injury report, however. He was limited with turf toe. Arians said Mendenhall isn't quite healthy just yet.
"It's not completely healed, but it's a lot better," Arians said.
Two Cardinals – right tackle
Bradley Sowell
and linebacker
Daryl Washington
– missed practice because of illness. Wide receiver
Brittan Golden
is still recovering from a pulled hamstring and was on the stationary bike for the open portion of practice.
Linebacker
John Abraham
(shoulder) and defensive tackle
Frostee Rucker
(calf) were both limited. Linebacker
Matt Shaughnessy
(knee) practiced fully.
October, 24, 2013
10/24/13
3:08
PM ET
TEMPE, Ariz. --
Arizona Cardinals
rookie guard
Earl Watford
was on the field during the open portion of practice Thursday, two days after he was in a car accident.
Arizona coach Bruce Arians ended his Wednesday news conference by saying Watford was rear-ended Tuesday en route to the practice facility for treatment on the team's day off. Watford missed practice Wednesday, but was back Thursday working with the offensive line and on kickoff returns.
Watford was competing for playing time at left guard while
Daryn Colledge
was out with a lower back injury. But Colledge, who also missed Wednesday's practice, returned to the field Thursday, as well.
Linebacker
Matt Shaughnessy
, who didn't practice Wednesday, was back on the field with a brace over his left knee.
The only Cardinal to not practice during the open portion on Thursday was running back
Rashard Mendenhall
.
September, 28, 2013
9/28/13
8:00
AM ET
SARASOTA, Fla. -- With the possibility of the
Arizona Cardinals
being down as many as four starters for Sunday's game, I took it upon myself to lend a helping hand sorting through the injury-riddled mess. Here's my breakdown of the projected depth chart Sunday's game at Tampa Bay. Arizona coach Bruce Arians said Friday that he couldn't name starters at outside linebacker because they'll be determined by the defensive packages.
The key:
Bold
-- My projected starters.
Crossed out
-- Players that will not be playing Sunday.
Italicized crossed out
-- Players who may play but won't start.
Here's my best shot:
DE:
93 Calais Campbell
, 96
Ronald Talley
NT:
92 Dan Williams
,
66 Alameda Ta'amu
DT:
90 Darnell Dockett
, 98
Frostee Rucker
SAM:
57 Alex Okafor
,
50 Dontay Moch
, 59
Vic So'oto
ILB:
52 Jasper Brinkley
,
51 Kevin Minter
ILB:
56 Karlos Dansby
,
51 Kevin Minter
WILL:
91 Matt Shaughnessy
, 55
John Abraham
LCB:
21 Patrick Peterson
, 35
Javier Arenas
RCB:
25 Jerraud Powers
, 20
Antoine Cason
, 31
Justin Bethel
SS:
37 Yeremiah Bell
, 22
Tony Jefferson
FS:
26 Rashad Johnson
,
32 Tyrann Mathieu
September, 27, 2013
9/27/13
6:31
PM ET
SARASOTA, Fla. – The past week has been unchartered waters for the
Arizona Cardinals
' coaching staff. And it's not because their hotel in Sarasota is on a waterway.
After losing two starting outside linebackers and one backup Sunday in New Orleans, Arizona has spent the week restocking its roster, reshuffling its defensive game plan and simplifying its playbook. But an overhaul wasn't needed.
[+] Enlarge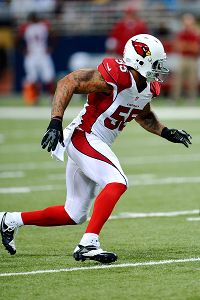 AP Photo/G. Newman LowranceJohn Abraham is expected to see more time on the edge Sunday.
Defensive coordinator Todd Bowles said the Cardinals will stay in a 3-4 as their primary defense, despite the lack of experienced linebackers to properly execute his scheme. But throughout the game, the Cardinals will continue to go to a 4-3, Bowles added.
"It's just a matter of having the right people outside doing the right things at the right time," Bowles said. "Some of the guys are inside guys. They can't play outside. It's a good mix."
This week, Bowles will mix up the defenses more often than in the first three games, while Arizona coach Bruce Arians just hopes his playbook can accommodate the new styles at outside linebacker.
But for this week at least, Arizona won't try to move their inside linebackers –
Karlos Dansby
and
Jasper Brinkley
– outside. The Cards added
Vic So'oto
and promoted
Dontay Moch
and
Kenny Demens
from the practice squad to fill in at outside linebacker.
John Abraham
entered the league as a 3-4 linebacker with the
New York Jets
, Bowles said, so he's expected to see more time on the edge this game.
Matt Shaughnessy
has been an outside rusher before, most recently with the
Oakland Raiders
, so he'll also provide some relief for Arizona.
Next week, however, may be a different story when
Daryl Washington
returns from a four-game suspension. He gives the Cardinals another option, with the possibility of Brinkley or Dansby moving outside.
It's a challenge Dansby welcomes.
"The future's bright," Dansby joked. "I know I'm up for the challenge. I had done it before, so if that's my role that's what I'll have to play. I'm able to do it. It ain't like it's new to me, so I'd be cool."
But Dansby, who was wondering who'll move over, hasn't been asked yet.
"It's such a different transition to play outside backer versus inside backer," Arians said. "I like the four guys we have right now. It's not the end of the world."
Arians would know. Last year, as the interim coach of the
Indianapolis Colts
, Arians watched two running backs go down on the same play. Not just in the same game, but on the same play. So three linebackers in one game? No problem for Arians.
But he didn't try to rally the troops with the story of last season. No one wants to hear that, he said.
"You've got to be able to adjust in this league," Arians said. "It's going to throw you curveballs all the time. You got to be able to hit the curveball."
September, 26, 2013
9/26/13
10:25
AM ET
With the addition of Zack "Sack" Nash to the practice squad, the Cardinals capped a whirlwind week of additions and subtractions to and from their 53-man roster.
It started Monday, when Arizona placed OLBs
Lorenzo Alexander
(Lisfranc) and
Sam Acho
(fibula) on injured reserve, and promoted OLB
Dontay Moch
from the practice squad.
On Tuesday, the Cardinals signed LB
Vic So'oto
to the 53-man and added LB Bruce Taylor to the practice squad.
Then came Wednesday, when the Cardinals relegated LB
Alex Okafor
(biceps) to injured reserve and promoted LB
Kenny Demens
from the practice squad.
The flurry of signings came to a close Thursday morning, when Nash was re-signed to the Cardinals' practice squad. That gave Arizona eight practice squad players and 53 active-roster men.
Chances are the Cardinals aren't done wheeling and dealing just yet. This was all mostly a stopgap until
Daryl Washington
returns Monday, and Arizona's braintrust will determine what spots need to be filled and by whom. If Moch can hold his own against the Bucs, he could stay up. But don't expect this bunch to be the linebackers for the next 13 games.
Breaking down the linebackers:
53-man roster
ILB
Jasper Brinkley
ILB
Karlos Dansby
ILB Kenny Demens
LB Vic So'oto
OLB
John Abraham
OLB Dontay Moch
OLB
Matt Shaughnessy
Practice squad
ILB Bruce Taylor
OLB
Zack Nash
OLB Kenny Rowe
Injured reserve
OLB Sam Acho
OLB Lorenzo Alexander
OLB Alex Okafor
Injured
ILB
Kevin Minter
September, 25, 2013
9/25/13
8:00
AM ET
SARASOTA, Fla. -- Handling a loss is part of the game. And waiting on a star to return from an injury also comes with the territory.
Having to rebuild an entire position because of injuries, well, that might have been coach Bruce Arians' "Welcome to the NFL" moment. And how he responds could spell out the rest of the season for the
Arizona Cardinals
.
A depth chart is built with this type of situation in mind. Both of Arizona's starting outside linebackers,
Lorenzo Alexander
(Lisfranc) and
Sam Acho
(fibula), left Sunday's 31-7 loss to the
New Orleans Saints
with season-ending injuries. It was a blow to the defense, but it's not the end of the world. Enter the backups. Rookie
Alex Okafor
filled in for Acho, but saw only five plays. Which, Arians said on national radio Tuesday night, was all he needed to tear a biceps tendon.
Okafor is out for the season, too.
Enter … well, nobody.
Teams aren't built to back up the backup. Anyone who posits otherwise simply doesn't understand the dynamics of football. With a 53-man roster, 22 spots are slotted for starters. Give each one a backup and that's 44 players, with nine openings left for special teams and specialists.
[+] Enlarge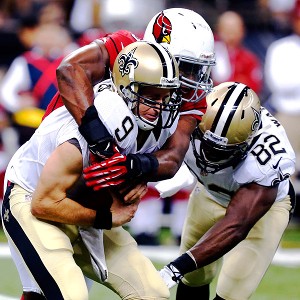 AP Photo/Bill HaberSam Acho recorded a sack of Saints QB Drew Brees before leaving with a broken fibula.
The only two outside linebackers to survive Sunday were
John Abraham
and
Matt Shaughnessy
, both of whom tend to play as outside rushers off the line, or, in Shaughnessy's case, sometimes in the middle of the line.
Losing three of a unit's five players, no matter what team it is, can bring panic. But the Cardinals have reacted swiftly, trying to piece together a competitive outside-linebacking unit.
They filled out the roster with a couple of internal promotions,
Dontay Moch
and rookie Kenny Demens, from the practice squad (the latter move according to Arians) and signed
Vic So'oto
to the active roster. It's a solid start to a process that may last the rest of the season. The outside linebackers could be liability until at least two of the injured players return next year.
Arians likes Moch's speed, which can help this defense improve its pass rush. Arizona has recorded just one sack off the edge this season, by Acho, against the Saints.
The Cardinals have three primary options at this point: Stay with the new outside linebackers, revamp the entire unit -- inside and out -- when
Daryl Washington
returns Monday or change the defense, putting more men at the line of scrimmage and keeping the inside guys at their natural position.
If Arizona stays in a 3-4 with its current players, there's a good chance the outside backers will be rotated throughout the season because of general manager Steve Keim's penchant to comb the waiver wire. If Moch produces, he can earn himself a consistent starting job because of how Arians operates. Arians works with who's in front of him, and if Moch can prove he's worthy of staying on the field, Arians will leave him there.
But if the Cardinals decide to revamp the entire unit, the new faces on the roster may be relegated to the sideline. There'd be a learning curve, however. With Washington returning, Arians and defensive coordinator Todd Bowles could play him,
Karlos Dansby
and
Jasper Brinkley
together. Herein lies the problem. All three are inside backers -- and so is rookie
Kevin Minter
, who's out with a hamstring injury and isn't expected back for a few weeks. If one is willing to convert to outside and the Cardinals want to keep their 3-4 scheme, they could move Moch or another addition to the outside until Minter returns.
If Arizona decides to change schemes, it could keep Washington, Dansby and Brinkley as the linebackers, although two would have to learn outside-LB tendencies. Then the Cardinals could bring Abraham off the edge more often, especially against pass-happy offenses -- of which the NFC West is full. According to Pro Football Focus, Abraham led Arizona with five quarterback hurries on 29 pass rushes.
There's a lot to be decided in the next couple weeks, although most of the major decisions that would affect the rest of the season won't likely happen until Washington returns.
This is the equivalent of a vacation gone wrong but you can't leave. The weather is bad. Nothing seems to go right. But the Cardinals are just trying to get through this week, miles away from home, and salvage their trip by getting back to .500.
September, 23, 2013
9/23/13
2:02
PM ET
SARASOTA, Fla. -- The
Arizona Cardinals
lost their two starting outside linebackers in Sunday's loss to the
New Orleans Saints
.
Cardinals coach Bruce Arians said Monday
Lorenzo Alexander
and
Sam Acho
will be placed on season-ending injured reserved. Alexander suffered a Lisfranc injury in his right foot and Acho broke his left fibula.
"Obviously, they're core people. Their energy will be missed as much as their play," Arians said. "They're both high-energy guys and that part of it as a football team will be hard to replace but somebody is going to have an opportunity to step up and do it."
Who, though, is the question of the day. Arians said the Cardinals will begin addressing the roster voids left by Acho and Alexander later this week.
One option is
Alex Okafor
, replaced Acho, and played five snaps. Okafor, a rookie from Texas, saw his first action of the season this weekend because fellow rookie
Kevin Minter
was out with a hamstring injury.
"[He] did fairly well," Arians said. "[The Saints] did take a long run around his end when he was misaligned one time. But with a full week's practice, I think he should be fine."
Behind Alexander on the depth chart is
Matt Shaughnessy
, who's often a down lineman, and
John Abraham
, a pass-rush specialist. Options are limited for a three-down linebacker.
The Cardinals have an internal option besides Shaughnessy and Abraham. Dontay Moch is an outside linebacker on the practice squad and has caught Arians' attention.
"He's one of the guys we'll consider strongly," Arians said. "He's done a nice job since he's been on the practice squad."
Another potential stopgap could be practice squad linebacker Kenny Rowe, who played defensive end at the University of Oregon.
August, 25, 2013
8/25/13
8:38
AM ET
Rookie guard
Jonathan Cooper
's athleticism was on display Saturday night when the first-round draft choice pulled around the
Arizona Cardinals
' formation to deliver a block downfield with about 10 minutes remaining in the third quarter of an exhibition game against San Diego.
Unfortunately for Cooper, his quickness on this play would cost him. He was nine yards downfield and even with running back
Alfonso Smith
when
Frank Beltre
, an undrafted rookie free agent linebacker for the Chargers, tackled Smith and rolled onto Cooper's left foot.
Cooper's foot caught in the grass just long enough for it to roll inside-out in one quick, damaging movement. Cooper suffered a broken left leg, coach Bruce Arians told reporters after the game. He might miss the 2013 regular season, although Arians was not sure that would be the case.
The Cardinals drafted Cooper seventh overall to lead their offensive line for years to come. They had exceedingly high expectations for Cooper on draft day. They raised those expectations after seeing Cooper practice with the team. Now, they might have to wait a year before Cooper begins to make the desired impact. It's a brutal blow for Arizona.
"He has a unique skill set, maybe one of the more athletic offensive linemen I've [scouted] in the 15 years I've been in the business," Cardinals general manager Steve Keim said on draft day. "He has tremendous feet, bend, athleticism, space skills, and the ability to pull and play on the perimeter."
The Cardinals had neglected their line for years, at great cost to their quarterbacks, running backs and to the organization overall. Cooper was the first offensive lineman the team had drafted in the first three rounds since 2007, when Arizona selected
Levi Brown
fifth overall. Tennessee was the only other team to similarly neglect its line in the draft over that five-year span.
Arizona has a couple options with Cooper if the team determines he might be able to return this season. The team could leave Cooper on its active roster, or the team could place him on injured reserve with a designation for return. Teams can use the IR-DFR designation for one player each season. That player can return to practice six weeks after being placed on the IR-DFR list. The player is eligible to play in a game two weeks after that.
The Cardinals do have better depth on their line this season. Current right guard
Daryn Colledge
played left guard before Cooper's arrival.
Bobby Massie
, who played right tackle before the team signed
Eric Winston
, could project to guard.
Paul Fanaika
is another option.
But as the Cardinals prepared for a 2013 season within a rugged NFC West, they envisioned Cooper helping them meet the physical demands up front.
"Our division is so physical," Arians said on draft day, "and the thing that sets San Francisco, Seattle, and now St. Louis also, apart is their offensive and defensive lines of scrimmage are extremely good. We have to match that physicality on both sides of the ball."
That will be much tougher to do without Cooper. Arizona opens the regular season at St. Louis against a Rams team that tied for the NFL lead in sacks last season.
Cooper wasn't the only high-profile casualty for Arizona during its 24-7 defeat to the Chargers.
Rob Housler
,
Dan Williams
,
Rashard Mendenhall
,
Andre Roberts
,
Matt Shaughnessy
and
D.C. Jefferson
also suffered injuries of unknown severity.
This felt like a night with long-term negative repercussions for Arizona.