Arizona Cardinals:

Peyton Manning
May, 1, 2014
May 1
8:00
AM ET
There are few secrets about Bruce Arians as a coach.
He likes to throw long and deep, and he likes to put up a lot of points. And here's another thing we know about Arians: He's had some great quarterbacks.
With the draft less than a week away and speculation increasing that the
Arizona Cardinals
will take a quarterback with one of their six picks, what kind of quarterback Arians favors has become a hot topic.
Here is what we know: Arians has had a lot of success with taller quarterbacks who don't run much. Just look at
Peyton Manning
,
Ben Roethlisberger
and
Andrew Luck
. They can run, but don't in Arians' system. And most every quarterback that fits those dimensions has succeeded in his scheme.
Here's a look at the past six quarterbacks Arians has coached and the top 10 quarterback prospects in this year's draft, according to ESPN:
January, 16, 2014
Jan 16
10:00
AM ET
TEMPE, Ariz. -- I spent six years total in the state of Indiana -- four at Indiana University for undergrad, one writing for a newspaper in Northwest Indiana and another in Indianapolis for grad school -- all during
Peyton Manning
's tenure with the Colts.
I saw first-hand how a city fell in love with its quarterback and showed him the utmost respect. Manning and the Colts parted ways while I was in grad school. It's a scene I'll never forget. I was at an internship and the news conference announcing Manning's departure went on in every TV in the building. People stopped what they were doing, put down their work, paused meetings, all to watch Manning say goodbye. The entire city of Indianapolis was on hold. People cried.
So, it doesn't surprise me that he's the most respected player in the NFL. In a survey of the
Arizona Cardinals
locker room, six of 10 players said Manning was their most respected player. His work ethic is second to none around the league and his intensity is tough to rival. And when a player can command an offense, a locker room, a team, a city or a state the way Manning has, it's hard to argue with the title of Most Respected.
January, 16, 2014
Jan 16
10:00
AM ET
TEMPE, Ariz. -- Imagine if we're talking about the
Arizona Cardinals
starting their team with
Peyton Manning
?
It nearly happened. He was courted by the Cardinals in 2012 and the trajectory of the franchise could've been changed forever had Manning opted for the desert instead of the ski slopes of Denver.
Four of 10 Cardinals surveyed said they would start a team with Manning.
Had Manning signed with the Cardinals, they would've been able to start from scratch, rebuilding the team around one of the best quarterbacks of all time. Do you blame players -- or any franchise, for that matter -- for wanting to start a team with Manning? He sets the tone from the top down and players who don't fall in line with him are either quickly corrected or sent packing. There are other quarterbacks who have won more Super Bowls but none can change a franchise like Manning.
November, 29, 2013
11/29/13
12:00
PM ET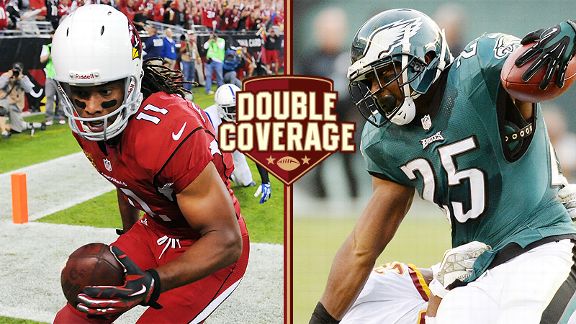 Getty ImagesLarry Fitzgerald and LeSean McCoy will look to keep their teams streaking on Sunday.
Bruce Arians and Chip Kelly come at their news jobs from very different places.
Kelly was the hot college head coach of the moment, hired by Eagles owner Jeffrey Lurie to replace the institution that was Andy Reid. Arians was a college head coach, too, at Temple back in the 1980s. He got his job with the
Arizona Cardinals
, though, based upon years as an often-overlooked NFL assistant.
And now here they are. Arians' Cardinals are 7-4 with a four-game winning streak, while Kelly's Eagles are 6-5 after a three-game winning streak. Their teams meet at Lincoln Financial Field Sunday in a game with major NFC playoff implications.
ESPN.com reporters Josh Weinfuss, who covers the Cardinals, and Phil Sheridan, who covers the Eagles, take a closer look at the matchup.
Phil Sheridan:
Bruce Arians is best known in Philadelphia as one of the rare coaches to survive a stint at Temple University. Nationally, he's known for winning the Coach of the Year Award after filling in for Chuck Pagano last year in Indianapolis. How has he conducted business and how much of this four-game winning streak results from that?
Josh Weinfuss:
I think all of it. Arians is the ultimate players coach and from everything I've heard about him from former players and current Cardinals who were with him in other places, he hasn't changed a bit. He'll tell the players like it is and if they can't handle it, they have to figure out a way to deal with it. He's not big on the sugarcoating, and the players appreciate it. As a head coach, he's taken a little bit from each of the coaches he worked for and put it into play in Arizona. He's learned how to delegate and put together a staff that complements him very well. On top of it all, he's an offensive genius who stayed patient with this team while they learned his scheme, and it's paying off.
On the topic of schemes, is Kelly's high-octane offense here to stay or will he need to adapt as the season progresses?
Sheridan:
Probably a little of both. Kelly already has adjusted to some degree. The foundation of his approach seems to be figuring out how a defense is designed to stop his offense and then exploiting whatever weaknesses and mismatches created by that design. When teams played man coverage and pressed to eliminate his bubble screens, Kelly shrugged and started throwing deep. When the Giants and Cowboys found a weakness in his run-blocking scheme, Kelly adjusted and got
LeSean McCoy
back on track. Kelly seems to enjoy the cat-and-mouse game with opposing coaches. That said, the foundations of what he does -- creating mismatches and exploiting weaknesses -- are as old as football. He just has some intriguing ways of getting there.
While we're on that side of the ball, how has Todd Bowles been able to win the hearts and minds of a defense that thrived under former coordinator Ray Horton? And how important is having
Karlos Dansby
back in the fold?
Weinfuss:
Bowles made one minor change up front and he's been the glimmer in the defensive line's eyes ever since. He went from a multi-gap system to a one-gap scheme, which has taken out the thinking from football. Now, the Cardinals front line can just rear back and go, and the changes are obvious.
Darnell Dockett
is having his best season in a while,
Calais Campbell
has emerged as one of the toughest defensive ends in the league and nose tackle
Dan Williams
has plugged the holes in the middle, forcing plays out to the edges -- and right into the hands of guys like
John Abraham
,
Matt Shaughnessy
,
Daryl Washington
and, of course, Dansby. He's playing at the lowest weight of his career and he's been able to fly around, going from sideline to sideline with relative ease for a guy who's been in this league for 10 years. While everything for the Cardinals' defense starts up front, each level has been benefiting from the line's presence.
Let's stay on defense. The Eagles have the worst pass defense in the league. How can they muster enough plays to slow the Cardinals' recently high-flying passing game under
Carson Palmer
?
Sheridan:
Josh, that could be the question that determines the outcome of this game. The only answer I have is that, somehow, that's just what the Eagles' defense has been doing in the seven games since
Peyton Manning
hung 52 points on them. They give up a lot of yards, but they haven't given up more than 21 points in a game since then. They've been good in the red zone and have started generating pressure and, in turn, turnovers. Palmer provides a very good measuring stick. The Eagles have thrived against the
Mike Glennon
s and
Scott Tolzien
s of the world, although in fairness they played well against
Eli Manning
and
Tony Romo
, too. But Palmer and that
Larry Fitzgerald
fellow definitely represent the kind of test the Eagles must pass before being considered a good defense.
Speaking of Palmer, the NFC Offensive Player of the Week, there seems to be a Kurt Warner vibe at work here -- veteran guy getting one more shot to prove he still has it. Warner did -- does Palmer? What's the ceiling on the offense with him at the helm?
Weinfuss:
All the evidence from the past four games points to yes -- Palmer does have a Warner-esque resurgence in him, but that's only because the Cardinals' offense is finally working. If it was still struggling, we'd be talking about Palmer being replaced either now or after the season. Crazy how that works. Palmer is the perfect quarterback for a Bruce Arians scheme. He has a big arm and can make throws on a dime. And those two things will carry this offense as far as it can until Palmer makes bad decisions. Even though the bad decisions have been cut down during the Cards' four-game winning streak, it would be na´ve of anybody to think they're totally done with. Arizona is just getting lucky. Twice against the Colts, Palmer had probable interceptions dropped, and against Jacksonville two weeks ago, a well-timed timeout by Arians saved Palmer from a potentially costly interception. If Palmer can take chances without making ill-advised throws, the ceiling is quite high, especially with the depth at receiver, tight end and running back.
A lot of University of Arizona fans out this way are loving the fact that
Nick Foles
is starting and playing well. Is he Mr. Right for the Eagles in Kelly's offense or Mr. Right Now?
Sheridan:
That's the question that will haunt the Eagles through the offseason. Foles has had some of the luck you described Palmer having. That seven-touchdown game against Oakland was partly the product of some of the worst defensive football I've ever seen (and I watched
Nnamdi Asomugha
jog through two years here). But Foles is smart, he's accurate and you can see him gaining confidence and comfort with every game. Clearly, he is not the quarterback Chip Kelly would order from the factory. But as he continues having success and winning games, you have to wonder how far Kelly is willing to tailor his offense to Foles for the long haul. It's the decision that will define the Kelly era, at least for the next few years. My gut says Foles is a good NFL quarterback, but Kelly will make a move to find his guy at the earliest possible convenience. If Foles keeps this up, though, my gut might be proven wrong.
October, 19, 2013
10/19/13
9:00
AM ET
TEMPE, Ariz. -- All it took for Bruce Arians to know what kind of quarterback the
Indianapolis Colts
had just drafted was
Peyton Manning
walking through the door in Indianapolis.
Manning
It was 1998, and Manning was entering the NFL as the first overall pick. Awaiting him in America's heartland was a first-year quarterbacks coach who had a penchant for details and an imagination for the long ball. But Manning wasn't the typical rookie. He wasn't a blank canvas like many of his peers. His reputation as a studious signal-caller preceded him. He entered the league ready to learn the NFL way, ready for Arians to mold him into one of the greatest quarterbacks of this era.
"I always called Peyton 'The Piranha,'" Arians said. "I mean, you couldn't feed him enough information. The hardest guy I ever coached was Peyton because if you had a two-hour meeting, you better have two-and-a-half hours worth of stuff ready, because he was going to eat it up and spit it out.
"Andrew has that same capability. You tell him once and he's got it. It's scary. They both have unbelievable recall."
Andrew as in Luck, the Colts' second-year quarterback, who has the unenviable task of filling Manning's shoes in the Circle City.
Like Manning, Luck entered the NFL as the first overall pick. And awaiting him in Indianapolis was Arians, 14 years after he welcomed Manning to the league. It's rare for a coach to get to tutor one franchise quarterback -- as Arians is learning in Arizona -- but he's mentored two at their most impressionable times, their rookie seasons.
When Arians turns on Sunday night's Colts-Broncos game, the flashbacks will be coming fast and often, like a Manning audible, and they won't relent. It'll be a three-hour walk down two memory lanes that look an awful lot alike.
"For me, it's very gratifying because I had both at the same time, their first years," Arians said. "As a coach, you always want to say I might have had a fingerprint on this guy, and you hope that you did.
"I have a very close relationship with all my players, especially quarterbacks. Peyton and I are still close, still to this day, and Andrew, I love to death. I'm very, very proud that maybe I had an impact on them as young players."
Bill Polian's tenure as Colts president coincided with Manning's and Arians' arrival in Indy, giving Polian a front-row seat to the budding relationship between quarterback and his coach.
[+] Enlarge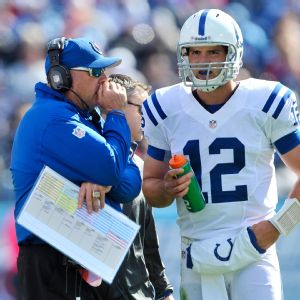 Jim Brown/USA TODAY SportsBruce Arians said he feels spoiled to have mentored two franchise quarterbacks during their rookie seasons, but he also doesn't envy Andrew Luck's situation in Sunday's showdown with Peyton Manning.
"He did a great job breaking Peyton into the National Football League, teaching him what to expect in terms of defenses and in terms of tendencies," Polian said of Arians. "[He taught Peyton] how to watch tape, how to begin to formulate a game plan. He taught Peyton how to have input into the game plan. Enunciate what was appropriate. Enunciate his preference.
"It was a very strong mentoring relationship."
Polian was fired after the 2011 season, Manning's last year in Colts blue, so he wasn't able to watch Arians' relationship with Luck unfold. It's safe to guess, however, that it wasn't so different from Arians-Manning.
After spending a year with Luck, Arians has the perspective to compare the two after their rookie seasons.
There was the obvious, such as Luck's athleticism. And the detailed, such as how both quarterbacks pump-fake.
"They're so different athletically but mentally they're the same guy," Arians said. "Of course [with] Andrew, Peyton's one of his idols so he has a lot of his mannerisms, having gone to the Manning Passing Academy.
"He has pump-fakes and he does things that Peyton does, but his athletic ability supersedes anyone I've ever coached, even [
Pittsburgh Steelers
quarterback] Ben [Roethlisberger]. I think Ben is a phenomenal athlete for his size, but Andrew doesn't get the credit for the athlete that he is."
Manning's return to Indianapolis is being billed as the celebration of a hero, a man who is widely credited in Indiana for helping football surge on the youth and high school levels, challenging basketball as the sport of choice.
Arians doesn't think the extra attention will be a distraction for Manning, even if, as Arians joked, Colts owner Jim Irsay unveils a statue of No. 18. But as proud of Manning as Arians is, he feels bad for his other pupil in blue.
"I think Andrew is the guy being put in a tough spot because it's his home team, it's his home game," Arians said. "And he's taking a back seat to somebody, and you never want to do that to your quarterback."
On Sunday, while Arians is enjoying a rare weekend off after the Cardinals played Thursday night, he'll take in a rarer event. Two former students whose careers have Arians' fingerprints and influence on them will be squaring off.
There's no question he made Manning and Luck better, but how did the two reciprocate?
"Spoiled the hell out of me," Arians said with a laugh. "It was fun. It was great."
August, 30, 2013
8/30/13
11:40
AM ET
Six projected starting quarterbacks played in their teams' final exhibition games of the 2013 preseason. The
Seattle Seahawks
'
Russell Wilson
and the
San Francisco 49ers
'
Colin Kaepernick
were two of them, and both led touchdown drives before exiting after one series. None of the NFL's projected starters got hurt Thursday night.
The chart shows week-by-week snap counts for quarterbacks I singled out as projected starters heading into preseason. NFC West alums
Kevin Kolb
and
Matt Flynn
might not start after all, but I've left them in the chart for context.
St. Louis Rams
coach Jeff Fisher has generally played starters in the final preseason game. He did not this time.
"Typically I have, but I guess in the new world that we're in, it's hard to," Fisher told reporters after the Rams' game against Baltimore. "What that implies is that I'm pleased with where they are right now, those guys that sat. They worked hard. We got a great workout and it allowed them to fast-forward their minds to Arizona."
Fisher could have been alluding to the run of higher-profile injuries around the league this summer. Last year, the Rams lost rookie defensive tackle
Michael Brockers
to a high-ankle sprain in the final preseason game.
The Rams emerged from this preseason healthier than their division rivals. That did not stop the 49ers from playing their offensive starters or the Seahawks from playing starters on both sides of the ball Thursday night. The
Arizona Cardinals
rested most of their starters, though
Michael Floyd
was one notable exception.
San Francisco coach
Jim Harbaugh
offered no explanation for playing his starting offense one series. Kaepernick hadn't gotten many snaps through the first three games, however. Getting additional reps for Kaepernick and the team's group of emerging receivers made some sense on the surface.
Seahawks coach Pete Carroll went into the final preseason game saying he wanted starters to play because the team values this games as competitive opportunities.