Arizona Cardinals:

Tillman 10 years later
April, 22, 2014
Apr 22
6:30
PM ET
The phone rang early in the morning on April 22, 2004.

Cardinals president Michael Bidwill remembers the exact place in his house he was standing when the news traveled through his phone: One of the Tillman brothers had been killed in Afghanistan.

"My heart sunk," Bidwill said. "It was like a kick to the gut."

There are only a few days in our lives that we can remember as vividly. For America, one was Sept. 11, 2001.

For those who knew Pat Tillman, April 22, 2004 was another.

Jeremy Staat's NFL career was over by 2004 but he was trying his hand in the Arena Football League with the Los Angeles Avengers. About 6:30 a.m. on Thursday, April 22nd, he was walking out of the training room at West Los Angeles Community College after being treated for a torn MCL when he picked up his cell phone and saw 13 missed calls.

"I'm like, 'Who in the hell is trying to call me at 6:30 in the morning?'" Staat said. "It was from the guys we played with at ASU.

"I'm like, 'Why are they calling me? What the hell? Did I do something great?'"

Then his phone rang again. It was Staat's mother. She was crying hysterically. Her next words are seared in Staat's memory: "He's dead," she said between tears. Staat was confused. "Patty," she said. "He's gone. He's dead."

"I said, 'What the hell are you talking about?'" Staat remembered, his voice speeding up, "Pat's not dead."

Tillman was in fact dead, killed in a friendly-fire accident on a mountain range in Afghanistan. Staat lost it at first but tried to practice through it, using football as an outlet to occupy his mind while his emotions stewed.

Football could only mask Staat's feelings for so long.

"Finally, about halfway through practice I just took my helmet and shoulder pads off and threw them and packed up my locker and said I'm out of here and took off," Staat said. "Then I just kinda started dealing with that."

He tried to play the following week but decided that was it. Staat was done with football.

For Doug Tammaro, Arizona State's assistant sports information director, he couldn't just walk away from work.

He and Tillman had become closer in the six months leading up to Tillman's death. On the night of April 21, 2004, he heard from a local reporter that Tillman may had been killed. Ten years ago, information wasn't as readily available on the internet as it is now, so Tammaro was went to sleep with his thoughts, waiting for the news to be confirmed or denied.

The next morning, no later than 8 a.m., he was feeding his then eight-month-old daughter when former Arizona State athletic trainer Perry Edinger called with the news. It was true. Tillman was dead.

Tammaro had to go to work, but he couldn't have ever prepared for what awaited him that day.

"I just remember you're trying to get people to talk about him and everybody was afraid to talk about him because what would the family think or what would this person think?" Tammaro recalled. "And what do you say?"

It was the one day in his career where Tammaro felt compelled to be the one talking instead of coaches or players.

"We needed the right things to be said," he said. "His legacy was starting that day.

"That was the worst day I've ever had on the job and hopefully it'll never be topped."
April, 22, 2014
Apr 22
4:18
PM ET
There was a sense that something was happening.
At Pat Tillman's wedding in May 2002, his agent, Frank Bauer, asked Tillman's former Arizona State teammate and close friend Jeremy Staat why Tillman still hadn't signed the $3.6 million offer from the
Arizona Cardinals
. Staat didn't know, but Bauer wanted him to find out.

Tillman
"I said, 'Hey man, what's going on with this contract? What's going to go on? Are you going to sign this thing? Frank's starting to get worried about you,'" Staat remembered. "And he just said, 'You know, let's not worry about that right now. It's my wedding. I don't want to talk business. I want to spend time with my family and [wife] Marie,' and I said, 'OK.'
"He just said, 'I have some things working right now.' And I just said, 'Whatever.' I got him a Guinness and I got my Bud Light and off we went."
What no one knew was that Tillman had already decided to enlist in the Army.
According to an excerpt from Marie Tillman's book "The Letter," Pat had decided to enlist before their nuptials but didn't tell his family until after their honeymoon, weeks before he was to leave for basic training. Tillman was able to keep his decision to quit football and join the Army under wraps by telling people his way.
Tillman informed the Arizona Cardinals and team president Michael Bidwill he was leaving on the same day, Bidwill said. Tillman asked that they announce it, because he didn't want to address the media.
When it was time to tell former ASU athletic trainer Perry Edinger, who is also a co-founder of Pat's Run, Tillman walked into Edinger's office and said he wanted to go to lunch.
Edinger was busy that day and tried to reschedule.
"Let's go to lunch," Tillman insisted.
"I said, 'OK, let's go to lunch,'" Edinger recalled.
"You embraced it because he embraced it," Edinger said.
Staat didn't hear from Tillman, but he called him soon after finding out.
"[I] said, 'Hey man, you stole my idea,' and he said, 'Naw, it's been something I've been thinking about and wanting to do,'" Staat said. "He had just received his retirement [pension eligibility] and he said it's either now or never. He had every intention of coming back to the NFL and playing. I think it would've been a great comeback had he come back."
Arizona State assistant athletic director Doug Tammaro was in his office when former Cardinals media relations director Paul Jensen called and asked for Tammaro and ASU's head of media relations, Mark Brand, to get on the call together.
"He said, 'Your boy Tilly ... not coming back,'" Tammaro remembered.
"Where's he going?" they responded.
"The Army," Jensen answered.
"I just remember going, 'It makes sense,'" Tammaro said.
April, 22, 2014
Apr 22
9:45
AM ET
Pat Tillman
didn't let others dictate his path. No matter how much longer it took or harder it was, he had to do it his way.
After undergoing shoulder surgery after his freshman season, Tillman had orders from former Arizona State athletic trainer Perry Edinger to wear a sling for six weeks as he went through rehab. Two days after surgery, Edinger saw Tillman in the hallway -- sans sling.
[+] Enlarge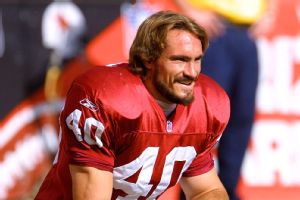 Gene Lower/Getty ImagesPat Tillman didn't always follow the instructions of his trainer.
"I was like, 'Knucklehead, what's the deal?' " Edinger recalled.
Tillman, in his 18-year-old wisdom, told Edinger he "felt good," and he never showed up for rehab. Midway through spring practice in 1995, Edinger noticed Tillman was tackling with only one shoulder. It didn't take long for Edinger to convince Tillman to start the proper rehabilitation. A Pac-10 player of the year honor and an All-American nod later, Tillman's career turned out all right.
But his stubbornness didn't end in college.
During offseasons in the NFL, Tillman would get bored with the Cardinals' training program. One year, he decided to run the Avenue of the Giants marathon, and solicited Edinger's help. At first, Edinger tried to talk Tillman out of it. Training to run for four hours wasn't compatible with training to be an NFL player, Edinger explained, to no avail. With or without Edinger's help, Tillman said, he was going to finish 26.2 miles.
Finally, Edinger gave in. But he laid down ground rules: Tillman had to follow his training plan to the letter leading up to the race and for two weeks after.
Sure, Tillman said. Sure.
Tillman beat his goal of a sub-4-hour marathon by eight minutes. A few days later, against Edinger's plan, he went to the Cardinals' practice facility for workouts and strained his calf. He went back to Edinger's office that week and admitted he made a mistake. Edinger helped him rehab, but made it four weeks instead of two, just to prove a point.
"Just to show his happy ass that I was right," Edinger said, laughing.
And while Tillman had to figure what worked and didn't on his own, he always respected authority. He may have challenged it, but he respected it. And that came from his parents -- Pat Sr. was a lawyer and Mary was a teacher.
Edinger couldn't help but laugh at some of Tillman's antics, but he was amazed at how well Tillman could switch gears from college kid to young adult.
"It ended up being so natural for him," Edinger said. "It was just who he was. There was nothing fake about it. When he was with his buddies there was no stopping him. When he was out, it was like his dad was in his ear.
"If you ever had a chance to meet his dad or be around his dad, when [Pat] was in a public situation, he was his dad."
April, 22, 2014
Apr 22
9:00
AM ET
During the final few months of 2003 and beginning of 2004, Arizona State assistant sports information director Doug Tammaro and
Pat Tillman
exchanged phone calls once or twice a month.
During one conversation, Tammaro told Tillman the Sun Devils' men's basketball team was playing at the University of Washington on Jan. 31, 2004, and asked if he wanted to meet for dinner. Tammaro even offered to drive to Tacoma, Wash., where Tillman was based before returning to the Middle East for his second tour as a member of the U.S. Army. But Tillman preferred heading to Seattle, just a 30-minute drive away.

Tillman
Tillman, his wife, Marie, and brother, Kevin, met Tammaro and Sean Moore, who used to work at ASU, for a dinner at Flying Fish in Seattle. The evening now ranks as a seminal moment in Tammaro's life.
Before the hours of conversation began, however, Tillman needed to get in the restaurant. He couldn't figure out which of the full-length windows was the door and made his way to nearly all of them before finding the entrance.
"I'm like, 'Glad to see national security is in good hands with a guy who can't open a door,'" Tammaro said with a laugh. "And he's like, 'F--- you!' You know, he's loud. We talked all night."
In typical Tillman fashion, he didn't want to talk about himself. Instead, he went through the entire ASU athletic staff and asked how everyone was doing. Tammaro asked about the war but all Tillman said was Baghdad was beautiful.
At one point, Tammaro asked Tillman to shoot a video for Arizona State's freshman orientation. Tammaro said he'd even get the Army to film it. Tillman declined.
After he got out of the Army, Tillman told Tammaro, he'd do whatever Arizona State wanted. The ideas flooded Tammaro. Graduation speaker. Freshman orientation speaker. You name it.
Steaks and fish turned into coffee and dessert. Four hours later they all hugged goodbye.
It was the last time Tammaro saw Tillman, who was killed on April 22, 2004. If that dinner was 10 years later, the world of social media would've taken away the sanctity of the moment, Tammaro said. For a few hours it was just the four of them enjoying each other's company.
Tammaro kept the receipt from that night. It's a memento he cherishes.
"People always say, who (would) you want to have dinner with?" Tammaro said. "Well, I kinda did it. I had dinner with Pat Tillman two months before he passed."