Arizona Cardinals:

Todd Bowles
January, 8, 2014
Jan 8
11:00
AM ET
TEMPE, Ariz. -- As Cardinals defensive coordinator
Todd Bowles
continues to interview to be a head coach around the league, the possibility that he leaves for another job is becoming a distinct possibility.
If Bowles becomes a head coach, Arizona will be searching for its third defensive coordinator in as many years. A source close to the Cardinals said head coach Bruce Arians wants to stay with a 3-4 defense next season, which will limit his choices for Bowles' potential successor. Fifteen teams ran a version of the 3-4 as their base defense, but due to coaches under contract, Arians' choices may be restricted.
Here is a look at two potential replacements for Bowles:
Wade Phillips
Age:
66
Most recent job:
Houston Texans
defensive coordinator/interim coach
Last 15 years:
Texans DC/interim coach (2011-13),
Dallas Cowboys
head coach (2007-10),
San Diego Chargers
DC (2004-06),
Atlanta Falcons
DC/interim HC (2002-03),
Buffalo Bills
head coach (1998-00).

W. Phillips
Why he'd be a good hire:
Phillips runs a single-gap, 3-4 defense that Arizona flourished in this past season, so his transition to the Cardinals would be seamless and would allow them to continue their growth from 2013. Even as the Texans kept sinking this year, the defense stayed afloat as the top-ranked unit in the league for most of the season. It finished seventh, one spot below the Cardinals. But if the rankings show anything, it's that Phillips knows how to adapt. The Texans were ranked 16th in passing yards allowed in 2012 and finished third this past season. And he knows how to handle big names, having worked with
J.J. Watt
the past few years.
Jim Haslett
Age:
58
Most recent job:
Washington Redskins
defensive coordinator
Last 15 years:
Washington DC (2010-present), Florida Tuskers head coach (UFL, 2009),
St. Louis Rams
DC and interim head coach (2006-08),
New Orleans Saints
head coach (2000-05),
Pittsburgh Steelers
defensive coordinator (1997-99).
Why he'd be a good hire:
He's not technically on the market yet, having been retained by the Redskins after they fired Mike Shanahan, but that doesn't mean the next head coach in the Beltway will keep Haslett. One thing stands out after reviewing his career as a head coach and defensive coordinator: His defenses allow a lot of yards. But he'll inherit his best defense as a coach with the Cardinals. He's run a two-gap 3-4 in the past and the vets on Arizona's defensive line may be hesitant to return to the same scheme that Ray Horton ran in 2011-12. Players, however, tend to like playing for Haslett, who is known for disguising his defenses to the point they're unrecognizable. He's sent out tough run defenses in the past while his secondaries have struggled. But with the Cardinals he'll have a formidable and veteran pass rush to work his scheme.
Three other names you might hear:
Winston Moss (current Green Bay Packers asst. HC/ILB coach):
Moss has it good in Green Bay, where he's been since 2006, but if he wants to be a head coach, the natural step is to first be a coordinator. The Packers run a 3-4 and in Arizona, Moss would be inheriting a stout unit with two of the best inside linebackers in the league,
Daryl Washington
and
Karlos Dansby
.
Ray Horton (fired Cleveland Browns DC):
He's a long shot considering Arians passed him over in favor of Bowles, the Cardinals want to continue running a 3-4 and the players are familiar with him.
Bill Sheridan (fired Tampa Bay Bucs DC):
Although he ran a 4-3 in Tampa Bay this past season, Sheridan was with Bowles in Miami when the Dolphins ran a 3-4 and became a top 10 defense in 2010. Sheridan is capable of running both schemes and with a little push from Arians could run what Bowles ran.
January, 7, 2014
Jan 7
8:20
PM ET
TEMPE, Ariz. -- In his two interviews this offseason,
Arizona Cardinals
defensive coordinator
Todd Bowles
impressed the
Minnesota Vikings
and
Cleveland Browns
, according to John Wooten, chairman of the Fritz Pollard Alliance.

Bowles
Wooten said Bowles interviewed with the Browns on Friday in Cleveland and with the Vikings on Sunday in Arizona. In Wooten's conversations with Bowles and both teams, both sides said the talks were positive, but Bowles seems to have hit it off better with the Vikings than he did with the Browns.
"Both [the Vikings and Bowles] have said to us, very poignantly, that it was a completely outstanding interview," Wooten said. "And, if you allow me to quote the Vikings, [they said] 'He simply blew us away.'"
The Browns told Wooten that Bowles was well prepared for his interviews. He presented himself "extremely well," was "strong and likeable" and "showed great leadership skills." From what both teams told Wooten, they're looking for two vastly different styles of coaches. Neither team has moved forward with second interviews.
Bowles took an already stout Cards defense and improved it in 2013. The Cardinals finished the season with the top-ranked defense against the run and sixth best overall.
Bowles had a brief experience as a head coach when he was named the
Miami Dolphins
' interim for three games in 2011, going 2-1. The coach Wooten has seen this season isn't the same one he saw when Bowles was in South Florida. And that could help the 50-year-old Bowles land a head job, Wooten said.
"I think he has a great chance of getting a job this year," Wooten said. "I think that the last couple of years he has grown. I listen to him talk. He sounds way different than the guy who interviewed for the Miami Dolphins job two years ago.
"I think the experience this year has really, really blossomed him out. I think he's an excellent leader of men because I think he's just so open and honest."
January, 2, 2014
Jan 2
6:45
PM ET
TEMPE, Ariz. --
Arizona Cardinals
defensive coordinator
Todd Bowles
has his first interview of the offseason scheduled, according to a report by ESPN NFL Insider Adam Schefter.

Bowles
Bowles will meet with the
Cleveland Browns
to discuss their head coaching vacancy, Schefter reported Thursday. Although the
Minnesota Vikings
have requested permission to interview Bowles, a meeting has not been scheduled.
The Browns need an offensive-minded coach more than a defensive one, after their offense finished the season ranked 18th overall, tied for 27th in the run and 11th in the pass. But Bowles saw first-hand this past season the importance of a head coach trusting his assistants. Cardinals coach Bruce Arians had been an offensive assistant throughout his entire career. He hired Bowles to run the offense and was mostly hands off, letting Bowles mold the Cardinals into the sixth-best defense and top-ranked unit against the run.
Bowles replaced Ray Horton as defensive coordinator in Arizona. Cleveland's defense was ranked ninth overall under Horton, 18th against the run (Arizona was 28th facing the run under Horton last season) and eighth against the pass. Bringing Bowles on board won't be a tough transition for the Browns because Horton also runs a 3-4, as the Cardinals found out last year.
It's likely that, like this past season, Bowles will make sure his defensive coordinator runs single-gap 3-4.
Then it'll be up to Bowles to find an offensive coordinator who's in line with his philosophy.
December, 30, 2013
12/30/13
6:25
PM ET
TEMPE, Ariz. -- That didn't take long.
The
Cleveland Browns
have requested permission to interview
Arizona Cardinals
defensive coordinator Todd Bowles, according to ESPN NFL Insider Adam Schefter. The request came less than 24 hours after the
Browns fired first-year head coach Rob Chudzinski
following a 4-12 season.
Cardinals coach Bruce Arians expected Bowles to be the target for some of the teams looking for a new head coach. That number was five by Monday afternoon and could grow by the end of the week.
Bowles has experience as a head coach, albeit briefly. He was 2-1 as the
Miami Dolphins
interim head coach for the final three games of 2011.
As the Cardinals' defense improved throughout the season, Bowles' name climbed up coaching lists. He ran a 3-4 scheme as the Cardinals did in 2012, but with a few tweaks. He transformed a run defense from the 28th best unit in the league to No. 1 simply by going to a single-gap defense. Under Bowles, Arizona finished with the sixth-best defense overall and the 14th-ranked pass defense.
Per league rules, teams are required to allow coordinators to interview for head coaching jobs if teams submit a request.
Browns defensive coordinator Ray Horton, who is considered as a possible replacement for Chudzinski, held the same position with the Cardinals in 2012.
November, 29, 2013
11/29/13
9:00
PM ET
TEMPE, Ariz. -- Being the conductor of one of the league's best defense doesn't change a man.
Watching your scheme fail repeatedly does.
[+] Enlarge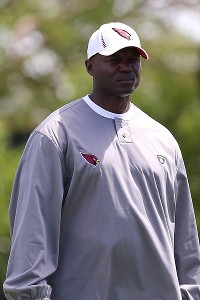 Christian Petersen/Getty ImagesThe odds were against Todd Bowles as head of Philadelphia's defense last season, but that grind has served him well in Arizona.
The coaches box at Lincoln Financial Field, where
Todd Bowles
will direct the eighth-best defense in the NFL on Sunday, is the same place Bowles learned he was a defensive coordinator. After six games last season, the
Philadelphia Eagles
promoted Bowles from secondary coach to defensive coordinator, but the results Philly hoped to see under Bowles never materialized.
While his team struggled to adjust to his scheme, Bowles matured as a coach.
"I think the growth, you saw it last year when he took over," said Cardinals inside linebackers coach Mike Caldwell, who coached with Bowles last season. "You could tell there was a difference. Now, the results weren't any different but there was a difference as far as what we were trying to take away and how we played defense.
"He just added to that. He has his philosophy that he wants to take away things and he takes them away. And he sticks with that and it's been successful for him."
Bowles never questioned the type of coach he was or if his scheme could work. Even as the frustration set in, Bowles kept his head up.
"Any time you have failure, you grind, as a coach or a player," Bowles said. "You try to be better than you were the year before and you're more determined, understanding things that went wrong and what you need to do going forward.
"I learned to just keep grinding. You're never too old to learn anything. You're never too knowledgeable not to take advice from everything else."
Caldwell compared the problems the Eagles had with Bowle's scheme to a college student preparing for a test. A student, Caldwell says, can get the foundation of any subject over the course of a few semesters. In Philadelphia, Bowles was trying to cram all that work into just one semester.
And it didn't work.
"Some guys got it and some guys didn't," said Caldwell, the Eagles' linebackers coach last season. "It takes a while for a defense to jell together and when you try to cram it together, sometimes you hit and miss, and we missed more than we hit."
But that didn't matter to Bruce Arians.
When he was putting together his staff in Arizona last January, Bowles was one of the first people he called. Arians saw the football intelligence in Bowles from the moment he met him at Temple University and it's carried over into his coaching career.
Arians, you could say, saw this coming.
"There was never a doubt in my mind he would be [successful], so it's really not satisfaction, no," Arians said. "I knew it coming in and I just hope we get to keep him –- but I'd really like to see him become a head coach."
What Bowles learned in Philadelphia is working in Arizona.
He inherited one of the best run defenses in the league, but it just needed Bowles to know it. Last year, the Cardinals were ranked 28th in stopping the rush. When Bowles came in, he eliminated the multi-gap 3-4 system that Ray Horton ran last season and installed a single-gap 3-4. The Cardinals have flourished under it, climbing to second in the NFL in rushing yards allowed with 81.3 per game.
This week, Bowles said he won't get any personal satisfaction in beating the Eagles.
That might be Bowles' public facade, but if Arizona can stop Philadelphia's ground game, one of those sly smiles and hearty laughs is bound to cross his face. Arizona will have its toughest rushing test of the season in the Eagles, who lead the NFL with 150.6 yards per game.
Safety
Yeremiah Bell
and Bowles were separated for a year, but the two didn't miss a beat when the Cardinals signed Bell in the spring. Enough of the defensive scheme was the same from their time in Miami that Bell had little trouble picking up what Bowles was trying to do with the Cardinals.
But one thing Bell noticed immediately was that Bowles is the same person. His demeanor hasn't changed. His fire is the same.
Bowles understands what it's like to be at the top of the mountain, guiding a defense that has quietly established itself as one of the best in the NFL.
He also knows what it's like to fail. For 10 games last year, he tried to rise above the chaos in Philadelphia, but no matter how hard he tried, regardless of how many tweaks he made, the Eagles continued to struggle and it all fell back on him.
"You're frustrated as a coach or a player, you try to win every game and you don't," Bowles said. "It starts snowballing. Sometimes there's no way out and we couldn't get out of our own way."
November, 27, 2013
11/27/13
8:00
AM ET
Flush the Pocket will be your daily morning dose of the
Arizona Cardinals. It'll recap the top storyline from the previous day and give you a look at what everyone is saying locally and nationally.
TEMPE, Ariz. – This should come as no surprise: Arizona's defense is considered among the best in the NFL. But SI.com's Doug Farrar went one step further, calling the Cardinals the best defense in the game.
In his
All-22 column
, Farrar dissects what makes the Cardinals' defense so good under first-year defensive coordinator Todd Bowles. Farrar does a nice job of explaining the backstory of Bowles joining the Cardinals under a cautious eye from fans because of their admiration for former defensive coordinator Ray Horton.
Then Farrar breaks down the differences between Horton's 3-4 and Bowles' version.
In other news…
Kent Somers of AZCentral.com writes about
players on one-year contracts
making an impact. Eric Adelson of Yahoo! Sports writes about
Patrick Peterson's contagious personality
in the locker room. Chase Stuart of the New York Times writes about Bruce Arians
turning around another team
. And Darren Urban of AZCardinals.com writes about what's going on
around the NFC West
.
September, 12, 2013
9/12/13
9:23
PM ET
TEMPE, Ariz. – A lot can motivate
Patrick Peterson
.
A championship. An MVP trophy. Another trip to the Pro Bowl.
Or
Calvin Johnson
.
When Peterson, the
Arizona Cardinals
' versatile cornerback, trained this offseason, all of that ran through his mind, but his focus had a tendency to shift toward Johnson, the
Detroit Lions
star who is the first marquee wide receiver on the Cardinals' 2013 schedule.
"That's all I've been thinking about," Peterson said. "I just want to go out there. I've been preparing well all week. I believe I have a good feeling of what he wants to do."
That's as much because of Peterson's diligent film study as it is for a newfound understanding of how wide receivers think. Because he is one.
[+] Enlarge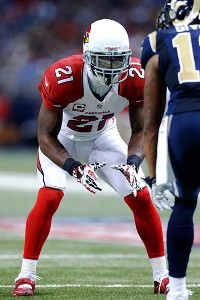 AP Photo/Mike McGinnisPatrick Peterson spent much of his offseason looking ahead to Sunday's visit from Calvin Johnson.
First-year Cardinals coach Bruce Arians installed an offensive package specifically with Peterson lined up at wide receiver that includes more than 60 plays. Peterson has not only digested them but has also started to perfect his receiver skills, in part by picking the brain of teammate and All-Pro wideout
Larry Fitzgerald
.
Peterson better understands how receivers think -- which routes they're going to run in certain splits, how they want to attack a defensive back, what they're looking for in specific coverage.
By getting in the Johnson's mind, Peterson feels he has an advantage.
Then he has to deal with the physical.
Johnson is 6-foot-5, 236 pounds. Peterson is 6-foot-1, 219.
Peterson is physically gifted, having the tools to present a threat in all three facets of the game. But even he is impressed with Johnson.
"The way he moves in and out of traffic, the way he gets off of press coverage. He's big but he moves like a little guy," Peterson said. "He has little-guy speed. He comes in and out of his breaks, which is really impressive for a tall guy that can do that.
"Just watching him on film, nothing seems to amaze me. He's always doing the unthinkable each and every Sunday, so my job is to slow that down."
He won't always be doing it alone.
There will be times when it will be Peterson versus Johnson, and Arians expects his star corner to win some of those battles. But he'll have help over the top as much as possible.
"Patrick's not going to cover him solely," defensive coordinator Todd Bowles said. "We've got to get pressure and we've got to cover and we've got to pick our spots. Everybody's tried. He's a grown man. It's a tough task for us."
Peterson clearly stated his game plan for Sunday: He wants to be physical with Johnson. Peterson approached last season's meeting with Detroit the same way, keeping his hands on Johnson whenever permitted. Johnson had 121 yards on 10 catches, but he never made it to the end zone.
"I kept him in front of me," Peterson said. "That was my whole goal, eliminating those big plays, because that's when he seems to get on, once you give up that 40-plus yard play."
Whether Peterson can do it again will set the tone for his reputation this season.
He claimed to have improved his technique during the offseason, working on being more patient on the line of scrimmage while keeping his hands high.
The higher his hands, the better chance he can knock a receiver off a route -- well, receivers who aren't 6-5, 236.
"I believe in him," fellow defensive back
Tyrann Mathieu
said. "I know our coaching staff believes in him.
"This is what he's been preparing for his whole life, to be a shutdown cornerback. I know the pressure is not too much for him."