December, 8, 2013
Dec 8
4:05
PM ET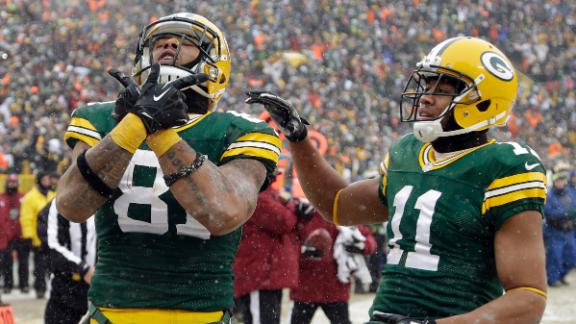 GREEN BAY, Wis. -- A few thoughts on the
Atlanta Falcons
' 22-21
loss
against the
Green Bay Packers
on Sunday at Lambeau Field.

What it means:
At least the 3-10 Falcons showed they could compete in the elements. This was their first true cold-weather game of the season after playing nine of the first 12 indoors. They jumped out to a 21-10 lead, and though the conditions contributed to a missed 52-yard field goal attempt by
Matt Bryant
, the Falcons didn't seem to be affected at all by the scattered snow, light wind and temperatures in the teens and below. The only other game the Falcons play that would be affected by weather is at San Francisco (Dec. 23), where rain sometimes is a factor.
Dropping the ball:
Rather than allow Bryant to attempt a 50-yard field goal after his miss from 52 yards, the Falcons went for a critical fourth-and-5 from the Green Bay 33 in the final minutes.
Matt Ryan
tried to find tight end
Tony Gonzalez
, but the ball was a little behind him. It allowed Packers cornerback
Jarrett Bush
to make a play on the ball, and Gonzalez couldn't come up with the catch despite having it in his hands. Gonzalez is tough on himself, so he'll probably chalk that up as a drop. When the Falcons got the ball back for a final drive,
Harry Douglas
had a crucial drop in the final seconds that might have helped set up a game-winning field goal.
Stock watch:
Linebackers for the Falcons saw their stock soar.
Sean Weatherspoon
took a ball that deflected off fellow linebacker Paul Worrilow's foot and rambled 71 yards for an interception return when most of the Packers thought the play was dead. Outside of his soccer-style assists, Worrilow once again surpassed double digits in tackles and came blitzing for a sack. He also assisted on another sack. Maybe he should get some rookie of the year consideration.
Youth movement:
The Falcons continued to groom some of their young players for the future. Rookie cornerback
Robert Alford
started ahead of
Asante Samuel
at left cornerback, and
Ryan Schraeder
didn't start but took most of the snaps at right tackle ahead of
Jeremy Trueblood
. Both had their hiccups, but that's part of the growing pains. Also, rookie
Zeke Motta
stepped in at safety after starter
Thomas DeCoud
was knocked out of the game with a head injury. Motta showed his ability to tackle, but had some problems in coverage. Not to be forgotten was wide receiver
Drew Davis
, who hauled in a 36-yard touchdown reception in the second quarter.
What's next:
The Falcons return to the comfort of the Georgia Dome for a matchup with the struggling
Washington Redskins
.
Robert Griffin III
has lost some of the luster that followed his outstanding rookie season. Still, the Falcons have to be aware of his capabilities.
December, 8, 2013
Dec 8
2:10
PM ET
GREEN BAY, Wis. -- Atlanta Falcons starting free safety Thomas DeCoud is out for the rest of Sunday's game against the Green Bay Packers after suffering a head injury.
DeCoud was injured in the first quarter while attempting to tackle Packers rookie running back Eddie Lacy. On the play, Lacy scored a 1-yard touchdown.
DeCoud remained on the ground for a few minutes then exited the field while escorted by members of the team's training staff.
With DeCoud out, the Falcons inserted rookie Zeke Motta at free safety alongside strong safety William Moore. Motta continues to wear a cast after breaking a finger on his right hand.
December, 8, 2013
Dec 8
2:00
PM ET
GREEN BAY, Wis. -- The temperature was in single digits by the time the
Atlanta Falcons
and
Green Bay Packers
kicked off at Lambeau Field. Behind the passing of
Matt Ryan
, the running of
Steven Jackson
and a key turnover forced by safety
William Moore
, the
Falcons lead at halftime
, 21-10.
Kick start:
One of the most unbelievable plays of the season occurred at the end of the first half. Falcons linebacker
Sean Weatherspoon
returned an interception 71 yards for a touchdown after the ball bounced off teammate
Paul Worrilow
's foot. Many of the Packers thought the ball hit the ground, so give Weatherspoon credit for keeping the play alive and running with the ball. He even made a nice running back-style cut to get past slow-footed Packers guard
T.J. Lang
. It was definitely a "SportsCenter" top-10 play. And it will be talked about in the locker room all week, based on how vocal Weatherspoon is.
Finding rhythm:
Ryan completed nine of his first 10 passes for 85 yards and two touchdowns. He promised leading into the game that he wouldn't allow the weather to consume him and promised the play without a glove on his throwing hand. Ryan continues to find
Roddy White
for key third-down conversions.
In the running:
Jackson has helped Ryan by establishing the running game and giving the offense some balance. Jackson gained 55 yards on his first nine carries, including a 22-yard run. One side note, Jackson said he considered signing with the Packers in the offseason.
Injury update:
Starting free safety
Thomas DeCoud
suffered a head injury and is out for the remainder of the game. Although the last thing the Falcons need is another injury, DeCoud being out allows the coaches to take a longer look at rookie
Zeke Motta
, who has been primarily a special-teamer. Motta made a nice tackle on one play but also slipped in coverage on an 18-yard pass play from
Matt Flynn
to
Jordy Nelson
.
December, 8, 2013
Dec 8
11:51
AM ET
GREEN BAY, Wis. --
Atlanta Falcons
head coach Mike Smith said he anticipated having a healthy group of players for Sunday's game against the
Green Bay Packers
.

He was right on point.
Tight end
Tony Gonzalez
and safety
Zeke Motta
were the only players questionable for the game, and both players are active. Gonzalez has a nagging toe injury while Motta continues to wear a cast after breaking a finger on his right hand.
Linebacker
Sean Weatherspoon
(knee) and guard
Peter Konz
(ankle) were listed as probable coming off injuries and are active, as expected.
The full inactives for the Falcons are the following: running
Josh Vaughan
, safety
Kemal Ishmael
, linebacker
Omar Gaither
, guard
Harland Gunn
, tackle
Terren Jones
, tackle
Sean Locklear
, and defensive tackle
Travian Robertson
.
December, 8, 2013
Dec 8
10:00
AM ET
By
ESPN.com staff
| ESPN.com
Join our ESPN.com NFL experts as they break down the Atlanta Falcons' visit to the Green Bay Packers. Contribute your thoughts and questions beginning at 1 p.m. ET. And, be sure to visit our
NFL Nation Blitz page
for commentary from every game, as well as fan photos and the latest buzz from Twitter. See you there.
December, 7, 2013
Dec 7
12:00
PM ET
FLOWERY BRANCH, Ga. -- The
Atlanta Falcons
hope to string together back-to-back wins for the first time all season when they travel to Green Bay.


The Packers playing without starting quarterback
Aaron Rodgers
(collarbone) takes some of the luster out of the matchup. But the home team is still dangerous, particularly with standout pass-rusher
Clay Matthews
back to form.
Here's what to watch for Sunday at Lambeau Field:
Tackling the issue
: The Falcons have missed 28 tackles over the previous two games, including two critical whiffs that led to explosive plays by the
Buffalo Bills
last week. As they prepare to face bruising rookie running back
Eddie Lacy
, the Falcons have to rectify their tackling issues. "I think, No. 1, is getting 11 guys to the ball,'' safety
William Moore
said. "I don't care if you have to run from the other side of the field, man. Most of our explosive plays allowed come from [yards after the catch]. Upon first contact, there should be 10 more guys to explode up on the runner.''
Next in line
: The coaches have raved about the potential of undrafted rookie offensive tackle
Ryan Schraeder
, who is finally getting a chance to show he can contribute. Offensive line coach Pat Hill promised Schraeder would get plenty of looks against the Packers, who boast a formidable pass rush led by Matthews. Although Schraeder was praised for his effort against the Bills last Sunday, he was far from perfect. "There are things, technique-wise, assignment-wise … I wasn't perfect and I'll admit that,'' Schraeder said. "But I did some good things. I moved some guys off the ball. I feel like I pass protected pretty well when I was out there. The more snaps you get, the more things there are to critique.''
In a rush
: Diminutive running back
Antone Smith
seems to make a play every time he touches the ball. He has four carries for 137 yards and two touchdowns in the past three games. But Smith had just 17 total offensive snaps in those games. Although everyone seems to be lobbying for Smith, the reality is he's still listed as the fourth-string running back. "My mindset isn't going to change whether it's one carry, two carries, three carries or no carries,'' Smith said. "I'm going to have the same approach every week, preparing like I'm the guy but just going out and doing my job. You paying [
Steven Jackson
] Jax a lot of money. I mean, he's here to run the ball. And that's obvious respect. He's a great back, man. I don't take no carries from a guy like him.''
Out in the cold
: The Falcons have played nine of their 12 games indoors this season, and the coldest outdoor game was 62 degrees at Carolina. Come Sunday, they could be looking at temperatures in the teens with a 50 percent possibility of snow. "What I see with the cold weather is that it's all up to you,'' Falcons tight end
Tony Gonzalez
explained. "It's in your head and it's how you deal with it. And some guys are different. … Obviously, we're a dome team and we play in some warm weather. So I'm anxious to see how we respond. I think we'll be OK. Hopefully, it's not going to have any type of bearing on how we perform.''
December, 7, 2013
Dec 7
10:05
AM ET
ESPN.com news services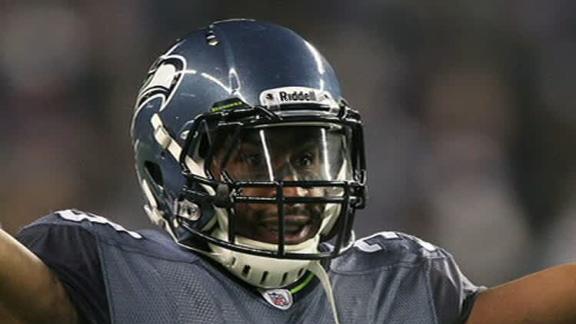 Seattle Seahawks cornerback Brandon Browner, facing a one-year suspension for violating the NFL's substance abuse, will continue the appeal process after turning down a deal to shorten the ban, NFL.com reported.
Browner was given the opportunity to reduce the ban by nearly three months, according to a Friday report by Fox Sports. The decision means Browner could find himself out of action until next December if the appeal isn't successful.
Browner, 29, set to become an unrestricted free agent after the season, has not played since injuring his groin against the Atlanta Falcons on Nov. 10. He returned to practice this week but already has been ruled out of Sunday's game against the San Francisco 49ers.
A key member of the Seattle secondary, Browner made the Pro Bowl as a 27-year-old rookie after going undrafted out of Oregon State. He played three seasons in the CFL before garnering his first NFL job.
Seattle (11-1), which own's the league's best record, can clinch the NFC West with a win against the 49ers.
December, 6, 2013
Dec 6
3:20
PM ET
ESPN.com news services
NEW YORK -- Green Bay Packers linebacker Clay Matthews and Detroit Lions linebacker DeAndre Levy each have been fined $15,750 by the NFL for on-field incidents.
Atlanta Falcons linebacker Sean Weatherspoon also was fined $15,750.
Matthews was fined for a helmet hit in the Thanksgiving Day game against the Lions. Levy was fined for a helmet hit on Packers tight end Ryan Taylor. He was penalized for unnecessary roughness, and the league fined him Friday.
Weatherspoon was docked for leading with his helmet and driving into the chest of Bills quarterback EJ Manuel.
Others fined from Week 13 include:
• Lions safety Glover Quin and wide receiver Kris Durham were fined $7,875 for unnecessary roughness.
• San Francisco 49ers guard Adam Snyder was fined $7,875 for striking an opponent late against the St. Louis Rams.
Information from ESPN.com Lions reporter Michael Rothstein, 49ers reporter Bill Williamson and The Associated Press was used in this report.
December, 6, 2013
Dec 6
2:00
PM ET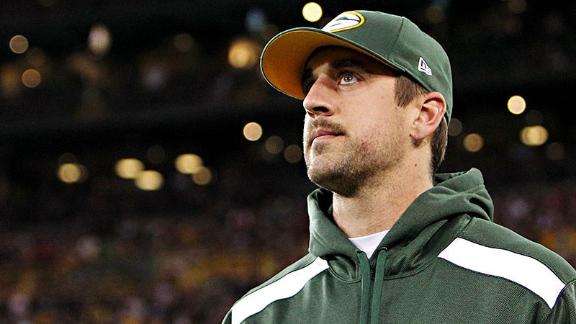 GREEN BAY, Wis. -- There won't be any game-time decisions about Green Bay Packers quarterback Aaron Rodgers, at least not this week.
Packers coach Mike McCarthy removed any possibility that Rodgers would return from his broken collarbone and play Sunday against the Atlanta Falcons at Lambeau Field by ruling him out on Friday's injury report.
"Aaron Rodgers is not ready to go," McCarthy said.
There was a glimmer of hope that Rodgers would return this week, but tests Tuesday showed he was not healed enough for team doctors to clear him to play. Rodgers was cleared to practice in pads, which he did Thursday for the first time since his injury, but Matt Flynn took the starter's reps all week and will get the call against the Falcons.
The Packers (5-6-1) haven't won since Rodgers was injured on the team's initial possession Nov. 4 against the Chicago Bears, going 0-4-1 and falling into third place in the NFC North.
"He doesn't really let it show to anybody else, but you know he's frustrated and you know he wants to get out there," Flynn said Friday. "This is his team and for him not to be out there is really hard on him. But he doesn't let it show. He's been great trying to get me ready, and just try to pass on tips, as he always did when I was here for four years. He's been a great asset for us."
December, 6, 2013
Dec 6
1:15
PM ET
FLOWERY BRANCH, Ga. --
Atlanta Falcons
veteran tight end
Tony Gonzalez
and rookie safety
Zeke Motta
are listed as questionable on the injury report but are expected to play against the
Green Bay Packers
on Sunday.
Gonzalez
Gonzalez has been dealing with a nagging toe injury. He has played through the pain without missing a game. Motta broken a finger on his right hand and continues to play with a cast.
Both players were limited during Friday's practice.
Guard
Peter Konz
and linebacker
Sean Weatherspoon
were the only other Falcons on the injury report and are listed as probable. Konz tweaked his ankle while Weatherspoon has had a knee issue. But both players full participated in practice the past two days.
Head coach Mike Smith said Wednesday he expected all of his active players to be available for Sunday.
December, 6, 2013
Dec 6
8:00
AM ET
Ryan Schraeder
was an afterthought for the
Atlanta Falcons
, and not just because he went undrafted.
Offensive line coach Pat Hill actually stumbled across the Valdosta (Ga.) State left tackle well before Schraeder signed a free-agent contract, April 29.
"I got to see him earlier in the year because I was watching another guy from there who got drafted by Carolina, the [Ghanaian-born] kid here from Atlanta," Hill said, referring to Panthers rookie guard
Edmund Kugbila
. "I was looking at him and kept noticing the left tackle, Schraeder. And I didn't say anything about it at the time just because we weren't really in the market for an offensive tackle."
[+] Enlarge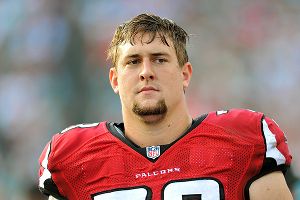 Steve Mitchell/USA TODAY Sports"I think [Ryan Schraeder] has a mean streak in him .... He's not afraid to mix it up," Pat Hill said.
The Falcons can't stop talking about Schraeder now.
The 25-year-old rookie saw his most extensive action of the season last week against the Bills, playing 27 of 88 offensive snaps (31 percent) while spelling
Jeremy Trueblood
at right tackle and lining up at tight end in the jumbo package.
"And the 13 plays at tackle that he played, I thought he played really well," Hill said of Schraeder. "He got to play against [Mario] Williams and he got to play against some good players. I think his progression is coming along really well.
"I really believe that he'll do a good job with playing time this week, when he's called upon. And Coach [Mike] Smith is going to call on him. So I'm excited about it. So is he."
Suddenly, Schraeder's facing giant-sized expectations.
"It feels good but, at the same time, a lot of work has to be done," Schraeder said. "You just have to keep progressing and keep doing what you can when you get out there. You have to make plays when you can, do your job, and don't let your guy make the play."
Schraeder's story has been well-documented. He stood only 5-foot-7 following his junior year of high school in Kansas and didn't play football. He then grew to 6-7 before attending Kansas State for one year as a student. While there, Schraeder was urged to try football and ended up playing at Butler Community College in his home state. He earned junior-college All-American honors before transferring to Valdosta State and becoming a two-time Division II All-American and national champ.
Hill credited the Falcons' scouting department for bringing Schraeder to Atlanta. He credited the 300-pound Schraeder for putting in the work to become a potential factor on offensive line in dire need of a facelift.
"He can play both left and right tackle, he's played our jumbo 'Y', and he might end up a guard here," Hill said. "He's very versatile, position-wise. The thing about him is he has functional strength. He's a big man.
"I think he has a mean streak in him. He's got a little bit of piss and vinegar in him. And that's good. He's not afraid to mix it up."
Maybe Schraeder will get a chance to do so as the starting right tackle before season's end. The Falcons have to dissect whether he's capable of contributing for years to come.
"Schraeder's going to get a good look this week," Hill said of the matchup with Green Bay. "I don't think he's going to start this week, but he's going to play. He's going to play early. We have four games left to look at him. And I think he's ready for the fire."
December, 5, 2013
Dec 5
6:55
PM ET
FLOWERY BRANCH, Ga. -- Mike Smith didn't get all his players back to full participation, as he had hoped, but the coach still likes the overall health of his
Atlanta Falcons
heading into Sunday's game against the
Green Bay Packers
.

Linebacker
Sean Weatherspoon
and offensive lineman
Peter Konz
, both of whom were limited during Wednesday's practice, had full participation during Thursday's session. Weatherspoon is coming off a knee injury, Konz a tweaked ankle.
Tight end
Tony Gonzalez
and safety
Zeke Motta
were the only two Falcons limited on Thursday. Gonzalez continues to deal with a toe injury but is healthier than he's been in weeks. Motta broke a finger on his right hand and continues to play with a cast.
Roddy White
's absence from the injury report for the second straight week means the receiver is close to full strength, although White told ESPN.com his previously sprained right ankle continues to bother him.
December, 5, 2013
Dec 5
3:30
PM ET
FLOWERY BRANCH, Ga. -- At age 37,
Tony Gonzalez
needs a break every now and then.
Fortunately for the
Atlanta Falcons
tight end, he's able to preserve his body for at least a few plays as of late, when offensive coordinator Dirk Koetter inserts tackle
Ryan Schraeder
as an extra tight end as part of the jumbo package to enhance the run and beef up protection. It takes away some of the blocking responsibilities from Gonzalez, who can focus more on route-running in those situations runner.
"It's great," Gonzalez said Thursday. "I'll take it wherever I can get it. … I still have high energy. But at the same time, it isn't what it used to be. I still feel like I can play at the same level, but I do get a little bit more tired than I used to. So it's great for that jumbo package to come in and get me a little bit of breather. Maybe I don't have to be at the point (of attack) every time. And those guys are capable."
The Falcons made a concerted effort last week to incorporate the rookie Schraeder into the offensive game plan as both the tackle-eligible player and at right tackle in place of
Jeremy Trueblood
.
Joe Hawley
had served as the extra tackle in the jumbo package before becoming the regular starter at center. Koetter also wanted to utilize rookie tight end
Levine Toilolo
more often as an extra blocker as Toilolo looks to improve that skill.
"A lot of it, too, at this point, obviously we're not going to the playoffs, and those young guys need to come in and get that experience," Gonzalez said. "Because they're going to be around here and they're going to be, hopefully, staples in this offense for a long time. And they need to get the job done and show what they're capable of doing and get that experience."
Not to mention Gonzalez has been dealing with a nagging toe injury for the past few weeks. Head coach Mike Smith said Gonzalez was "ahead of schedule'' in terms of fully recovering from the injury.
Still, the Falcons figure Gonzalez's body has gone through enough punishment over almost a full 17 seasons, so they'll continue to spell him on occasion during his final four NFL games before retirement.
"Tony is as good a pass blocker as there is, but we try not to put Tony in that situation too often just for the wear and tear on him," Koetter said of using the jumbo package. "As long as we can have runs and passes out of it so we're not too predictable, so that every time that guy comes in we're going to run. Which last week, I think it worked out perfect."