Atlanta Falcons:

2014 NFL Draft
May, 10, 2014
May 10
11:10
PM ET
FLOWERY BRANCH, Ga. -- As
Atlanta Falcons
general manager Thomas Dimitroff reflected on his nine draft picks Saturday evening, he found himself on the defensive about one in particular: outside linebacker
Prince Shembo
.
The
fourth-round pick from Notre Dame was the center of a controversial case
that involved an alleged inappropriate sexual encounter and ended with a young woman taking her own life. Shembo maintained his innocence when he addressed the issue via teleconference Saturday afternoon.
Dimitroff showed no regret about the decision to draft Shembo, regardless of what other players were on the board.
"We're very, very aware of the seriousness of the incident," Dimitroff said. "Obviously, it's a sad situation for the young lady involved. We've done a lot of research at many levels from our security standpoint, from all the research that we did at Notre Dame. And he was never charged, never suspended from the team or the school.
"We've done our due diligence as far as making sure that we felt very comfortable with making that decision. Only glowing endorsements from the university. And again, pleased to have him a part of this organization going forward."
Dimitroff said the Falcons did not send investigators to South Bend, Ind., to look into the incident.
"We used the NFL investigation as well as our own investigators through their processes, without going into the detail of how we acquire that information," Dimitroff said. "We're very confident about what we acquired."
Historically, Dimitroff and head coach Mike Smith have been extremely careful in evaluating players in terms of character. Had there been any red flags or reason to believe the case could linger, the Falcons wouldn't have drafted Shembo.
Dimitroff asked if the character standards were relaxed in this case.
"Not one bit," he said. "Not one bit."
May, 10, 2014
May 10
1:45
PM ET
FLOWERY BRANCH, Ga. -- The
Atlanta Falcons
addressed another need with their first of two fourth-round draft picks by selecting Florida State running back
Devonta Freeman
.
Freeman (5-8, 206) left college early after winning the national title. The Miami native received a third-round grade from the draft advisory board.
"I took a visit up there one time and I was like,'I want this to be my home, man,'" Freeman said Saturday via teleconference. "I just loved the atmosphere. It just reminded me so much of Miami. ... I was just praying to God. God is so good. I'm just so blessed.
"I'm going to work. I promise that. I promise I'm going to go to work every single day."
The Falcons needed another body in the backfield after
Jason Snelling
abruptly decided to retire. It left the team with aging veteran
Steven Jackson
as the primary ballcarrier with
Jacquizz Rodgers
and
Antone Smith
behind. The Falcons finished last in the league in rushing last season.
Freeman has some elusive ability. According to ESPN Stats & Information, he averaged 3.9 yards before first contact per rush and gained more than 67 percent of his rushing yards before contact.
Freeman appeared in 39 games during three seasons at Florida State, starting 26 contests, including his final 19 appearances. He racked up 2,255 yards with 30 touchdowns on 404 carries and caught 47 passes for 475 yards and a touchdown.
Freeman said he wanted to follow in the footsteps of another Florida State back who went on to play for the Falcons:
Warrick Dunn
.
"I want to be great, like he was," Freeman said of Dunn. "I want to give to the community. I want to speak to the community. ... I'm just happy to be a part of the Atlanta Falcons."
Here's a story detailing
some of the obstacles Freeman overcame
as a child and some of the people who helped him along the way, including one famous rapper.
May, 9, 2014
May 9
11:55
PM ET
FLOWERY BRANCH, Ga. -- The first feeling you get when talking to
Ra'Shede Hageman
is that he won't put up with any bull.
The new Falcons defensive lineman has an intimidating demeanor about him, which is a good thing in this case. Remember, the Falcons were criticized for being too soft last season, particularly up front.
The 6-foot-5, 310-pound Hageman seems like the guy who would be willing to knock your head off on every play. The former University of Minnesota standout had somewhat of a scowl on his face Friday night even after the Falcons made him the 37th overall pick.
[+] Enlarge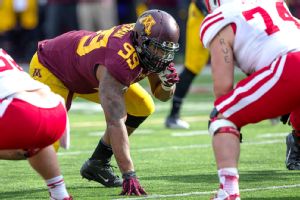 Jesse Johnson/USA TODAY SportsRa'Shede Hageman has prototypical size for a defensive tackle and has shown flashes of dominance.
Maybe the converted tight end was disappointed about not going in the first round, as projected. Maybe he got irritated sitting in the green room for so long. Or maybe it's just that Hageman is truly a no-nonsense guy -- exactly the kind of player the Falcons need.
"At the end of the day, I'm just glad to get an opportunity to play football," Hageman said via video conference from New York. "I didn't care when and where I was going to get drafted, as long as I'm playing professional football. I felt like that was my main goal. The fact that I have a chance and the Falcons chose me. They obviously have a lot of trust in me and I'm just happy to get that chance to play football."
Anyone familiar with Hageman's background understands why he appreciates the opportunity so much. He was in and out of foster homes as a child while his mother reportedly dealt with alcohol and drug addiction. He and his brother, Xavier,
were adopted by Minneapolis attorneys Eric Hageman and Jill Coyle
.
He had some off-the-field obstacles to overcome in the past. Now, he has to overcome the knock about his inconsistent play.
"They can say what they want, but I feel like it takes a man to obviously speak about his flaws," Hageman said. "At the end of the day they're not permanent and I have obviously have time to change them, and as soon as I get comfortable, get the proper teaching, I'll be fine."
Hageman will have a strong mentor in Falcons defensive line coach Bryan Cox, who coached Hageman at the Senior Bowl. Cox also rode Hageman hard throughout the week of the Senior Bowl practices and even went on a profanity-laced tirade to make sure Hageman made it to meetings with NFL teams on time.
"He told me the difference between college and NFL football on the coaching and teaching," Hageman said of Cox. "I definitely learned a lot from Coach Cox because he played at the professional level, and it's easier for me to understand because he played my position, or he played professional football. It was definitely a big step from college teaching to the NFL teachings. It's a lot more serious. It's a lot more important."
The Falcons view Hageman as a defensive end in their 3-4 base with defense that will have a much more multiple look. The more he creates havoc up front, the more important his role will be for the team moving forward.
Pair Hageman with first-round pick
Jake Matthews
, the offensive tackle from Texas A&M, and the Falcons did a pretty solid job of getting tougher up front already.
May, 9, 2014
May 9
10:16
PM ET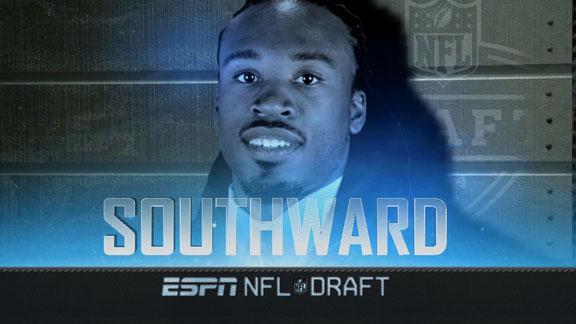 FLOWERY BRANCH, Ga. --
The pick:
Dezmen Southward
, S, Wisconsin.
My take:
The Falcons had a pressing need at safety but might have dipped a little too deep to address the need. There have been questions about Southward's range and ability, although he has size at 6-foot-2 and 210 pounds. Plus, there are some injury concerns, with spine and wrist issues surfacing at the NFL combine and keeping him from competing. But the Falcons obviously hope he brings something to the table. Veteran
Dwight Lowery
is the stopgap at free safety right now.
Badger issues?
The Falcons haven't had much luck with draft picks from Wisconsin as of late. Center
Peter Konz
, a second-round pick in 2012, lost his starting job last season and will be hard-pressed to get back into the lineup this year. Fullback
Bradie Ewing
, a fifth-round pick the same year, was injured last season and released this offseason. Maybe Southward will have better luck.
What's next:
The Falcons missed out on targeted running backs and tight ends on Day 2 and could address those needs still. It wouldn't be a surprise to see them add a linebacker or a few more defensive backs. Getting a pass-rusher sounded great early on, but not so much now.
May, 9, 2014
May 9
6:10
PM ET
FLOWERY BRANCH, Ga. -- New
Atlanta Falcons
starting right tackle
Jake Matthews
, the sixth-overall pick who was introduced to the Atlanta-area media on Friday, already has an NFL pedigree with a Hall of Fame father and All-Pro cousin.
Bloodlines aren't the only reason Matthews should excel with the Falcons. He's a technician when it comes to offensive line play and doesn't defeat himself with mental errors.
Matthews
And Matthews would be the first to say playing in the Southeastern Conference the past two years helped prepare him for the pass-rushers he'll face in the NFL. He singled out two opposing SEC pass-rushers in particular.
"I really liked
Barkevious Mingo
(from LSU) a lot. I thought he was a stud," Matthews said. "I played against
Kony Ealy
[of Missouri]. I thought he was pretty good, too."
Ironically, Mingo was the sixth-overall pick in last year's draft by the
Cleveland Browns
, while Ealy is one of the top players still on the board as the second round of this year's draft that continues Friday night.
Bruce Matthews agreed the SEC helped his son prepare for the caliber of pass-rushers he'll face in the NFL.
"You were getting the best of the best that were available at that level," the elder Matthews said. "And it's helped him to get to that point where he is right now. But probably the biggest thing is the adjustment he'll make now because the SEC or no SEC, there's no comparison between the jump of the highest college player to the NFL. And now, it's game in and game out."
There is one college pass-rusher, however, Matthews put above all others in terms of preparing him for the NFL. And it was his Texas A&M teammate.
"I've always got to put Von Miller in there because he's the guy that made me the player I am today," Matthews said of the current
Denver Broncos
' standout.
May, 7, 2014
May 7
3:10
PM ET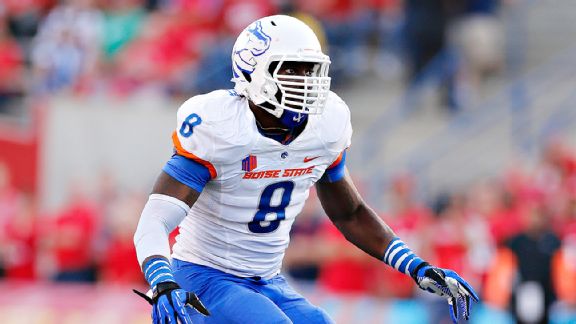 Ric Tapia/Icon SMIAtlanta could target a versatile pass-rusher such as Demarcus Lawrence in the draft's second round.
Demarcus Lawrence
isn't caught up in rankings or NFL draft projections. He just wants to play ball.
When the Boise State pass-rusher was asked about the possibility of being drafted in the late first round or early second round this week, Lawrence brushed off any significance.
"It really doesn't matter to me," Lawrence said Wednesday. "If they want me, then take me. If they don't want me, then they'll see me later on in my career. And I don't forget that, either. Trust me."
The
Atlanta Falcons
shouldn't overlook Lawrence if they have an opportunity to scoop him up. General manager Thomas Dimitroff and crew seem destined to target an offensive tackle with the sixth-overall pick in the first round. If such comes to fruition, the Falcons have to think either pass-rusher or safety in the second round.
In terms of the pass-rushers, Lawrence could be in that group, as could Auburn's
Dee Ford
and BYU's
Kyle Van Noy
. All three visited the Falcons during the pre-draft process.
In recalling his visit, Lawrence talked about how impressed he was with the Falcons' overall demeanor.
"Atlanta was cool. They've got a little swagger about them," Lawrence said. "It was like it's time for them to ball, and I'm down for the same cause. Hopefully they feel that way about me."
Lawrence immediately felt a connection with new Falcons defensive line coach Bryan Cox.
"He came out saying, 'We're out here trying to ball. We're out here with a purpose.' And I'm going for the same thing," Lawrence said of Cox's message. "I don't like losing myself. I want to be on a team with a group of guys that feel the same way that I feel.
"Coach Cox, he's a good guy. I want to be in somebody's place that's going to teach me how to ball and also keep it real with me. And that's how Coach Cox does it."
The 6-foot-3, 251-pound Lawrence played in a multiple defensive scheme at Boise State, so he feels comfortable in any type of setup. He actually played the role of undersized defensive end (6-1, 225) in a 3-4-defensive setup as a South Carolina high school player. He refined his pass-rush skills at Butler Community College in Kansas (he was a teammate of current Falcons offensive tackle
Ryan Schraeder
) after being an academic non-qualifier. He then moved on to Boise State and led the Mountain West conference with 20.5 tackles for loss, to go with 10.5 sacks last season. He then decided to forgo his senior season and enter the draft.
Lawrence insists he can play defensive end in a 4-3 or outside linebacker in a 3-4.
"It doesn't matter if I'm standing up or have my hand in the dirt: If you tell me to go get that quarterback, I'm going to get him," Lawrence said. "It's just that plain and simple. I have one mission: to get that quarterback. And I'm going to find a way to do it."
Lawrence models his play after a couple of players, including one with the same first name.
"I like
DeMarcus Ware
(
Denver Broncos
) a lot and I watch him," Lawrence said. "
Jason Pierre-Paul
(
New York Giants
). I like those two guys and their attitudes. They've got a little swagger to their games. They're good pass-rushers. And that's what I want to come into the NFL and be."
Lawrence understands his shortcomings and plans to work on those aspects immediately.
"I'd say my strength and my fundamentals," he said. "Once I get a little more powerful and more juice with my pop, I'll be straight. It will make me more explosive getting off blocks. Being 250 pounds, it's not easy getting off a 320-pound dude.
"Playing at 250, I feel like I'm in the best shape of my life. I'm going to stay right here as of right now. Depending on what my position is and what they need me to do on the team, I don't mind pumping up a little weight."
Lawrence has another negative to overcome. He had multiple suspensions at Boise State for rules violations, including being sent home from the MAACO Bowl in Las Vegas during the 2012 season. He said he overslept and missed curfew prior to the bowl game while hanging out with a family member at night.
"Everybody makes mistakes in their days, and mine happened in my college days," Lawrence said. "I did it. I learned from it. And it's over with. If they trust me, they'll see I've grown up and I'm mature enough to handle the process. If not, once again, they'll see me on the field."
Lawrence understands why he would face scrutiny from NFL teams over the suspensions.
"They want to make sure they don't have any dirt underneath their toenails," he said.
Lawrence is in Las Vegas now and plans to have a draft party at the Venetian Hotel. The Falcons would be smart to roll the dice on Lawrence if he's still available in the second round.
The Falcons currently own the fifth pick in the second round, or the 37th overall selection. Trading up to the top of the round (the 33rd pick owned by Houston) doesn't seem like a stretch if the Falcons feel they could lose out on a chance to get a coveted pass-rusher.
Last year, San Diego moved up from the 45th overall pick to the 38th by swapping second-round picks with Arizona and also giving the Cardinals a fourth-round pick. The Chargers made the move to select linebacker
Manti Te'o
.
The Falcons actually have two fourth-round picks this season at No. 103 and No. 139, but the latter is a compensatory pick that cannot be traded.
May, 1, 2014
May 1
9:03
AM ET
The debate will continue all the way up until next Thursday night concerning whether the
Atlanta Falcons
should target an offensive tackle or pass-rusher in the first round of this year's NFL draft.
The team is, of course, impressed with the three players touted as the top three offensive tackles in this draft class: Auburn's
Greg Robinson
, Texas A&M's
Jake Matthews
, and Michigan's
Taylor Lewan
. All three visited the Falcons' facility within the past two weeks.
It was no surprise what Falcons general manager Thomas Dimitroff had to say when he offered his thoughts on the trio.
"Interestingly enough, they're all big, they're all strong, they're all athletic, they're all really good football players with upside," Dimitroff said during his pre-draft news conference on Wednesday. "They all come to the table with something a little bit different, as we all know -- any of us who have watched them or evaluated them.
"Those three tackles that you are referring to are obviously being touted as top-10 players. That's an amazing thing because rarely does that happen. Over the years, there's probably one or two. But to have three that are truly considered, that's a positive. ... They all have a really even-keeled approach to how they play the game; differently but even-keeled from the standpoint of understanding the game. And I think there's a lot of upside there."
Robinson seems to be ahead of the other two in terms of upside, although Matthews has been touted as the most NFL-ready and Lewan, the nastiest. Robinson was the last of the three the Falcons put through a private workout. The one question mark about him, if there is one, is how he'll transition to pass-blocking after coming from such a run-dominated offense at Auburn.
"The biggest thing for us, when we're looking at any position, is to make sure we evaluate their true athleticism, their movement," Dimitroff said. "We put them in spots, through any of our drills and through any of our assessments, to challenge them in a spot. For instance, if you're looking at an offensive lineman who has only played on the right side versus the left side, we slide him a lot off the left side to see if he's adept at the physical movement of moving off the left side.
"Again, nothing is truly like seeing them when the bullets are flying. That said, we make sure that we really home in on their physical skills and how they actually move and how they adjust to different spots along the offensive line. I've said this time and again: It is about versatility along the offensive line."
Most believe the Falcons should be able to land one of the top three offensive tackles if they remain at the sixth-overall pick.
March, 6, 2014
Mar 6
11:00
AM ET
Todd McShay's third NFL mock draft for 2014 is out on ESPN Insider today. The Falcons need linemen. They need linemen in a huge way and need several on both sides of the ball. Of course, they will add some big bodies in free agency -- and they have quite a bit of money to spend -- but this draft sets up pretty well for the Falcons at six to end up with
Jadeveon Clowney
,
Greg Robinson
or
Jake Matthews
.
Could this be the team to offer the Rams the most to move up to the second slot? Their history shows they are unafraid to make such a deal, but they also can't continue to neglect the bottom of their roster, as they are now one of the most top-heavy teams in the league.
Whom does McShay have the Falcons drafting at No. 6?
Let's take a look
: