Atlanta Falcons:

2013 Week 10 SEA at ATL
November, 11, 2013
11/11/13
1:00
AM ET
ATLANTA -- It's bad enough
Seattle Seahawks
cornerback
Richard Sherman
likes to talk trash. But from Tony Gonzalez's perspective, it would seem even worse that Sherman went to Stanford, being that Gonzalez attended rival Cal.
Regardless, the
Atlanta Falcons
tight end had no problem swapping jerseys with Sherman following Sunday's 33-10 loss to the Seahawks. In fact, the 37-year-old Gonzalez seemed to enjoy the moment with the 25-year-old Sherman.
"That's what happens when you're an old guy," Gonzalez said afterward. "They know it's your last run, so he said, 'Hey, I'm probably not going to see you for a while.' So he took the jersey."
"He's on his way. He's such a good player. I'm glad I got his jersey. I don't know if that will be the last time this year. I'm sure a lot of people are going be asking for my jersey as the season approaches the end because they know this is the last one."
Sherman talked about his display of respect for Gonzalez.
"He's a Hall of Famer and been a great player in this league for a long time," the cornerback said. "You always respect great players. You respect the game in that sense. It's an honor to play against him."
Gonzalez will retire at the end of the year after finishing his 17th NFL season.
November, 10, 2013
11/10/13
9:53
PM ET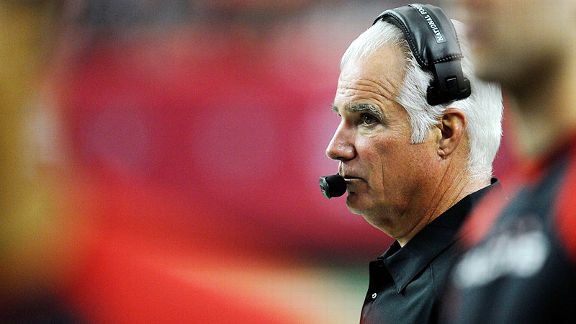 Dale Zanine/USA TODAY SportsMike Smith received a vote of confidence from his boss on the day the Falcons dropped to 2-7.
.
ATLANTA -- The
Atlanta Falcons
are angry -- angry with themselves and angry with the season.
A 2-7 record is far from what was expected of a team that finished 13-3 in 2012 and came within one win of the Super Bowl.
Now, a season later, there is a negative vibe around the city.
Matt Ryan
no longer appears on the cusp of joining
Tom Brady
and
Peyton Manning
among the NFL's elite quarterbacks. Suddenly, coach Mike Smith's career .700 winning percentage coming into 2013 is a meaningless statistic.
Yes, the Falcons can understand why fans are angry because they're angry, too. But as Ryan put it, there's no reason to surrender and start anew.
"I don't think we need to reboot," Ryan said after a
33-10 loss
to the
Seattle Seahawks
. "I think [we have] a model and scheme and those kinds of things that have been successful. I think as a player, you have to take the onus. You have to take responsibility for it.
"We've got to play better. And we know that the scheme that we have and the plays that we run are capable of getting the job done. We just need to do it. And as a player, that's the only way your mindset can be."
The coach and quarterback always are primary targets of criticism in times like these. Ryan continues to shoulder his share of the blame for a sputtering offense, and Smith talked about folks doing some reflection to get matters corrected. It obviously irritated him how Seattle dominated the Falcons at the line of scrimmage on both sides of the ball.
"I think everyone in this organization and [on] our team needs to take a hard look at themselves, first," Smith said. "That's the most important thing that we need to do. And we will work through this together. When we've had success, we've done it together. And when we're not having success, we're going to do it together as well."
Of course, speculation about Smith's future has become a part of this disastrous season. Falcons general manager Thomas Dimitroff dismissed such talk.
"Mike Smith is a hell of a football coach; he's the leader of this team,"
Dimitroff told ESPN.com on Sunday
. "Mike's going nowhere."
The same unwavering support for Smith was expressed by his players. Safety
William Moore
surely wasn't going to blame Smith for the five plays of 30-plus yards surrendered by the defense on Sunday, including a 43-yard touchdown pass from
Russell Wilson
to
Jermaine Kearse
off a flea-flicker. And Moore wasn't blaming Smith for the defense allowing
Marshawn Lynch
to rush for 145 yards.
"I'm definitely standing behind Smitty," Moore said. "The type of guy Smitty is, he always says, 'Blame me.' But it's not Smitty. It's far from Smitty. He doesn't go out there and play. He calls the right calls. He puts us in the right position. We're coming up short as players."
Receiver
Harry Douglas
wasn't blaming Smith for the offense starting the game with two three-and-outs in its first three possessions, compiling just 226 yards in the game and going 4-for-12 on third down.
"We get paid to make plays and we've got to do a better job of it," Douglas said. "It surprises me when people blame [Smith], but that's our world we live in here in 2013. He's been a great coach."
[+] Enlarge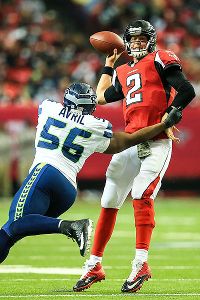 Daniel Shirey/USA TODAY SportsMatt Ryan and the Falcons' offense have averaged a mere 11 points over the past three weeks.
Veteran tight end
Tony Gonzalez
said critics of Smith shouldn't ignore the rash of injuries that have placed key players such as
Julio Jones
,
Kroy Biermann
and
Sean Weatherspoon
on injured reserve, although Weatherspoon is scheduled to return next week.
"It seems like it's the vogue thing to do: 'Oh, a team is losing, you've got to fire the coach; it's something wrong with our leadership,'" Gonzalez said. "There's nothing wrong with the leadership. It's nothing wrong with the effort. It's just that we got bit by the injury bug and we don't have the same players like we had last year.
"When you have injuries like that, it's tough to overcome. Not saying you can't overcome them, but we haven't been able to do it this year. And it has nothing to do with the coach."
That's not to say Smith should be absolved completely. He certainly has to shoulder some of the blame for calling a timeout that gave the Seahawks enough time to score a touchdown before halftime. And Smith might have to have one-on-one, heart-to-heart conversations with both offensive coordinator Dirk Koetter and defensive coordinator Mike Nolan to make the necessary changes in the game plan.
Whatever happens over the next few days, don't expect Smith just to blow everything up and start looking toward next season with the young players, even if the record indicates that would be the best move at this juncture. He didn't pull the starters at the end of Sunday's game, either.
"We're going to play every game to win," Smith said. "We owe that to the guys in that locker room. We owe that to our fans. We owe that to everybody that's associated with our football team. You only get 16 opportunities to go out and compete, and you want to win every single time you go out and play. And you want to put your best players out there."
The Falcons have seven more games to show they finally get the message. They should have gotten it seven games ago.
November, 10, 2013
11/10/13
4:13
PM ET
ATLANTA -- A few thoughts after the
Atlanta Falcons
'
33-10 loss
to the
Seattle Seahawks
on Sunday at the Georgia Dome:

What it means:
It's still hard to imagine that a Falcons team picked by many to be the NFC's No. 1 seed is looking at a 2-7 record. Most figured the Falcons would be overmatched by the powerful Seahawks, but no one could imagine the Falcons being manhandled at home. Folks are sure to start questioning head coach Mike Smith's future despite his tremendous success since taking over the team. The remainder of the season should be an audition for the young players who might make an impact for years to come.
Stock watch:
Running back
Steven Jackson
was supposed to make a great impact for the Falcons after coming over from the
St. Louis Rams
. Instead, Jackson has struggled to catch his stride, in part, due to a hamstring injury. The Falcons needed Jackson to provide balance on Sunday. Instead, he came out and picked up just 14 yards on his first seven carries. In fact, the Falcons' best run option in the first half was a scrambling
Matt Ryan
. That should never happen, and Jackson should take that personally. He needs to be better, although the offensive line doesn't help his cause.
Back in action:
Wide receiver
Roddy White
, sidelined for the past three games with hamstring and ankle injuries, returned to the lineup Sunday but had little impact as the offense struggled. White had a 20-yard catch down the middle in the first half. But the most fireworks he sparked was a confrontation with nemesis
Richard Sherman
, during which White slap-boxed with Sherman for a few moments. Again, it was hard for White to get involved with the offense struggling and Ryan under duress most of the day. Ryan couldn't go deep most the game thanks to the pressure in his face.
Big letdown:
The Falcons' defense just hasn't learned. Once again, it gave up a number of big, explosive plays, including a 43-yard touchdown from
Russell Wilson
to
Jermaine Kearse
off a flea-flicker from running back
Marshawn Lynch
. Lynch had a 37-yard run of his own on his way to a 100-yard day, while the Seahawks also had a 46-yard pass play. Defensive coordinator Mike Nolan is no doubt pulling his hair out weekly. Maybe the return of linebacker
Sean Weatherspoon
from injured reserve next week will help the defense. But it's a little too late.
What's next:
The Falcons travel to Tampa Bay to face the winless Buccaneers, one of two teams the Falcons beat this season, along with the Rams. In Week 7, the Falcons escaped with a 31-23 win while facing rookie quarterback
Mike Glennon
. But the Buccaneers showed in an overtime loss the Seahawks that they can be competitive. The Buccaneers next face the Dolphins on "Monday Night Football."