Atlanta Falcons:

2013 Week 15 WAS at ATL
December, 15, 2013
12/15/13
8:25
PM ET
ATLANTA --
Matt Ryan
couldn't help but notice teammate
Tony Gonzalez
's reaction after Gonzalez latest milestone was acknowledged on the Georgia Dome video screen.
"Kind of when they showed him on the JumboTron ... I don't think you have a more humble guy, too," the
Atlanta Falcons
quarterback said of his Hall of Fame-bound tight end. "With all that he's accomplished, he was embarrassed to be on the big screen. But he's been awesome to play with."
Gonzalez
Gonzalez signaled the thumbs up to the crowd after he became the fifth player in NFL history with 15,000 receiving yards. He joined Jerry Rice, Terell Owens, Randy Moss, and Isaac Bruce in the elite category and now has 15,008 career receiving yards.
"That was cool," Gonzalez said of his latest achievement. "It's special. Every time I get a catch now, it seems like they're saying something like that's this or that's another milestone. I guess that's what happens when you get old, when you're playing as long as I am. But I'll take it."
Gonzalez scored on a 13-yard touchdown reception in the first quarter to mark his third-consecutive game with a touchdown catch. He also extended his streak of consecutive games with a reception to 209 while catching a team-leading six passes for 62 yards on Sunday.
"He's unbelievable. He really is," Ryan said of Gonzalez. "His consistency for 17 years in this league is incredibly impressive. There's no shortcut to it. There's no mystery to it. Tony works as hard as anybody I've ever been around, and he's blessed with a lot of talent as well."
Gonzalez will retire after the Falcons conclude the season Dec. 29 at home against Carolina. Ryan was asked if folks might try to convince Gonzalez to stick around one more year.
"He could definitely do it, if he wanted to, that's for sure," Ryan said. "But, no, I think we all know it's coming to an end. But it's been a great ride."
December, 15, 2013
12/15/13
7:40
PM ET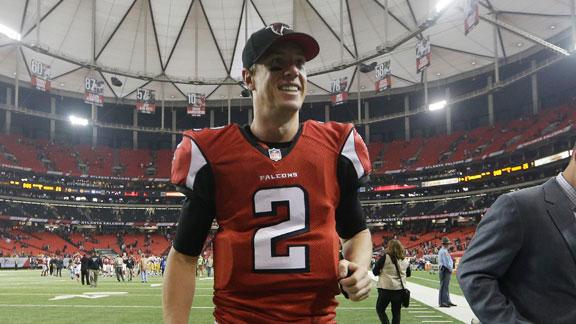 ATLANTA -- It seemed only fitting that
Atlanta Falcons
rookie cornerback
Desmond Trufant
tipped away a gutsy two-point conversion attempt by the
Washington Redskins
to preserve Sunday's
27-26 win
.
No matter how the turnover-filled game was dissected, it marked yet another step in the Falcons' youth movement as the organization continues preparation for the future.
True, there are going to be some hiccups along the way, as was evident throughout Sunday's matchup. But the resilience shown by Trufant and some of the other young players to shake off their inconsistent play was an encouraging sign.
"At my position, sometimes you're going to give up some," said Trufant, who was displeased about allowing a touchdown. "That's just the nature of the game. This is the best in the world. You've got to stay mentally strong. You can't get down on yourself because it's a long football game. Like you saw, we can turn it around and make big plays."
[+] Enlarge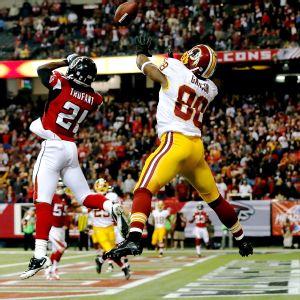 Photo by Kevin C. Cox/Getty ImagesRookie Desmond Trufant breaks up a two-point conversion attempt intended for Pierre Garcon.
A defense starting three rookies in the secondary and two at linebacker -- as well as second-year player
Jonathan Massaquoi
over
Osi Umenyiora
at right defensive end -- got exposed early and often by new Redskins starter
Kirk Cousins
. But the Falcons still managed to come up with seven turnovers, the most they've had in a game since 1988. They scored 20 points off those turnovers.
Days before the game, veteran safety
William Moore
expressed confidence in his rookie defensive backs, but vowed to step up his game in the process. He followed through with a key interception immediately after the Falcons' offense failed to punch it in on fourth-and-goal midway through the third quarter. Moore's turnover led to
Steven Jackson
's 2-yard touchdown run.
Trufant also had a fourth-quarter interception that set up
Matt Bryant
's 51-yard field goal.
Defensive coordinator Mike Nolan made an adjustment with the defensive backfield at halftime after the Falcons surrendered 320 first-half yards, including a 53-yard touchdown from Cousins to
Pierre Garcon
. In the second half, the secondary played more quarters coverage -- a four-deep, three-underneath zone. In the third quarter, the defense allowed the Redskins just 13 yards in 10 plays.
The defensive switch seemed to make rookie defensive backs
Robert Alford
and
Zeke Motta
more comfortable in their respective roles. Motta admitted he blew his over-the-top coverage on Cousins' 23-yard touchdown pass to tight end
Fred Davis
. But the rookie settled down afterward.
"It was a learning day for those rookies," coach Mike Smith said. "We gave up some big, explosive plays on the corners. Then we came back and made a play.
"That was a heck of an interception that Desmond Trufant had there in the second half of the ballgame. There's going to be plays made and there's going to be plays given up. We need to continue to focus on not giving up those explosive plays. It's been our Achilles' heel for the entire season on defense."
Although veteran such as Moore (interception, fumble recovery) and defensive tackle
Jonathan Babineaux
(two fumble recoveries) spearheaded Sunday's effort, Smith has plenty to be encouraged about in terms of his young players growing up. Trufant, the team's first-round pick, has been steady all season long and undrafted linebacker
Paul Worrilow
fell one tackle short of his seventh consecutive double-digit tackle game. Second-rounder pick Alford had nine tackles while fourth-round pick
Malliciah Goodman
came up with a fumble recovery.
"We're going to be around here a long time, so I think it's good for us to get out there and just get on the same page and get used to playing with each other," Alford said. "To finish strong, that's really what we're trying to do. We're trying to finish strong so we can have momentum coming into next year."
December, 15, 2013
12/15/13
4:30
PM ET
ATLANTA -- A few thoughts on the
Atlanta Falcons
' 27-26
win
over the
Washington Redskins
at the Georgia Dome.
What it means
: Draft position will dominate the conversation for the remainder of the season, no matter the opponent. And the 4-10 Falcons looked like they were playing to lose based on the comedy of first-half errors. Fortunately for Atlanta, the Redskins (seven turnovers) seemed to turn the ball over on every possession, which kept the Falcons from improving their draft status. The Falcons entered Sunday's action at No. 3 on the draft board behind the
Houston Texans
and the Redskins, although Washington has to surrender its 2014 first-round pick to the
St. Louis Rams
. Fans still hope the Falcons finish in position to have a shot to draft a player such as South Carolina defensive end Jadeveon Clowney.

Living legend
: Veteran tight end
Tony Gonzalez
won't make the Super Bowl, but he's still trying to make his final NFL season a memorable one. Gonzalez surpassed 15,000 career receiving yards on Sunday, becoming just the fifth player in NFL history to reach that milestone along with Jerry Rice, Terrell Owens, Randy Moss and Isaac Bruce. Gonzalez scored a 13-yard touchdown and caught a pass in his 209th consecutive game.
Stock watch
: Left tackle
Lamar Holmes
had shown much improvement from the beginning of the season. But Holmes took a significant step back on Sunday while going up against Redskins pass-rush specialist
Brian Orakpo
. Holmes couldn't contend with Orakpo's quick first step and couldn't keep the pressure off
Matt Ryan
. Holmes even got flagged 15 yards for a clip. New starting right tackle
Ryan Schraeder
didn't fare much better against
Ryan Kerrigan
, but Schraeder hasn't played a lot this season.
Youth movement
: One obvious concern coming into the game was how the Falcons' defense would respond with three rookies starting in the secondary: cornerbacks
Desmond Trufant
and
Robert Alford
along with safety
Zeke Motta
. Well, all three had hiccups against new Redskins starting quarterback
Kirk Cousins
. Veteran safety
William Moore
vowed to compensate with a strong effort. Well, Moore did have a key interception. Trufant also managed to pick off a Cousins pass and tipped away the two-point conversion attempt to seal the win. Also on defense, second-year player
Jonathan Massaquoi
started at right defensive end as the Falcons used veteran
Osi Umenyiora
in a reserve role for the first time this season.
What's next
: The Falcons finish out their road schedule with a matchup with the mighty
San Francisco 49ers
on ESPN's "Monday Night Football." The teams last met in last year's NFC Championship Game, with the 49ers advancing to the Super Bowl with a 28-24 road triumph. What a difference a year makes, with the 49ers still among the league's best and the Falcons suddenly near the bottom of the league standings.
December, 15, 2013
12/15/13
2:45
PM ET
ATLANTA -- A few halftime notes with the
Atlanta Falcons
trailing the
Washington Redskins
,
20-17
:


• The youth movement isn't working so well today: Rookie cornerbacks
Desmond Trufant
and
Robert Alford
have had their issues in coverage. Rookie safety
Zeke Motta
took a bad angle on one play and got blocked off another. And rookie right tackle
Ryan Schraeder
has had issues against Redskins pass-rusher
Ryan Kerrigan
, just like second-year left tackle
Lamar Holmes
has had issues stopping
Brian Orakpo
. True, this is valuable experience for the inexperienced Falcons. But they should be enjoying better success against an equally bad Redskins team. At least one of the young Falcons -- guard
Harland Gunn
-- made the most of his opportunities.
•
Osi Umenyiora
is no longer a starter: The veteran defensive end did not start Sunday's game despite being a regular starter all season. At least Umenyiora didn't pout on the sideline. He came into the game off the bench and immediately forced a fumble, recovered by teammate
Jonathan Babineaux
. The Falcons started
Jonathan Massaquoi
and
Peria Jerry
at the defensive end spots. Umenyiora primarily played the role of situational, third-down pass-rusher in the first half. So what about his future with the team? Besides, the Falcons already made a statement by benching veteran cornerback
Asante Samuel
for Alford.
• The Falcons are trying to send
Tony Gonzalez
out in style: Quarterback
Matt Ryan
seems to be making Gonzalez a priority today. He hit the soon-to-be-retired tight end for a 13-yard touchdown in the first quarter. And the aging Gonzalez didn't dunk it over the goal posts. Gonzalez extended his consecutive games with a reception streak to 209.
• Although the Falcons have been terrible on defense, Babineaux has been extremely disrupted. He's set to become a free agent an obviously wants to prove his value.