Atlanta Falcons:

2013 Week 5 NYJ at ATL
October, 8, 2013
10/08/13
3:31
AM ET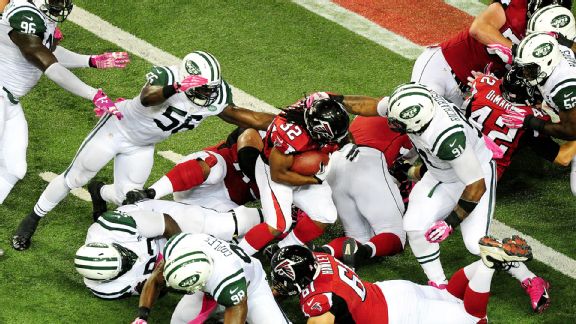 Scott Cunningham/Getty ImagesThe Falcons couldn't get Jacquizz Rodgers into the end zone on the final play of the first half.
ATLANTA -- One yard.
That's all that stood between the
Atlanta Falcons
and rebounding from a dismal 2013 start.
One yard might have given them much-needed momentum going into the bye week. One yard might have given fans hope the team would sneak right back into the playoff picture.
Instead, Monday night ended with one resounding thud.
There were a variety of reasons why the Falcons suffered their third straight defeat, falling to 1-4 with a
30-28 loss
to the
New York Jets
, who kicked the game-winning field goal as time expired. Some folks will put the blame on head coach Mike Smith, particularly after he decided against going for a field goal with a second left before halftime.
Smith admitted, in hindsight, maybe settling for three would have been the best option. But he believed his team could get the one yard necessary for a touchdown. He expressed faith in his offense, faith in his quarterback, faith in his offensive line.
[+] Enlarge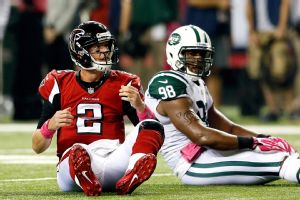 Kevin C. Cox/Getty ImagesMatt Ryan was only sacked twice, but he felt the pressure from the Jets.
Those out there not upset with Smith are certainly pointing fingers at each and every offensive lineman for not helping
Jacquizz Rodgers
pick up that yard on fourth-and-goal. Truth be told, there's no reason to call out the linemen on this one. They pointed fingers at themselves.
"Probably would have been better if we had gotten a better push," right guard
Garrett Reynolds
said. "I don't know exactly what happened. I haven't watched it. But we didn't get in there."
Based on the replay, it appeared at least two front-line Falcons got beat on the play.
Joe Hawley
, the backup center who lined up as an extra lineman in the tight end spot, seemed to miss his block and allow penetration to Jets defender
Quinton Coples
. Right tackle
Jeremy Trueblood
appeared to get overpowered by Jets defensive tackle
Sheldon Richardson
, who was credited with dropping Rodgers for no gain.
"What did I see? I was just trying to block my guy," Trueblood said. "I wish I would have done a better job. If I would [have gotten] my man, [Rodgers] would have scored."
Owning up to the mistakes is the first step. Correcting those errors is the next phase for the much-maligned offensive line.
The front five have been the object of much criticism since an ugly showing in the preseason. This line underwent a major facelift from last season with center
Todd McClure
retiring and right tackle
Tyson Clabo
being released, then signing with the
Miami Dolphins
. The Falcons were prepared to start
Mike Johnson
in place of Clabo until Johnson went down for the remainder of the season with a broken leg and dislocated ankle.
Then left tackle
Sam Baker
, who was stellar last season, went down with an injury in Week 4 against the
New England Patriots
, which forced demoted right tackle
Lamar Holmes
to take over at left tackle alongside left guard
Justin Blalock
, center
Peter Konz
, Reynolds and Trueblood.
The makeshift line has had its struggles. Offensive coordinator Dirk Koetter compensated by orchestrating plays to help quarterback
Matt Ryan
release the ball quicker to avoid pressure.
Still, Ryan has been sacked at key times this season, including against the Patriots when Holmes allowed Ryan to get sacked in the red zone. On Monday night, Jets defensive end
Muhammad Wilkerson
beat Trueblood and Reynolds, swooping in for a sack-fumble play on Ryan. The turnover led to a
Nick Folk
field goal.
The line must have gotten a pep talk from offensive line coach Pat Hill at halftime Monday night. The performance in the second half was much better, particularly in terms of clearing holes in the running game. Rodgers had two red-zone touchdown runs in the second half. And Ryan didn't get sacked in the fourth quarter, when he completed 12 of 18 passes for 122 yards and a touchdown.
Regardless, that one yard the Falcons couldn't pick up before halftime might stick with them the entire season. Still, Ryan refused to blame the line.
"I thought they did a good job," he said. "I thought they fought the entire night. It's a good defense that we went against, specifically a very good front seven. And I thought our guys stepped up to the challenge.
"We ran the ball really effectively in the red zone. We just didn't run it effectively on that one play."
The Falcons don't have much of a choice but to ride with the offensive linemen they have now. Getting Baker back healthy might help, but he struggled when he was in the lineup. There aren't too many quality linemen sitting on the streets, and the Falcons have no current interest in recently released tackle
Max Starks
. Plus the organization still has high hopes for Holmes developing into a Pro Bowl-caliber tackle down the road.
Building toward the future is great, but the Falcons have to be more concerned about the present. If they have any thoughts of rebounding from this dismal 1-4 start, the line has to hold up its end. If it doesn't, the critics will continue to feast on the entire group.
"We always say we're all we got; we're all we need," Reynolds said. "All these people out here saying stuff about us. That's OK. That's their opinion. They don't know what we do. They don't know how hard we work. We have to take it on ourselves to continue to get better. We're a team. We're going to stick together."
October, 8, 2013
10/08/13
3:18
AM ET
ATLANTA -- It should have been a night of celebration for
Atlanta Falcons
tight end
Tony Gonzalez
. Instead, it turned into a night of frustration.
Gonzalez
Gonzalez reached a milestone by catching a pass in his 200th consecutive game, joining
Jerry Rice
as the only two players to catch passes in 200 straight games. After the game, all Gonzalez could talk about was how his team would rebound from a 1-4 start after dropping a third straight, losing Monday to the
New York Jets
30-28
.
"I'm not going to sit here, what are we going to do? Sit here and feel sorry for ourselves? I'm not going to throw my hands up and say the season's over," Gonzalez said. "We still have a lot of football left to play, and I'm going to believe.
"And I expect my teammates to believe that we can turn this thing around after this bye week, and get a couple of guys back and get healthy. It's still in our hands. Yeah, it puts us behind the eight ball, but at the same time, if we go out there and just take it one game at a time, I'm confident that we can turn it around. I really am."
Gonzalez continues to do his part. He had 97 receiving yards on a team-high 10 catches, while being targeted a team-high 14 times. He was instrumental in drawing several penalties on the Jets for pass interference and defensive holding.
Had it not been for
Julio Jones
' jaw-dropping one-handed catch late in the game, Gonzalez's first catch -- the one putting him at 200 consecutive games -- would have been the most memorable grab of the night.
Gonzalez had hoped this would be a memorable season, although it hasn't turned out in such a manner thus far. He continues to chase an elusive Super Bowl ring, but the veteran emphasized last week that this would be his final season, no matter how the Falcons finish.
He expects them to finish strong.
"Whether it's realistic or not, that's up to you guys to say what you've got to say," Gonzalez vented. "But as far as I'm concerned, I'm going to go out there and play my heart out. And I expect that from my teammates, and hopefully we can turn this around."
October, 8, 2013
10/08/13
12:59
AM ET
Observed in the locker room after the
Atlanta Falcons
' 30-28
loss
to the
New York Jets
on Monday:
Keeping his calm:
Quarterback
Matt Ryan
had somewhat of a blank stare on his face as he dashed through the locker room for his postgame press conference. When he stepped to the podium, he was asked immediately about the offense's inability to punch it in on fourth-and-goal from the 1 before halftime. "I think everybody was ready to go," Ryan said. "That would have been a big score from us before the half. ... When you have those chances, you've got to punch it in." Head coach Mike Smith admitted in hindsight, maybe a field goal would have been a better option.
Ryan
Caught off guard:
Safety
William Moore
tried to explain why the defense imploded on the Jets' final drive, as rookie quarterback
Geno Smith
marched his team into field-goal range in seven plays, capped by
Nick Folk
's 43-yard game-winner: "There were a few situations where they started fast-balling us," Moore said. "It's hard to get the personnel in. It's hard to do stuff. It was because didn't nobody know what they were doing. It was because they were hurrying up, and they took advantage of some of the looks that we had."
Walking wounded:
Neither
Roddy White
nor
Jason Snelling
were at their lockers after the game. They were probably in the training room after leaving the game with injuries. White suffered a hamstring injury, while Snelling sustained a concussion. "I think it is difficult to see guys get nicked up,'' Ryan said. "Thought our guys that came in stepped up and did a great job."
Rush to judgment:
The Falcons sacked Smith four times, led by
Osi Umenyiora
with two. However, they needed more pressure on Smith during the final drive.
Corey Peters
had a sack, too, but downplayed the four sacks. "Honestly when you lose a game, especially the way we did ... the defense had an opportunity to be on the field at the end of the game. We've got to come up with a stop, keep them out of field-goal range,'' Peters said. "At least right now, everything's kind of a wash. We didn't play well enough to win. I'm sure after we get to the film, we can find some positives in it. But right now, it's really all bad."
October, 7, 2013
10/07/13
11:44
PM ET
ATLANTA -- A few thoughts following the
Atlanta Falcons
' 30-28
loss
to the
New York Jets
on Monday night:
What it means:
With the loss, the Falcons fell to 1-4 and possibly out of the playoff picture. Not to say that they can't rattle off a long winning streak, but games remaining against the
Seattle Seahawks
,
Green Bay Packers
and rival
New Orleans Saints
will make that a very difficult task. This was far from expected from a team that finished 13-3 a year ago and fell one step shy of the Super Bowl.

Red zone remedy:
Speedy running back
Jacquizz Rodgers
vowed to make more of an impact this week. He followed through on his promise with a 4-yard touchdown run in the third quarter and a 19-yard touchdown run in the fourth. Those scores were Rodgers' first rushing touchdowns of the season. With
Steven Jackson
(hamstring) still ailing, the Falcons needed both Rodgers and
Jason Snelling
to step up. Snelling also had a 4-yard touchdown reception off a shovel pass from Ryan.
Stock watch:
Tony Gonzalez
continues to rise as he inches closer to retirement. He reached a milestone four plays into the game with his 200th consecutive game with a catch. Gonzalez ran perfect routes all night and blazed linebackers in one-on-one coverage. And he also drew a couple of penalties against the Jets. Gonzalez was
Matt Ryan
's safety net on a key fourth-down conversion late in regulation.
M.A.S.H. unit:
No matter the outcome Monday night, the Falcons suffered a few losses. Receiver
Roddy White
, who entered the game still recovering from a high-ankle sprain, exited with a hamstring injury and never returned. White caught four passes for 45 before leaving. Also, Snelling left with a concussion.
Decimated defense:
The Falcons had a few moments on defense, but they still surrendered too many big plays. They gave up a 47-yard pass play from
Geno Smith
to tight end
Jeff Cumberland
in the first half. It was the eighth play of 40-plus yards given up by the defense this season. Then the defense absolutely fell apart on the Jets' final drive, allowing the rookie Smith to drive his team down with ease to set up
Nick Folk
's game-winning 43-yard field goal.
What's next:
The Falcons have a much-needed bye in Week 6, which should allow them to get somewhat healthy. Maybe Jackson returns for Week 7 as the Falcons face NFC South foe Tampa Bay (Oct. 20). But will it really matter now?
October, 7, 2013
10/07/13
7:40
PM ET
ATLANTA --
Asante Samuel
, who missed two games this season with a thigh injury, is active for the
Atlanta Falcons
as they prepare to face the
New York Jets
.
All signs pointed to Samuel playing despite being limited in practice last week. He missed the last game against the
New England Patriots
and the season opener against the
New Orleans Saints
.
Also active for the Falcons is linebacker
Paul Worrilow
, who suffered a knee injury in the last game. He could see most of his work on special teams. The Falcons are thin at linebacker with
Akeem Dent
(ankle) inactive and
Sean Weatherspoon
(foot) out until Week 11.
Omar Gaither
is slated to start at middle linebacker, while fellow newcomer
Jamar Chaney
was activated to give more depth at linebacker.
Also inactive for the Falcons are running back
Steven Jackson
(hamstring), left tackle
Sam Baker
(knee), safety
Kemal Ishmael
, safety
Zeke Motta
, guard
Harland Gunn
, and tight end
Chase Coffman
.
Jacquizz Rodgers
will start at running back for Jackson while
Lamar Holmes
will start at left tackle for Baker.
Inactive for the Jets are
Santonio Holmes
,
Dee Milliner
,
Brady Quinn
,
Vladimir Ducasse
,
Ben Ijalana
,
Oday Aboushi
, and
Zach Sudfeld
.