Atlanta Falcons:

Antone Smith
June, 25, 2014
Jun 25
8:00
AM ET
While rookie
Devonta Freeman
generated a lot of buzz for the
Atlanta Falcons
this offseason, another running back quietly went about his business in preparation for the 2014 campaign.
Jacquizz Rodgers
, entering his fourth season, isn't worried about being overlooked in the backfield equation, with Freeman being touted as a possible every-down back and
Steven Jackson
already the starter. Fan-favorite
Antone Smith
also is a part of the group and undrafted rookie
Jerome Smith
hopes to make an impression.
Rodgers
"There are no concerns," Rodgers said, speaking about the addition of Freeman. "You've got to come and compete every year. It just makes the group better, bringing more guys. It makes everybody work harder at practice. We're going to work collectively. We're going to learn from each other. And we're going to make each other better each and every day."
The Falcons had to think toward the future with Jackson ready to turn 31 next month. That is why they drafted Freeman in the fourth round out of Florida State.
"He's a good running back," Rodgers said of his new teammate. "Comes from a winning program. Fast guy: a guy that's willing to learn, willing to learn from the older guys. He's a good piece to our puzzle in the backfield."
Rodgers has value as an all-purpose back, so he should be part of the rotation entering the regular season. So what happens when Freeman starts taking touches from Rodgers once the season starts?
"It wouldn't bother me because you know I'm going to go out there and work hard, and just continue to do what I've got to do," Rodgers said. "I know when I got my shot, I'm going to go all out."
Rodgers compiled 1,248 all-purpose yards last season, including 575 kickoff return yards. The addition of
Devin Hester
as a return man will keep Rodgers from being as a effective on special teams, but he will likely stay in the mix as insurance.
Rodgers remains a threat as a pass-catcher out of the backfield and a player capable of creating mismatches. Plus, he brings another aspect that a rookie such as Freeman might have a hard time with initially.
"Blocking, I take very good pride in that," Rodgers said. "As a running back, if you want to be on this field, that's one thing that you've got to be able to do."
Rodgers is capable of a lot. That is why he should have a place on the field this season.
May, 10, 2014
May 10
1:45
PM ET
FLOWERY BRANCH, Ga. -- The
Atlanta Falcons
addressed another need with their first of two fourth-round draft picks by selecting Florida State running back
Devonta Freeman
.
Freeman (5-8, 206) left college early after winning the national title. The Miami native received a third-round grade from the draft advisory board.
"I took a visit up there one time and I was like,'I want this to be my home, man,'" Freeman said Saturday via teleconference. "I just loved the atmosphere. It just reminded me so much of Miami. ... I was just praying to God. God is so good. I'm just so blessed.
"I'm going to work. I promise that. I promise I'm going to go to work every single day."
The Falcons needed another body in the backfield after
Jason Snelling
abruptly decided to retire. It left the team with aging veteran
Steven Jackson
as the primary ballcarrier with
Jacquizz Rodgers
and
Antone Smith
behind. The Falcons finished last in the league in rushing last season.
Freeman has some elusive ability. According to ESPN Stats & Information, he averaged 3.9 yards before first contact per rush and gained more than 67 percent of his rushing yards before contact.
Freeman appeared in 39 games during three seasons at Florida State, starting 26 contests, including his final 19 appearances. He racked up 2,255 yards with 30 touchdowns on 404 carries and caught 47 passes for 475 yards and a touchdown.
Freeman said he wanted to follow in the footsteps of another Florida State back who went on to play for the Falcons:
Warrick Dunn
.
"I want to be great, like he was," Freeman said of Dunn. "I want to give to the community. I want to speak to the community. ... I'm just happy to be a part of the Atlanta Falcons."
Here's a story detailing
some of the obstacles Freeman overcame
as a child and some of the people who helped him along the way, including one famous rapper.
April, 16, 2014
Apr 16
2:50
PM ET
The
Atlanta Falcons
obviously are impressed with at least one small-school running back.
Towson University's
Terrance West
, a player the Falcons reportedly worked out privately, is scheduled to visit the team next Wednesday, according to a league source.
The 5-foot-9, 225-pound West opened eyes with an impressive performance during his pro day. He is projected as a third-round pick after leaving school a year early.
In three seasons at Towson, West rushed for 4,849 yards on 802 carries with 84 touchdowns. His touchdown total tied the NCAA FCS record set by Georgia Southern's Adrian Peterson, the brother of former Falcon
Mike Peterson
.
Although the Falcons still believe in veteran
Steven Jackson
, they'll need to draft another running back for the future.
Jason Snelling
's abrupt retirement created a need for more depth at the position although the Falcons have
Jacquizz Rodgers
and
Antone Smith
returning.
The Falcons also have top offensive tackle
Jake Matthews
from Texas A&M visiting next week, as well as UCLA outside linebacker
Anthony Barr
.
December, 1, 2013
12/01/13
7:37
PM ET
TORONTO -- A few thoughts on the
Atlanta Falcons
'
34-31 overtime victory
over the
Buffalo Bills
on Sunday at the Rogers Centre in Toronto:

What it means:
No matter the outcome, the Falcons' draft status is sure to be a topic of conversation for the remainder of the season, even if head coach Mike Smith said the draft is not a concern right now. Atlanta, the
Jacksonville Jaguars
and
Houston Texans
all sat at the bottom of the NFL standings entering Sunday. While the Texans lost to the
New England Patriots
, the Jaguars defeated the Browns. Sunday's victory wasn't the best-case scenario for eager Falcons fans hoping for the No. 1 overall draft pick.
Stock watch:
Antone Smith
's stock continues to soar. The diminutive running back once again took advantage of his touches. He scored on a 38-yard touchdown run in the second quarter, sweeping to the left and darting through the hole with his blazing speed. Smith also ran 50 yards on a kickoff return after taking a reverse from
Jacquizz Rodgers
. That's not to say carries should be taken away from
Steven Jackson
, who played rather well himself while scoring two rushing touchdowns.
Turn of events:
Although the defense gave up some big plays once again, the Falcons managed to create turnovers when they needed them most.
Robert McClain
forced Bills receiver
Stevie Johnson
to fumble in the final moments of regulation, allowing the Falcons to force overtime. Then
William Moore
knocked the ball away from Bills tight end
Scott Chandler
on the first possession of overtime. The fumble was recovered by rookie
Robert Alford
, who foolishly lateraled it to teammate
Desmond Trufant
. Regardless, the Falcons got the ball and were able to win on Matt Bryant's 36-yard field goal. Moore's forced turnover turned out to be the difference-maker.
Regaining his form:
Roddy White
hasn't been himself most of the season thanks to ankle and hamstring injuries. Now apparently back at full strength, White looked like his old self against the Bills. He surpassed 100 receiving yards for the first time this season and looked fluid running his routes. He finished with 10 catches for 143 yards. White had 80 yards combined on six catches in the three games before the trip to Toronto.
Stumbling back:
Quarterback
Matt Ryan
didn't help his own cause. On one play from the goal line, Ryan stumbled as he dropped back and fell to the ground. On another, he fumbled an exchange with center
Joe Hawley
that helped set up a Bills score. Ryan seemed to have trouble with his footwork on a couple of plays. Maybe it was playing on foreign soil, although he said earlier in the week that Canada was no different from any other U.S. city.
What's next:
The Falcons have another road matchup, this time against the
Green Bay Packers
at historic Lambeau Field. Uncertainty remains concerning
Aaron Rodgers
' status coming off a broken collarbone. If Rodgers is out, the Falcons legitimately have a chance to win. But how will the dome-oriented adjust to life outdoors in the cold?
November, 21, 2013
11/21/13
8:00
AM ET
FLOWERY BRANCH, Ga. -- The NFC South clash between the
Atlanta Falcons
and
New Orleans Saints
won't carry the same significance, with the 2-8 Falcons having a down year. But the battle is sure to be spirited regardless of records.
Here's what to watch for on Thursday night:
[+] Enlarge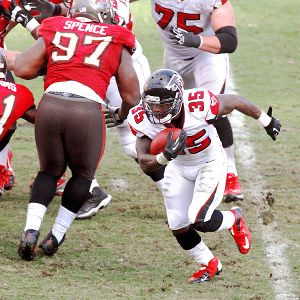 AP Photo/Reinhold MatayThe Falcons are looking to give Antone Smith more work after he ran for 88 yards on just two carries last week.
Schraeder's time?
Garrett Reynolds
is expected to regain his starting role at right guard after being benched last week while
Peter Konz
talked as if he has been replaced by
Joe Hawley
at center for the immediate future. But the interesting spot to watch on the Falcons offensive line is at right tackle, where
Ryan Schraeder
,
Jeremy Trueblood
, and newcomer
Sean Locklear
all got first-team snaps this week. Trueblood got benched for Schraeder last week while Locklear was inactive. One of the players seems destined to be inactive Thursday, but it would make sense for the Falcons to get a longer look at the rookie Schraeder. "I feel comfortable," Schraeder said. "I'm ready to go, if I need to be called on." He played 22 offensive snaps in the last game. "I got some positive feedback," Schraeder said. "Got coached up on a few things."
Free spirit
: Pro Bowl free safety
Thomas DeCoud
admitted he's not playing his best football right now. At the same time, he didn't appreciate all the blame being pointed his way and vented through social media about it. DeCoud has been nothing but a true professional in terms of dealing with the media, so one would expect him to handle this adversity in the same manner. He won't lose his starting job this week, but the Falcons need him to defend the deep ball better. How soon people forget that DeCoud scored the last defensive touchdown for the Falcons with a 30-yard return of a fumble recovery against the Buccaneers in Week 7.
Pressure point
: Speaking of the defense, DeCoud scored his touchdown a result of a perfectly timed blitz by himself and fellow safety
William Moore
. In fact, the high amount of blitzes dialed up by defensive coordinator Mike Nolan was a big factor in the Falcons' last win. Would the same work against
Drew Brees
and the Saints? Maybe not. According to ESPN Statistics and Information, Brees completed 8 of 9 passes for 148 yards and a touchdown in Week 1 when the Falcons sent five or more pass rushers.
In the running
: Mike Smith has said it was imperative to get
Antone Smith
more involved in the running game after Smith broke off a 50-yard touchdown run last week and gained 88 yards on two carries. That statement came a week after the Falcons said they needed to work their workhorse
Steven Jackson
more often. That's not to say that Smith will surpass Jackson as the primary ball carrier, but it will be interesting to see how the Falcons deploy Smith against the Saints.
Jacquizz Rodgers
was limited in practice with an ankle injury and
Jason Snelling
is in the doghouse following a marijuana arrest, so there will be opportunities for Smith. Plus the 5-foot-9, 192-pound special-teams ace Smith has the right approach. "I feel like I'm playing for a job every time I step in the building," he said.
Ryan's hope
: Rob Ryan obviously has made an impact. The Saints had the worst defense in league history in terms of yards allowed last season. Now with Ryan coordinating the defense, the Saints boast the league's fourth-best total defense and third-best passing defense. Ryan comes at you with a variety of different looks, which will test Falcons offensive coordinator Dirk Koetter's game plan. "He's really good at mixing his personnel groups," Koetter said of Ryan. "Some of how he mixes his groups is determined by the health of his guys. Whoever he's got up on game day, he uses all of his guys." The Saints lost top cornerback
Jabari Greer
to an ACL injury, which could benefit the Falcons.
November, 19, 2013
11/19/13
10:10
AM ET
FLOWERY BRANCH, Ga. -- It's hard to remember too many times this season when
Atlanta Falcons
head coach
Mike Smith
spoke positively about the play of one individual offensive lineman.

Smith
That's what Smith did, sort of, on Monday when he talked about
Joe Hawley
stepping in as the starting center against Tampa Bay as
Peter Konz
moved over to right guard.
"I thought Joe did a nice job at the center position in the ball game (Sunday), from my evaluation of watching the tape on the flight home," Smith said.
Hawley played all 71 snaps on a day the Falcons benched right guard
Garrett Reynolds
, then benched Konz for Reynolds, then inserted
Ryan Schraeder
at right tackle for
Jeremy Trueblood
.
Not to mention newly signed veteran
Sean Locklear
might be in the mix at right tackle soon.
Yes, the offensive line is still a mess.
"We will continue to evaluate everything," Smith said of the line. "When you've played like we've played, especially the last four weeks, you've got to look at all options. And I felt like the moves helped us in some areas and hindered us in others.
"We will continue to tweak the play time of our players as we move through this last part of the season. We've got to get a combination where we feel we give ourselves the best opportunity to win."
Hawley is confident he can do the job at center moving forward.
"Obviously they've shown that the best players are going to play, so I've just got to keep playing good and prove that I belong out there," Hawley said.
Hawley isn't the only unheralded player the Falcons will take a closer look at moving forward. Smith said running back
Antone Smith
earned more carries after gaining 88 yards on two runs against the Buccaneers, including a 50-yard touchdown. And rookie
Zeke Motta
played 26 snaps while taking over at free safety after starter
Thomas DeCoud
played 42 snaps.
By the way, DeCoud remained with the starters when the team went through a walkthrough on Monday night. Not to mention Motta has a broken finger on his right hand and is expected to play with a cast, which could limit his production. So, the chatter about Motta replacing DeCoud in the starting lineup might have to calm down for now.
"It was a good opportunity for me to get out and get some snaps on defense, get some good experience, and get a feel for the NFL game aside from special teams," Motta said. "It was fun, from that aspect; to go out there and kind of test my skills. And I felt comfortable. I felt like I belonged out there.
"I'll do whatever the coaches ask me to do. Whatever I can do to help this team and make this team better, I'm going to do."
The Falcons hope all their inexperienced players proceed with the same attitude.