Atlanta Falcons:

Atlanta Falcons
May, 26, 2014
May 26
8:00
AM ET
The
Atlanta Falcons
begin organized team activities this week, and the media will be allowed to watch Wednesday's session.
Here are five things to watch as the veterans and rookies get together:
1. Steven Jackson's passion:
The veteran running back
wrote a blog recently and reflected on last season
and how he and the team needed to do better this year. He also tweeted about welcoming new competition. Well, Jackson could be pushed by fourth-round draft pick
Devonta Freeman
from Florida State, a guy the Falcons view as a three-down back. Jackson, who turns 31 in July, wasn't fully healthy last season. Being pushed by a youngster might make all those bumps and bruises from over the years go away quickly.
2. Lamar Holmes' improvement:
Yes, Lamar Holmes. This is why: If
Sam Baker
's knee doesn't hold up following surgery, then the Falcons would have to move rookie first-round pick
Jake Matthews
over to left tackle and rely on Holmes on the right side. Holmes has been far from reliable so far, but the Falcons still have faith in him moving forward, provided he is in shape. Getting beat up last season was a good learning experience. Now Holmes has to stay in it, mentally, in case he's called upon.
3.
Jonathan Massaquoi's pass rush:
Since the Falcons didn't go after a true pass-rusher in free agency or the draft, the onus is on Massaquoi to take another step forward in terms of getting pressure on quarterbacks. He'll have to adjust to playing outside linebacker in the base 3-4 scheme. But no matter the defensive alignment, Massaquoi simply has to be relentless with his rush. Last year, he finished with four sacks which wasn't bad, considering he played 50.7 percent of the defensive snaps. Although it's just practice, Massaquoi still could show something during OTAs.
4. Devin Hester's role:
Don't expect the Falcons to show their full offensive repertoire right now, but it will be interesting to see how many offensive plays the newcomer Hester gets during OTAs. Hester, arguably the greatest return man of all time, was signed to make an impact on special teams. However, he has the ability to create mismatches on offense as a jitter bug working out of the slot. Hester didn't play offense in Chicago last season in large part because
he had a quarterback who berated him more often than not
. That won't happen with
Matt Ryan
.
5. Roddy White's mindset:
The veteran receiver is coping with a devastating tragedy as his younger brother was murdered in South Carolina. The funeral was just last week, and no one should tell anyone how long to grieve. Therapy for some people involves getting back to work, while others find it too hard to focus under such circumstances. Whatever the case, the Falcons should be delicate with White during this difficult time. Not seeing White on the field for the start of OTAs wouldn't be a surprise, although he surely wants to be around his teammates for support.
May, 1, 2014
May 1
10:01
AM ET
By
ESPN.com staff
| ESPN.com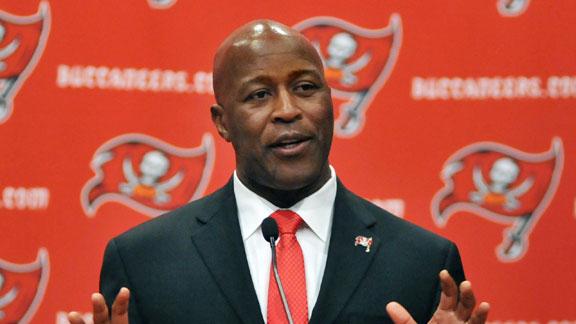 The NFC South might have had the most dramatic offseason of any division in the NFL.
The
Tampa Bay Buccaneers
loaded up on enticing newcomers, starting with a new coach in Lovie Smith, a new quarterback in
Josh McCown
and a new pass-rusher in
Michael Johnson
, leading many analysts to believe they had the best offseason of any team in the league.
Meanwhile, the defending-champion
Carolina Panthers
lost several core players, including the face of their franchise,
Steve Smith
, leading many analysts to believe they had one of the worst.
And the
New Orleans Saints
did a little of both, parting ways with several longtime veterans while making a big splash with the addition of safety
Jairus Byrd
.
Throw in the
Atlanta Falcons
, who get star receiver
Julio Jones
back from injury and just plain get to start over with a clean slate and you can see why all four teams feel as if they have legitimate shots to make a playoff run in 2014.
The four writers who cover the division -- Vaughn McClure in Atlanta, David Newton in Carolina, Mike Triplett in New Orleans and Pat Yasinskas in Tampa Bay -- offered their insights on the division shakeup among other topics. They also polled their Twitter followers to find out whether they saw the issues differently.

Has any team made moves that could alter the balance of power in the NFC South?
Vaughn McClure: The Buccaneers made a significant move by hiring Lovie Smith as their coach. After seeing the Bucs demolish the Falcons at home last season, it was easy to tell they were a talented team that just needed better leadership. Smith is a proven winner who took the Chicago Bears to the Super Bowl behind a suffocating defense. One could argue Smith has even better defensive parts to work with in Tampa than in Chicago. If he can assemble a solid offensive attack behind coordinator Jeff Tedford, Smith could have his team in contention for the NFC South title immediately.

David Newton
: Tampa Bay made the most significant moves, from cutting
Darrelle Revis
to signing defensive end
Michael Johnson
, tackle
Anthony Collins
, quarterback
Josh McCown
and cornerback
Alterraun Verner
. The Bucs needed to make changes with a new head coach inheriting a team with a 4-12 record. I'm not ready to say that has altered the balance of power in the NFC South, though. I'm still not sold on McCown and what the Bucs will be offensively. If the balance of power shifts, I believe it will go to Atlanta. The Falcons should improve defensively with the addition of nose tackle
Paul Soliai
. With a healthy
Julio Jones
back at wide receiver and a revamped offensive line, they should return to the team that averaged 11.2 wins a season from 2008 to 2012.
Mike Triplett: All of them have, to some degree. But the teams that stood out most were the Buccaneers (for better) and the Panthers (for worse). I loved a lot of the moves Tampa Bay made, starting with a solid coach and quarterback. The Bucs already had a very good defense and run game. I could easily see an eight-win season. There won't be any easy wins in this division. The Saints should be the favorites to overtake Carolina now that their defense is even more stacked with Jairus Byrd. But both teams have new question marks after letting a lot of veterans go. The Panthers, especially, seemed to lose several guys who were key players last season.

Pat Yasinskas: Tampa Bay has been the division's most active team this offseason, and I think that will make the Bucs a lot better than they were a year ago. The Bucs have the ingredients to have an excellent defense, and that should keep them competitive. If the offense can be at least average, this team has a shot at being a playoff contender.

@DNewtonespn The #CarolinaPanthers jettisoned their entire WR corps and did little to replace the admittedly average production #FourDowns

- Andy Briggs (@ambriggs) April 18, 2014
---

Which newcomer to the NFC South will have the biggest impact?
McClure: The jury is still out because the Falcons and Bucs each have top-10 draft picks and could move up. If the Falcons secure a pass-rusher such as Jadeveon Clowney or Khalil Mack, either player could change the complexion of the defense. And if the Bucs land a receiver such as Sammy Watkins or Mike Evans to join Vincent Jackson, defensive backfields around the division could be in serious trouble. For now, I'll say safety Jairus Byrd from the Saints. A guy making $9 million a year had better make a strong impact. Byrd is a playmaker who showed a knack for intercepting the ball in 2009 as a rookie in Buffalo. He had a pretty good teacher over the years in Buccaneers cornerbacks coach Gill Byrd, his father.

Newton
: Lovie Smith. Greg Schiano never seemed to have the respect in the locker room that it takes to win. Smith should have that immediately, based on his success at Chicago that resulted in three NFC North titles and one NFC championship. But before anybody crowns the Bucs as NFC South champions, remember it took Smith a year to turn things around in Chicago. His first team was 5-11. He's facing many of the same issues in Tampa that he did with the Bears in rebuilding the offense. In his favor is the nucleus for a strong defense that should keep the team in most games. My newcomer pick might change if Atlanta can find a way to move up and get Jadeveon Clowney in the draft. I just don't see the Texans passing on him with the first pick.
Triplett: Josh McCown. I don't think he'll be the best player of all the newcomers in the division. And I doubt he'll even be as good as he was last year for the Bears. But the quarterback position is so vital -- and it was the one element the Buccaneers were really missing. McCown should provide some stability there. And, as I said, their defense and run game are both excellent. This is suddenly a well-rounded and dangerous team. If Julio Jones counted, I would have picked him instead. His return from injury will be huge for the Falcons.

Yasinskas: I'm not going with a player. I'm going with a coach: Lovie Smith. I view Smith's arrival as the best thing to happen to Tampa Bay in a very long time. Smith is exactly what this franchise needs -- a coach who stays on an even keel and knows how to win. After the Greg Schiano era, Smith should provide a lot of fresh air for the Bucs.

@vxmcclure23 Paul Soliai, going to be the anchor of this shift to a 3-4 hybrid. #FourDowns

- Matt de Lisle (@MdeLisle84) April 21, 2014
---

Which departing NFC South player leaves the biggest void?
McClure: Wide receiver Steve Smith, although the Panthers and Cam Newton are sure to feel the loss of tackle Jordan Gross, as well. Smith isn't the same player he used to be, but he's such a tough competitor. Although he's only 5-foot-9, he always does an outstanding job of securing the ball at its highest point. He has seven 1,000-yard seasons to his credit, and two of those came in the past three seasons with Carolina. I remember how Smith used to give Charles Tillman and the Bears fits whenever Chicago matched up with Carolina. The Panthers will realize how much they miss him when they face Smith and the Baltimore Ravens in the regular season.

Newton
: Jordan Gross, because his retirement in essence forces the Panthers to start over with new players at two positions if the team winds up moving right tackle
Byron Bell
to the left side. I'm not sold on Bell, which is why I believe Carolina will take a tackle with the 28th pick of the draft. But for a team that depends on a power running game, having solid tackles is a must. Replacing Smith's 64 catches won't be nearly as hard. He hasn't been a No. 1 receiver for a few years. If I had to pick a player other than Gross, it would be
Tony Gonzalez
. Replacing a tight end who caught 83 passes and eight touchdowns -- in his 17th season -- is a tall task. You easily could make the argument he'll leave the biggest void.
Triplett: Steve Smith because of everything he has meant to the Panthers. It feels as if they lost part of their identity -- and I don't see an obvious replacement plan in place. Carolina was already thin at receiver before it let him go. I also think the Panthers will miss Mike Mitchell and Captain Munnerlyn in their secondary quite a bit. I thought both of those guys were a big part of their defensive surge last year. Darrelle Revis and Darren Sproles are obviously worth noting, but Tampa Bay and New Orleans have good fallback options.

Yasinskas: It would be easy to point to some big names such as Tony Gonzalez, Steve Smith or Darrelle Revis. But I'm going with former Carolina player Jordan Gross. I think his retirement will have a huge impact on the Panthers. For years, Gross was a solid left tackle. Without him, the Panthers are going to have to scramble for a replacement.

@PatYazESPN Steve Smith. Was the heart of that team for a long, long time. Even as an opponent, we'll miss him in Tampa Bay.

- Matt Holden (@JaedenStormes) April 21, 2014
---

Which NFC South non-quarterback would you pick to start your own team?
McClure: Tough question, but I would have to go with Greg Hardy. Teams without a consistent pass rush can appreciate what Hardy brings to the table. He has 26 sacks over the past two seasons and seems impossible to stop at times, particularly when Charles Johnson is getting it done at the other defensive end spot. That's why the Panthers led the league with 60 sacks last season. Carolina rode a strong defense to the NFC South title, then kept Hardy in the fold by slapping the franchise tag on him. He'll get his big payday because he brings plenty of value to the team. For a non-quarterback, he would be a pretty solid cornerstone.

Newton
: Bucs defensive tackle
Gerald McCoy
. Hands down. Put him in the middle of any defense and that unit is going to be much improved. He's not only the best defensive tackle in the division, he's the best in pro football. He's stout against the run and can pressure the quarterback (9.5 sacks last season). He'll require double-teams, which will free up the ends. The only other player I considered here was Panthers middle linebacker
Luke Kuechly
, the reigning NFL Defensive Player of the Year. He really is, as advertised, a tackling machine. His 24-tackle performance against New Orleans last season was amazing. Like McCoy, he's going to make any defense much improved. McCoy got the vote from me here only because it's harder to find a tackle with that kind of game-changing ability.
Triplett: This was, by far, the most difficult question for me to answer. The first two names that came to mind were Jimmy Graham and Julio Jones. I think both of them rank among the top 10 playmakers in the NFL. But, man, this division is absolutely stacked with defensive talent, from linemen such as Greg Hardy, Cameron Jordan and Gerald McCoy to linebackers such as Lavonte David, Luke Kuechly and Thomas Davis to defensive backs such as Alterraun Verner, Jairus Byrd and Keenan Lewis. … OK, I'm hemming and hawing now. I'll go with Jones because I figure he'd earn the biggest contract on the open market. But Graham's an awfully nice fit for what the Saints like to do.

Yasinskas: I'm going to go with a guy who hasn't even started to get his due. That's Tampa Bay defensive tackle Gerald McCoy. He began his career with two injury-plagued seasons, but has followed that up with two stellar seasons. McCoy should only continue to get better because his position is so crucial in the Bucs' new defensive scheme. McCoy might be on the verge of being the league's best defensive tackle.

@MikeTriplett Keuchly. Already best defensive player IMO. Would be my first pick of any non-qb not named Calvin Johnson in entire NFL

- JetNet (@Bengeauxhornets) April 22, 2014
March, 6, 2014
Mar 6
11:00
AM ET
Todd McShay's third NFL mock draft for 2014 is out on ESPN Insider today. The Falcons need linemen. They need linemen in a huge way and need several on both sides of the ball. Of course, they will add some big bodies in free agency -- and they have quite a bit of money to spend -- but this draft sets up pretty well for the Falcons at six to end up with
Jadeveon Clowney
,
Greg Robinson
or
Jake Matthews
.
Could this be the team to offer the Rams the most to move up to the second slot? Their history shows they are unafraid to make such a deal, but they also can't continue to neglect the bottom of their roster, as they are now one of the most top-heavy teams in the league.
Whom does McShay have the Falcons drafting at No. 6?
Let's take a look
:

December, 20, 2013
12/20/13
10:00
AM ET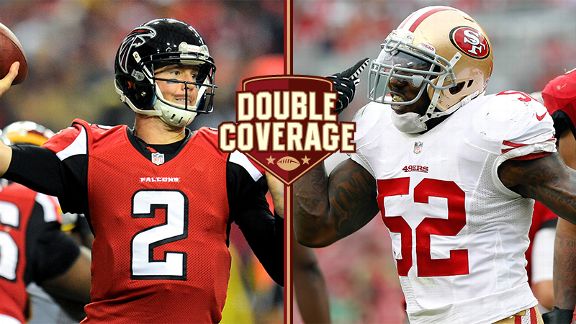 USA TODAY SportsPatrick Willis and the 49ers' pass rush could make Monday night miserable for Atlanta's Matt Ryan.
The NFL schedule-makers tried to get this right.
They planned for the final game played at Candlestick Park to be special. They set a 2012 NFC Championship Game rematch between the 49ers and the Falcons. However, the Falcons have not held up their end of the bargain. They are just 4-10 as they try getting revenge against the 49ers for their road win in the title game in January.
The 49ers have done their part, as they are 10-4 and can clinch a playoff berth with either an Arizona loss at Seattle or by beating the Falcons. The 49ers are focused on sending out Candlestick the right way. Coach Jim Harbaugh said this week the 49ers are the group that "doesn't want to screw up" the Candlestick finale.
Falcons reporter Vaughn McClure and 49ers reporter Bill Williamson discuss the game in Double Coverage:
McClure:
Bill, the 49ers and
Vernon Davis
had their way in the passing game against the Falcons in the NFC Championship Game. And the Falcons have had trouble covering tight ends again this season. Do you think Davis will expose their poor coverage once again?
Williamson:
The 49ers' passing game is really coming together. The return of
Michael Crabtree
has sparked it. Crabtree has played the past three games and he is getting better each week. It opens up possibilities for Davis and
Anquan Boldin
. Quarterback
Colin Kaepernick
and Davis have a nice chemistry. Davis is a mismatch for nearly every defense and he's particularly good against defenses that struggle against the tight end. He had eight catches for 180 yards against Arizona in October. Vaughn, do you see any way the Falcons can slow down the 49ers' receiving weapons as a whole?
McClure:
Not really. The Falcons started three rookies in the secondary last Sunday against the Redskins and gave up pass plays of 62 and 53 yards, the latter for a touchdown. All three rookies -– cornerbacks
Desmond Trufant
and
Robert Alford
and free safety
Zeke Motta
–- made some mistakes in coverage. But Trufant has held his own most of the season after coming in as the team's first-round draft pick, so he's going to compete, but Alford still has some ground to make up. Motta might not even play with regular starter
Thomas DeCoud
possibly returning from a concussion. However the Falcons line up, they have to play with better eye discipline and technique. Not to mention the pass rush has to make an effort to put pressure on the elusive Kaepernick or else he'll carve up the Falcons and let loose to Davis, Boldin, and Crabtree.
The Falcons were supposed to be challenged heavily by the read-option this season with matchups against
Russell Wilson
,
Robert Griffin
III and Kaepernick. Wilson didn't use it much and RGIII didn't play. So, will Kaepernick and the 49ers utilize the strategy on Monday night, or has it just not been as effective this season?
Williamson:
They haven't used it much this season. It's been used occasionally. But I will tell you this: Kaepernick has been running with a lot of confidence in the past few games. I think it is because the passing game has opened up and it has affected the entire offense positively. Vaughn, do you get the sense the Falcons have a lack of confidence facing Kaepernick and this offense because of the loss in the NFC title game?
McClure:
Bill, I wasn't covering the Falcons when they met the 49ers in the postseason a year ago, but the Falcons can't be too confident about much of anything, at 4-10. From a defensive standpoint, six starters who faced Kaepernick last season either are no longer with the team or have been benched. And if DeCoud doesn't return this week from a concussion, there's a possibility that five rookies will start against the 49ers offense come Monday night. It will be quite a lesson for those players, to face a true dual-threat quarterback. The Falcons haven't looked too confident the past two weeks defending against a pair of backup quarterbacks,
Matt Flynn
and
Kirk Cousins
.
A lot has been made of
Aldon Smith
's off-field issues this season. In fact, Falcons receiver
Roddy White
actually stepped out and said Smith was a "good dude" who just made a mistake. How has Smith responded after his time away from the team, and is he back to his normal self on the field yet?
Williamson:
Yes, Smith is back to his dominating self. He has been back for six games and he was eased into the defense after missing five games while seeking treatment for substance abuse. Smith has been particularly good for the past four games, and he's been dominant the past two games. He is his normal self as a pass-rusher and he is continuing to grow as a complete player. He is a major cog of a defense that is playing at a high level. Vaughn, do you see any way the Falcons can slow Smith and crew Monday night?
McClure:
No. Not at all. This offensive line has been like a sieve all season long. Don't be fooled by the Falcons being ranked eighth in sacks given up per pass attempt. They've allowed
Matt Ryan
to be sacked or hit way too many times despite Ryan making a conscious effort to get the ball out quicker this season. Right now, the Falcons are relying on second-year left tackle
Lamar Holmes
to protect Ryan's blind side, and Holmes is coming off being abused by
Brian Orakpo
of the Redskins. Plus, the Falcons have to be aware of
Ahmad Brooks
along with Smith. I covered a game last season during which the 49ers totally dominated the
Chicago Bears
with a swarming pass rush, led by Smith. I can envision the same thing happening to the Falcons.
December, 1, 2013
12/01/13
2:30
PM ET
By
ESPN.com staff
| ESPN.com
Join our ESPN.com NFL experts as they break down the Atlanta Falcons' visit to the Buffalo Bills. Contribute your thoughts and questions beginning at 4 p.m. ET. And, be sure to visit our
NFL Nation Blitz page
for commentary from every game, as well as fan photos and the latest buzz from Twitter. See you there.
November, 9, 2013
11/09/13
8:01
AM ET
The second half of the schedule doesn't get any easier for the 2-6
Atlanta Falcons
.


They'll face three teams that have a combined 20-5 record with matchups against Seattle (8-1), New Orleans (6-2), and San Francisco (6-2).
First up is the Seahawks, whom the Falcons beat 30-28 in last season's NFC divisional playoffs. Both teams are much different than they were a year ago due to personnel changes and injuries.
Here's what to watch for Sunday at the Georgia Dome:
Keep on swinging
: Some figured
Lamar Holmes
was down for the count after losing his starting right tackle spot to
Jeremy Trueblood
. But Holmes, who started at left tackle for an injured
Sam Baker
for three games, is back starting on the right side and steadily improving, according to offensive line coach Pat Hill. Holmes told ESPN.com he wasn't in shape at the start of the season, but he has worked diligently to correct the problem. "After the week I made the comment, I talked to the strength coach and just started doing things differently,'' Holmes said. "I started working harder in practice and started eating more of the right things. Slowly, it just turned around where I'm not as tired as I was at the beginning of the season. I feel like I can go all four quarters.'' Holmes' pass protection will be tested Sunday against Seahawks defensive end
Chris Clemons
, the player Holmes sat in the film room and studied following Thursday's practice. Clemons rushes from both sides. "He's been in the league for 10 years for a reason,'' Holmes said. "He's not a pushover. He's really good. He's got a great get off and he uses his hands really well. It's going to be a tough little battle. But we've got to go in there and fight for the 12 rounds. I'm pretty sure he'll be up to the task, just as well as I will.''
Problem solver
:
Matt Ryan
has thrown seven interceptions in the past two games after throwing just three interceptions through the first six contests. Now he'll face a Seattle team tied for first in the NFL with 13 interceptions, led by four apiece from cornerback
Richard Sherman
and safety
Earl Thomas
. Ryan admitted forcing some throws while working without
Julio Jones
and
Roddy White
. Well, the expected return of White following a three-game hiatus should help Ryan rediscover his comfort zone. That's not to say life will be easy for White, particularly when he matches up against the lanky and physical Sherman. But at least White has the ability to make some of the tough catches that maybe some of his teammates can't. It will be just a matter of how freely White is able to move around coming off hamstring and ankle injuries.
Beast mode
: The Falcons did a solid job containing Seahawks running back
Marshawn Lynch
in the playoff game as Lynch managed just 46 yards on 16 carries. But when Lynch goes into "Beast Mode,'' there is no stopping him. He enters Sunday's game as the NFL's fourth-leading rusher, with four runs of 20-plus yards and six touchdowns. It seems like one explosive or tough run gets him going. And the Falcons have allowed explosive runs to Arizona's
Andre Ellington
(80-yard touchdown) and Miami's
Lamar Miller
(49 yards). For the Falcons, gang tackling will be a must.
Taunting Tate
: It would be shocking if Seattle's
Golden Tate
ever pulled a taunting stunt again like he did against the
St. Louis Rams
, when he caught the ball and waved good-bye to the defender at the 25-yard line on his way to a touchdown. Regardless of what kind of foolishness Tate brings to the field Sunday, the Falcons can't fall for the bait. They also can't ignore just how dangerous Tate can be as both a receiver and return man. In terms of the latter, Tate ranks sixth in the league in punt returns with an average of 13.2 yards per return. He set up game-winning scores against Houston and last week against Tampa Bay with returns of 32 yards and 71 yards, respectively.
October, 25, 2013
10/25/13
12:00
PM ET
AP PhotoCalais Campbell, right, and the Arizona defense will try to contain Matt Ryan, who had a 148.4 QB rating Sunday against the Bucs.
When the schedule came out in April, the Cardinals-Falcons duel in the desert looked like it could be pivotal for both. And it could still be, but not for the reasons they originally thought.
At 3-4, Arizona is vying for a win before its bye week. Atlanta, on the other hand, is a week removed from its bye and comes in at 2-4.
Injuries have hampered both clubs, which need to find their way back to the winning path.
Cardinals reporter Josh Weinfuss and Falcons reporter Vaughn McClure discussed Sunday's game.
Weinfuss:
At 2-4, I'm guessing this season hasn't been what the Falcons had expected. What specifically has gone wrong and is this the week they rebound?
McClure:
Josh, injuries have absolutely decimated the Falcons this season, none bigger than losing top receiver
Julio Jones
to season-ending foot surgery. A hamstring injury has kept
Steven Jackson
sidelined since Week 2, although he's scheduled to return to practice this week. And No. 2 receiver
Roddy White
missed the first game of his NFL career in Week 7 while nursing hamstring and ankle injuries. Add on a season-ending injury to defensive end/linebacker
Kroy Biermann
(Achilles), a lingering knee issue for left tackle
Sam Baker
, and a short-term injured reserve situation for linebacker
Sean Weatherspoon
(foot), and you're talking about a team with almost as many starters in street clothes as in uniform. That being said, I think the Falcons started the process of rebounding with Sunday's 31-23 win over the Buccaneers, ending a three-game skid. Quarterback
Matt Ryan
was flawless while working with some unheralded receivers, and the defense ignited the team with an early touchdown off a sack-fumble play. The offensive line protected better than in any other game this season.
But I think the line will have a tough time against the Cardinals' front. Wouldn't you agree?
Weinfuss:
I would, especially with the Cardinals playing the way they have. The front three of DT
Darnell Dockett
, DE
Calais Campbell
and NT
Dan Williams
have been rejuvenated under new defensive coordinator Todd Bowles. In his system, Bowles did away with the multigap format and took the reins off players. Now, when the ball is snapped, each lineman has one goal in mind: Get to the quarterback, which has also transformed one of the worst run defenses into one of the best. The more the Cards can push up the middle, the more quarterbacks and running backs are bolting outside, right into the arms of outside linebackers
Matt Shaughnessy
and, a familiar name for Falcons' fans,
John Abraham
. Each lineman has his own strengths. Williams can fill a lot of space straight up the middle. At 6-foot-8, Campbell is a lot of body to handle for any lineman before he stands up and gets in the quarterback's face. When Dockett comes with a full head of steam, he's tough for anyone to stop.
Speaking of stopping, the Cardinals haven't been able to contain tight ends this season. Will
Tony Gonzalez
be able to have a big day?
McClure:
Gonzalez has had an incredible season, especially when you consider he's 37 years old. I've watched him constantly beat double coverage. The Patriots and Jets decided to defend him in red zone situations like they do a gunner on special teams, which ticked off coach Mike Smith. That tells you what type of attention Gonzalez still draws. The thing that impresses me the most is how much Gonzalez works on his craft at the start of practice. He doesn't just go out there and go through the motions. And he's shared some of his knowledge with rookie tight end
Levine Toilolo
. Although Gonzalez was targeted just four times the last game as
Harry Douglas
emerged, I expect Ryan to look for him a lot more this Sunday.
Will
Carson Palmer
be all about getting the ball to
Larry Fitzgerald
in the Cardinals' passing game?
Weinfuss:
Everyone wishes Palmer was all about getting the ball to Fitzgerald, but that hasn't been the case. But at the same time there hasn't been a receiver who's emerged. It seems to be a flavor of the day situation. One game it's Fitzgerald, another game it's
Michael Floyd
and yet another it's
Andre Roberts
. The Cards don't have any secret weapons. The receivers Palmer will be throwing to is pretty predictable. However, when Palmer goes through his progressions, he typically has more success. How often that happens is up for debate. And an issue around here lately is trying to get the tight ends more involved, specifically
Rob Housler
. During the offseason, Bruce Arians talked at length about how the tight end is an integral part of the offense, but after Housler missed the first two games with an ankle injury, Roberts shined. Since Housler returned, Roberts rarely has his number called, and the offense has struggled.
With all the injuries lately, how has receiver Harry Douglas handled the extra workload, filling in for guys like Julio Jones and Roddy White?
McClure:
Douglas handled it better than anybody expected, at least anybody outside the locker room. He responded with a career-high 149 receiving yards last week against Tampa Bay, catching all seven passes thrown his way. Everybody talked about Douglas just being a slot receiver, but he pointed out to me how he always lined up outside in college at Louisville. He's no Julio Jones, but Douglas showed the ability to get vertical with receptions of 54 and 37 yards, the latter for a touchdown. I was surprised that the Bucs didn't ask
Darrelle Revis
to cover Douglas all over the field, although they did have a couple of encounters. It might be hard for Douglas to have the same success against
Patrick Peterson
, a player one ex-defensive coordinator told me is the best cornerback in the league right now. But the Falcons need at least one of their unheralded receivers to step up if they hope to beat the Cardinals.
Speaking of Peterson, has he surpassed Revis?
Weinfuss:
In some ways, yes, and others, no. Peterson is by far the most athletic cornerback in the league -- and I know that'll rankle Seattle fans, but even
Richard Sherman
has come out and said it. But is he as good of a shutdown corner as Revis? I don't know if we can say that just yet. He's very good and, only in his third season, getting better. Revis is better on man-to-man coverage and Peterson is better in making up lost space. But give Peterson time. Within a few years, he'll be better.
.
October, 22, 2013
10/22/13
8:00
AM ET
FLOWERY BRANCH, Ga. -- Falcons coach Mike Smith wants to keep bodies fresh along the defensive line. And the same time, he might have put his veteran linemen on alert.
During last Sunday's 31-23 win over the
Tampa Bay Buccaneers
, Smith and the coaching staff increased the playing time of rookie defensive ends
Malliciah Goodman
and
Stansly Maponga
. Goodman played 35 defensive snaps while Maponga, with just one snap in three previous games while being inactive the first two games, played 21 snaps.
"When you have a bye week, you have an opportunity to study your football team even a little bit more in-depth," Smith explained. "One of the things that we felt would help us is that we would get a rotation going with our defensive linemen. And I thought that it worked very well for us [Sunday].
"We had much better pressure. We were able to sack the quarterback three times. We had opportunities for a couple of other plays. But I thought it was nice to see some of the young guys stepping up, specifically Malliciah Goodman as well as Stansly Maponga, who had probably more playing time in this game -- both the guys -- than any other game this year."
Goodman had two tackles and a roughing-the-passer penalty while Maponga picked up a flag for unnecessary roughness. Regardless, Smith seemed encouraged with what he saw from the young pass-rushers.
Osi Umenyiora
has started every game at right end while a host of players, including
Jonathan Massaquoi
, have been listed as the starter at left end. Massaquoi came in on the first third-down play on Sunday and was part of the pressure that led to
William Moore
's sack-fumble and
Thomas DeCoud
's 30-yard touchdown off the fumble recovery. Massaquoi also was credited with a half-sack along with linebacker
Joplo Bartu
.
Having more of a rotation along the defensive line is something Smith has done in the past to keep bodies fresh. The Falcons needed it in the last game after the defense was on the field for almost 10 minutes during a Bucs' fourth-quarter drive.
Smith was asked why such a rotation wasn't considered in previous games.
"We didn't feel like we had the young guys quite ready to go at the beginning of the season," Smith said. "If you recall, Stansly Maponga was not participating in training camp. We felt like by the time we got to our bye week, that we would have him really ready to roll. He did a nice job in the game [Sunday]. And I thought Malliciah had some pressure on the quarterback as well.
"It's good to see those young guys stepping up."
October, 4, 2013
10/04/13
12:00
PM ET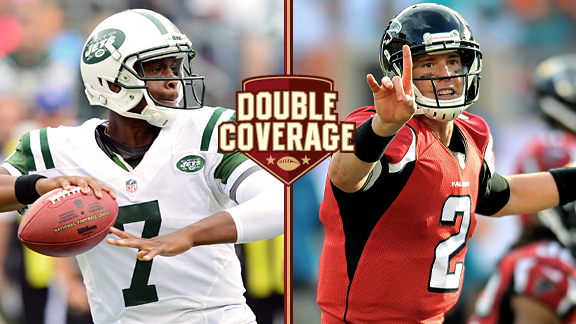 USA TODAY SportsGeno Smith's Jets and Matt Ryan's Falcons will try to bounce back from a disappointing Week 4.
If the
Atlanta Falcons
were in desperation mode last week against the Patriots, now they're in an all-out panic as they prepare to face the
New York Jets
on ESPN's "Monday Night Football."
The Falcons limp into the matchup at 1-3 despite being touted as a Super Bowl favorite. Quarterback
Matt Ryan
admitted not being as sharp as he wanted to be the last time out. Now, Ryan has to keep the locker room together as the Falcons try to stay afloat against the always-entertaining Rex Ryan and his Jets (2-2).
ESPN.com Falcons reporter Vaughn McClure and his Jets counterpart, Rich Cimini, discuss the matchup.
McClure:
I was talking to Falcons defensive tackle
Jonathan Babineaux
the other day about the mindset when facing a rookie quarterback. He admitted
Geno Smith
was somewhat similar to Carolina's
Cam Newton
, a player the Falcons have had trouble containing. Can Smith cause problems for the Falcons or is his confidence shaken?
Cimini:
Smith and Newton are different because Smith isn't nearly as dangerous as Newton in terms of making plays outside the pocket. He'll scramble on occasion, and they might call a read-option play here and there, but he's a pure pocket passer. I'd say, yes, his confidence has to be shaken. He's coming off a bad day against the Titans -- four turnovers, bringing his total to 11. He's making bad decisions and being careless with the football. Ryan said he's not considering a change at quarterback -- with
Mark Sanchez
out, there's no viable option -- but there will come a point where he'll have to do something if the turnovers continue. What's up with Matt Ryan? This hasn't been a vintage Ryan season so far.
McClure:
No, not by any means. And fans around here are starting to turn on him, for some reason. I understand their passion, but I wouldn't give up on Ryan. I actually give him credit for owning up to his mistakes against the Patriots. He threw a few bad passes on the Falcons' last desperation drive and missed
Roddy White
wide open for at least a first down on a fourth-and-2 from the Patriots' 7-yard line. Ryan ranks 23rd in the NFL in fourth-quarter passing with a 75.3 QB rating. Maybe he's rushing his throws as a result of protection issues. It doesn't help when your receivers drop a handful of passes, either. At least Ryan seems to have established a rhythm with tight end
Tony Gonzalez
. So, how will the Jets approach defending Gonzalez based on his 149-yard, two-touchdown performance against the Patriots?
Cimini:
I think Rex Ryan is asking himself that same question, Vaughn. He joked about Gonzalez this week, saying, "Quite honestly, I wish he would've retired." The Jets have done a good job defending tight ends, but they haven't faced anyone close to his caliber. I think a lot of the responsibility will fall to second-year safety
Antonio Allen
, but that would be trouble waiting to happen. Allen is a "box" safety, not known for his coverage skills. In years past, Ryan put cornerback
Antonio Cromartie
on athletic tight ends for a few plays here and there, but he needs Cromartie on
Julio Jones
or Roddy White. In other words, I could see Gonzalez having another monster game. A lot will depend on how they defend the running game. What's the latest on
Steven Jackson
?
McClure:
Although Jackson was on the field Tuesday talking with the trainers, he still hasn't practiced since suffering a hamstring injury in the first quarter of the Rams game (Week 2). It was initially called a three-week injury and with the bye following the Jets game, I see no reason why the Falcons would rush Jackson back out there Monday night. In fact, Jackson recently went on his personal blog to update fans on his status and said he wanted to be 100 percent before returning. Not being on the field with his teammates might be hurting him more than the pain from the injury. I see the Jets are banged up at receiver. How will they compensate?
Cimini:
You're right, they're banged up.
Santonio Holmes
(hamstring) won't play, and I'd be stunned if
Stephen Hill
(concussion) plays. So we're talking about
Jeremy Kerley
and
Clyde Gates
as the starting wideouts, with seldom-used rookie
Ryan Spadola
as the No. 3 and
David Nelson
(signed Tuesday) as the No. 4. This is the definition of "patchwork." They can compensate by leaning more on the running game, which has been reasonably effective.
Bilal Powell
is tied for the AFC lead with 292 rushing yards. I think you'll also see more two-tight end sets with
Kellen Winslow
and
Jeff Cumberland
. Ryan said he might install the wishbone. He was joking -- I think. What's wrong with the Falcons' defense? I see they've been giving up some big pass plays.
McClure:
Yes, they've given up seven plays of 40-plus yards, including four Sunday. Against the Patriots, the Falcons actually allowed
Tom Brady
to convert a third-and-19 from his 12 because they failed to get the proper depth on their drops. Such mental errors seem inexcusable, but defensive coordinator Mike Nolan is doing some "patchwork" of his own without
Kroy Biermann
(Achilles) or
Sean Weatherspoon
(foot) available and with
Asante Samuel
(thigh) still ailing. Three rookies -- cornerbacks
Marcus Trufant
and
Robert Alford
as well as linebacker
Joplo Bartu
-- are being asked to come of age rather quickly. And the pass rush has been pretty much non-existent even with the addition of
Osi Umenyiora
, who leads the way with two sacks. Speaking of the rush, what type of pressure will the Jets bring at Matt Ryan?
Cimini:
The Jets aren't the defense we thought they'd be. By that, I mean they're blitzing less than expected, and the reason is because they've been getting good pressure from their front three/four. In fact, they've sent five or more rushers on only 33.1 percent of the opponents' dropbacks, which ranks 17th in the league. With
Muhammad Wilkerson
,
Quinton Coples
and rookie
Sheldon Richardson
up front, I think they'll be able to pressure Ryan without having to dial up exotic blitzes. Rex Ryan's defense has evolved. When he had
Darrelle Revis
, the secondary was the strength of the unit, but now the strength is up front with the big boys. The Falcons can counter by running an up-tempo offense with quick throws -- that style causes problems for the Jets. Frankly, it blows my mind the Falcons, with all that skill-position talent, are struggling in the red zone. Most Jets would be happy with one of those weapons, let alone three. What's the deal?
McClure:
Offensive coordinator Dirk Koetter and Matt Ryan are trying to figure that out as we speak. The Falcons managed only one touchdown in six red-zone trips against the Patriots. For the season, they rank 29th in the league in terms of red-zone efficiency. Koetter took the blame for some bad play calls and vowed to cut one or two plays out of game plan. The fact that White has recovered slowly from a high ankle sprain hasn't helped. And the blocking has been abysmal, at times, in goal-line situations. Once everyone gets healthy, I expect more production and high-scoring games for the Falcons. If Monday night becomes a shootout, can the Jets compete?
Cimini:
They're a pass-oriented offense under Marty Mornhinweg, but it would be hard for them to win a shootout, especially on the road. I know the Falcons have their own issues on defense, so I think the Jets can score points on them. But Smith is too mistake-prone, and the receiving corps is too banged-up for me to think they can walk into Atlanta and outscore the Falcons. Their best chance is to shorten the game, playing ball control with Powell and the running game. I'd be surprised if the Jets win a game in the 30s.
.
September, 27, 2013
9/27/13
12:00
PM ET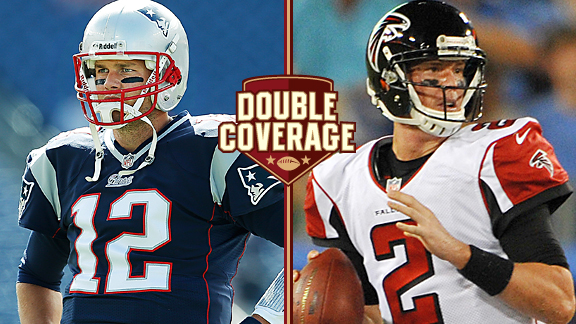 Getty ImagesTom Brady and Matt Ryan have both come in for heaping praise ahead of Sunday's meeting.
ATLANTA -- There are $100 million reasons why
Matt Ryan
should be talked about among the NFL's elite quarterbacks. One thing the
Atlanta Falcons
quarterback doesn't have that his Sunday-night counterpart possesses is a Super Bowl ring.
Ryan's showdown with
New England Patriots
star
Tom Brady
is sure to be a hot topic throughout Week 4. He already lost one such head-to-head matchup, when
Drew Brees
and the
New Orleans Saints
got the better of Ryan and the Falcons in the season opener (23-17).
So how will Ryan fare against the Pats? He'll need help from all phases, something he didn't receive in last week's loss to the
Miami Dolphins
.
ESPN.com Falcons team reporter Vaughn McClure and Patriots reporter Mike Reiss break it down:
McClure:
The Falcons were touted as a Super Bowl contender -- and possibly a favorite -- going into the season. But now, at 1-2, they find themselves in almost a must-win situation at home. How will the Patriots respond to the hostile environment they'll enter Sunday night at the Georgia Dome?
Reiss:
With 13 rookies on the 53-man roster -- including receivers
Aaron Dobson
(second round) and
Kenbrell Thompkins
(undrafted), who are playing key roles -- there is an element of unknown for the Patriots when projecting how the team will respond. Some of these players simply haven't experienced this environment and prime-time stage. It's rare for a Patriots team to be relying on such a large number of rookies for significant contributions, and that is one of the interesting storylines from a New England perspective this week. Other storylines are if this might be tight end
Rob Gronkowski
's season debut, if receiver
Danny Amendola
will also return after missing two games with a groin injury and if the defense -- which has been solid against lesser competition (
Jets
,
Bills
,
Buccaneers
) -- can limit an explosive passing game that is easily the best the unit has seen to this point in the season. Give us a feel for how things are going for the Falcons on offense.
McClure:
Not too well, at the moment. Head coach Mike Smith's biggest complaint is how inefficient his team has been in the red zone. During the Week 3 loss to the Dolphins, the Falcons were 2-of-5 in red zone opportunities. For the season, they are 6-of-12 (50 percent) in terms of touchdowns in the red zone, but offensive coordinator Dirk Koetter wants that number to be a bit higher. Having bruising running back
Steven Jackson
in the lineup would no doubt help in goal-line situations, but Jackson will miss Sunday's game while nursing a hamstring injury. Receiver
Roddy White
is also a solid red zone target, but White is not 100 percent healthy coming off a high-ankle sprain. Ryan still has
Julio Jones
and
Tony Gonzalez
as primary scoring weapons. How do you think the Patriots will keep up with the speedy receiver and ageless tight end?
Reiss:
I think it starts with how they decide to match up against the Falcons' "11 personnel" (one back, one tight end), because that looks like the most explosive package -- receivers Jones, White and
Harry Douglas
, with Gonzalez at tight end and either
Jacquizz Rodgers
or
Jason Snelling
at running back. Last Sunday against the Buccaneers' "11 personnel," the Patriots stayed in their base defense but played with three cornerbacks in the secondary -- their way of staying sturdy against the run but adding a coverage element to the secondary. I'd be surprised if we see that this week because the Falcons are much more potent in the passing game. So I could envision the Patriots turning to a coverage-heavy dime defense (six defensive backs), specifically with Jones and Gonzalez in mind, with the thought that a lighter box might be enough to limit the running game. For the Falcons, how are things shaping up on defense?
McClure:
The defense has had its issues. Take the Miami game, for example. The Falcons held a 23-20 lead with just less than five minutes remaining in regulation. The defense needed to close, needed to put pressure on Dolphins quarterback
Ryan Tannehill
, needed to lock down the receivers. Instead, the Falcons played soft coverage after the Dolphins reached midfield and couldn't disrupt Tannehill's rhythm. In the end, Tannehill engineered a 13-play, 75-yard drive that ended with his game-winning touchdown pass to
Dion Sims
. Not playing tight coverage and not wrapping up on tackles cost the Falcons in that game, and it could cost them the rest of the season if they don't find a way to correct those problems immediately. They could use their defensive leader, linebacker
Sean Weatherspoon
, who was placed on injured reserve (foot) with a designation to return in Week 11. One other aspect noticeable in Miami was how the Dolphins tight ends won their one-on-one matchups against the Falcons on that final drive. That being said, will Atlanta have to contend with one of the best tight ends in the league, Gronkowski?
Reiss:
We might not know the answer for sure until 90 minutes before kickoff, but things have been pointing in that direction. The one area the Patriots could use Gronkowski most, at least initially, is in the red zone. One season after ranking first in the NFL in red zone touchdown percentage (which we acknowledge isn't a foolproof stat), the Patriots rank last (4-of-13). It's going to be hard to win a game like this settling for field goals. Speaking of which, let's not overlook special teams. The Patriots are getting good contributions in that third phase of the game, with a 53-yard field goal by
Stephen Gostkowski
a highlight in Sunday's victory over the Buccaneers. How about the Falcons?
McClure:
Yet another area in which the Falcons could use much improvement. Against the Dolphins, returner Douglas fumbled a punt he admitted he shouldn't have fielded in the first place. It translated into a Dolphins touchdown three plays later. The usually reliable
Matt Bryant
missed a 35-yard field goal in the fourth quarter. And the Falcons had three penalties on special teams: two holds and an illegal block above the waist. Through three games, the Falcons are ranked 26th in punt return average and 30th in kickoff return average, although they've returned just one kickoff. Those special-teams issues are enough to cause special-teams coordinator Keith Armstrong to blow a gasket. Speaking of that, is Brady still yelling at his receivers?
Reiss:
Could you hear him down there in Atlanta? That was probably the most talked about storyline after New England's 13-10 win over the Jets on Sept. 12, whether Brady's on-field frustrations were making things tougher on the young receivers than they needed to be. But it was mostly yelling at himself this past Sunday. He was upset with an end zone interception he said he shouldn't have thrown. And he missed some open receivers, too. So while Brady's stats were better last week, his performance wasn't up to his own high standard, and it was actually more about him than the young pass-catchers, who turned in their best performance of the season. What is Ryan saying about this matchup?
McClure:
Ryan said plenty about the Patriots when he addressed the media in the locker room Wednesday. He said he expects to see a lot of man-to-man coverage and complimented the Patriots for being very sound with their technique. He believes the front seven does a great job of creating pressure in both the run game and against the pass. Of course, Ryan gave much credit to Brady for being one of the top quarterbacks in the league for such a long time. In fact, Ryan joked that he hoped to be around as long as Brady. And Ryan singled out
Vince Wilfork
for not only being a disruptive force up front, but for being a 325-pound guy who plays a lot of snaps. So what's the word from Bill Belichick?
Reiss:
Belichick complimented Ryan, saying among other things that Ryan has very few bad plays. He shared his belief that consistency is the mark of any great player and Ryan is "pretty consistent -- every play, every game, every series." And, according to Brady, Belichick said the following to players this week: "If you love football, then Sunday night at 8:30 in Atlanta will be the place to be." Hard to imagine many would disagree about that. This is going to be fun.
.
September, 22, 2013
9/22/13
2:30
PM ET
By
ESPN.com staff
| ESPN.com
Join our ESPN.com NFL experts as they break down the Atlanta Falcons' visit to the Miami Dolphins. Contribute your thoughts and questions beginning at 4 p.m. ET. And, be sure to visit our
NFL Nation Blitz page
for commentary from every game, as well as fan photos and the latest buzz from Twitter. See you there.