Atlanta Falcons:

Darius Johnson
November, 22, 2013
Nov 22
1:41
AM ET
ATLANTA -- As well as
Darius Johnson
played for most of Thursday night's game, the
Atlanta Falcons
rookie couldn't help but point the blame at himself.
Johnson
Johnson had six catches for 67 yards while abusing
New Orleans Saints
reserve cornerback
Corey White
. Johnson also nearly has his second-career touchdown, but he was ruled down following a review. Plus he drew a pass interference call on White with a veteran-like move. Yet all Johnson could think about was his fourth-quarter fumble with the Falcons driving into the red zone.
Johnson caught a pass from
Matt Ryan
for 2 yards then got the ball knocked away by Saints linebacker
Keyunta Dawson
. White, the goat for most of the game, came up with the key fumble recovery.
"I just didn't have it secured," Johnson admitted after the
17-13 loss
. "He made a good play on the ball. It just came out. I already knew as soon as it came out that I wasn't down. It was just a good play by him."
While Johnson sulked in the locker room, head coach Mike Smith stood at the podium and offered words of encouragement for the player who joined the team as an undrafted free agent.
"Darius is a strong young man who has come a long way in a short time in terms of undrafted free agents," Smith said. "Plays like that are going to happen. Unfortunately, it happened at a very bad time for our football team, but he will bounce back. The guys in that locker room will help him.
"That play did not lose the football game for us. There were many plays that were factors in us not winning the ball game."
Regardless, Johnson is likely to reflect on his mistakes for at least a few days. He also dropped a pass over the middle while wide open on third-and-2. The fumble, however, was the most glaring.
"He made a good play on the ball. I didn't see him," Johnson said. "I should have had it tucked high and tight, but he made a good play and knocked the ball our."
Johnson was hard on himself, yet he showed promise for the future. Going from an unknown player out of SMU to Ryan's primary first-half target was a dramatic step. And Ryan expressed confidence in Johnson moving forward even despite the fumble.
"It's definitely something to build on," Johnson said. "We would have loved to have come out on top. I am pleased with my performance ... but I'm torn between the two. It's mixed emotions. I live on to fight another day."
November, 22, 2013
Nov 22
1:30
AM ET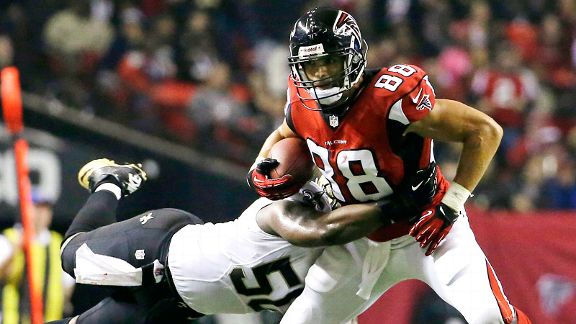 AP Photo/David Goldman"It's not the outcome that we wanted," Tony Gonzalez said, but "I'm happy the way we played."
ATLANTA –
Sean Weatherspoon
looked every one of his defensive teammates straight in the eyes before Thursday night's game and encouraged them to play like there was no tomorrow.
The
Atlanta Falcons
linebacker had delivered plenty of emotional sermons before, including a tearful one at halftime of the Seattle game when he was still on injured reserve. But this time, he was in the line of battle with his teammates in full uniform, prepared to fight right alongside of them.
"Just motivation," Weatherspoon said of this pregame speech. "You get out there and play together, and don't worry about anything else. As long as we have a chance to get on the field, we still feel like we have a chance to help our offense, help win the game. We just talked about playing with a certain energy, man.
"Ultimately, we didn't get the result that we wanted. But we did play with more energy tonight."
Any notion that the Falcons had mailed in the season was put to rest Thursday night, even despite their
17-13 loss
to the rival
New Orleans Saints
. The Falcons played with a sense of urgency despite dropping to a hard-to-imagine 2-9 on the season. They took this game personally, not just because many Saints fans infiltrated the Georgia Dome.
Trying to snap a four-game losing streak and attempting to salvage a dismal season was enough inspiration.
Tight end
Tony Gonzalez
, who insisted this week that the team hadn't quit on coach Mike Smith, was asked why the Falcons came out so motivated.
"Because we've been getting embarrassed," Gonzalez said. "I hope that's the reason why. We're a better football team than what we've showed these last [four] weeks. I think the way we played today was back to that old Falcons style of football. Obviously, we didn't come out and win. But I'm happy. I'm encouraged by it.
"And don't get me wrong -- we still lost. It's a bad taste in our mouths. It's not the outcome that we wanted. We're not accepting it. … We're still disappointed. But at the same time, I'm happy the way we played. If we keep that same attitude, like I said before, things are going to be looking good for us in the future. No doubt."
Progress was watching the defense force a three-and-out on the opening drive and limiting
Drew Brees
and the Saints to three points in the second half. Progress was the Falcons' offense getting consecutive 8-yard runs from
Steven Jackson
and the line paving the way for Jackson's 1-yard touchdown plunge on its opening drive.
[+] Enlarge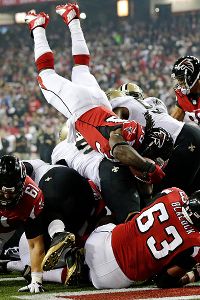 AP Photo/Dave MartinSteven Jackson went over the top for his first rushing TD as a Falcon.
Progress was having a chance to win the game in the fourth quarter, something the Falcons haven't experienced in recent weeks.
"I felt like the effort in the ballgame was good and gave us a chance to win the football game," Smith said. "I like how we started the game. We liked how we started the game. Felt like we played well, in spurts.''
The Falcons might have surged ahead had it not been for an untimely fumble in the red zone by rookie receiver
Darius Johnson
at the start of the fourth quarter. It was another one of those miscues symbolic of how the season has imploded. But Smith emphasized that the fumble was not why his team lost the game.
There were other gaping holes. The offensive line allowed too much pressure on
Matt Ryan
, who was sacked a season-high five times. The defense surrendered another handful of explosive plays, including a 44-yard touchdown catch-and-run by Saints tight end
Jimmy Graham
on a play that safety
William Moore
admitted he botched.
Despite those deficiencies, and the costly fumble, the Falcons had a chance in the final minutes. Smith stood behind his decision not to go for a fourth-and-15 from the Saints' 34-yard line trailing by four with 2:24 left. He opted instead for a 52-yard field-goal try, which
Matt Bryant
missed after the Saints froze him with a timeout. Smith's thought was to pull to within one with the kick, stop the Saints with three timeouts and then drive for a game-winning field goal.
It didn't work out exactly as planned, but at least the Falcons' effort was spirited.
"I thought that we responded to some momentum changes, to some adversity, in the football game," Smith said. "But still not good enough. When you don't win, it's not good enough."
November, 21, 2013
Nov 21
11:33
PM ET
ATLANTA -- A few thoughts on the
Atlanta Falcons
'
17-13 loss
to
New Orleans Saints
on Thursday night at the Georgia Dome:

Showing fight:
Tight end
Tony Gonzalez
promised the Falcons would come out with some fight despite entering the game with a 2-8 record. He was right. The Falcons definitely put together a spirited effort against their NFC South rival. It showed from the start when the defense forced
Drew Brees
and the Saints into a three-and-out to begin the game, including two run-stuffing plays. And the offense played with just as much enthusiasm, as evident with
Steven Jackson
's 1-yard touchdown flip -- his first rushing TD with the team. Despite some hiccups in defensive coverage and pass protection, the Falcons competed for almost the entire game, though the defense seemed to just wear down at the very end. It wasn't truly over until
Matt Bryant
missed a 52-yard field-goal try in the final minutes. The Falcons needed to play with the same type of fire the previous four weeks. They've now lost five in a row.
Stock watch:
Undrafted rookie receiver
Darius Johnson
's stock skyrocketed and plummeted all in the same game. He played like a veteran in the first half, catching a team-high five passes for 65 yards. He almost had a touchdown, but a replay review showed he was down at the 1-yard line. As good as Johnson looked, though, he still made some rookie mistakes. He had a key drop across the middle while wide open on a third-and-2 play in the third quarter. Then in the fourth, Johnson fumbled the ball away after a catch, killing a Falcons drive into the red zone.
Third downer:
When the Saints converted 5 of 5 third-down tries on their second drive of the game, you figured it would be a bad night for the Falcons' defense. It was. Atlanta gave up way too much room on third down, allowing the Saints to march at will. Third-down defense and surrendering explosive plays have been a problem for the Falcons all season. They also gave up a 44-yard touchdown from Brees to tight end
Jimmy Graham
.
Line change:
Once again, the Falcons' offensive line experienced a change.
Garrett Reynolds
, who regained his starting spot at right guard after being benched last week, was benched again in favor of center/guard
Peter Konz
. There might be some more changes next time out after the Falcons allowed
Matt Ryan
to be sacked a season-high five times. Left tackle
Lamar Holmes
didn't have a good day going up against right defensive end
Cameron Jordan
(2.5 sacks), and Saints left defensive end
Akiem Hicks
had a field day against the Falcons' linemen, too.
Bad call?
Speaking of Hicks, he wrapped Ryan up high and twisted the quarterback to the ground in the second quarter on a play that appeared to be a roughing penalty. Falcons coach Mike Smith was livid that no call was made. And the sack essentially cost the Falcons a touchdown as they settled for Bryant's 39-yard field goal. A touchdown there might have changed the complexion of the game. Smith and the Falcons are sure to reach out to the league about the officiating.
What's next:
The Falcons have a few extra days to prepare for their trip to Toronto to face the
Buffalo Bills
. Buffalo beat the
New York Jets
37-14 in Week 11 and has a bye this week. In other words, nothing gets any easier for the Falcons moving forward.
October, 24, 2013
Oct 24
2:55
PM ET
FLOWERY BRANCH, Ga. -- More often than not, you'll find
Darius Johnson
with his 5-foot-10, 175-pound frame contorted inside his locker texting on his cell phone to drown out the surrounding world.
"I just be chilling, man," the
Atlanta Falcons
rookie said. "I just sit hear listening to these receivers talk noise all the time."
[+] Enlarge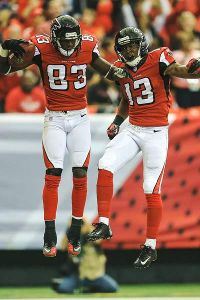 Daniel Shirey/USA TODAY SportsAtlanta's newest WR duo is Harry Douglas (83) and Darius Johnson.
Johnson can trash talk back now. He's no longer buried in obscurity. In fact, he lived up to the nickname he got in high school when he caught his first two NFL passes last Sunday.
Yes, the Falcons unleashed the "Truth" against the Buccaneers.
"Darius Johnson made a couple key catches for us," quarterback
Matt Ryan
said. "Specifically on a curl route, he made a great catch. ...The more those guys make those kinds of plays, the more confidence they're going to have."
Johnson, who joined the Falcons as an undrafted rookie from SMU, was on the practice squad up until last Saturday. He was promoted to the active roster to add depth at wide receiver, with
Julio Jones
undergoing season-ending foot surgery and
Roddy White
sidelined by hamstring and ankle injuries.
Many were surprised when Johnson played 35 of 46 offensive snaps in his first-career game -- but he wasn't.
The coaches informed Johnson of their decision to elevate him last Monday. He got reps with the first team in practice to help develop some sort of chemistry with Ryan. Offensive coordinator Dirk Koetter knew Johnson was going to get a lot of snaps because
Kevin Cone
wasn't going to get pulled off special teams and
Brian Robiskie
wasn't yet fully up to speed with the offense.
"I was overwhelmed, really," Johnson said. "It was a dream for me. So I'm actually living out my dream."
No one has pinched him just yet.
Johnson pulled down a 12-yard catch on his team's second drive last Sunday. Then he followed with a 12-yard gain off a curl route in the third quarter, picking up a first down. Johnson made a leaping grab with three defenders surrounding him.
He figured he gained a little more respect from Ryan after that play, especially considering Ryan reinforced his feelings.
"For him to even throw that ball to me shows he has confidence in me," Johnson said. "After it, he said, 'I'm glad you caught that because it kind of sailed on me a little bit. It was a bit high.' It was a good thing for him to say that."
Apparently, the Falcons found a great catch in Johnson, who led the team with 13 catches for 158 yards and a touchdown in the preseason. This Sunday, he might be relied upon even more if the Cardinals try to take
Harry Douglas
out of the game with top cornerback
Patrick Peterson
. Douglas is coming off a career-best 149 receiving yards.
Koetter pointed out how much Johnson is helped by getting so many reps on the scout team in practice.
"Darius, through training camp and through the first six weeks of the season, he's getting a ton of reps," Koetter said. "That guy's been getting better every day."
Johnson can come out of hiding now. He's no secret any longer.
August, 31, 2013
Aug 31
6:18
PM ET

Most significant move:
The Falcons were 13-3 last year and kept most of their team together. That's why it's more than a little surprising that four undrafted free agents made the roster. That's a tribute to the scouting staff. OT
Terren Jones
, LB
Paul Worrilow
, LB
Joplo Bartu
and OT
Ryan Schraeder
made the team. Worrilow and Bartu should contribute immediately on special teams. Schraeder has shown the ability to play both right and left tackle.
Fan favorite:
He was a long shot all the way, but Banks was being followed closely by fans. That's because he had a unique history. Banks spent five years in prison and later was exonerated. Banks' attempt to make the team was a great story while it lasted. But it may not be completely over. The Falcons reportedly may offer Banks a position working with the team.
What's next:
The Falcons could be combing the waiver wire for offensive line help. Second-year pro
Lamar Holmes
is unproven at right tackle and the Falcons, who lost projected starter
Mike Johnson
to injury, might want to bring in an alternative. Even if Holmes plays well, the line still could use more depth. It also is possible the Falcons could bring in a veteran quarterback because backup
Dominique Davis
never has taken a snap in the regular season.
Players cut:
Waived LB
Brian Banks
, G
Theo Goins
, DT
Neal Huynh
, CB
Terrence Johnson
, S
Charles Mitchell
, DT
Micanor Regis
, T
Alec Savoie
, LB
Pat Schiller
, K
Jeremy Shelley
, CB
Peyton Thompson
, RB
Ronnie Wingo
, FB
Patrick DiMarco
, LB
Robert James
, WR
Darius Johnson
, CB
Jordan Mabin
, G
Phillipkeith Manley
, G
Jacques McClendon
, WR
Martel Moore
, DT
Adam Replogle
and WR
James Rodgers
. The Falcons also placed QB
Sean Renfree
and TE
Andrew Szczerba
on injured reserve.
August, 24, 2013
Aug 24
11:13
PM ET
The
Atlanta Falcons
frequently get talked about as a Super Bowl team. They didn't look anything like that Saturday night.

The first-team offense couldn't finish drives and the first-team defense had more than its share of breakdowns in a
27-16 loss
to the
Tennessee Titans
.
Atlanta fell to 0-3 for the preseason. The record doesn't mean much, but the way the Falcons lost is a cause for concern. At least in the first two preseason games, there were plenty of bright spots. In this one, there weren't many.
The Falcons trailed 20-6 by the time the starters were all out of the game and things didn't get much better when the reserves came in. This wasn't the kind of showing you would expect from a good team in its third preseason game.
Practice isn't going to be a lot of fun for the Falcons when they return to practice next week because they have a lot of things to clean up.
Some other quick observations on the Falcons: