Atlanta Falcons:

Desmond Trufant
January, 14, 2014
Jan 14
2:20
PM ET
Expectations for
Atlanta Falcons
cornerback
Desmond Trufant
seem to grow by the day, and he's sure to be under the spotlight even more next season.
Trufant, named to the Pro Football Writers Association's all-rookie team on Tuesday, has the talent and confidence to live up to those lofty expectations. But in 2014, he will be tested repeatedly by some of the league's top receivers.
Trufant discussed the challenges ahead next season, with probable matchups against
Calvin Johnson
,
A.J. Green
,
Josh Gordon
,
Antonio Brown
,
Larry Fitzgerald
,
Vincent Jackson
,
Brandon Marshall
, and
Alshon Jeffery
. Fitzgerald was the only one in the group not to surpass 1,000 receiving yards this past season.
"That's what this league is about, going against the best every week,'' Trufant said. "I'm looking forward to it. I didn't even know it was going to be like that, with all those players. So I better be ready for that. But it's just going to make me better. And I'm a competitor. I love the competition. I'm going to be ready.''
Trufant
Detroit's Johnson and Cincinnati's Green might be a different level than the others based on their size and speed. Johnson stands 6-foot-5 and ran the 40 in 4.35 seconds at the NFL scouting combine back in 2007. The 6-4 Green ran a 4.5.
"You just have to be physical with them,'' said the 6-foot, 190-pound Trufant. "You can't be intimidated by their skills. I have to look at what I'm good at and what I can do to slow them down. You have to be physical, patient and just confident.
"You can't back off because of what they've got. I'm definitely just going to be confident and just do what I've been doing.''
It will be interesting to see if Falcons defensive coordinator Mike Nolan decides to have Trufant shadow the best receiver from each team in '14, although the coaches have a lot of faith in fellow rookie cornerback
Robert Alford
as well. Maybe Trufant can follow in the same path as
Darrelle Revis
, arguably the best shutdown corner in the league when healthy.
"I'm going to do whatever they want me to do,'' Trufant said. "But I do want to be that shutdown, that lockdown corner. That's what I work for every day.
"I've studied Revis. Just his patience and his strength at the line of scrimmage, that's what really throws the timing off with the quarterback and receivers. If you can be patience and get your hands on guys and reroute them and things like that, it helps. And that's what he's really good at.''
When asked which receiver he thought was the best in the league, Trufant paused for a moment.
"In the league? I would say Calvin or A.J. Green, Fitzgerald,'' Trufant said. "There are a lot of good guys. I haven't faced everybody yet. So next year, I'll probably have a better idea. But I would say those guys, definitely.''
Receivers around the league are well aware of Trufant's talent. Carolina receiver
Steve Smith
offered high praise of the rookie after the Panthers defeated the Falcons back in November.
Pro Football Focus named Trufant its defensive rookie of the year after he finished with 73 tackles, two interceptions, one forced fumble, a fumble recovery and 17 passes defensed.
So does Trufant believe he can become an elite cornerback in the NFL?
"Definitely,'' he said. "That's what I work for. Nobody plays the game to be average. I feel like I'm not too far. Coach [Mike] Smith always talks about the inches from making a play or not making a play. So, I'm just going to continue to work and come back better next year.''
December, 20, 2013
12/20/13
10:00
AM ET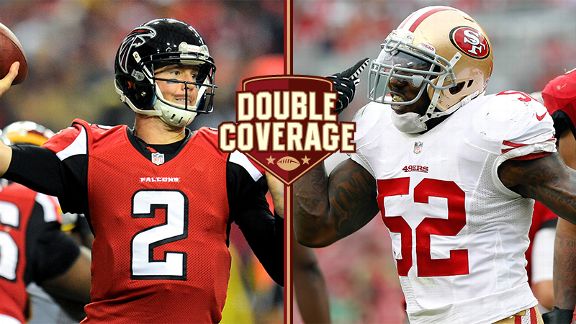 USA TODAY SportsPatrick Willis and the 49ers' pass rush could make Monday night miserable for Atlanta's Matt Ryan.
The NFL schedule-makers tried to get this right.
They planned for the final game played at Candlestick Park to be special. They set a 2012 NFC Championship Game rematch between the 49ers and the Falcons. However, the Falcons have not held up their end of the bargain. They are just 4-10 as they try getting revenge against the 49ers for their road win in the title game in January.
The 49ers have done their part, as they are 10-4 and can clinch a playoff berth with either an Arizona loss at Seattle or by beating the Falcons. The 49ers are focused on sending out Candlestick the right way. Coach Jim Harbaugh said this week the 49ers are the group that "doesn't want to screw up" the Candlestick finale.
Falcons reporter Vaughn McClure and 49ers reporter Bill Williamson discuss the game in Double Coverage:
McClure:
Bill, the 49ers and
Vernon Davis
had their way in the passing game against the Falcons in the NFC Championship Game. And the Falcons have had trouble covering tight ends again this season. Do you think Davis will expose their poor coverage once again?
Williamson:
The 49ers' passing game is really coming together. The return of
Michael Crabtree
has sparked it. Crabtree has played the past three games and he is getting better each week. It opens up possibilities for Davis and
Anquan Boldin
. Quarterback
Colin Kaepernick
and Davis have a nice chemistry. Davis is a mismatch for nearly every defense and he's particularly good against defenses that struggle against the tight end. He had eight catches for 180 yards against Arizona in October. Vaughn, do you see any way the Falcons can slow down the 49ers' receiving weapons as a whole?
McClure:
Not really. The Falcons started three rookies in the secondary last Sunday against the Redskins and gave up pass plays of 62 and 53 yards, the latter for a touchdown. All three rookies -– cornerbacks
Desmond Trufant
and
Robert Alford
and free safety
Zeke Motta
–- made some mistakes in coverage. But Trufant has held his own most of the season after coming in as the team's first-round draft pick, so he's going to compete, but Alford still has some ground to make up. Motta might not even play with regular starter
Thomas DeCoud
possibly returning from a concussion. However the Falcons line up, they have to play with better eye discipline and technique. Not to mention the pass rush has to make an effort to put pressure on the elusive Kaepernick or else he'll carve up the Falcons and let loose to Davis, Boldin, and Crabtree.
The Falcons were supposed to be challenged heavily by the read-option this season with matchups against
Russell Wilson
,
Robert Griffin
III and Kaepernick. Wilson didn't use it much and RGIII didn't play. So, will Kaepernick and the 49ers utilize the strategy on Monday night, or has it just not been as effective this season?
Williamson:
They haven't used it much this season. It's been used occasionally. But I will tell you this: Kaepernick has been running with a lot of confidence in the past few games. I think it is because the passing game has opened up and it has affected the entire offense positively. Vaughn, do you get the sense the Falcons have a lack of confidence facing Kaepernick and this offense because of the loss in the NFC title game?
McClure:
Bill, I wasn't covering the Falcons when they met the 49ers in the postseason a year ago, but the Falcons can't be too confident about much of anything, at 4-10. From a defensive standpoint, six starters who faced Kaepernick last season either are no longer with the team or have been benched. And if DeCoud doesn't return this week from a concussion, there's a possibility that five rookies will start against the 49ers offense come Monday night. It will be quite a lesson for those players, to face a true dual-threat quarterback. The Falcons haven't looked too confident the past two weeks defending against a pair of backup quarterbacks,
Matt Flynn
and
Kirk Cousins
.
A lot has been made of
Aldon Smith
's off-field issues this season. In fact, Falcons receiver
Roddy White
actually stepped out and said Smith was a "good dude" who just made a mistake. How has Smith responded after his time away from the team, and is he back to his normal self on the field yet?
Williamson:
Yes, Smith is back to his dominating self. He has been back for six games and he was eased into the defense after missing five games while seeking treatment for substance abuse. Smith has been particularly good for the past four games, and he's been dominant the past two games. He is his normal self as a pass-rusher and he is continuing to grow as a complete player. He is a major cog of a defense that is playing at a high level. Vaughn, do you see any way the Falcons can slow Smith and crew Monday night?
McClure:
No. Not at all. This offensive line has been like a sieve all season long. Don't be fooled by the Falcons being ranked eighth in sacks given up per pass attempt. They've allowed
Matt Ryan
to be sacked or hit way too many times despite Ryan making a conscious effort to get the ball out quicker this season. Right now, the Falcons are relying on second-year left tackle
Lamar Holmes
to protect Ryan's blind side, and Holmes is coming off being abused by
Brian Orakpo
of the Redskins. Plus, the Falcons have to be aware of
Ahmad Brooks
along with Smith. I covered a game last season during which the 49ers totally dominated the
Chicago Bears
with a swarming pass rush, led by Smith. I can envision the same thing happening to the Falcons.
December, 15, 2013
12/15/13
7:40
PM ET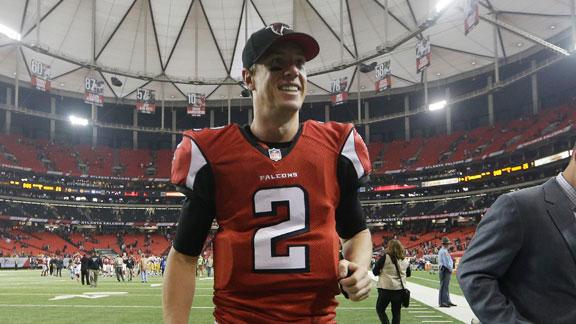 ATLANTA -- It seemed only fitting that
Atlanta Falcons
rookie cornerback
Desmond Trufant
tipped away a gutsy two-point conversion attempt by the
Washington Redskins
to preserve Sunday's
27-26 win
.
No matter how the turnover-filled game was dissected, it marked yet another step in the Falcons' youth movement as the organization continues preparation for the future.
True, there are going to be some hiccups along the way, as was evident throughout Sunday's matchup. But the resilience shown by Trufant and some of the other young players to shake off their inconsistent play was an encouraging sign.
"At my position, sometimes you're going to give up some," said Trufant, who was displeased about allowing a touchdown. "That's just the nature of the game. This is the best in the world. You've got to stay mentally strong. You can't get down on yourself because it's a long football game. Like you saw, we can turn it around and make big plays."
[+] Enlarge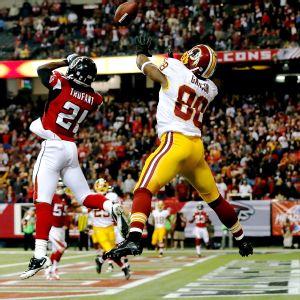 Photo by Kevin C. Cox/Getty ImagesRookie Desmond Trufant breaks up a two-point conversion attempt intended for Pierre Garcon.
A defense starting three rookies in the secondary and two at linebacker -- as well as second-year player
Jonathan Massaquoi
over
Osi Umenyiora
at right defensive end -- got exposed early and often by new Redskins starter
Kirk Cousins
. But the Falcons still managed to come up with seven turnovers, the most they've had in a game since 1988. They scored 20 points off those turnovers.
Days before the game, veteran safety
William Moore
expressed confidence in his rookie defensive backs, but vowed to step up his game in the process. He followed through with a key interception immediately after the Falcons' offense failed to punch it in on fourth-and-goal midway through the third quarter. Moore's turnover led to
Steven Jackson
's 2-yard touchdown run.
Trufant also had a fourth-quarter interception that set up
Matt Bryant
's 51-yard field goal.
Defensive coordinator Mike Nolan made an adjustment with the defensive backfield at halftime after the Falcons surrendered 320 first-half yards, including a 53-yard touchdown from Cousins to
Pierre Garcon
. In the second half, the secondary played more quarters coverage -- a four-deep, three-underneath zone. In the third quarter, the defense allowed the Redskins just 13 yards in 10 plays.
The defensive switch seemed to make rookie defensive backs
Robert Alford
and
Zeke Motta
more comfortable in their respective roles. Motta admitted he blew his over-the-top coverage on Cousins' 23-yard touchdown pass to tight end
Fred Davis
. But the rookie settled down afterward.
"It was a learning day for those rookies," coach Mike Smith said. "We gave up some big, explosive plays on the corners. Then we came back and made a play.
"That was a heck of an interception that Desmond Trufant had there in the second half of the ballgame. There's going to be plays made and there's going to be plays given up. We need to continue to focus on not giving up those explosive plays. It's been our Achilles' heel for the entire season on defense."
Although veteran such as Moore (interception, fumble recovery) and defensive tackle
Jonathan Babineaux
(two fumble recoveries) spearheaded Sunday's effort, Smith has plenty to be encouraged about in terms of his young players growing up. Trufant, the team's first-round pick, has been steady all season long and undrafted linebacker
Paul Worrilow
fell one tackle short of his seventh consecutive double-digit tackle game. Second-rounder pick Alford had nine tackles while fourth-round pick
Malliciah Goodman
came up with a fumble recovery.
"We're going to be around here a long time, so I think it's good for us to get out there and just get on the same page and get used to playing with each other," Alford said. "To finish strong, that's really what we're trying to do. We're trying to finish strong so we can have momentum coming into next year."
December, 15, 2013
12/15/13
2:45
PM ET
ATLANTA -- A few halftime notes with the
Atlanta Falcons
trailing the
Washington Redskins
,
20-17
:


• The youth movement isn't working so well today: Rookie cornerbacks
Desmond Trufant
and
Robert Alford
have had their issues in coverage. Rookie safety
Zeke Motta
took a bad angle on one play and got blocked off another. And rookie right tackle
Ryan Schraeder
has had issues against Redskins pass-rusher
Ryan Kerrigan
, just like second-year left tackle
Lamar Holmes
has had issues stopping
Brian Orakpo
. True, this is valuable experience for the inexperienced Falcons. But they should be enjoying better success against an equally bad Redskins team. At least one of the young Falcons -- guard
Harland Gunn
-- made the most of his opportunities.
•
Osi Umenyiora
is no longer a starter: The veteran defensive end did not start Sunday's game despite being a regular starter all season. At least Umenyiora didn't pout on the sideline. He came into the game off the bench and immediately forced a fumble, recovered by teammate
Jonathan Babineaux
. The Falcons started
Jonathan Massaquoi
and
Peria Jerry
at the defensive end spots. Umenyiora primarily played the role of situational, third-down pass-rusher in the first half. So what about his future with the team? Besides, the Falcons already made a statement by benching veteran cornerback
Asante Samuel
for Alford.
• The Falcons are trying to send
Tony Gonzalez
out in style: Quarterback
Matt Ryan
seems to be making Gonzalez a priority today. He hit the soon-to-be-retired tight end for a 13-yard touchdown in the first quarter. And the aging Gonzalez didn't dunk it over the goal posts. Gonzalez extended his consecutive games with a reception streak to 209.
• Although the Falcons have been terrible on defense, Babineaux has been extremely disrupted. He's set to become a free agent an obviously wants to prove his value.
December, 13, 2013
12/13/13
10:56
AM ET
Come Sunday, the
Atlanta Falcons
could provide a glimpse of how their secondary might come together for years to come.

Three rookies – free safety
Zeke Motta
and cornerbacks
Desmond Trufant
and
Robert Alford
-- are slated to start in the defensive backfield as the Falcons prepare to face the embattled
Washington Redskins
.
Much was expected of Trufant, the first-round pick from Washington who has started all 13 games. He has met those expectations and has been a steady, disruptive force most of the season.
But Alford, a second-round pick from Southeastern Louisiana, and Motta, a seventh-round pick from Notre Dame, have been brought along at a slower pace. Alford recently surpassed veteran
Asante Samuel
for the starting job at left cornerback while Motta -- primarily a special-teamer -- will fill in on Sunday for veteran
Thomas DeCoud
, who is out with a concussion.
Fortunately for the rookies, they won't have to chase around
Robert Griffin
III as the Redskins opted to bench the struggling and not fully healthy quarterback. Yet new starter
Kirk Cousins
is certain to take some shots against the young secondary. Cousins connected with
Santana Moss
for a 77-yard touchdown in last year's meeting between the teams.
It will be intriguing to see how Motta responds in coverage, in particular.
All the Falcons have to be ready to help stop the run, and the sure-tackling Motta should thrive in that aspect. The Redskins, behind
Alfred Morris
, boast the league's second-best rushing offense at 143.8 yards per game. The Falcons have one of the league's worst run defenses, allowing 133.6 yards per game.
Defensive coordinator Mike Nolan recently discussed how disappointed he has been with tackling, and he specifically mentioned how the secondary has done a poor job in that aspect. Both DeCoud and Samuel have had their struggles tackling.
Veteran strong safety
William Moore
can't do it alone, so he'll need help from the rookies.
They're capable. They just need a lot more experience. So, Sunday should be another building block toward the future.
November, 27, 2013
11/27/13
5:26
PM ET
FLOWERY BRANCH, Ga. -- Tight end
Tony Gonzalez
, who continues to battle a toe injury, was one of six
Atlanta Falcons
limited during Wednesday's practice.
Gonzalez
Gonzalez was spotted catching a few passes without a helmet on at the end of practice. He was not on the field during the viewing portion, held indoors.
The veteran was questionable for the last two games but played regardless. He is expected to play Sunday against the
Buffalo Bills
in Toronto, barring any setbacks over the next two days.
Also limited at practice were defensive end
Malliciah Goodman
(calf), linebacker
Akeem Dent
(ankle), safety
Zeke Motta
(hand), cornerback
Desmond Trufant
(thigh) and linebacker
Sean Weatherspoon
(shoulder). Goodman missed the last two games due to his injury.
For Buffalo, three players showed up on the injury report but all three had full participation in practice: wide receiver Stevie Johnson (groin), wide receiver
Robert Woods
(ankle) and cornerback
Nickell Robey
(ankle).
November, 8, 2013
11/08/13
8:00
AM ET
RENTON, Wash. -- Going head-to-head with Atlanta cornerback
Desmond Trufant
Sunday will be nothing new for Seattle receiver
Jermaine Kearse
.
"I think the first time was fourth grade," Kearse said. "We were in the same youth football league."
They've been going at it ever since, through their high school years in Tacoma and on to the University of Washington. Now they will face each other for the first time as NFL players.
Trufant
Kearse
"Me and him kind of had a little rivalry back in college," Kearse said. "It was just the competitive nature in both of us. To go against him Sunday is going to be a lot of fun, bringing back those memories from U-Dub."
Kearse played football at Lakes High School in Lakewood, Wash. Trufant was only a few miles away at Wilson High School in Tacoma. So the two of them have been linked together as opponents or teammates for most of their lives.
"Yeah, that's my dude," Trufant said on a conference call Wednesday with Seattle reporters. "We grinded together at UW for three years and got pretty close. He's like a mentor to me, as well, but it's going to be fun going against him.''
The mentor comment caught Kearse by surprise when he was told about it.
"I didn't know that," Kearse said. "But I guess I can kind of take credit for him committing to [Washington]."
Kearse was a year ahead of Trufant in school, so he told Trufant that Washington was the place to be. It probably took some convincing since both of Trufant's older brothers, Marcus and Isaiah, went elsewhere. All three brothers are defensive backs.
Marcus played college ball at Washington State before spending 10 seasons with the Seahawks. He was released by Jacksonville earlier this year. Isaiah, who attended Eastern Washington, is a cornerback for the Jets.
The Falcons selected Desmond as the 22nd pick of the first round of the 2013 draft. He has played well this season, with 37 tackle and one interception.
"I talked to him earlier this week," Kearse said. "He's been doing a great job. I congratulated him on being a first-round draft pick, which showed all his hard work paid off."
Kearse said they had some intense battles at practice during their days at Washington.
"It was feisty," Kearse said. "We used to go at it in practice all the time. He pushed me and I tried to push him. I tried to make him the best player he could be, as he tried to do for me."
Trufant said Kearse was the one receiver he knew he could use to judge his coverage skills.
"I think he's just talking me up a little bit," Kearse said. "He's quick and a great cover corner. Going against him definitely helped me."
Kearse didn't have the glamorous entry into the NFL that Trufant had. Kearse went undrafted, and signed with Seattle last year as a rookie free agent. He spent the first half of the 2012 season on the practice squad.
But Kearse has blossomed this season. He has three touchdowns on only 10 catches, and is now starting in place of
Sidney Rice
, who's out for the season with a torn ACL. Kearse is the team's kick returner, averaging 22.1 yards per return, and he also blocked a punt at Indianapolis that led to a Seattle safety.
Now Kearse gets to test is receiving skills against a familiar face. Trufant said it will be just like old times.
"We're always going to compete, but we made each other better," Trufant said. "I'm interested to see how much he has improved. I know he's looking forward to the same thing with me."
November, 5, 2013
11/05/13
10:35
AM ET
Some wondered how
Atlanta Falcons
rookie
Desmond Trufant
would react to any trash talking from volatile
Carolina Panthers
wide receiver
Steve Smith
.
Well, guess what? Smith indeed had something to say to Trufant during the Panthers' 34-10 win over the Falcons this past Sunday.
"I told him early in the game that I respected his brothers and I respected him,'' said Smith, referring to the Trufant NFL triad of Desmond, Marcus and Isaiah. "The Trufants are always good. You can tell [Desmond's] brothers have taught him a lot of stuff. He's patient. Getting in and out of breaks, he's very fluid.
"When you have an opportunity like that with your brothers, I think that's pretty cool. I don't care how old you are, what your statistics are or all that type of stuff, that's always really cool that you have your family's legacy and you're part of that and you're seeing it unfold.''
Marcus Trufant
, now a 32-year-old free agent, was once a Pro Bowl cornerback with the
Seattle Seahawks
, whom the Falcons face this Sunday.
Isaiah Trufant
, 30, is a reserve cornerback and special-teamer for the
New York Jets
who faced his little brother during the Falcons-Jets matchup in Week 5.
Desmond Trufant, this year's first-round draft pick, is coming into his own with the Falcons and recorded his first career interception against the Panthers. His continued development will be crucial during the second half of the season and heading into next year.
Trufant reflected on the high praise offered by Smith.
"That's what the game is all about: respect,'' Trufant said. "That's what we play for. It's humbling because I've been watching him since I was young. He and my brother [Marcus] used to go at it all the time. That's just very humbling.''
In terms of Sunday's game, there appeared to be a heated exchange involving Trufant. Smith made sure to clarify the matter.
"That wasn't me,'' Smith said. "That was [Domenik] Hixon that was talking to him. I don't want to say ... you've got to ask Hixon about that one.''
Trufant was asked about what Hixon said.
"Man, it's just between the lines,'' Trufant said. "I don't want to even think about that because I was kind of hot about it.''
November, 3, 2013
11/03/13
2:40
PM ET
CHARLOTTE, N.C. -- The
Carolina Panthers
lead the
Atlanta Falcons
,
14-10
.


Here are some notes at halftime:
"
Matt Ryan
threw yet another interception when he tried to force a ball to tight end
Tony Gonzalez
with three defenders around. Ryan now has five interceptions in his last two games. He had three interceptions through the first six games.
" Speaking of Gonzalez, he caught a pass in his 203rd consecutive game in the first half, the longest active streak in the NFL. He scored a 17-yard touchdown near the end of the first half, his team-leading fourth touchdown reception of the season. Gonzalez has no problem getting behind the coverage of Panthers middle linebacker
Luke Kuechly
.
"
Steven Jackson
looks a lot better running the ball for the Falcons. He has a modest 34 yards on nine carries, but Jackson continues to run hard. He even pushed teammate
Justin Blalock
out of the way on one play. Jackson's longest run is eight yards. He also did a masterful job picking up the blitz on one play.
" Cornerback
Asante Samuel
left the game twice after getting banged up with injuries. The last came near the end of the half when Samuel was pushed out of bounds. He walked off the field under his own power, and
Robert McClain
entered the game as the extra defensive backs along with rookies
Desmond Trufant
and
Robert Alford
.
" It has been an up-and-down half for Trufant. He recorded his first-career interception while picking off a deep ball by
Cam Newton
. But Trufant also was whistled for two pass-interference penalties. On the second one, Falcons coach
Mike Smith
tried to tell the officials that the ball was tipped. Fellow rookie Alford had an amazing interception at the end of the half, tip-toeing before going out of bounds.
September, 8, 2013
9/08/13
4:21
PM ET
NEW ORLEANS -- My thoughts on the
New Orleans Saints
'
23-17
win against the
Atlanta Falcons
:


What it means:
It means New Orleans has the early lead in the NFC South race. The Saints held serve. No team has ever repeated as champion in the division since realignment in 2002, which is what the Falcons are trying to do. The Saints have other ideas, especially now that they have coach Sean Payton back. It's early, but the advantage goes to New Orleans.
Stock watch, Part I:
The Saints' defense looked much, much better. You know the deal with the New Orleans defense. It was historically bad in 2012, which cost Steve Spagnuolo his job as defensive coordinator after just one season. Enter former Dallas defensive coordinator Rob Ryan. Even with a decimated linebacking corps, the Saints were able to have an aggressive defense that held its own in coverage, and by midway through the first half they were getting pressure on Atlanta quarterback
Matt Ryan
and his suspect offensive line. The Saints' goal-line stand at the end of the game was the difference between a W and an L.
Stock watch, Part II:
Because of a thigh injury to veteran cornerback
Asante Samuel
, fourth-year cornerback
Robert McClain
started on the outside opposite rookie
Desmond Trufant
, the Falcons' first-round draft pick. That meant fellow rookie
Robert Alford
started as the nickel cornerback (instead of McClain). All three corners were tested early, and Alford had an interception that he basically took away from New Orleans wide receiver
Marques Colston
. The future at cornerback looks bright for the Falcons.
Where was Osi?
Former
New York Giants
defensive end
Osi Umenyiora
was one of the Falcons' big offseason acquisitions, stepping in for
John Abraham
as one of the team's primary pass-rushers. While Smith praised Umenyiora's leadership and locker room presence, Umenyiora was a nonfactor on the field.
What's next:
The Falcons host the
St. Louis Rams
at 1 p.m. next Sunday. The Saints travel to the
Tampa Bay Buccaneers
for a 4:05 p.m. start.
August, 30, 2013
8/30/13
10:17
AM ET
Let's take a quick run through the headlines on the Atlanta Falcons:
Linebacker Brian Banks added another layer to his
unique story
Thursday night. His mother was able to see him play football in person for the first time since he was in high school.
Both of Atlanta's rookie cornerbacks, Desmond Trufant and Robert Alford,
came up with interceptions
in the preseason finale. These guys took their lumps early on in camp and the preseason, but it looks like they're starting to catch on. That's a good thing because the Falcons are expected to give both of them a lot of playing time.
The Falcons finished 0-4 in the preseason, which doesn't mean a lot. But D. Orlando Ledbetter reports that
no team
ever has gone 0-4 in the preseason and won the Super Bowl in a 16-game regular season.
Speaking of the 0-4 start, Mark Bradley writes that it's
too early
to worry about the Falcons. I agree. They still have some work to do on the offensive line, but this is a team that's loaded with talent.