Atlanta Falcons:

Devin Hester
June, 30, 2014
Jun 30
10:00
AM ET
The
Atlanta Falcons
signed
Devin Hester
, one of the greatest return men of all time, to a three-year, $9 million deal this offseason.
He currently holds the NFL record with 18 combined kick-return scores -- 13 on punts and five on kickoffs during his eight seasons with the
Chicago Bears
. He is one away from surpassing mentor and former Falcon
Deion Sanders
for the most total return touchdowns in NFL history.
Hester's total doesn't even include his 92-yard touchdown off the opening kick in Super Bowl XLI.
[+] Enlarge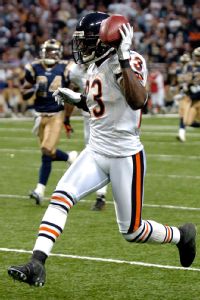 AP Photo/Kyle EricsonDevin Hester wasn't expecting anything but an onside kick late during a 2006 visit to St. Louis, but he wound up with his second return touchdown of the game.
Hester, 31, ranked his top five touchdown returns for ESPN.com. Over the next five days, we will review those returns, leading up to Hester's favorite.
Here is No. 5.
Scene:
Edward Jones Dome, St. Louis (Dec. 11, 2006)
Scenario:
The Bears led 35-20 with just less than eight minutes remaining in regulation. With the Rams attempting a late comeback, the Bears prepared for the probable onside kick. Special-teams coordinator Dave Toub sent the "hands team" onto the field -- but the Rams boldly decided to kick the ball deep to Hester, who had already returned a kickoff 94 yards for a touchdown in the second quarter. Hester sidestepped two defenders at his own 15-yard line, exploded through the hole and darted left, then blazed right by falling kicker
Jeff Wilkins
en route to a 96-yard score. Hester turned and taunted at the Rams' 25-yard line, then impersonated Sanders while high-stepping to the end zone.
The pair of scores were Hester's fourth and fifth kick-return touchdowns of the season, setting an NFL season record that he broke the next season. The Bears won the game 42-27.
Hester's take:
"Coach Dave was saying we never had a kickoff return [for a score] on the hands team. When you put the hands team out there, you just make sure your guys don't give up on the onside kick. And you got guys out there that are not used to blocking. So, for them to kick it deep, it shocked us. And I took one back earlier that game. Even myself, I was thinking, 'It's going to be an onside kick. I hope it doesn't go through the guys and I have to run up and try to get it.' … He blooped it, and it wasn't like I could take a knee. And so I hit it through the hole and off to the races. And I think that was one when I set a record."
Blocker's perspective:
"I'd like to think I was the one who sprung him for the touchdown because he ran right behind my block. When you go in on hands team, you're never thinking you're going to get a return. You're thinking recover the onside kick and get down. I believe that they lined up in a regular formation, but we stayed in our hands look. When they kicked it off deep, at that point, a lot of the times you're just kind of scattering. But Coach Toub, he always did a good job of having the special teams ready. You knew who you had to block. When you know you've got Devin back there, you stay on that block a little bit longer because you know if [you] give him a shot, he can take it all the way, and that's what happened.
"I remember looking at that film, and guys were on their men, but it wasn't like a regular kickoff return. Guys were kind of just hanging on. Once he found that lane … I would say that most of that was him. Everybody was like, 'There he goes. Uh-oh, damn, that's a touchdown!' Nobody was expecting him to take that all the way back to the house [end zone] because you don't practice a return off of the hands team a lot, if at all."

-- Desmond Clark, tight end and member of hands team
Tuesday:
Leap of faith
March, 25, 2014
Mar 25
11:35
AM ET
New
Atlanta Falcons
return man
Devin Hester
said he's not the type of player to come in and demand a jersey number if it's already taken.
Hester
Hester wore No. 23 as a member of the
Chicago Bears
, but that number is taken by cornerback
Robert Alford
in Atlanta. So Hester decided to go with No. 17, as the Falcons announced Tuesday morning.
Hester wore No. 4 in college at Miami. He was allowed to wear No. 23 with the Bears after starting his career as a defensive back. There was some talk that he might have to give up the number once he became a primary receiver, but Hester was allowed to keep it.
NFL rules allow receivers to wear the Nos. 10-19 and 80-89, so Hester is compliant with his new number.
In terms of the other newcomers signed in free agency, all four will wear different numbers: nose tackle
Paul Soliai
(from No. 96 to No. 97), defensive end
Tyson Jackson
(from No. 94 to No. 99), offensive guard
Jon Asamoah
(from No. 73 to No. 75), and cornerback/returner
Javier Arenas
(from No. 35 to No. 28).
March, 24, 2014
Mar 24
11:55
PM ET
New
Atlanta Falcons
return man/receiver
Devin Hester
didn't shy away from his original asking price.
Hester
Hester sought $3 to $4 million per year once the
Chicago Bears
didn't re-sign him and he hit the open market. Had the
Tampa Bay Buccaneers
reached that figure, Hester probably would be preparing to return kicks for a different NFC South team this coming season.
Instead, Hester got his $3 million per year in a three-year contract with the Falcons that included a $2.5 million signing bonus. Here's how Hester's contract breaks down by year:
March, 21, 2014
Mar 21
10:35
AM ET
New
Atlanta Falcons
return man
Devin Hester
didn't like it when the NFL moved kickoffs up from the 30 to the 35-yard line. He certainly won't be pleased if those kickoffs are moved again to the 40-yard line, as proposed by the competition committee.
[+] Enlarge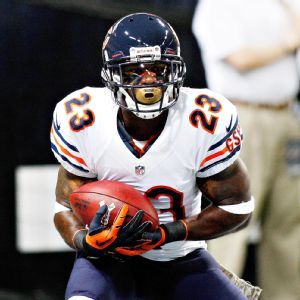 Scott Kane/USA TODAY SportsDevin Hester says he's looking forward to returning more kicks inside the confines of the Georgia Dome.
The proposal is a safety precaution, and it would no doubt
increase the number of touchbacks
.
"Well hopefully, that rule doesn't come about until three or four more years," Hester, 31, said with a laugh. "And from that point on, I won't have to worry about anybody breaking my records. So that's what I'm hoping for.
"But as of right now, where it's at now, I think last year I came off my career high of yardage (1,436 kickoff return yards on a career-high 52 kickoff returns). I don't think it's slowing me down or any part of that. I'm just focusing on catching the ball coming forward. ...I'm putting the ball at the 28-, 29-yard line. I know the offense would rather start at the 28, 29 than the 20-yard line."
The Falcons signed Hester to a three-year contract worth $3 million per season with the expectation of him being dynamic on both kickoff and punt returns. He holds the NFL record with 18 kick return touchdowns and also is tied for the NFL record with mentor
Deion Sanders
with 19 career return touchdowns of all sorts.
Hester, who sees a chance to compete for the playoffs and possibly the Super Bowl with the Falcons, considered Tampa Bay, San Francisco, Seattle, and Miami, but Atlanta showed the most interest -- and, no doubt, the most money. After spending eight years with the
Chicago Bears
and fighting the elements outdoors at Soldier Field, he now gets to play half his games inside the Georgia Dome.
Playing in a dome should only help his return game.
"I love it, man," Hester said. "I don't want to say what I love about it, because then teams are going to avoid it. I learned not to give all my secrets away because they start picking up on stuff like that."
Although Hester expects to have a little "splash" of offense in his duties, the emphasis will be as a return man. He was exclusively a returner last season with the Bears.
"I'm a hype guy," he said. "I want to get the crowd involved in this phase of the game. I think special teams is a key asset to the ballgame as far as field position, putting points on the board, and setting the momentum of the game. I'm going go in there and I'm going to do my best to bring excitement and help this offense with field position, and try to put points on the board as well."
March, 21, 2014
Mar 21
8:00
AM ET
The
Atlanta Falcons
continued to bolster their roster for the 2014 season with the addition of the most accomplished kick return man in NFL history.
Devin Hester
, who spent his first eight seasons with the
Chicago Bears
, agreed to a
three-year contract
with the Falcons. The 31-year-old Hester could have an impact both on special teams and as a receiver. He just needed a fresh start.
Hester has a chance to set a new NFL record for touchdown returns, a record he currently shares with his mentor and former Falcon Deion Sanders (each with 19). Playing indoors at the Georgia Dome might help him accomplish the feat sooner than later.
ESPN.com Falcons reporter Vaughn McClure and Bears reporter Michael C. Wright review what the move means for both teams.
McClure
: Naturally, folks are going to ask if Devin Hester still has it. He turns 32 in November and, of course, hasn't had as many touchdown returns lately as he had earlier in his career. How much juice do you believe he has in him based on what you saw last year?
[+] Enlarge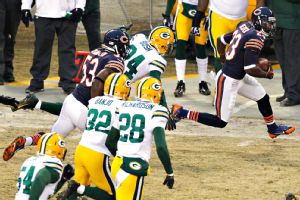 AP Photo/Kiichiro SatoNow in his early 30s, return whiz Devin Hester proved last season that he's far from slowing down.
Wright
: Vaughn, Hester's still got it, man. Even though Hester didn't exactly light it up last season, I think a lot of folks don't realize how much all the injuries affected the blocking on special teams. You know how it works: a starter goes down. Then the team has to pull the backup off special teams to fill the starting role, and bring in a virtual nobody (sometimes even guys who might have been on the street just days before) to play special teams. That's sort of what happened to the Bears last season, and Hester was affected by that. Early in the season, Hester busted Minnesota for 249 yards on kickoff returns. About a month later, Hester broke an 81-yard punt return for a touchdown at Washington. Then, in the season finale against Green Bay (and you know how the footing at Soldier Field is in late December), Hester broke loose for 49 yards on a punt return. Those big plays in the return game can give a team so much momentum, and Hester still possesses plenty of juice to make such plays possible.
Vaughn, you were here in Chicago when the Bears were trying to make Hester a receiver. In your opinion, why didn't it work out, and will Hester actually get a chance to play offense in Atlanta because having covered Dirk Koetter in Jacksonville, he's always struck me as a very innovative guy?
McClure:
Hester had his moments as a receiver in Chicago, although some folks criticized his ability to pick up the offense. He caught a career-high 57 passes for the Bears in 2009 and posted 40 or more catches in three seasons. Former Bears receivers coach Darryl Drake had an extreme amount of faith in Hester and constantly touted him as a No. 1 receiver. Now, those were high expectations to meet, maybe too high. But Hester's real downfall on offense in Chicago, from my perspective, was his inability to establish chemistry with quarterback
Jay Cutler
. I know Hester can sometimes take criticism to heart, and Cutler didn't bite his tongue in speaking his mind. I think Hester just got fed up with getting beat down, which is why he asked not to play offense anymore. Again, this is a fresh start. If he's utilized on offense, as expected, he won't be asked to be the primary target with
Julio Jones
and
Roddy White
in the equation. But he can be a valuable weapon for quarterback
Matt Ryan
out of the slot in the screen game and with reverses. The coaches in Chicago thought Hester's best route was the deep post.
MCW, we saw what happened with Brian Urlacher in Chicago. Then a Hall of Fame candidate such as Hester walks out the door right behind him. What's the feeling within the team about letting such respected players go, even if they're not in their prime?
Wright
: I'm sure some of the veteran players such as
Lance Briggs
and
Charles Tillman
aren't thrilled about it, but everyone in that locker room understands the business end of things aren't pretty; especially with a fairly new general manager in Phil Emery and a new coach in Marc Trestman still trying to put his stamp on the organization. Shoot, Tillman almost didn't find his way back. I remember Urlacher saying something about the team not having any loyalty when it announced it wasn't going to re-sign Hester. So there's certainly a segment of players not happy about this. I'd say the majority of the heavy special-teams contributors aren't pleased about Hester's departure because he's the type of player that can make his blockers look good, obviously. Chicago currently is a team in transition, and a lot of the players brought in when former coach Lovie Smith was running the show are now seemingly on the way out.
How much of an advantage do you see in Hester playing on turf in the Georgia Dome as opposed to him returning kicks on what had usually been a sloppy track at Soldier Field all these years?
McClure
: I think it will be an advantage and a disadvantage at the same time. Naturally Hester will be able to field punts and kickoffs cleaner without dealing with the wind and cold in Chicago. He should be quicker on the FieldTurf surface, although opponents will be faster on it, too. Where it might work to his disadvantage is on kickoffs. There's likely to be little to no chance he gets to return based on touchbacks. And now the league is talking about moving kickoffs up from the 35 to the 40-yard line. It might take the kickoff return from the game, completely. So, we'll see how Hester adjusts. I remember watching Hester bring back kickoffs for scores indoors at St. Louis. We'll see if he can recapture his magic.
Hester was beloved in Chicago for so many years. Who will the Bears count on to replace Hester in the return game? Chicago got so accustomed to his unique ability.
Wright
: See, that's my problem with Hester leaving. You've got to have someone waiting in the wings to replace Hester's production, and that player simply isn't there. It seemed like the Bears did the same thing when they decided to release
Julius Peppers
and replace him with a guy coming off a career-high six sacks, while Peppers -- despite a down year -- generated more sacks. Toward the end of last season, the Bears signed receiver/return specialist
Chris Williams
, who had spent time with the
New Orleans Saints
and the Hamilton Tiger-Cats of the Canadian Football League before joining the club. The club also recently signed
Domenik Hixon
, who didn't even contribute last season in the return game for the
Carolina Panthers
.
Earl Bennett
would have seemed a good candidate to replace Hester, but the Bears released him. I guess
Eric Weems
and
Michael Ford
, who was an undrafted rookie in 2013, also are candidates. All of those players have one thing in common though: none are even close to being on Hester's level as a return man. So it'll be interesting to see how Chicago handles replacing arguably the greatest return man to ever play the game.
As you well know, sometimes Hester makes questionable decisions when fielding punts and kickoffs. How will he mesh with special-teams coordinator Keith Armstrong, who worked for the Bears prior to Hester's arrival in Chicago, and do you think the coach will alleviate some of those issues?
McClure
: I'm going to keep this short and sweet: Armstrong won't tolerate it. I saw how he got after guys for fumbling in games, and one return man even lost his job because of it. Armstrong is one of the best special-teams coaches in the business and holds players to high standards. He won't bend the rules for Hester.
March, 20, 2014
Mar 20
4:45
PM ET
Statistically speaking, he's the greatest return man in NFL history. But will NFL rules keep
Devin Hester
from having a dynamic impact with the
Atlanta Falcons
?
Hester, who recorded an NFL-record 18 kick return scores in eight seasons with the
Chicago Bears
, agreed to a
three-year contract
with the Falcons Thursday. The 31-year-old Hester brings with him 8,745 career return yards and the type of elusive ability -- even at this age -- the Falcons have been lacking in the return game.
[+] Enlarge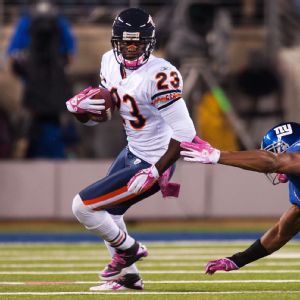 Rob Tringali/SportsChrome/Getty ImagesThe Atlanta Falcons have agreed to terms with kick returner Devin Hester on a three-year contract.
The Falcons last had a kick return for a touchdown in 2010, when current Chicago Bear
Eric Weems
returned both a kickoff and a punt for scores.
However, the NFL seems intent on squeezing the dynamic of at least the kickoff return out of the game for safety reasons. Hester has five career kickoff returns for touchdowns, not including his 92-yard touchdown on the opening kick of Super Bowl XLI. But he has just one since the NFL decided to move kickoffs from the 30-yard line to the 35.
Since the change was implemented in 2011, league-wide touchbacks have soared. In 2010, before the rule, there was a 16.4 percent touchback rate, according to ESPN Stats & Information. It jumped to 43.5 percent the next year, to 44.1 in 2012 and to 48.8 percent last season.
And now there is a proposal to move the ball up to the 40-yard line, which the owners will vote on soon. Such a change might drain Hester of his kickoff return powers. Then again, former Bears special-teams coach Dave Toub allowed Hester to go as deep in the end zone as needed to return kicks. Unfortunately, the elements won't hold the ball up inside a dome.
The Falcons are counting on Hester to make an impact, regardless of the rules or conditions. Hester worked exclusively as a returner for the Bears last season and averaged 27.6 yards per kickoff return and 14.2 yards per punt return. As a team, the Falcons averaged a respectable 24.4 yards on kickoffs last season with
Jacquizz Rodgers
as the primary returner. They averaged just 8.3 yards per punt return with
Robert McClain
,
Harry Douglas
and
Robert Alford
.
Every yard counts when you're talking about field position.
Teams will shy away from punting to Hester, for sure. They did so when he played for the Bears, although he still returned 13 punts for scores, including one last season against the Redskins for 81 yards. That return tied him with his mentor, former Falcon
Deion Sanders
, for the most return scores in NFL history.
Hester, a three-time Pro Bowl returner, was told he would be used in "creative" ways, so expect to see him on offense, as well. He had some decent years as a receiver but couldn't mesh with
Jay Cutler
's personality, leading to a diminished role on offense.
Those days are in the past. Hester has plenty of "swagger" left in him. At the start of free agency, he told ESPN.com he viewed Atlanta as a possible landing place to prolong his career, since he'll be playing inside the Georgia Dome. Now it's just a matter of him getting enough opportunities to show he still has it.
March, 19, 2014
Mar 19
8:15
AM ET
The
Atlanta Falcons
have to find a way to corral one of most elusive players in the game.
Record-setting return man
Devin Hester
visited Atlanta on Tuesday, and all indications were he stayed overnight to mull over a chance to play with the Falcons. The Miami product wasn't re-signed by the
Chicago Bears
, allowing him to walk into free agency.
Hester
Hester previously told ESPN.com Atlanta interested in him. But home is Miami, which is why Hester recently said he would love to play for the Dolphins.
But that's probably not the key team in the equation. Hester has an obvious tie to former Bears coach Lovie Smith, now the new head coach of the
Tampa Bay Buccaneers
. Hester is close to members of the Bucs' staff and probably wouldn't pass up an opportunity to be reunited with Smith and the others.
That is why the Falcons have to move quickly if they want to keep Hester from having an impact elsewhere -- particularly within the NFC South. His price range reportedly has been between $3 million to $4 million per year. He made just over $2 million last season with the Bears.
The players obviously want Hester in the building. Receiver
Roddy White
tweeted about showing Hester around the weight room and hoping he would sign. Safety
William Moore
was all smiles when Hester's name was mentioned during a football camp for mothers in the Atlanta suburbs on Tuesday night.
The signing of return man
Javier Arenas
on Tuesday should have no bearing on Hester's status. Arenas is being looked at more as a competitor for the nickelback role who is capable of returning punts and kicks. Hester would be the primary return guy, if signed.
It will be interesting to see how this all pans out. The 31-year-old Hester isn't the same player he was in his 20s, but he's still is a dynamic return man. Playing inside the Georgia Dome for half the season should only help his cause.