Atlanta Falcons:

Jacquizz Rodgers
June, 25, 2014
Jun 25
8:00
AM ET
While rookie
Devonta Freeman
generated a lot of buzz for the
Atlanta Falcons
this offseason, another running back quietly went about his business in preparation for the 2014 campaign.
Jacquizz Rodgers
, entering his fourth season, isn't worried about being overlooked in the backfield equation, with Freeman being touted as a possible every-down back and
Steven Jackson
already the starter. Fan-favorite
Antone Smith
also is a part of the group and undrafted rookie
Jerome Smith
hopes to make an impression.
Rodgers
"There are no concerns," Rodgers said, speaking about the addition of Freeman. "You've got to come and compete every year. It just makes the group better, bringing more guys. It makes everybody work harder at practice. We're going to work collectively. We're going to learn from each other. And we're going to make each other better each and every day."
The Falcons had to think toward the future with Jackson ready to turn 31 next month. That is why they drafted Freeman in the fourth round out of Florida State.
"He's a good running back," Rodgers said of his new teammate. "Comes from a winning program. Fast guy: a guy that's willing to learn, willing to learn from the older guys. He's a good piece to our puzzle in the backfield."
Rodgers has value as an all-purpose back, so he should be part of the rotation entering the regular season. So what happens when Freeman starts taking touches from Rodgers once the season starts?
"It wouldn't bother me because you know I'm going to go out there and work hard, and just continue to do what I've got to do," Rodgers said. "I know when I got my shot, I'm going to go all out."
Rodgers compiled 1,248 all-purpose yards last season, including 575 kickoff return yards. The addition of
Devin Hester
as a return man will keep Rodgers from being as a effective on special teams, but he will likely stay in the mix as insurance.
Rodgers remains a threat as a pass-catcher out of the backfield and a player capable of creating mismatches. Plus, he brings another aspect that a rookie such as Freeman might have a hard time with initially.
"Blocking, I take very good pride in that," Rodgers said. "As a running back, if you want to be on this field, that's one thing that you've got to be able to do."
Rodgers is capable of a lot. That is why he should have a place on the field this season.
May, 10, 2014
May 10
1:45
PM ET
FLOWERY BRANCH, Ga. -- The
Atlanta Falcons
addressed another need with their first of two fourth-round draft picks by selecting Florida State running back
Devonta Freeman
.
Freeman (5-8, 206) left college early after winning the national title. The Miami native received a third-round grade from the draft advisory board.
"I took a visit up there one time and I was like,'I want this to be my home, man,'" Freeman said Saturday via teleconference. "I just loved the atmosphere. It just reminded me so much of Miami. ... I was just praying to God. God is so good. I'm just so blessed.
"I'm going to work. I promise that. I promise I'm going to go to work every single day."
The Falcons needed another body in the backfield after
Jason Snelling
abruptly decided to retire. It left the team with aging veteran
Steven Jackson
as the primary ballcarrier with
Jacquizz Rodgers
and
Antone Smith
behind. The Falcons finished last in the league in rushing last season.
Freeman has some elusive ability. According to ESPN Stats & Information, he averaged 3.9 yards before first contact per rush and gained more than 67 percent of his rushing yards before contact.
Freeman appeared in 39 games during three seasons at Florida State, starting 26 contests, including his final 19 appearances. He racked up 2,255 yards with 30 touchdowns on 404 carries and caught 47 passes for 475 yards and a touchdown.
Freeman said he wanted to follow in the footsteps of another Florida State back who went on to play for the Falcons:
Warrick Dunn
.
"I want to be great, like he was," Freeman said of Dunn. "I want to give to the community. I want to speak to the community. ... I'm just happy to be a part of the Atlanta Falcons."
Here's a story detailing
some of the obstacles Freeman overcame
as a child and some of the people who helped him along the way, including one famous rapper.
April, 16, 2014
Apr 16
2:50
PM ET
The
Atlanta Falcons
obviously are impressed with at least one small-school running back.
Towson University's
Terrance West
, a player the Falcons reportedly worked out privately, is scheduled to visit the team next Wednesday, according to a league source.
The 5-foot-9, 225-pound West opened eyes with an impressive performance during his pro day. He is projected as a third-round pick after leaving school a year early.
In three seasons at Towson, West rushed for 4,849 yards on 802 carries with 84 touchdowns. His touchdown total tied the NCAA FCS record set by Georgia Southern's Adrian Peterson, the brother of former Falcon
Mike Peterson
.
Although the Falcons still believe in veteran
Steven Jackson
, they'll need to draft another running back for the future.
Jason Snelling
's abrupt retirement created a need for more depth at the position although the Falcons have
Jacquizz Rodgers
and
Antone Smith
returning.
The Falcons also have top offensive tackle
Jake Matthews
from Texas A&M visiting next week, as well as UCLA outside linebacker
Anthony Barr
.
January, 18, 2014
Jan 18
12:30
PM ET
Atlanta Falcons
running back
Jacquizz Rodgers
was supposed to count $692,750 against the 2014 salary cap. Now, his cap number has grown to $1,436,750.
Rodgers
Rodgers was one of a handful of players from the 2011 draft class who were awarded with the Proven Performance Escalator, according to the NFLPA records. Players qualify for this increase in Year 4 of their contracts if they participate in a minimum of 35 percent of their club's offensive or defensive plays in two of his first three regular seasons or a cumulative average of at least 35 percent of the plays over all three seasons.
Rodgers, a former fifth-round pick from Oregon State, saw his base salary grow from $645,000 to $1.389 million. The cap number factors in prorated signing bonus.
Now, the Falcons are one of seven teams with three running backs with cap numbers exceeding $1 million in '14 with Rodgers,
Steven Jackson
($4,166,666) and
Jason Snelling
($1,733, 334). But remember, Rodgers' value extends beyond what he does in the backfield. He is the team's kick returner and compiled a team-leading 1,248 all-purpose yards this past season.
The Falcons' cap situation is sure to fluctuate from now until the start of the new league year (March 11) based on cuts, extensions, and possible re-signings and restructurings. Players typically don't get released until after the Super Bowl and there is no immediate rush for teams to re-sign their own free agents.
Here are the cap numbers for the players under contract for 2014, with Rodgers' figure updated and then retiring
Tony Gonzalez
($8.75 million) omitted.
Quarterbacks
Matt Ryan
$17,500,000
Dominique Davis
$570,668
Sean Renfree
$506,474
Running backs
Steven Jackson $4,166,666
Jason Snelling $1,733,334
Jacquizz Rodgers $1,436,750
Antone Smith
$762,500
Josh Vaughan
$645,000
Bradie Ewing
$616,048
Patrick DiMarco
$570,00
Wide receivers
Roddy White
$6,325,000
Julio Jones
$5,149,375
Harry Douglas
$3,645,833
Darius Johnson
$495,000
Tight ends
Levine Toilolo
$570,146
Adam Nissley
$496,000
Andrew Szczerba
$495,000
Offensive linemen
Justin Blalock
$7,660,000
Sam Baker
$6,250,000
Garrett Reynolds
$1,578,750
Peter Konz
$978,709
Lamar Holmes
$703,400
Harland Gunn
$570,000
Ryan Schraeder
$495,666
Terren Jones
$495,000
Defensive ends
Osi Umenyiora
$4,750,000
Kroy Biermann
$3,583,334
Cliff Matthews
$656,750
Jonathan Massaquoi
$612,215
Malliciah Goodman
$594,272
Stansly Maponga
$541,685
Defensive tackles
Travian Robertson
$581,474
Adam Replogle
$420,000
Linebackers
Stephen Nicholas
$4,000,000
Sean Weatherspoon
$2,670,000
Akeem Dent
$860,725
Joplo Bartu
$496,666
Paul Worrilow
$495,666
Cornerbacks
Asante Samuel
$5,125,000
Desmond Trufant
$1,855,931
Robert Alford
$773,045
Safeties
William Moore
$5,150,000
Thomas DeCoud
$4,800,000
Zeke Motta
$506,474
Kemal Ishmael
$506,474
Sean Baker
$420,000
Specialists
Matt Bryant
$3,312,500
Matt Bosher
$668,950
Josh Harris
$570,834
*Total for 49 under contract in 2014: $108,367, 314. Projected 2014 cap: $126.3 million.
December, 26, 2013
12/26/13
2:15
PM ET
FLOWERY BRANCH --
Atlanta Falcons
running back
Jacquizz Rodgers
, who also serves as the team's primary kick returner, remained sidelined during Thursday's practice as he continues to go through the concussion protocol.
Rodgers sustained a concussion during Monday night's 34-24 loss to the
San Francisco 49ers
.
If Rodgers is unable to going against the
Carolina Panthers
on Sunday, the Falcons could turn to fellow running back
Jason Snelling
to handle kick-return duties. Snelling has one return for 23 yards this season.
Absent from practice was linebacker
Sean Weatherspoon
, who continues to recover from a right knee injury. Weatherspoon was listed as questionable for Monday night's game against the 49ers but didn't play.
Wide receiver
Darius Johnson
, who also missed the 49ers game while recovering from a high-ankle sprain, was on the practice field with a helmet Thursday. Johnson was listed aa limited during Wednesday's practice/walk-through session.
Tight end
Tony Gonzalez
(toe) and cornerback
Robert Alford
(ankle) were on the practice field with helmets, also. Both were limited on Wednesday.
December, 23, 2013
12/23/13
11:49
PM ET
A few thoughts on the
Atlanta Falcons
'
34-24 loss
to the
San Francisco 49ers
on Monday night:

What it means:
Although the Falcons showed a lot of fight and might have spoiled the night -- had
NaVorro Bowman
not picked off a ball deflected from Falcons receiver
Harry Douglas
' hands and returned 89 yards for the game-clinching touchdown -- the loss might have helped Atlanta in the end. Now, at 4-11, the Falcons are sixth in the draft order with a chance to move up, depending on the outcome of the final weekend of games. Some fans continue to lobby for South Carolina defensive end
Jadeveon Clowney
, but the Falcons would likely need a top-five pick to even have a chance at Clowney. Whatever the case, the draft will be intriguing for a team trying to recover from an unexpected fall down the NFL standings.
Stock watch:
Drew Davis
' stock grew on one play. The unheralded receiver not only helped with a block at the line of scrimmage, he then found an opening down the field, caught a pass from
Matt Ryan
, did a spin and picked up 45 yards after the catch en route to a career-long 59-yard reception. It helped set up
Steven Jackson
's 2-yard touchdown run. Davis has made some plays this season and probably deserved more opportunities.
Matt Bosher
's stock also rose after the punter/kicker executed a perfect onside kick that was recovered by
Jason Snelling
, although it all went for naught after Bowman's pick-six.
Crucial calls:
Two defensive penalties on the Falcons will be talked about the next few days, and only one of them should have been called. Veteran defensive end
Osi Umenyiora
made a rookie mistake when he lined up in the neutral zone with the 49ers facing third-and-10 from their own 17. It gave the 49ers a more manageable third down, which they converted, and the drive ended with
Colin Kaepernick
's touchdown pass to
Anquan Boldin
. Then, on the very next 49ers drive, Falcons rookie linebacker
Paul Worrilow
was whistled for a phantom pass-interference penalty on third down. The questionable call helped set up a San Francisco field goal.
Wounded warriors:
The Falcons were already down one defensive starter when linebacker
Sean Weatherspoon
was declared inactive with a knee injury. Then, early in the game, starting defensive tackle
Corey Peters
went down with an Achilles injury. That's bad news for Peters, who is set to become a free agent. Running back
Jacquizz Rodgers
and receiver Douglas also got banged up during the game, but Douglas returned in time to surpass 1,000 receiving yards for the season.
What's next:
Sunday's season finale against the
Carolina Panthers
should be all about
Tony Gonzalez
. The Hall of Fame-bound tight end will play his final NFL game in front of the home crowd at the Georgia Dome. The organization is likely to honor Gonzalez with a video tribute. He won't go out with a Super Bowl ring, but Gonzalez will still walk off a true champion.
November, 12, 2013
11/12/13
8:47
PM ET
FLOWERY BRANCH, Ga. -- Don't expect the
Atlanta Falcons
to spread the carries around among running backs
Steven Jackson
,
Jacquizz Rodgers
and
Jason Snelling
.
Jackson
If anything, it wouldn't be a surprise to see Jackson get even more carries Sunday at Tampa Bay, if the Falcons can avoid falling behind and having to rely on the passing game.
Although Jackson managed just 11 yards on nine carries in a 33-10 loss to the
Seattle Seahawks
, offensive coordinator Dirk Koetter sees the need to give Jackson more opportunities.
"My opinion is Steven Jackson is a workhorse running back and we haven't been able to work him," Koetter said. "I mean, I think Steven is one of those guys that gets better the more he touches it.
"We're not running it successfully enough to get him enough carries. If he's carrying in multiple times, he's going to need to come out and then that's going to lead to [Rodgers] and Jason getting more carries, too. But unfortunately, because we're not doing anything successfully right now and we're getting behind on the scoreboard, [the running game] sometimes gets away from us."
Jackson's season-high in carries was 13 against Carolina, and he seemed to run with more authority with each attempt while gaining 57 rugged yards. He had a season-high 77 rushing yards on 11 carries in the season opener at New Orleans, but that total included a 50-yard run.
Jackson, 30, has averaged 18 rushing attempts per game over the course of 10 seasons. Right now, he's averaging a career-low 9.4 attempts, slightly below his average as a rookie in St. Louis (9.4).
Four times with the Rams, Jackson averaged 20-plus carries in a season. And he averaged 4.1 yards per carry or better in three of those four seasons.
So far this season, Jackson is averaging a career-low 3.2 yards per carry. But keep in mind that he missed four games with a hamstring injury and is running behind an offensive line that has struggled to open holes. Not to mention the Falcons have had trouble with backside blocking.
It will be interesting to see how many more carries Jackson gets Sunday against the league's fifth-best rushing defense in Tampa Bay.
"I think if you look at any premier running back over the years, they all get better the more they get the ball," Koetter said. "When I was in Jacksonville with
Fred Taylor
and
Maurice Jones-Drew
, shoot, if they had their way, they wanted the ball every time.
"Anybody that's got the stats that Steven Jackson does, they want the ball a lot."
October, 17, 2013
10/17/13
4:18
PM ET
FLOWERY BRANCH, Ga. -- As running back
Steven Jackson
missed another day of practice due to a hamstring injury,
Atlanta Falcons
coach Mike Smith was pressed on whether further tests determined the injury to be more serious.
Jackson
"No we haven't," Smith said, referring to getting a different diagnosis. "I know as soon as he gets cleared by the doctors, we will get him back out here. It's a hamstring that's been tough to come back from at this point in time."
The Falcons get
Jason Snelling
back from a concussion this week to help shoulder the running back load along with
Jacquizz Rodgers
. Jackson is expected to miss his fourth straight game, with only one day of practice remaining this week.
Jackson previously expressed hope to return to action this week, but he also wrote on his personal blog that he wouldn't come back until he was 100 percent. He suffered the injury in a Week 2 win over his former team, the
St. Louis Rams
.
Smith said linebacker
Akeem Dent
did return to practice coming off an ankle injury but was limited. Dent's status for Sunday's matchup with Tampa Bay remains unclear.
Also held out of practice were receiver
Roddy White
(hamstring/ankle), tackle
Sam Baker
(knee) and tight end Chase Coffmann (knee).
September, 20, 2013
9/20/13
3:00
PM ET
FLOWERY BRANCH, Ga. -- Covering
Atlanta Falcons
tight end
Tony Gonzalez
one-on-one without help is what every linebacker dreads, and what the future Hall of Famer craves.
So as the Falcons prepare for the Dolphins this Sunday, you can understand why the prospect of
Julio Jones
drawing extra attention excites Gonzalez.
[+] Enlarge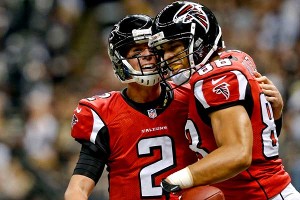 Derick E. Hingle/USA TODAY SportsMatt Ryan and Tony Gonzalez are preparing for what the Falcons hope will be plenty of one-on-one matchups against the Dolphins in Week 3.
"They doubled up (Larry) Fitzgerald a lot, and you would probably think they'd do the same thing against Julio (Jones), which is going to create one-on-one matchups with other guys," Gonzalez said. "They blitz a lot, too, which creates one-on-one matchups. We have to go out there and know that this week we're expecting that man-to-man coverage. Especially when they go to that blitz, you have to beat your one-on-one coverage. And we think we have the guys to be able to be successful at that."
Gonzalez addressed the topic while referencing how Miami defended explosive Cardinals receiver
Larry Fitzgerald
in Week 4 of last season. Fitzgerald had eight receptions for 64 yards and a touchdown and was targeted 15 times as the Dolphins bracketed him, for the most part. Fellow Cardinals receiver
Andre Roberts
took advantage of the attention on Fitzgerald and finished with six catches for a career-high 118 yards and two touchdowns in Arizona's 24-21 overtime win.
And that was with
Kevin Kolb
at quarterback.
Imagine what
Matt Ryan
might be able to do with his variety of weapons, provided he gets protection against a potent Dolphins defensive line led by
Cameron Wake
. Not to mention Gonzalez should win his one-on-ones, considering the Dolphins have surrendered 13 catches for 177 yards to starting tight ends through two games.
Jones, however, is certain to be the focus of Miami's defensive game plan after posting career highs in both receptions (11) and receiving yards (182) in last week's 31-24 win against St. Louis. His day included an 81-yard catch-and-run score. Jones was extremely effective in the screen game, too.
"That's one thing you know Miami is probably going to make adjustments, especially with Julio catching all those screens," Gonzalez said. "They might have a plan for that, I'm pretty sure. That's another trend around the NFL: You've seen them set up the run, the screen is taking the place of that run."
Speaking of the running game, an integral part will be missing Sunday with
Steven Jackson
already ruled out with a hamstring injury. He'll be replaced by the elusive
Jacquizz Rodgers
and downhill runner
Jason Snelling
.
Besides losing Jackson for what looks like three weeks, the Falcons also lost defensive end
Kroy Biermann
(Achilles tear) and fullback
Bradie Ewing
(separated shoulder) to season-ending injuries and lost linebacker
Sean Weatherspoon
(foot) until at least Week 11. (Weatherspoon was placed on injured reserve with designation to return.)
This week, key players such as receiver
Roddy White
(high-ankle sprain), left tackle
Sam Baker
(knee/foot) and cornerback
Asante Samuel
(thigh) have all been held out of practice this week, although White returned on a limited basis Thursday. Even Jones (knee) was limited the past two days.
"Injuries are a part of the game," Gonzalez said. "It's the NFL. Look across the league. That's what happens. That's part of the business, is staying healthy. And, unfortunately, we're down a little bit right now.
"But at the same time, that's why we have the backups that are going to come in and they're going to do the job hopefully just as well as the starters would have. And that's what's expected of them. It's a hard position for them to be in, but I think that they're up to that challenge. The coaches are going to make adjustments. We're going to be fine."
September, 20, 2013
9/20/13
12:00
PM ET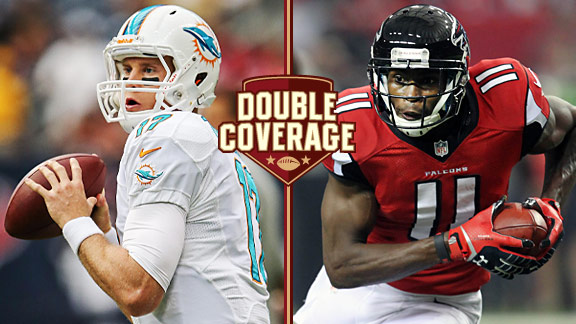 USA TODAY SportsRyan Tannehill and the undefeated Dolphins will try to upset Julio Jones and the Atlanta Falcons.
The
Miami Dolphins
are basking in the light of a 2-0 start while the
Atlanta Falcons
are just trying to find some healthy bodies.
The two teams play each other Sunday in a game that has big implications in the AFC East and NFC South races.
ESPN Dolphins reporter James Walker and ESPN Buccaneers reporter Pat Yasinskas examine this matchup:
Yasinskas:
James, like many, I thought the Dolphins would be an improved team. But it's looking like they might be even better than I thought. They've gone out and started their season with two big wins on the road. What's going right for the Dolphins and, more importantly, how good are they?
Walker:
It's early, Pat, but Miami is already exceeding my expectations. I pegged the Dolphins to be an 8-8 team this year. That still could happen if the team loses focus, but Miami is on pace to do better. I credit two things: improved playmaking ability and the growth of second-year quarterback
Ryan Tannehill
. Miami committed more than $200 million in free-agent contracts to players like receiver
Mike Wallace
, cornerback
Brent Grimes
and linebackers
Dannell Ellerbe
and
Philip Wheeler
. All of those players came up big in last Sunday's win over the
Indianapolis Colts
. When you add in the fact Tannehill has improved in his second year, it's easy to see why the Dolphins are also taking the next step. Atlanta is a team many believe is a Super Bowl contender, but the group is banged up. Pat, how much will injuries impact the Falcons in this game?
Yasinskas:
Atlanta has some major injury problems. The Falcons had to put defensive end/linebacker
Kroy Biermann
and fullback
Bradie Ewing
on injured reserve this week and there are reports that running back
Steven Jackson
will miss a few weeks. The loss of Biermann means the Falcons will have to play rookies
Joplo Bartu
and
Paul Worrilow
at linebacker and second-year pro
Jonathan Massaquoi
at defensive end. If Jackson is out, the Falcons will have to go with
Jacquizz Rodgers
and
Jason Snelling
as their running backs, and that's a sharp drop-off. That probably means the Falcons will pass even more than usual and rely on
Roddy White
and
Julio Jones
. Is Miami's secondary ready for that tandem?
Walker:
I had a good conversation with Miami's top cornerback, Grimes, on Tuesday. He was complimentary of both White and Jones -- and Grimes would know. The former Falcon watched both receivers grow in Atlanta and practiced against them. It will be fun to see who has the advantage between Grimes and White/Jones, depending on the play. Grimes told me they all know each other so well that it's probably a push. The bigger concern for Miami's secondary is the other cornerback spot. Veteran starter
Dimitri Patterson
didn't play in Week 2 due to a groin injury. He's working his way back and could play Sunday. Rookie corners
Will Davis
and
Jamar Taylor
also returned to practice this week, which could provide depth. Similar to the game against Indianapolis, Miami must do a lot of things schematically to cover up its issues opposite Grimes. That includes using the safeties over the top and getting a good pass rush. Speaking of pass rush, the Dolphins have nine sacks in the first two games. Can they exploit the Falcons in this area?
Yasinskas:
Miami's pass rush has to be a major concern for the Falcons. Atlanta revamped its offensive line in the offseason and it's taking some time to come together. The right side of the line is of particular concern with guard
Garrett Reynolds
and
Lamar Holmes
as the starters. Reynolds is average at best and Holmes, a second-year pro, was thrown into the starting lineup when
Mike Johnson
went down with an injury in the preseason. Holmes is very much a work in progress, so the Falcons will have to try to give him some help by getting their tight ends and running backs involved as pass-blockers. Still, Atlanta should be able to move the ball through the air because it has
Matt Ryan
, Jones, White and tight end
Tony Gonzalez
. Has Tannehill developed enough to win a shootout?
Walker:
That's an interesting question, Pat. I'm not sure anyone -- even Miami's coaching staff -- has the answer. I did notice the Dolphins' game plan in Week 1 against Cleveland was fairly conservative compared to Week 2 against Indianapolis. Those are two different teams, and perhaps the Dolphins realized they needed to be more aggressive throwing and take more vertical shots deep to match Colts quarterback
Andrew Luck
. This is a similar type of challenge, because Atlanta's offense is built around scoring points in the passing game. Tannehill is getting better at taking over parts of a game in Year 2. His play in the second half the past two weeks has been terrific. The Dolphins are outscoring opponents 24-6 in the third and fourth quarters, in part because Tannehill is moving the chains, putting points on the board and keeping Miami's defense fresh. I don't expect this game to be all on Tannehill's shoulders. The defense remains the strength of the Dolphins. Keeping Atlanta's scoring around 23 points or fewer, as opposed to having Tannehill throw for 400 yards, is probably Miami's best shot to win.