Atlanta Falcons:

Jeremy Trueblood
January, 9, 2014
Jan 9
9:00
AM ET
At least one Atlanta Falcon believes the offensive line will be just fine next season.
Outspoken wide receiver
Roddy White
took to Twitter on Wednesday and voiced his support of the line and new offensive line coach Mike Tice going into the 2014 season.
White
"Mike Tice will make a tremendous difference for our Oline when we get bake (
Sam Baker
) back we will be fine that's the same line that won 13 games," he tweeted.
White even assumed a front-office role for a day and implied the Falcons needed to address the defensive line before the offensive line with the first-round draft pick, currently No. 6 overall.
"I would love for us to draft clowney if he is available but if he isn't we should trade out and stockpile players got a lot of holes to fill," White tweeted, referring to highly touted South Carolina defensive end Jadeveon Clowney.
"Clowney helps the Oline they have to block him at practice."
Maybe the organization is leaning the same way in terms of targeting Clowney, but the offensive line needs a facelift regardless. It seems likely the Falcons will address the line via free agency and the draft, but how high would they select an offensive lineman such as Texas A&M's Jake Matthews or Auburn's Greg Robinson?
Whatever the case, Tice will have his hands full trying to get the most out of the group. We talked to the significant offensive line contributors -- outside of the injured Baker -- an asked them for their self-evaluations of the season. We'll start off with the guy who figures to be the first one out the door, by his own admission:
Jeremy Trueblood
Position
: Right tackle
Age
: 30
Contract status
: Unrestricted free agent
2013 games played/starts
: 15/10
Snaps
: 628
Trueblood
Overview
: The Falcons signed Trueblood for insurance as
Tyson Clabo
moved on to Miami and
Mike Johnson
suffered a season-ending dislocated left ankle and fibula fracture in practice. Trueblood was known as a solid run-blocker with a mean streak. His struggles in pass protection, however, were clearly evident throughout the season. Trueblood ended up getting benched twice during the season, near the end in favor of undrafted rookie
Ryan Schraeder
. It seems highly unlikely the Falcons will bring him back. He made the veteran minimum of $840,000 this past season, which would bump up to $855,000 in 2014.
Trueblood's self-evaluation
: "I think I played fine. They told me (getting bench for Schraeder) wasn't based on play. They just wanted to get some young guys some experience. So I understand that. We weren't going to the playoffs, and they wanted to see what we have on the roster. I think we have a lot of great players and a lot of great teammates here; a lot of great guys that I met and a lot of great coaches. They're heading in the right direction, I think. If they stay healthy, they'll build a pretty good team.
"It's not my decision (remaining with the Falcons). My decision is to be wherever I'm wanted, so we'll see what happens. How long will I keep playing? Until they kick me out. That's my plan, it's to keep on playing until I can't take it anymore or they don't want me anymore, whatever comes first."
FRIDAY
:
Peter Konz
December, 10, 2013
12/10/13
2:00
PM ET
A weekly examination of the Falcons'
ESPN.com Power Ranking
:
Preseason:
4 |
Last Week:
29 |
ESPN.com Power Ranking since 2002

The Falcons moved down a spot in the ESPN.com Power Rankings, back to No. 30, after Sunday's 22-21 loss to the
Green Bay Packers
at Lambeau Field.
At one point, the Falcons held a 21-10 edge but couldn't keep it despite creating two turnovers leading to touchdowns. They still haven't been able to string together consecutive wins this season after going 13-3 a year ago.
The Falcons did, however, get a chance to give their young players extensive playing time. Rookie cornerback
Robert Alford
played all the snaps at left cornerback after
Asante Samuel
was benched. Rookie right tackle
Ryan Schraeder
finished the game after
Jeremy Trueblood
started. And rookie safety
Zeke Motta
stepped in after
Thomas DeCoud
suffered a concussion.
The youth movement is certain to continue over the final three games as the Falcons try to establish momentum going into next season. At the same time, some of the veteran players surely want to show they deserve to stick around a little longer.
And from the standpoint of the fans, nothing would be greater than falling to the bottom of the NFL standings to secure the first overall draft pick. The Falcons current stand at the No. 3 position behind the
Houston Texans
and
St. Louis Rams
(via Washington).
December, 5, 2013
12/05/13
10:00
AM ET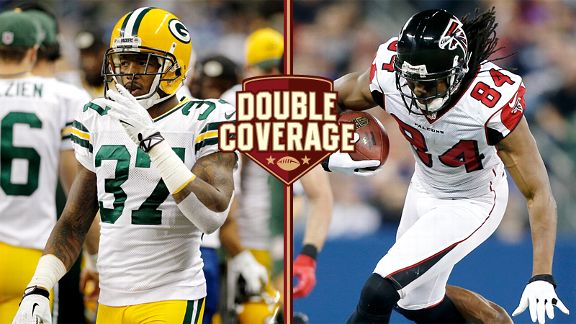 AP PhotoCan Sam Shields and the Packers snap their slump against Roddy White and Atlanta on Sunday?
Last season, the
Atlanta Falcons
were one quarter away from reaching the Super Bowl, and the
Green Bay Packers
reached the divisional round of the playoffs.
Eleven months later, the teams have a combined record of 8-15-1.
That's why the NFL moved the game, which was originally scheduled for prime time on Sunday, to a 1 p.m. ET start.
ESPN Packers reporter Rob Demovsky and ESPN Falcons reporter Vaughn McClure break down the matchup:
Rob Demovsky
: Vaughn, it's hard to believe the Falcons are in playing-out-the-string mode with all of the talent they have on offense. Obviously, injuries have been an issue, especially losing a talented receiver like
Julio Jones
. But unlike the Packers, they didn't lose their quarterback. How come
Matt Ryan
hasn't been able to be a difference-maker?
Vaughn McClure
: Well, it's been hard for Matt Ryan to be himself, playing under duress most of the season. The Falcons have ranked in the top 10 in sacks allowed per pass attempt, but that's only because Ryan has taken shorter drops and delivered the ball quicker. He has still been sacked a career-high 30 times and has been hit countless other times. In the past two games alone -- against the Saints and Bills -- Ryan was sacked 11 times. True, being without Jones hasn't helped Ryan's cause. But also,
Roddy White
hasn't been at full strength all season. Without
Harry Douglas
or
Tony Gonzalez
, Ryan would really be in trouble.
Speaking of quarterbacks, can you explain the different scenarios for the Packers at the position come Sunday, based on
Aaron Rodgers
' injury status?
Demovsky
: Well, it sure looks like Rodgers will be out for at least another week. This was the game he was really targeting to come back for, thinking he could lead them to the playoffs if he got back for the last four games. But his collarbone did not check out well enough Tuesday to be cleared. Even though he plans to practice this week, it doesn't look good for him to play. I was a little surprised that coach Mike McCarthy appears to be going with
Matt Flynn
again. Flynn was completely ineffective in the Thanksgiving debacle at Detroit, and quite frankly, his arm strength does not look good. He didn't have a lot of zip on the ball indoors against the Lions, and it sure won't get any easier to throw in the cold, wintry conditions at Lambeau Field. I wondered if he might go back to
Scott Tolzien
, who looked good in a couple of his appearances but threw too many interceptions.
You mentioned pass protection -- the Packers had issues of their own against the Lions. Flynn was sacked seven times, but on at least a couple of those, he held onto the ball too long. What has been the Falcons' biggest problem in pass protection?
McClure
: The biggest problem has been the offensive line, simply. The guys up front haven't held up their end of the bargain. They've been physically dominated at times, particularly in the loss to the Seahawks. The Falcons lost left tackle
Sam Baker
to season-ending knee surgery, and Baker wasn't the same player he was last season before being placed on injured reserve. Left tackle
Lamar Holmes
, the guy trusted to protect Ryan's blind side, admitted being out of shape at the beginning of the season and is still experiencing growing pains. Center
Peter Konz
, right guard
Garrett Reynolds
, right tackle
Jeremy Trueblood
and Holmes have all been benched at point during the season. Such turnover hasn't helped the group develop any cohesion. And now, it has to face a capable Packers defense.
I know
Clay Matthews
was injured this season, but is he back to the dominant player he was when I covered the NFC North?
Demovsky
: He's starting to look like the player you remember, Vaughn. In his first game back from his broken thumb, he wasn't a factor,because he had to wear that giant club cast. But the next week against the Giants, he was able to play with a much smaller cast. Ever since then, he's been a playmaker again. In the past three games, he has three sacks and a forced fumble. The problem is he's not getting a ton of help. And even when they make big plays like they did against the Lions last week, when they forced four turnovers, the offense can't take advantage of them. Even with Matthews back on the field, the defense has been in a free fall over the past month.
About the only thing the Packers have been able to count on has been their running game, and even that has been a little up and down. But rookie
Eddie Lacy
looks like a force with 806 yards rushing in basically 10 games. I'm sure the Falcons will load up the box to stop him like most teams have tried to do since Rodgers got hurt. Do you think they can stop him?
McClure
: No. Not at all. They struggled to contain speedy backs like Buffalo's
C.J. Spiller
(149 rushing yards) just like they've struggled against powerful backs like Seattle's
Marshawn Lynch
(145 yards). Defensive coordinator Mike Nolan counted 28 missed tackles for his defense over the past two games, which is unacceptable, particularly when they occur in the second level and lead to explosive plays. Although rookie linebacker
Paul Worrilow
has been a tackling machine, he can't do it alone. Like the offensive line, the defense has been dominated physically at times. Lacy's bruising style is the last thing the Falcons want to see. The Falcons are tied for 29th in the NFL in rushing yards allowed per game.
November, 19, 2013
11/19/13
10:10
AM ET
FLOWERY BRANCH, Ga. -- It's hard to remember too many times this season when
Atlanta Falcons
head coach
Mike Smith
spoke positively about the play of one individual offensive lineman.

Smith
That's what Smith did, sort of, on Monday when he talked about
Joe Hawley
stepping in as the starting center against Tampa Bay as
Peter Konz
moved over to right guard.
"I thought Joe did a nice job at the center position in the ball game (Sunday), from my evaluation of watching the tape on the flight home," Smith said.
Hawley played all 71 snaps on a day the Falcons benched right guard
Garrett Reynolds
, then benched Konz for Reynolds, then inserted
Ryan Schraeder
at right tackle for
Jeremy Trueblood
.
Not to mention newly signed veteran
Sean Locklear
might be in the mix at right tackle soon.
Yes, the offensive line is still a mess.
"We will continue to evaluate everything," Smith said of the line. "When you've played like we've played, especially the last four weeks, you've got to look at all options. And I felt like the moves helped us in some areas and hindered us in others.
"We will continue to tweak the play time of our players as we move through this last part of the season. We've got to get a combination where we feel we give ourselves the best opportunity to win."
Hawley is confident he can do the job at center moving forward.
"Obviously they've shown that the best players are going to play, so I've just got to keep playing good and prove that I belong out there," Hawley said.
Hawley isn't the only unheralded player the Falcons will take a closer look at moving forward. Smith said running back
Antone Smith
earned more carries after gaining 88 yards on two runs against the Buccaneers, including a 50-yard touchdown. And rookie
Zeke Motta
played 26 snaps while taking over at free safety after starter
Thomas DeCoud
played 42 snaps.
By the way, DeCoud remained with the starters when the team went through a walkthrough on Monday night. Not to mention Motta has a broken finger on his right hand and is expected to play with a cast, which could limit his production. So, the chatter about Motta replacing DeCoud in the starting lineup might have to calm down for now.
"It was a good opportunity for me to get out and get some snaps on defense, get some good experience, and get a feel for the NFL game aside from special teams," Motta said. "It was fun, from that aspect; to go out there and kind of test my skills. And I felt comfortable. I felt like I belonged out there.
"I'll do whatever the coaches ask me to do. Whatever I can do to help this team and make this team better, I'm going to do."
The Falcons hope all their inexperienced players proceed with the same attitude.
October, 8, 2013
10/08/13
3:31
AM ET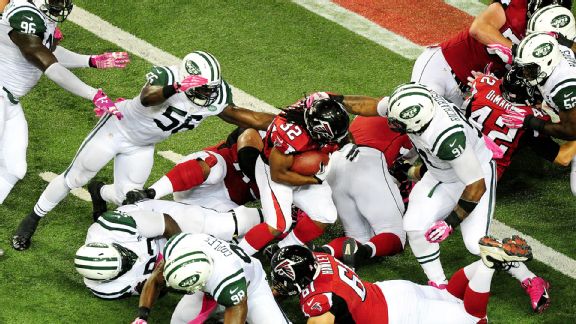 Scott Cunningham/Getty ImagesThe Falcons couldn't get Jacquizz Rodgers into the end zone on the final play of the first half.
ATLANTA -- One yard.
That's all that stood between the
Atlanta Falcons
and rebounding from a dismal 2013 start.
One yard might have given them much-needed momentum going into the bye week. One yard might have given fans hope the team would sneak right back into the playoff picture.
Instead, Monday night ended with one resounding thud.
There were a variety of reasons why the Falcons suffered their third straight defeat, falling to 1-4 with a
30-28 loss
to the
New York Jets
, who kicked the game-winning field goal as time expired. Some folks will put the blame on head coach Mike Smith, particularly after he decided against going for a field goal with a second left before halftime.
Smith admitted, in hindsight, maybe settling for three would have been the best option. But he believed his team could get the one yard necessary for a touchdown. He expressed faith in his offense, faith in his quarterback, faith in his offensive line.
[+] Enlarge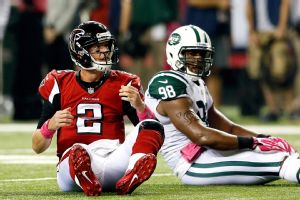 Kevin C. Cox/Getty ImagesMatt Ryan was only sacked twice, but he felt the pressure from the Jets.
Those out there not upset with Smith are certainly pointing fingers at each and every offensive lineman for not helping
Jacquizz Rodgers
pick up that yard on fourth-and-goal. Truth be told, there's no reason to call out the linemen on this one. They pointed fingers at themselves.
"Probably would have been better if we had gotten a better push," right guard
Garrett Reynolds
said. "I don't know exactly what happened. I haven't watched it. But we didn't get in there."
Based on the replay, it appeared at least two front-line Falcons got beat on the play.
Joe Hawley
, the backup center who lined up as an extra lineman in the tight end spot, seemed to miss his block and allow penetration to Jets defender
Quinton Coples
. Right tackle
Jeremy Trueblood
appeared to get overpowered by Jets defensive tackle
Sheldon Richardson
, who was credited with dropping Rodgers for no gain.
"What did I see? I was just trying to block my guy," Trueblood said. "I wish I would have done a better job. If I would [have gotten] my man, [Rodgers] would have scored."
Owning up to the mistakes is the first step. Correcting those errors is the next phase for the much-maligned offensive line.
The front five have been the object of much criticism since an ugly showing in the preseason. This line underwent a major facelift from last season with center
Todd McClure
retiring and right tackle
Tyson Clabo
being released, then signing with the
Miami Dolphins
. The Falcons were prepared to start
Mike Johnson
in place of Clabo until Johnson went down for the remainder of the season with a broken leg and dislocated ankle.
Then left tackle
Sam Baker
, who was stellar last season, went down with an injury in Week 4 against the
New England Patriots
, which forced demoted right tackle
Lamar Holmes
to take over at left tackle alongside left guard
Justin Blalock
, center
Peter Konz
, Reynolds and Trueblood.
The makeshift line has had its struggles. Offensive coordinator Dirk Koetter compensated by orchestrating plays to help quarterback
Matt Ryan
release the ball quicker to avoid pressure.
Still, Ryan has been sacked at key times this season, including against the Patriots when Holmes allowed Ryan to get sacked in the red zone. On Monday night, Jets defensive end
Muhammad Wilkerson
beat Trueblood and Reynolds, swooping in for a sack-fumble play on Ryan. The turnover led to a
Nick Folk
field goal.
The line must have gotten a pep talk from offensive line coach Pat Hill at halftime Monday night. The performance in the second half was much better, particularly in terms of clearing holes in the running game. Rodgers had two red-zone touchdown runs in the second half. And Ryan didn't get sacked in the fourth quarter, when he completed 12 of 18 passes for 122 yards and a touchdown.
Regardless, that one yard the Falcons couldn't pick up before halftime might stick with them the entire season. Still, Ryan refused to blame the line.
"I thought they did a good job," he said. "I thought they fought the entire night. It's a good defense that we went against, specifically a very good front seven. And I thought our guys stepped up to the challenge.
"We ran the ball really effectively in the red zone. We just didn't run it effectively on that one play."
The Falcons don't have much of a choice but to ride with the offensive linemen they have now. Getting Baker back healthy might help, but he struggled when he was in the lineup. There aren't too many quality linemen sitting on the streets, and the Falcons have no current interest in recently released tackle
Max Starks
. Plus the organization still has high hopes for Holmes developing into a Pro Bowl-caliber tackle down the road.
Building toward the future is great, but the Falcons have to be more concerned about the present. If they have any thoughts of rebounding from this dismal 1-4 start, the line has to hold up its end. If it doesn't, the critics will continue to feast on the entire group.
"We always say we're all we got; we're all we need," Reynolds said. "All these people out here saying stuff about us. That's OK. That's their opinion. They don't know what we do. They don't know how hard we work. We have to take it on ourselves to continue to get better. We're a team. We're going to stick together."
October, 3, 2013
10/03/13
5:10
PM ET
FLOWERY BRANCH, Ga. -- Though quarterback
Josh Freeman
's image has taken a major hit over the past few weeks, one of his former
Tampa Bay Buccaneers
teammates spoke up on his behalf.
Trueblood
Freeman
New Falcons starting right tackle
Jeremy Trueblood
, who started 84 games for the Bucs from 2006-12, had no issues with Freeman.
"I liked him," Trueblood told ESPN.com. "I thought he was a good player. I thought he came to work; thought he was a good leader."
Freeman, a former first-round pick from Kansas State, was released Thursday after the Buccaneers failed to find a trade partner. Reports surfaced about Freeman being in the league's substance-abuse program, and SI.com reported Freeman had been fined twice in the past month for conduct detrimental to the team.
Freeman was a team captain for the three seasons prior to this year. He was one of three quarterbacks to beat the Falcons during the 2012 regular season.
"All the things I've been hearing about him, I never saw," Trueblood said. "So it's surprising to me."
Freeman was benched in favor of rookie
Mike Glennon
prior to last week's loss to the Cardinals.
"I went through it last year, getting benched by that coaching staff," Trueblood explained. "I felt like they handled it all right with me. I've got nothing but good things to say about my time there, so I'm not too sure what went on (with Freeman)."
Trueblood reiterated the leadership skills he often saw in Freeman.
"He was always there for the guys," Trueblood said. "He's a good dude. He's not always about himself. He's about the team. I enjoyed him. He never pointed fingers. And he was quick to point the finger at himself, even if it really wasn't his fault. He was willing to accept the blame. For me, he was just a good leader."
The Falcons host the Buccaneers Oct. 20.
September, 5, 2013
9/05/13
1:00
PM ET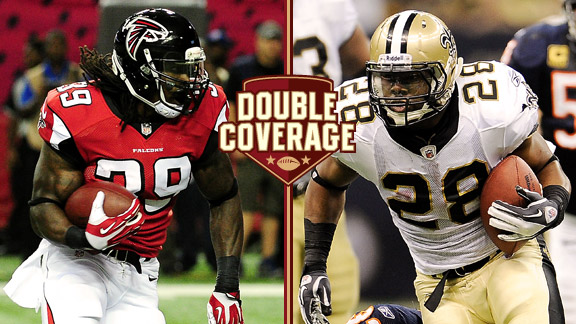 Getty ImagesSteven Jackson and Mark Ingram will try to bring more balance to two pass-heavy offenses.
Sean Payton is back to right the wrongs of last season, when his
New Orleans Saints
went off the rails in his absence. The first test of the season is a fitting one: The Saints open against their hated NFC South rivals, the
Atlanta Falcons
, who ran away with the division last season even though they split with New Orleans.
Have Payton and new defensive coordinator Rob Ryan fixed that horrid defense of a year ago? Will the Saints have much of a running game? Can the Falcons protect their franchise quarterback and give him time to find his myriad weapons?
ESPN.com NFL columnist Ashley Fox and NFC South blogger Pat Yasinskas discuss what Saints and Falcons fans can expect from the latest installment of this heated rivalry.
Fox:
He's back. It is redemption time for Payton after missing a year because of the bounty scandal. I'm sure, given how beloved Payton is in New Orleans, that the Mercedes-Benz Superdome will be so loud it might lift off. I've seen different estimates for Payton's worth. How many wins do you think he's worth to the Saints?
Yasinskas:
I think Payton's presence instantly takes the Saints from a nonplayoff team to a playoff team. His skills as an offensive guru are well known, and that certainly will help. But I think the more subtle benefit to having Payton back is his skill as a motivator. He's a master in that area, and he'll have his team ready for big games. Speaking of changes that came in the offseason, what do you think was the biggest move for the Falcons?
Fox:
To me, the biggest change was the addition of
Steven Jackson
. As you well know, the Falcons struggled to run the ball late last season, when
Michael Turner
clearly had nothing left in the tank. I know Jackson has hit the age when running backs typically decline, but the Falcons don't need him to carry the load. They're going to pass to get a lead and run to win the game. As long as he can stay healthy, Jackson should be able to do that. How effective do you think the Saints' running game will be?
Yasinskas:
That's a very timely question. Several times this offseason, Payton has said he wants more out of his running game. The Saints always are going to be a pass-first team. But if you look back at their Super Bowl year, their running game ranked in the top 10. Payton wants to get back to that, and I believe he has the tools to do that with
Pierre Thomas
,
Darren Sproles
and
Mark Ingram
. I think you'll see more of Ingram this year. He's a guy who needs 10 to 15 carries to get going, and he can bring more balance to the offense. Speaking of balance, the Falcons seem to have plenty of that. How potent is their offense going to be?
Fox:
I think they have a chance to be as potent, if not more so, than last season. The newly signed
Matt Ryan
has all of his toys back --
Roddy White
,
Julio Jones
,
Harry Douglas
and
Tony Gonzalez
. He threw for more than 4,700 yards last season and set career highs for completion percentage, attempts and completions. He could break those again this season. It will be interesting to see if the preseason, when the Falcons were flagged for countless penalties, was an aberration. They were the least penalized team in NFL history last season. As far as setting NFL records, the Saints' defense did last season and not in a good way. Do you think it is going to be any better this season under Ryan?
Yasinskas:
It's hard to imagine the New Orleans defense being any worse than it was a year ago. Things just never worked for former coordinator Steve Spagnuolo. I think there will be improvement with Ryan, but I'm not sure how significant it will be. The Saints are switching from a 4-3 to a 3-4 scheme, and I'm not sure they have all the personnel they need to be successful. Time will tell, but it's more than fair to say the defense is the biggest question mark for the Saints. Speaking of question marks, do the Falcons have any glaring weaknesses?
Fox:
It is the offensive line. If Ryan is worth his salt as a defensive coordinator, he will strike the right side of the Falcons' line. That's where the potential problems are. After 13 seasons and 194 starts, center
Todd McClure
retired after last season.
Peter Konz
, who started nine games as a rookie at right guard, slides back to his natural position at center. Left guard Justin Blaylock and left tackle
Sam Baker
are veteran rocks. That's not the problem. The Falcons let right tackle
Tyson Clabo
walk in free agency. His replacement,
Mike Johnson
, broke his leg during training camp. Johnson's replacement,
Lamar Holmes
, was bad enough in the preseason that the Falcons signed
Jeremy Trueblood
earlier this week. Right guard
Garrett Reynolds
missed the second half of last season with an injury. How do you think Ryan will try to exploit the weakness?
Yasinskas:
I agree with what you said about Atlanta's offensive line. It potentially could be a huge problem, and I'm sure Ryan is well aware of that. I'd look for him to try to exploit the right side of the line as much as possible. But the Saints have had their share of injuries on defense, and it still isn't clear how they'll apply pressure. Defensive end
Cameron Jordan
really is the only proven commodity as a pass-rusher. The Saints have big hopes for outside linebackers
Junior Galette
and
Martez Wilson
, and those guys need to become forces in a hurry. Atlanta has so many offensive weapons that the Saints need to get some pressure on the quarterback. Speaking of Atlanta's offensive weapons, is White completely healthy?
Fox:
The Falcons better hope so. And they say he is, more or less. White sprained an ankle in the second preseason game but finally returned to practice this week. He is Mr. Reliable, having started 128 straight games, and had only two drops last season, according to ESPN Stats & Information. Only Arizona's
Larry Fitzgerald
had fewer among receivers who were targeted at least 100 times. So the Falcons need White to be healthy and productive. What's up with the Saints' third receiver situation?
Yasinskas:
The Saints just brought back
Robert Meachem
, who didn't work out as a free agent in San Diego. I think Meachem can get back to being an impact player as a third or fourth receiver in time. But I think the Saints will open the season with rookie
Kenny Stills
as their third receiver. He has big-time speed, and the Saints need a downfield weapon to go along with
Marques Colston
and
Lance Moore
. Stills is an under-the-radar player who could have a big impact on this game. Do you see any Falcons who fall into that same category?
Fox:
There are two undrafted rookie free agents on defense who won't start but should see plenty of action. One is
Joplo Bartu
, a 6-foot-2, 230-pound linebacker out of Texas State. The other is
Paul Worrilow
, a 6-foot, 230-pound linebacker out of Delaware. Both are unheralded guys who are big and strong and really caught the coaches a little by surprise. Remember those two. OK, so give me a prediction. Who wins?
September, 3, 2013
9/03/13
4:56
PM ET
The
Atlanta Falcons
now have another option at right tackle besides
Lamar Holmes
.

Coach
Mike Smith
said Tuesday afternoon that the Falcons have signed veteran
Jeremy Trueblood
. He previously was a starter in Tampa Bay before losing his job last season and spending this preseason with Washington.
Holmes, a second-year player, has struggled since taking over at right tackle when
Mike Johnson
went down with a season-ending injury. Holmes is likely to start the season opener, but Trueblood could challenge him as soon as he learns the offense.
To make room for Trueblood, the Falcons released offensive lineman
Terren Jones
. The Falcons also reached an injury settlement with
Phillipkeith Manley
.