Atlanta Falcons:

Joe Hawley
March, 13, 2014
Mar 13
7:35
PM ET
The
Atlanta Falcons
made
Joe Hawley
a priority going into free agency although he wasn't re-signed until after the market opened.
Hawley proved his worth last season when he stepped in as the starting center ahead of
Peter Konz
, who was shifted over to right tackle. The toughness Hawley displayed was a rare occurrence for an offensive line that got pushed around the majority of the season.
The former fourth-round pick from UNLV should hold down the starting role for the 2014 season. The Falcons are counting on him getting much more help from new starting right guard
Jon Asamoah
than he did from Konz toward the end of last season.
And yes, Konz might get a chance to compete. But it's Hawley's job to lose.
Here's how Hawley's two-year contract extension, which included a $2 million signing bonus, breaks down.
March, 11, 2014
Mar 11
5:45
PM ET
It was clear from the outset how the
Atlanta Falcons
wanted to approach free agency: Get stronger up front.
The offensive and defensive lines struggled miserably last season. So if money was going to be spent on free agents, it was bound to be spent on offensive and defensive linemen, not safeties or tight ends.
Such was the case when the Falcons agreed to terms with defensive linemen
Paul Soliai
and
Tyson Jackson
, and offensive guard
Jon Asamoah
.
Soliai
Asamoah
Starting with Soliai, the Falcons rewarded the big nose tackle with a five-year contract with a max value of $33 million with $14 million guaranteed, according to a source familiar with the negotiations. The 6-foot-4, 340-pound Soliai immediately becomes the Falcons' most intimidating defensive lineman. And he'll be counted upon to take on double teams and pave the way for the linebackers to make plays with the Falcons expected to move toward more of a 3-4-based scheme.
Jackson (6-4, 296) will be a key figure up front, too. The former third-overall pick in 2009 was drafted by Falcons assistant general manager Scott Pioli when Pioli was the Chiefs' general manager. Jackson reportedly received a five-year deal worth a max of $25 million.
And Asamoah, who also agreed to a five-year deal (financial terms were not immediately available), might be the guy with the biggest burden to carry. The offensive line has been horrendous, allowing
Matt Ryan
to be the league's most pressured quarterback last season. The Falcons hope Asamoah steps in at right guard and develops into a stabilizing force. He is known for his pass protection and should be able to provide support as a run-blocker.
"Jon is a physical, experienced offensive lineman that will add a veteran presence to our offensive line," Falcons coach Mike Smith said about Asamoah.
The Falcons got it right. They addressed the most pressing needs from the outside and also re-signed two other key figures in center
Joe Hawley
and defensive tackle
Jonathan Babineaux
. Hawley should start in the middle with Asamoah and left guard
Justin Blalock
next to him. Babineaux should add depth to the defensive line rotation.
It all could equal a climb back to the top for the Falcons, although other aspects still need to take shape. The release of former Pro Bowl free safety
Thomas DeCoud
means the Falcons have to find a capable replacement next to strong safety
William Moore
. There is still a void at tight end with
Tony Gonzalez
retiring, although
Levine Toilolo
will be counted upon to elevate his game.
More importantly, the Falcons need to look at adding an offensive tackle and pass-rusher, maybe through the draft. The names that immediately come to mind are Auburn offensive tackle
Greg Robinson
, Texas A&M offensive tackle
Jake Matthews
, Michigan offensive tackle
Taylor Lewan
and Buffalo outside linebacker
Khalil Mack
. Right now, the Falcons hold the sixth-overall pick in the draft.
It will make for some interesting decisions to come. But for now, the Falcons made the right choice.
"We were focused on adding pieces along our offensive and defensive lines, and I feel we were able to accomplish that today," general manager Thomas Dimitroff said.
Certainly the Falcons have much more to accomplish.
February, 17, 2014
Feb 17
8:00
AM ET
The
franchise tag
might have entered into play for the
Atlanta Falcons
this season had
Matt Ryan
's contract been an issue.
It isn't.

The quarterback was locked up prior to last season with a five-year, $103.75 million contract extension that included $59 million guaranteed. It kept 2013 from being the final year of his original six-year, $72 million rookie contract ($34.74 million guaranteed).
In others words, it won't be a concern for the Falcons once the first day for designating the franchise tag on a player comes Monday. The last time the Falcons used the franchise tag was on cornerback Brett Grimes in 2012 -- at a one-year price of $10.28 million -- as the two sides were unable to reach a long-term deal. Grimes, who suffered a season-ending Achilles' injury that year, now faces the possibility of being tagged again as the member of the
Miami Dolphins
.
As for the Falcons, they have no reason to designate a franchise player this year among a group of impending unrestricted free agents that includes defensive tackles
Jonathan Babineaux
,
Peria Jerry
and
Corey Peters
. Some of the others bound for free agency include center
Joe Hawley
, tight end
Chase Coffman
and offensive tackle
Mike Johnson
. Free agency officially begins at 4 p.m. on March 11, although teams are allowed to negotiating with agents of players on other teams on March 9.
Maybe the franchise tag comes into play for the Falcons again if for some reason they can't get top receiver
Julio Jones
signed to a long-term deal before the 2015 season.
The deadline for designating franchise or transition players is 4 p.m. March 3. Eight players were slapped with the franchise tag last season.
Once a team designates a franchise player, it has until July 15 to work out a long-term extension with that player.
And once again, that shouldn't apply to the Falcons this year.
January, 13, 2014
Jan 13
8:00
AM ET
Joe Hawley
doesn't want his last memory in an
Atlanta Falcons
uniform to be that forgettable bad snap against Carolina in the season's final game.
The center and former fourth-round draft pick from UNLV is set to become an unrestricted free agent on March 11. Hawley drew high praise from head coach Mike Smith when he supplanted
Peter Konz
as the starting center and made an immediate impact in terms of keeping the pocket clean for quarterback
Matt Ryan
.
Did the undersized Hawley (6-foot-3, 302 pounds) show enough to be the team's center of the future?
"I hope that they give me that opportunity,'' Hawley said. "I think I've proven that I belong as a starting center in this league. Hopefully they'll give me a chance to come back and show that I'm that guy.''
Here's Hawley's self-evaluation of the 2013 season:
Joe Hawley
Position
: center
Age
: 25
Contract status
: Unrestricted free agent
2013 games played/starts
: 16/7
Snaps
: 539
Overview
: Hawley started the season as the extra lineman in the heavy package. He surpassed Konz as the starting center in Week 11 at Tampa Bay and then really opened eyes with a strong showing against the Saints in Week 12 while facing a tough defensive front. More than anything, Hawley brought a little bit of an edge to a line that needed to show more toughness.
Hawley's self-evaluation
: "Personally, I'm happy with the way I stepped in and played. Obviously, we didn't get the outcome we wanted as a team. I competed in training camp for the starting job. I didn't get it. I kept working every week like I was the starter. I wanted to show them that I was ready when the opportunity was presented. So when I got the opportunity, nothing really changed. I just went out there and did what I knew I could. I felt like I played well. Obviously, I need to work on getting everybody on the same page together and getting the line to work better together. But, I thought I played well.''
Tuesday
:
Lamar Holmes
December, 25, 2013
12/25/13
8:00
AM ET
FLOWERY BRANCH, Ga. – The
Atlanta Falcons
' coaching staff got an early Christmas gift Monday night: improved play on the offensive line.
No, it was not a strong enough performance to wipe out every bad memory from this season. But it was an encouraging sign from a unit that was expected to be dominated by a
San Francisco 49ers
front seven touted as arguably the best in the NFL.
Falcons coach Mike Smith hasn't singled out the play of an offensive lineman too often this season. Tuesday afternoon, he singled out three.

Although quarterback
Matt Ryan
did a masterful job improvising at times, his pocket was clean for the most part, which helped him complete a career-high 37 passes. He was sacked just once and was able to go deep more than he had all season.
"The interior of the pocket was a little more stout," Smith said. "I thought that we did a very good job with scheming, with chipping, helping and having backs chip out, tight ends chip out before they went into their routes.
"The two tackles [
Lamar Holmes
and
Ryan Schraeder
], they had tough draws. I thought they handled it well. I thought Matt [had a] very good pocket as well. And I really feel, after watching the tape on the ride back and watching it this morning, that
Joe Hawley
did a nice job cleaning the pocket up."
Hawley has been solid at center since taking the starting job away from
Peter Konz
, so his performance wasn't that shocking. But Holmes held his own at left tackle against pass-rush demon
Aldon Smith
, while right tackle Schraeder did the same against
Ahmad Brooks
. Schrader fared well against Smith, too.
Holmes had a couple of false starts in the first half, but he settled down in the second half and competed with Smith. Bad technique seemed to cause Schraeder to fall on his back during one play, but he quickly shook it off.
"I thought Ryan Schraeder continued to show improvement, as an undrafted rookie getting his second start on 'Monday Night Football,'" Smith said. "I thought he did a nice job. He battled. He battled against a very good front seven."
The Falcons need to find five players capable of battling each and every week. Hawley looks like a keeper at center, while left guard
Justin Blalock
has been the only offensive lineman to keep his starting job throughout the season. Schraeder continues to show promise as the right tackle of the future, while the Falcons hope to get left tackle
Sam Baker
back healthy next season after knee surgery.
The coaches still believe Holmes has a bright future despite his obvious struggles. And the fact that
Harland Gunn
played 45 snaps at left guard against the 49ers, compared with 27 for Konz, is telling in terms of Konz's status after losing his job at center.
If the line manages to string together back-to-back strong performances, the coaches truly would have something to build upon. And the Falcons finish the season against another one of league's top defensive fronts in the
Carolina Panthers
.
December, 5, 2013
12/05/13
3:30
PM ET
FLOWERY BRANCH, Ga. -- At age 37,
Tony Gonzalez
needs a break every now and then.
Fortunately for the
Atlanta Falcons
tight end, he's able to preserve his body for at least a few plays as of late, when offensive coordinator Dirk Koetter inserts tackle
Ryan Schraeder
as an extra tight end as part of the jumbo package to enhance the run and beef up protection. It takes away some of the blocking responsibilities from Gonzalez, who can focus more on route-running in those situations runner.
"It's great," Gonzalez said Thursday. "I'll take it wherever I can get it. … I still have high energy. But at the same time, it isn't what it used to be. I still feel like I can play at the same level, but I do get a little bit more tired than I used to. So it's great for that jumbo package to come in and get me a little bit of breather. Maybe I don't have to be at the point (of attack) every time. And those guys are capable."
The Falcons made a concerted effort last week to incorporate the rookie Schraeder into the offensive game plan as both the tackle-eligible player and at right tackle in place of
Jeremy Trueblood
.
Joe Hawley
had served as the extra tackle in the jumbo package before becoming the regular starter at center. Koetter also wanted to utilize rookie tight end
Levine Toilolo
more often as an extra blocker as Toilolo looks to improve that skill.
"A lot of it, too, at this point, obviously we're not going to the playoffs, and those young guys need to come in and get that experience," Gonzalez said. "Because they're going to be around here and they're going to be, hopefully, staples in this offense for a long time. And they need to get the job done and show what they're capable of doing and get that experience."
Not to mention Gonzalez has been dealing with a nagging toe injury for the past few weeks. Head coach Mike Smith said Gonzalez was "ahead of schedule'' in terms of fully recovering from the injury.
Still, the Falcons figure Gonzalez's body has gone through enough punishment over almost a full 17 seasons, so they'll continue to spell him on occasion during his final four NFL games before retirement.
"Tony is as good a pass blocker as there is, but we try not to put Tony in that situation too often just for the wear and tear on him," Koetter said of using the jumbo package. "As long as we can have runs and passes out of it so we're not too predictable, so that every time that guy comes in we're going to run. Which last week, I think it worked out perfect."
October, 8, 2013
10/08/13
3:31
AM ET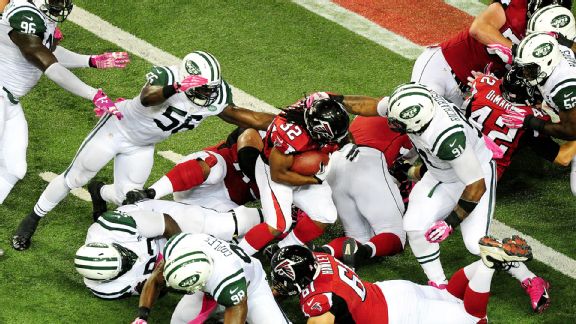 Scott Cunningham/Getty ImagesThe Falcons couldn't get Jacquizz Rodgers into the end zone on the final play of the first half.
ATLANTA -- One yard.
That's all that stood between the
Atlanta Falcons
and rebounding from a dismal 2013 start.
One yard might have given them much-needed momentum going into the bye week. One yard might have given fans hope the team would sneak right back into the playoff picture.
Instead, Monday night ended with one resounding thud.
There were a variety of reasons why the Falcons suffered their third straight defeat, falling to 1-4 with a
30-28 loss
to the
New York Jets
, who kicked the game-winning field goal as time expired. Some folks will put the blame on head coach Mike Smith, particularly after he decided against going for a field goal with a second left before halftime.
Smith admitted, in hindsight, maybe settling for three would have been the best option. But he believed his team could get the one yard necessary for a touchdown. He expressed faith in his offense, faith in his quarterback, faith in his offensive line.
[+] Enlarge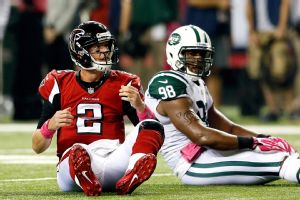 Kevin C. Cox/Getty ImagesMatt Ryan was only sacked twice, but he felt the pressure from the Jets.
Those out there not upset with Smith are certainly pointing fingers at each and every offensive lineman for not helping
Jacquizz Rodgers
pick up that yard on fourth-and-goal. Truth be told, there's no reason to call out the linemen on this one. They pointed fingers at themselves.
"Probably would have been better if we had gotten a better push," right guard
Garrett Reynolds
said. "I don't know exactly what happened. I haven't watched it. But we didn't get in there."
Based on the replay, it appeared at least two front-line Falcons got beat on the play.
Joe Hawley
, the backup center who lined up as an extra lineman in the tight end spot, seemed to miss his block and allow penetration to Jets defender
Quinton Coples
. Right tackle
Jeremy Trueblood
appeared to get overpowered by Jets defensive tackle
Sheldon Richardson
, who was credited with dropping Rodgers for no gain.
"What did I see? I was just trying to block my guy," Trueblood said. "I wish I would have done a better job. If I would [have gotten] my man, [Rodgers] would have scored."
Owning up to the mistakes is the first step. Correcting those errors is the next phase for the much-maligned offensive line.
The front five have been the object of much criticism since an ugly showing in the preseason. This line underwent a major facelift from last season with center
Todd McClure
retiring and right tackle
Tyson Clabo
being released, then signing with the
Miami Dolphins
. The Falcons were prepared to start
Mike Johnson
in place of Clabo until Johnson went down for the remainder of the season with a broken leg and dislocated ankle.
Then left tackle
Sam Baker
, who was stellar last season, went down with an injury in Week 4 against the
New England Patriots
, which forced demoted right tackle
Lamar Holmes
to take over at left tackle alongside left guard
Justin Blalock
, center
Peter Konz
, Reynolds and Trueblood.
The makeshift line has had its struggles. Offensive coordinator Dirk Koetter compensated by orchestrating plays to help quarterback
Matt Ryan
release the ball quicker to avoid pressure.
Still, Ryan has been sacked at key times this season, including against the Patriots when Holmes allowed Ryan to get sacked in the red zone. On Monday night, Jets defensive end
Muhammad Wilkerson
beat Trueblood and Reynolds, swooping in for a sack-fumble play on Ryan. The turnover led to a
Nick Folk
field goal.
The line must have gotten a pep talk from offensive line coach Pat Hill at halftime Monday night. The performance in the second half was much better, particularly in terms of clearing holes in the running game. Rodgers had two red-zone touchdown runs in the second half. And Ryan didn't get sacked in the fourth quarter, when he completed 12 of 18 passes for 122 yards and a touchdown.
Regardless, that one yard the Falcons couldn't pick up before halftime might stick with them the entire season. Still, Ryan refused to blame the line.
"I thought they did a good job," he said. "I thought they fought the entire night. It's a good defense that we went against, specifically a very good front seven. And I thought our guys stepped up to the challenge.
"We ran the ball really effectively in the red zone. We just didn't run it effectively on that one play."
The Falcons don't have much of a choice but to ride with the offensive linemen they have now. Getting Baker back healthy might help, but he struggled when he was in the lineup. There aren't too many quality linemen sitting on the streets, and the Falcons have no current interest in recently released tackle
Max Starks
. Plus the organization still has high hopes for Holmes developing into a Pro Bowl-caliber tackle down the road.
Building toward the future is great, but the Falcons have to be more concerned about the present. If they have any thoughts of rebounding from this dismal 1-4 start, the line has to hold up its end. If it doesn't, the critics will continue to feast on the entire group.
"We always say we're all we got; we're all we need," Reynolds said. "All these people out here saying stuff about us. That's OK. That's their opinion. They don't know what we do. They don't know how hard we work. We have to take it on ourselves to continue to get better. We're a team. We're going to stick together."