Atlanta Falcons:

Jonathan Babineaux
May, 15, 2014
May 15
11:00
AM ET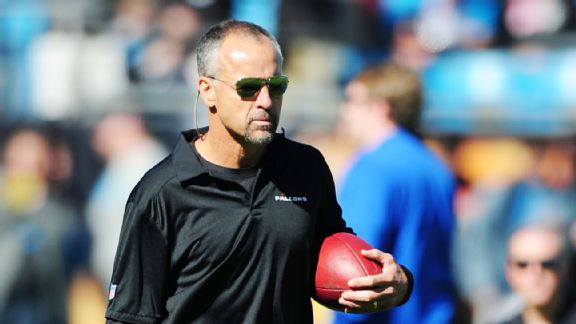 Scott Cunningham/Getty ImagesFalcons defensive coordinator Mike Nolan won't be lacking depth up front in 2014.
The
Atlanta Falcons
aren't panicking -- at least not yet -- over their inability to secure a top pass-rusher this offseason.
Sure, it would have been a nice luxury to land a proven talent such as
Brian Orakpo
or even a promising rookie such as
Jadeveon Clowney
,
Khalil Mack
or
Dee Ford
. But the Falcons have a game plan, regardless of what outside perception might say.
The coaches and players fully understand the urgency. They know how pathetic the pass rush was last season, when the Falcons sacked or put quarterbacks under duress on just 22.4 percent of dropbacks, second-worst in the NFL. Not to mention the Falcons allowed opponents to convert 45.93 percent on third down, resulting in the league's worst third-down defense.
You know you're in trouble when you make
Geno Smith
look like an All-Pro.
So how are things supposed to improve? There is plenty of reason to be skeptical, including the absence of a speed-rusher. But I believe a collective effort will help the Falcons take significant strides with their defensive pressure and compensate for the lack of an elite pass-rusher.
[+] Enlarge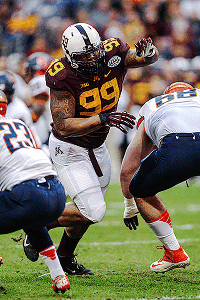 Troy Taormina/USA TODAY SportsAthletic rookie Ra'Shede Hageman could give a boost to the Falcons' pass rush in 2014.
Really. I do.
Altering the defensive approach is the first step. Although coach Mike Smith continues to preach defensive multiplicity without revealing much detail, the Falcons
will
have more of a 3-4 look in 2014. Believe that. It was obvious when players started talking about it immediately after last season. Then the Falcons added bulky nose tackle
Paul Soliai
and defensive end
Tyson Jackson
up front. Drafting defensive end
Ra'Shede Hageman
was further confirmation.
Think of it more as the Falcons building toward a 5-2 alignment, with three linemen and two outside linebackers getting pressure. As long as the Falcons can do so with consistency, they'll be fine.
The Falcons hope that having heavy hitters up front will create more stress on opposing offensive linemen and open lanes for the linebackers to make plays. And if he develops quickly, Hageman has the potential to be an outstanding inside rusher and a
J.J. Watt
-type pass-deflector. He is the wild card in this whole equation. He'll be motivated by fiery defensive line coach Bryan Cox.
In regard to the true pass-rushers, the Falcons have plenty of faith in third-year player
Jonathan Massaquoi
, who had four sacks last season and has played defensive end. His athleticism should be on display more often from the outside linebacker spot in 2014. Massaquoi told me this offseason that he feels the need to atone for not taking advantage of his opportunities last year.
Stansly Maponga
and rookie
Prince Shembo
are the other two young players that intrigue me. Both have pass-rush ability, although Maponga was used sporadically last season. Folks who watched every game Shembo played at Notre Dame believe he is a much better pass-rusher than run defender or coverage guy.
And don't forget about veteran
Osi Umenyiora
. He led the team with 7.5 sacks but wore down as the season went along. Yes, he's 32 years old and his best days are behind him. But the Falcons could get a lot out of him as a strictly designated pass-rusher, the same role he played at the end of last season. Umenyiora has spent a significant amount of time trying to improve his technique and speed this offseason. To me, that sounds like a veteran determined not to go out with a thud.
When guys like Massaquoi, Maponga and even Umenyiora don't have to bang against offensive tackles regularly, like they did most of the time in a typical 4-3 alignment, they'll be fresher and able to sustain a consistent pass rush. The defensive linemen also should benefit from a strong rotation, considering the Falcons brought back
Jonathan Babineaux
,
Corey Peters
and
Peria Jerry
while adding Soliai, Jackson and Hageman.
There will be an adjustment period all around, particularly for those players getting accustomed to standing up rather than playing with their hands in the ground. The guy who shouldn't flinch is
Kroy Biermann
, who has experience in both roles. But Biermann -- who played just two games in 2013 because of an Achilles injury -- will be counted upon more against the run than the pass.
Of course, let's not forget the key figure in this whole equation: defensive coordinator Mike Nolan. Last year wasn't indicative of what type of defensive mind he is. He's had success in the past out of a 3-4 base. He couldn't be too "multiple" last season, based on personnel. Nolan knows how to disguise coverages and dial up blitzes, when needed. And he'll have more to work with this season, including more capable bodies to sub in and out to keep the pressure consistent.
When you talk about facing the likes of
Drew Brees
and
Cam Newton
twice a year and having to contend with a pair of 6-foot-5 receivers in Tampa Bay's
Vincent Jackson
and
Mike Evans
, it only emphasizes the importance of pressure for a Falcons team trying to return to playoff contention. It won't be about a guy such as Massaquoi suddenly exploding with double-digit sacks, though the Falcons would take it. It will be more about consistency, getting contributions from a number of different players, and keeping bodies fresh over the duration of 60 minutes.
A more balanced offensive attack with a little more emphasis on the run surely wouldn't hurt in terms of keeping the defense off the field. But when it comes down to it, the Falcons' defenders have to pin their ears back and have the desire to get after it.
The pressure is on.
March, 13, 2014
Mar 13
8:30
AM ET
The
Atlanta Falcons
kept one of their own when they signed veteran defensive tackle
Jonathan Babineaux
to a three-year extension.
It should assure that Babineaux plays his entire career with the Falcons after entering the league as a second-round pick in 2005. He received a $2 million signing bonus in a contract that averages $3 million per year, according to ESPN Stats & Information.
Here's how Babineaux's extension breaks down.
2014
Cap value: $2,666, 666
Cash value: $4,000,000
Base salary: $2,000,000 (fully guaranteed)
2015
Cap value: $3,666,666
Cash value: $3,000,000
Base salary: $2,250,000
Roster bonus: $750,000 ($46,875 per game active)
2016
Cap value: $2,666,668
Cash value: $2,000,000
Base salary: $1,250,000
Roster bonus: $750,000 ($46,875 per game active
March, 11, 2014
Mar 11
5:45
PM ET
It was clear from the outset how the
Atlanta Falcons
wanted to approach free agency: Get stronger up front.
The offensive and defensive lines struggled miserably last season. So if money was going to be spent on free agents, it was bound to be spent on offensive and defensive linemen, not safeties or tight ends.
Such was the case when the Falcons agreed to terms with defensive linemen
Paul Soliai
and
Tyson Jackson
, and offensive guard
Jon Asamoah
.
Soliai
Asamoah
Starting with Soliai, the Falcons rewarded the big nose tackle with a five-year contract with a max value of $33 million with $14 million guaranteed, according to a source familiar with the negotiations. The 6-foot-4, 340-pound Soliai immediately becomes the Falcons' most intimidating defensive lineman. And he'll be counted upon to take on double teams and pave the way for the linebackers to make plays with the Falcons expected to move toward more of a 3-4-based scheme.
Jackson (6-4, 296) will be a key figure up front, too. The former third-overall pick in 2009 was drafted by Falcons assistant general manager Scott Pioli when Pioli was the Chiefs' general manager. Jackson reportedly received a five-year deal worth a max of $25 million.
And Asamoah, who also agreed to a five-year deal (financial terms were not immediately available), might be the guy with the biggest burden to carry. The offensive line has been horrendous, allowing
Matt Ryan
to be the league's most pressured quarterback last season. The Falcons hope Asamoah steps in at right guard and develops into a stabilizing force. He is known for his pass protection and should be able to provide support as a run-blocker.
"Jon is a physical, experienced offensive lineman that will add a veteran presence to our offensive line," Falcons coach Mike Smith said about Asamoah.
The Falcons got it right. They addressed the most pressing needs from the outside and also re-signed two other key figures in center
Joe Hawley
and defensive tackle
Jonathan Babineaux
. Hawley should start in the middle with Asamoah and left guard
Justin Blalock
next to him. Babineaux should add depth to the defensive line rotation.
It all could equal a climb back to the top for the Falcons, although other aspects still need to take shape. The release of former Pro Bowl free safety
Thomas DeCoud
means the Falcons have to find a capable replacement next to strong safety
William Moore
. There is still a void at tight end with
Tony Gonzalez
retiring, although
Levine Toilolo
will be counted upon to elevate his game.
More importantly, the Falcons need to look at adding an offensive tackle and pass-rusher, maybe through the draft. The names that immediately come to mind are Auburn offensive tackle
Greg Robinson
, Texas A&M offensive tackle
Jake Matthews
, Michigan offensive tackle
Taylor Lewan
and Buffalo outside linebacker
Khalil Mack
. Right now, the Falcons hold the sixth-overall pick in the draft.
It will make for some interesting decisions to come. But for now, the Falcons made the right choice.
"We were focused on adding pieces along our offensive and defensive lines, and I feel we were able to accomplish that today," general manager Thomas Dimitroff said.
Certainly the Falcons have much more to accomplish.
March, 11, 2014
Mar 11
2:15
PM ET
Sometimes value can't be determined simply by a dollar amount.
Such is the case with
Atlanta Falcons
veteran defensive tackle
Jonathan Babineaux
, who agreed to a three-year extension with the team Tuesday hours before the official start of free agency. He is on track to finish his productive career in the place it started, with no stops in between.
Babineaux
The deal is reportedly worth $4 million guaranteed in 2014 and $9 million over three years, according to NFL.com's Ian Rapoport. But Babineaux's worth to the Falcons is immeasurable. He is a locker-room leader, the consummate professional who continually sets an example for the younger players around him. Babineaux has been a Falcon since 2005, when he was drafted in the second round out of Iowa.
Some would say Babineaux, who turns 33 in October, won't have much impact on a defense in need of dramatic improvement going into 2014. But it's not about sacks or snaps for him next season. It's about chemistry and leadership.
The Falcons have plans to use more of a 3-4-based defensive scheme next season, which doesn't exactly cater to Babineaux's strengths. But he'll get ample opportunity to help stop the run and pressure quarterbacks even if he's not the featured guy. The Falcons already made one veteran defender a situational player when defensive end
Osi Umenyiora
was asked to be a designated pass-rusher toward the end of last season.
How about a designated run-stuffer?
However things unfold, Babineaux is sure to leave his mark next season and after he finally steps away from the game.
The Falcons have benefited from his presence all this time. There's no reason to believe they won't reap the same benefits for the next three seasons.
February, 17, 2014
Feb 17
8:00
AM ET
The
franchise tag
might have entered into play for the
Atlanta Falcons
this season had
Matt Ryan
's contract been an issue.
It isn't.

The quarterback was locked up prior to last season with a five-year, $103.75 million contract extension that included $59 million guaranteed. It kept 2013 from being the final year of his original six-year, $72 million rookie contract ($34.74 million guaranteed).
In others words, it won't be a concern for the Falcons once the first day for designating the franchise tag on a player comes Monday. The last time the Falcons used the franchise tag was on cornerback Brett Grimes in 2012 -- at a one-year price of $10.28 million -- as the two sides were unable to reach a long-term deal. Grimes, who suffered a season-ending Achilles' injury that year, now faces the possibility of being tagged again as the member of the
Miami Dolphins
.
As for the Falcons, they have no reason to designate a franchise player this year among a group of impending unrestricted free agents that includes defensive tackles
Jonathan Babineaux
,
Peria Jerry
and
Corey Peters
. Some of the others bound for free agency include center
Joe Hawley
, tight end
Chase Coffman
and offensive tackle
Mike Johnson
. Free agency officially begins at 4 p.m. on March 11, although teams are allowed to negotiating with agents of players on other teams on March 9.
Maybe the franchise tag comes into play for the Falcons again if for some reason they can't get top receiver
Julio Jones
signed to a long-term deal before the 2015 season.
The deadline for designating franchise or transition players is 4 p.m. March 3. Eight players were slapped with the franchise tag last season.
Once a team designates a franchise player, it has until July 15 to work out a long-term extension with that player.
And once again, that shouldn't apply to the Falcons this year.
December, 17, 2013
12/17/13
8:00
AM ET
FLOWERY BRANCH, Ga. -- It's hard to imagine where the
Atlanta Falcons
' defense would be without
Jonathan Babineaux
.
In a dismal season where yielding big plays has been the norm for the unit, Babineaux has maintained a high level of consistency, despite the team's 4-10 record.
The defensive tackle's steady play hasn't gone unnoticed.
Babineaux
"Well, Jonathan Babineaux, I think, has really had a very good season,'' Falcons coach Mike Smith said. "He's been very disruptive. You know, Jonathan makes those plays in the defensive backfield – many times he's led the league since we've been here in minus-yardage plays.
"He had the two fumble recoveries [against Washington]. Jonathan has the ability to basically play in three of the four spots on our defensive front. And he's a very good leader of that group; has been since we've been here. He's probably the one constant that we've had now since Day 1. Jonathan is a tough, hard-nosed, smart football player.''
Smith's high praise makes it even harder to fathom the Falcons taking the field without Babineaux next year. He is set to become a free agent at season's end, and there has been no progress just yet toward signing him to a new deal.
Babineaux believes his play warrants another contract, but it's not his call.
"That's just part of the business,'' he said. "I'm just going to go out there and continue to work; do what I do. And we'll see at the end of the season what's going to happen.''
Babineaux is one of three Falcons defensive linemen set to become unrestricted free agents along with
Peria Jerry
and
Corey Peters
. Although the Falcons are trying to incorporate more young players into the lineup down the stretch in order to get a glimpse of the future, the bulk of inexperienced players along the defensive line are defensive ends, not tackles such as Babineaux.
At the same time, the Falcons could decide to go younger at defensive tackle, too. Babineaux understands the reality and the possibility of having to test the free-agent market for the first time.
"I definitely want to finish my career here in Atlanta,'' he said. "I started here. I've been through the good times, the bad times. And I definitely want to finish here. So, we'll have a lot of time for that in the offseason – for them and me to decide on something. Hopefully, I'll be able to continue my career here.''
Smith refused to discuss any details related to Babineaux's contract situation. Babineaux has a base salary of $4.7 million this season.
"Jonathan's been an integral part of our success here,'' Smith said, "and I can hope that he continues to be an Atlanta Falcon. We all do.''
Babineaux was a second-round draft pick of the Falcons in 2005. Entering this season, he led all defensive tackles since '05 with 49.5 tackles for loss. He currently leads the Falcons with seven tackles for a loss this season to go with one sack.
Babineaux's teammates look up to him for his play on the field and community service away from football.
"Babs is one of the most consistent lineman in the NFL,'' receiver
Harry Douglas
said. "He's a tough player and comes up big when we need him to.
"I'm close to him. I watch him work every day. And he's a true professional. It's always great to have a guy like that.''
December, 15, 2013
12/15/13
2:45
PM ET
ATLANTA -- A few halftime notes with the
Atlanta Falcons
trailing the
Washington Redskins
,
20-17
:


• The youth movement isn't working so well today: Rookie cornerbacks
Desmond Trufant
and
Robert Alford
have had their issues in coverage. Rookie safety
Zeke Motta
took a bad angle on one play and got blocked off another. And rookie right tackle
Ryan Schraeder
has had issues against Redskins pass-rusher
Ryan Kerrigan
, just like second-year left tackle
Lamar Holmes
has had issues stopping
Brian Orakpo
. True, this is valuable experience for the inexperienced Falcons. But they should be enjoying better success against an equally bad Redskins team. At least one of the young Falcons -- guard
Harland Gunn
-- made the most of his opportunities.
•
Osi Umenyiora
is no longer a starter: The veteran defensive end did not start Sunday's game despite being a regular starter all season. At least Umenyiora didn't pout on the sideline. He came into the game off the bench and immediately forced a fumble, recovered by teammate
Jonathan Babineaux
. The Falcons started
Jonathan Massaquoi
and
Peria Jerry
at the defensive end spots. Umenyiora primarily played the role of situational, third-down pass-rusher in the first half. So what about his future with the team? Besides, the Falcons already made a statement by benching veteran cornerback
Asante Samuel
for Alford.
• The Falcons are trying to send
Tony Gonzalez
out in style: Quarterback
Matt Ryan
seems to be making Gonzalez a priority today. He hit the soon-to-be-retired tight end for a 13-yard touchdown in the first quarter. And the aging Gonzalez didn't dunk it over the goal posts. Gonzalez extended his consecutive games with a reception streak to 209.
• Although the Falcons have been terrible on defense, Babineaux has been extremely disrupted. He's set to become a free agent an obviously wants to prove his value.
November, 21, 2013
11/21/13
7:20
PM ET
October, 28, 2013
10/28/13
2:00
PM ET
GLENDALE, Ariz. -- A review of five hot issues from the
Atlanta Falcons
'
27-13 loss
to the
Arizona Cardinals
:
[+] Enlarge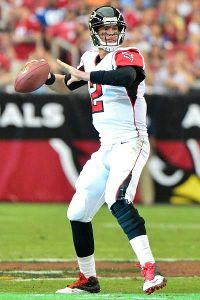 Matt Kartozian/USA TODAY SportsFalcons QB Matt Ryan spent much of Sunday's game trying to avoid being hit by Cardinals defenders.
Big problem:
The Falcons' defense continues to give up big plays, surrendering a backbreaking, 80-yard touchdown run to speedy Cardinals rookie running back
Andre Ellington
. Defensive tackle
Corey Peters
and linebacker
Paul Worrilow
missed the initial opportunity to bring Ellington down up the middle. Then Ellington bounced outside and sprinted by linebacker
Joplo Bartu
and safety
Thomas DeCoud
. Safety
William Moore
, who was on the other side of the play, tried to explain what happened. "Leverage is the name of the game," Moore said. "One person misses their leverage and some more people have to come put their hats on the ball. He got outside the defense, and that's going to happen nine times out of 10 when he gets outside. ... That's one of those plays where everybody could have gotten to the ball a little better." The Falcons have surrendered 11 plays of 40-plus yards this season.
No pointing fingers:
Although quarterback
Matt Ryan
could have used much better protection -- he was sacked four times and hit 11 times -- no one in the locker room said the offensive line needed to do a better job protecting. Wide receiver
Harry Douglas
even seemed to take offense when it was implied that the offensive line didn't do its job. "I'm not singling anybody out," Douglas said. "We win as a team. We lose as a team. We glorify each other as a team. And we're going to fix it as a team. I think everybody across the board -- offense, defense and special teams -- we all could have did something better to win this football game and step up."
Top target:
Speaking of Douglas, he finished with another stellar effort in the loss, catching 12 passes for 121 yards. He was targeted a team-high 18 times. The effort came a week after Douglas posted a career-high 149 receiving yards against Tampa Bay. With
Julio Jones
out for the season following foot surgery and
Roddy White
missing his second straight game due to hamstring and ankle injuries, Ryan looked to Douglas often. The Falcons need Douglas to continue that production when White returns to the lineup.
Drew Davis
, who had a career day versus the Cardinals with five catches for 77 yards and a touchdown, also could be a key part of the equation when White returns.
Tight spot:
Tony Gonzalez
caught three passes for 26 yards to extend his streak of consecutive games with a catch to 202. But all the talk over the next two days will likely relate to whether the Falcons might consider trading Gonzalez to a contender so he can have the chance to retire with a Super Bowl ring. Gonzalez maintains he wants to finish things out in Atlanta, but he's obviously frustrated by the team's 2-5 mark. Ryan was asked if he talked to Gonzalez following Sunday's game. "Talked to him briefly and same as after we lost in the past," Ryan said. "I think everybody takes it personal. He certainly does, and I do. I think the message across the board is that we just have to get back to work."
Rotating line:
When defensive coordinator Mike Nolan addresses the media on Tuesday, he's sure to be asked about his defensive line rotation. Against the Cardinals, veteran starters
Osi Umenyiora
and
Jonathan Babineaux
were pulled from the lineup on a few series, including when Ellington broke loose on that 80-yard touchdown run.
Cliff Matthews
and
Peria Jerry
were on the field with Peters and
Jonathan Massaquoi
. Babineaux said it was just the rotation that was decided upon. We'll see how that rotation pans out for the remainder of the season.
October, 27, 2013
10/27/13
9:10
PM ET
GLENDALE, Ariz. -- Observed in the locker room after the
Atlanta Falcons
' 27-13
loss
to the
Arizona Cardinals
at the University of Phoenix Stadium on Sunday:
Jackson
No rush:
Steven Jackson
, in a burgundy sport coat, was dressed to impress following Sunday's game. But during the action, he was all dressed up with nowhere to go after rushing for just 6 yards on 11 carries in his return from a hamstring injury suffered in Week 2. "It was tough sledding today," Jackson said. "The Arizona defense came out there, did a really good job against the run. Definitely not the production that I wanted to see out of myself."
Big-play problem: There were a lot of long faces in the locker room, and the defensive players seemed to be sulking a little more after surrendering an 80-yard touchdown run to Cardinals running back
Andre Ellington
. "Leverage is the name of the game," safety
William Moore
said. "You've got to hold leverage. He got outside the defense, and that's it." Ellington finished with 154 rushing yards on 15 carries. The Falcons also surrendered a 51-yard pass play.
In the rotation: Starting defensive tackle
Jonathan Babineaux
was not on the field for Ellington's touchdown run. Neither was fellow veteran
Osi Umenyiora
, the starter at right defensive end. True, the Falcons have been using a rotation along the defensive line while working in young players, but the move seemed a little curious at the time. "You know, we have our rotation on the D-line. I just wasn't in that series," Babineaux said.
Protection issues: Being behind forced Atlanta quarterback
Matt Ryan
to attempt a career-high 61 passes. The high number of dropbacks meant more opportunities for Ryan to get hit, of course. He was sacked four times, and the Cardinals were credited with 11 quarterback hits. Asked if the offensive line took those stats personally, left tackle
Lamar Holmes
responded, "You've got to. Once we go back and watch the film, we need to see just exactly what happened. We just have to come to practice and work on things that seem to break down."
October, 24, 2013
10/24/13
7:00
AM ET
FLOWERY BRANCH, Ga. – Another player might have taken offense to the subtle criticism.
Atlanta Falcons
defensive tackle
Jonathan Babineaux
took it as sound advice.
Babineaux realizes he needs to step up his production in terms of sacks. Some words from defensive coordinator Mike Nolan reinforced the fact. Nolan said Tuesday he wished Babineaux made more plays in the backfield.
Babineaux
"He gets in the backfield as much as anybody I've ever been around," the coach said. "But damn, it's only about half the time that he's getting them down."
Babineaux agreed.
"That's my daily motivation: I don't have any sacks right now," Babineaux said. "I know I can get back there and get pressure. It's all good. But it's better when you have sacks."
Babineaux recorded 22.5 sacks in his first eight seasons and 49.5 tackles for loss, the most tackles for loss by a defensive tackle since 2005. He had 3.5 sacks last season and a career-high and team-leading six in 2009.
Through six games this season, he has no sacks and one tackle for a loss in 341 defensive snaps. Babineaux has played 83 percent of the snaps or more in five of six games.
Although the Falcons are starting to rotate more bodies along the defensive line, Babineaux doesn't need to look over his shoulder. He simply has to produce.
"It's all about production," Babineaux said. "I've been doing this for years. Ain't nothing better than getting the guy down in the backfield. I've been hitting the quarterback a lot lately, but [I've] just got to get him when he's got the ball in his hands.''
Nolan, of course, wants more consistent pressure from his front four as a whole. The Falcons have 14 sacks, led by defensive end
Osi Umenyiora
with four. But six of those sacks have come from linebackers and defensive backs.
Currently, the Falcons stand 25th in the league in sacks per pass play. On Sunday, they'll face an
Arizona Cardinals
team that has allowed quarterback
Carson Palmer
to be sacked 20 times so far this season.