Atlanta Falcons:

Justin Blalock
November, 3, 2013
Nov 3
2:40
PM ET
CHARLOTTE, N.C. -- The
Carolina Panthers
lead the
Atlanta Falcons
,
14-10
.


Here are some notes at halftime:
"
Matt Ryan
threw yet another interception when he tried to force a ball to tight end
Tony Gonzalez
with three defenders around. Ryan now has five interceptions in his last two games. He had three interceptions through the first six games.
" Speaking of Gonzalez, he caught a pass in his 203rd consecutive game in the first half, the longest active streak in the NFL. He scored a 17-yard touchdown near the end of the first half, his team-leading fourth touchdown reception of the season. Gonzalez has no problem getting behind the coverage of Panthers middle linebacker
Luke Kuechly
.
"
Steven Jackson
looks a lot better running the ball for the Falcons. He has a modest 34 yards on nine carries, but Jackson continues to run hard. He even pushed teammate
Justin Blalock
out of the way on one play. Jackson's longest run is eight yards. He also did a masterful job picking up the blitz on one play.
" Cornerback
Asante Samuel
left the game twice after getting banged up with injuries. The last came near the end of the half when Samuel was pushed out of bounds. He walked off the field under his own power, and
Robert McClain
entered the game as the extra defensive backs along with rookies
Desmond Trufant
and
Robert Alford
.
" It has been an up-and-down half for Trufant. He recorded his first-career interception while picking off a deep ball by
Cam Newton
. But Trufant also was whistled for two pass-interference penalties. On the second one, Falcons coach
Mike Smith
tried to tell the officials that the ball was tipped. Fellow rookie Alford had an amazing interception at the end of the half, tip-toeing before going out of bounds.
October, 8, 2013
Oct 8
3:31
AM ET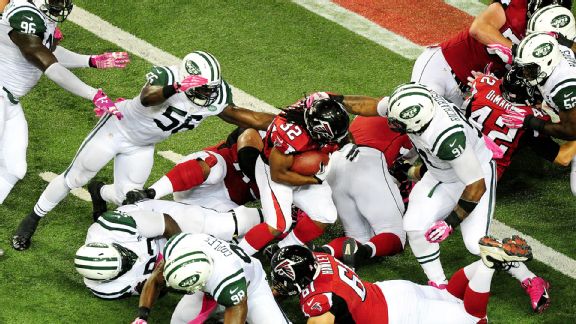 Scott Cunningham/Getty ImagesThe Falcons couldn't get Jacquizz Rodgers into the end zone on the final play of the first half.
ATLANTA -- One yard.
That's all that stood between the
Atlanta Falcons
and rebounding from a dismal 2013 start.
One yard might have given them much-needed momentum going into the bye week. One yard might have given fans hope the team would sneak right back into the playoff picture.
Instead, Monday night ended with one resounding thud.
There were a variety of reasons why the Falcons suffered their third straight defeat, falling to 1-4 with a
30-28 loss
to the
New York Jets
, who kicked the game-winning field goal as time expired. Some folks will put the blame on head coach Mike Smith, particularly after he decided against going for a field goal with a second left before halftime.
Smith admitted, in hindsight, maybe settling for three would have been the best option. But he believed his team could get the one yard necessary for a touchdown. He expressed faith in his offense, faith in his quarterback, faith in his offensive line.
[+] Enlarge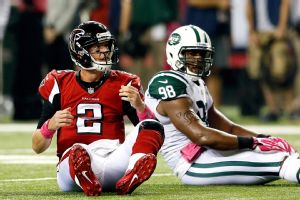 Kevin C. Cox/Getty ImagesMatt Ryan was only sacked twice, but he felt the pressure from the Jets.
Those out there not upset with Smith are certainly pointing fingers at each and every offensive lineman for not helping
Jacquizz Rodgers
pick up that yard on fourth-and-goal. Truth be told, there's no reason to call out the linemen on this one. They pointed fingers at themselves.
"Probably would have been better if we had gotten a better push," right guard
Garrett Reynolds
said. "I don't know exactly what happened. I haven't watched it. But we didn't get in there."
Based on the replay, it appeared at least two front-line Falcons got beat on the play.
Joe Hawley
, the backup center who lined up as an extra lineman in the tight end spot, seemed to miss his block and allow penetration to Jets defender
Quinton Coples
. Right tackle
Jeremy Trueblood
appeared to get overpowered by Jets defensive tackle
Sheldon Richardson
, who was credited with dropping Rodgers for no gain.
"What did I see? I was just trying to block my guy," Trueblood said. "I wish I would have done a better job. If I would [have gotten] my man, [Rodgers] would have scored."
Owning up to the mistakes is the first step. Correcting those errors is the next phase for the much-maligned offensive line.
The front five have been the object of much criticism since an ugly showing in the preseason. This line underwent a major facelift from last season with center
Todd McClure
retiring and right tackle
Tyson Clabo
being released, then signing with the
Miami Dolphins
. The Falcons were prepared to start
Mike Johnson
in place of Clabo until Johnson went down for the remainder of the season with a broken leg and dislocated ankle.
Then left tackle
Sam Baker
, who was stellar last season, went down with an injury in Week 4 against the
New England Patriots
, which forced demoted right tackle
Lamar Holmes
to take over at left tackle alongside left guard
Justin Blalock
, center
Peter Konz
, Reynolds and Trueblood.
The makeshift line has had its struggles. Offensive coordinator Dirk Koetter compensated by orchestrating plays to help quarterback
Matt Ryan
release the ball quicker to avoid pressure.
Still, Ryan has been sacked at key times this season, including against the Patriots when Holmes allowed Ryan to get sacked in the red zone. On Monday night, Jets defensive end
Muhammad Wilkerson
beat Trueblood and Reynolds, swooping in for a sack-fumble play on Ryan. The turnover led to a
Nick Folk
field goal.
The line must have gotten a pep talk from offensive line coach Pat Hill at halftime Monday night. The performance in the second half was much better, particularly in terms of clearing holes in the running game. Rodgers had two red-zone touchdown runs in the second half. And Ryan didn't get sacked in the fourth quarter, when he completed 12 of 18 passes for 122 yards and a touchdown.
Regardless, that one yard the Falcons couldn't pick up before halftime might stick with them the entire season. Still, Ryan refused to blame the line.
"I thought they did a good job," he said. "I thought they fought the entire night. It's a good defense that we went against, specifically a very good front seven. And I thought our guys stepped up to the challenge.
"We ran the ball really effectively in the red zone. We just didn't run it effectively on that one play."
The Falcons don't have much of a choice but to ride with the offensive linemen they have now. Getting Baker back healthy might help, but he struggled when he was in the lineup. There aren't too many quality linemen sitting on the streets, and the Falcons have no current interest in recently released tackle
Max Starks
. Plus the organization still has high hopes for Holmes developing into a Pro Bowl-caliber tackle down the road.
Building toward the future is great, but the Falcons have to be more concerned about the present. If they have any thoughts of rebounding from this dismal 1-4 start, the line has to hold up its end. If it doesn't, the critics will continue to feast on the entire group.
"We always say we're all we got; we're all we need," Reynolds said. "All these people out here saying stuff about us. That's OK. That's their opinion. They don't know what we do. They don't know how hard we work. We have to take it on ourselves to continue to get better. We're a team. We're going to stick together."
September, 22, 2013
Sep 22
7:00
AM ET
Atlanta Falcons
left guard
Justin Blalock
was brutally honest when asked to assess
Miami Dolphins
pass rush demon
Cameron Wake
.
"He's pretty damn good, obviously," Blalock said of Wake. "He's one of the elite pass-rushers in this league. And I'm glad I don't have to play tackle out there."
Blalock said the latter while holding in his laughter, but containing Wake will be no joke. The task of slowing down Wake is likely to fall on veteran newcomer
Jeremy Trueblood
, who is slated to start at right tackle for the depleted Falcons on Sunday after signing with the team Sept. 3.
[+] Enlarge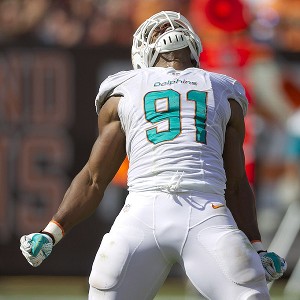 Joe Rimkus Jr./Miami Herald/MCTContaining Pro Bowl defensive end Cameron Wake will be a high priority for the Falcons on Sunday.
Starting left tackle
Sam Baker
is out with knee/foot issues, meaning
Lamar Holmes
will switch to left tackle after starting the first two games at right tackle.
Holmes became a starter after
Mike Johnson
suffered a season-ending broken left leg and dislocated left ankle. And had it not been for salary-cap concerns,
Tyson Clabo
might have been the starting right tackle for the Falconson Sunday rather than the starting right tackle for the opposing Dolphins.
Confused yet? That's exactly how Wake might make the Falcons' offensive line feel Sunday. He has 2.5 of his team's nine sacks through two games to go with a handful of quarterback hits. Wake earned his sack total in a Week 1 win over the Browns. He had 15 sacks last season and has 45.5 in 64 career games.
"All in all, you just have to be ready for whatever he throws at you," Holmes said about Wake. "His overall ability just to play the game just makes him such a good player."
Statistics would indicate Wake might have his way. The much-maligned Falcons offensive line has struggled to keep pressure off quarterback
Matt Ryan
, who was sacked three times in a season-opening loss to the Saints and twice during last week's win over the Rams. According to numbers compiled by Pro Football Focus, the Falcons rank second-to-last in the NFL in cumulative pass-blocking (minus-12.4). Baker had the lowest grade among 68 offensive tackles (minus-12) while Holmes stood 62nd (minus-3.9), according to PFF rankings.
Holmes might not be matched up on Wake much Sunday -- Wake typically lines up on the side of the right tackle -- but Holmes contends he has learned from his early-season struggles.
"You take some of it personal, but you also have to take some of it with a grain of salt," Holmes said. "We've got to keep Matt clean, keep him upright, keep the pocket wide so he can make the throws that he needs to make to get down the field."
Come Sunday, the Falcons won't expect Trueblood, Holmes or anybody else to neutralize Wake one-on-one. Anticipate double-teaming and chipping, when applicable. Ryan has to get the ball out quick, which he has shown the ability to do consistently. And the screen game to players such as receiver
Julio Jones
and running back
Jacquizz Rodgers
has to be effective, especially against a Dolphins team that likes to blitz.
Rodgers, set to get more touches with
Steven Jackson
(hamstring) out, actually hasn't allowed a single pressure in 14 pass-blocking snaps, according to Pro Football Focus. That's a great complement against a blitzing team. But much of the burden in contending with constant pressure falls on the offensive line.
"I don't think we could be any more focused on keeping Matt clean," Blalock said. "It's not a perfect world. It's not going to always happen. But that's at the forefront of our thoughts going into any game, regardless of how many people we have injured."