Atlanta Falcons:

Matt Bryant
November, 22, 2013
11/22/13
1:30
AM ET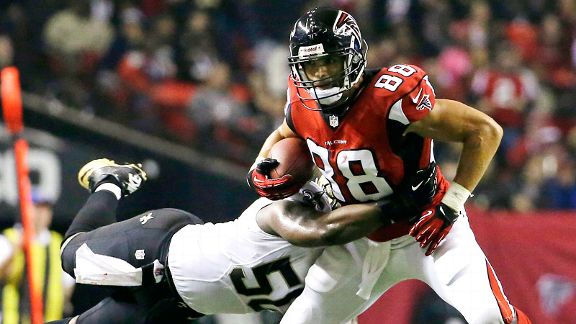 AP Photo/David Goldman"It's not the outcome that we wanted," Tony Gonzalez said, but "I'm happy the way we played."
ATLANTA –
Sean Weatherspoon
looked every one of his defensive teammates straight in the eyes before Thursday night's game and encouraged them to play like there was no tomorrow.
The
Atlanta Falcons
linebacker had delivered plenty of emotional sermons before, including a tearful one at halftime of the Seattle game when he was still on injured reserve. But this time, he was in the line of battle with his teammates in full uniform, prepared to fight right alongside of them.
"Just motivation," Weatherspoon said of this pregame speech. "You get out there and play together, and don't worry about anything else. As long as we have a chance to get on the field, we still feel like we have a chance to help our offense, help win the game. We just talked about playing with a certain energy, man.
"Ultimately, we didn't get the result that we wanted. But we did play with more energy tonight."
Any notion that the Falcons had mailed in the season was put to rest Thursday night, even despite their
17-13 loss
to the rival
New Orleans Saints
. The Falcons played with a sense of urgency despite dropping to a hard-to-imagine 2-9 on the season. They took this game personally, not just because many Saints fans infiltrated the Georgia Dome.
Trying to snap a four-game losing streak and attempting to salvage a dismal season was enough inspiration.
Tight end
Tony Gonzalez
, who insisted this week that the team hadn't quit on coach Mike Smith, was asked why the Falcons came out so motivated.
"Because we've been getting embarrassed," Gonzalez said. "I hope that's the reason why. We're a better football team than what we've showed these last [four] weeks. I think the way we played today was back to that old Falcons style of football. Obviously, we didn't come out and win. But I'm happy. I'm encouraged by it.
"And don't get me wrong -- we still lost. It's a bad taste in our mouths. It's not the outcome that we wanted. We're not accepting it. … We're still disappointed. But at the same time, I'm happy the way we played. If we keep that same attitude, like I said before, things are going to be looking good for us in the future. No doubt."
Progress was watching the defense force a three-and-out on the opening drive and limiting
Drew Brees
and the Saints to three points in the second half. Progress was the Falcons' offense getting consecutive 8-yard runs from
Steven Jackson
and the line paving the way for Jackson's 1-yard touchdown plunge on its opening drive.
[+] Enlarge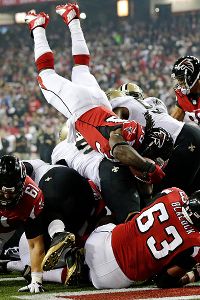 AP Photo/Dave MartinSteven Jackson went over the top for his first rushing TD as a Falcon.
Progress was having a chance to win the game in the fourth quarter, something the Falcons haven't experienced in recent weeks.
"I felt like the effort in the ballgame was good and gave us a chance to win the football game," Smith said. "I like how we started the game. We liked how we started the game. Felt like we played well, in spurts.''
The Falcons might have surged ahead had it not been for an untimely fumble in the red zone by rookie receiver
Darius Johnson
at the start of the fourth quarter. It was another one of those miscues symbolic of how the season has imploded. But Smith emphasized that the fumble was not why his team lost the game.
There were other gaping holes. The offensive line allowed too much pressure on
Matt Ryan
, who was sacked a season-high five times. The defense surrendered another handful of explosive plays, including a 44-yard touchdown catch-and-run by Saints tight end
Jimmy Graham
on a play that safety
William Moore
admitted he botched.
Despite those deficiencies, and the costly fumble, the Falcons had a chance in the final minutes. Smith stood behind his decision not to go for a fourth-and-15 from the Saints' 34-yard line trailing by four with 2:24 left. He opted instead for a 52-yard field-goal try, which
Matt Bryant
missed after the Saints froze him with a timeout. Smith's thought was to pull to within one with the kick, stop the Saints with three timeouts and then drive for a game-winning field goal.
It didn't work out exactly as planned, but at least the Falcons' effort was spirited.
"I thought that we responded to some momentum changes, to some adversity, in the football game," Smith said. "But still not good enough. When you don't win, it's not good enough."
November, 21, 2013
11/21/13
11:33
PM ET
ATLANTA -- A few thoughts on the
Atlanta Falcons
'
17-13 loss
to
New Orleans Saints
on Thursday night at the Georgia Dome:

Showing fight:
Tight end
Tony Gonzalez
promised the Falcons would come out with some fight despite entering the game with a 2-8 record. He was right. The Falcons definitely put together a spirited effort against their NFC South rival. It showed from the start when the defense forced
Drew Brees
and the Saints into a three-and-out to begin the game, including two run-stuffing plays. And the offense played with just as much enthusiasm, as evident with
Steven Jackson
's 1-yard touchdown flip -- his first rushing TD with the team. Despite some hiccups in defensive coverage and pass protection, the Falcons competed for almost the entire game, though the defense seemed to just wear down at the very end. It wasn't truly over until
Matt Bryant
missed a 52-yard field-goal try in the final minutes. The Falcons needed to play with the same type of fire the previous four weeks. They've now lost five in a row.
Stock watch:
Undrafted rookie receiver
Darius Johnson
's stock skyrocketed and plummeted all in the same game. He played like a veteran in the first half, catching a team-high five passes for 65 yards. He almost had a touchdown, but a replay review showed he was down at the 1-yard line. As good as Johnson looked, though, he still made some rookie mistakes. He had a key drop across the middle while wide open on a third-and-2 play in the third quarter. Then in the fourth, Johnson fumbled the ball away after a catch, killing a Falcons drive into the red zone.
Third downer:
When the Saints converted 5 of 5 third-down tries on their second drive of the game, you figured it would be a bad night for the Falcons' defense. It was. Atlanta gave up way too much room on third down, allowing the Saints to march at will. Third-down defense and surrendering explosive plays have been a problem for the Falcons all season. They also gave up a 44-yard touchdown from Brees to tight end
Jimmy Graham
.
Line change:
Once again, the Falcons' offensive line experienced a change.
Garrett Reynolds
, who regained his starting spot at right guard after being benched last week, was benched again in favor of center/guard
Peter Konz
. There might be some more changes next time out after the Falcons allowed
Matt Ryan
to be sacked a season-high five times. Left tackle
Lamar Holmes
didn't have a good day going up against right defensive end
Cameron Jordan
(2.5 sacks), and Saints left defensive end
Akiem Hicks
had a field day against the Falcons' linemen, too.
Bad call?
Speaking of Hicks, he wrapped Ryan up high and twisted the quarterback to the ground in the second quarter on a play that appeared to be a roughing penalty. Falcons coach Mike Smith was livid that no call was made. And the sack essentially cost the Falcons a touchdown as they settled for Bryant's 39-yard field goal. A touchdown there might have changed the complexion of the game. Smith and the Falcons are sure to reach out to the league about the officiating.
What's next:
The Falcons have a few extra days to prepare for their trip to Toronto to face the
Buffalo Bills
. Buffalo beat the
New York Jets
37-14 in Week 11 and has a bye this week. In other words, nothing gets any easier for the Falcons moving forward.