Atlanta Falcons:

Mike Nolan
May, 15, 2014
May 15
11:00
AM ET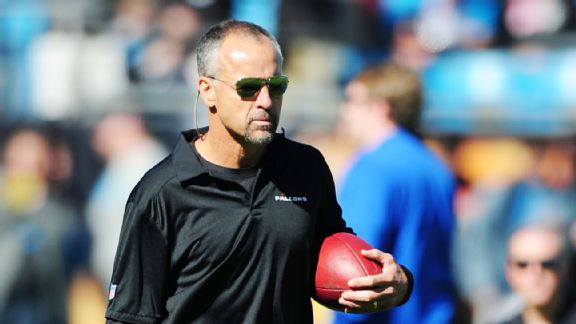 Scott Cunningham/Getty ImagesFalcons defensive coordinator Mike Nolan won't be lacking depth up front in 2014.
The
Atlanta Falcons
aren't panicking -- at least not yet -- over their inability to secure a top pass-rusher this offseason.
Sure, it would have been a nice luxury to land a proven talent such as
Brian Orakpo
or even a promising rookie such as
Jadeveon Clowney
,
Khalil Mack
or
Dee Ford
. But the Falcons have a game plan, regardless of what outside perception might say.
The coaches and players fully understand the urgency. They know how pathetic the pass rush was last season, when the Falcons sacked or put quarterbacks under duress on just 22.4 percent of dropbacks, second-worst in the NFL. Not to mention the Falcons allowed opponents to convert 45.93 percent on third down, resulting in the league's worst third-down defense.
You know you're in trouble when you make
Geno Smith
look like an All-Pro.
So how are things supposed to improve? There is plenty of reason to be skeptical, including the absence of a speed-rusher. But I believe a collective effort will help the Falcons take significant strides with their defensive pressure and compensate for the lack of an elite pass-rusher.
[+] Enlarge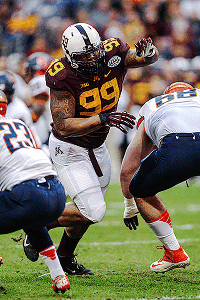 Troy Taormina/USA TODAY SportsAthletic rookie Ra'Shede Hageman could give a boost to the Falcons' pass rush in 2014.
Really. I do.
Altering the defensive approach is the first step. Although coach Mike Smith continues to preach defensive multiplicity without revealing much detail, the Falcons
will
have more of a 3-4 look in 2014. Believe that. It was obvious when players started talking about it immediately after last season. Then the Falcons added bulky nose tackle
Paul Soliai
and defensive end
Tyson Jackson
up front. Drafting defensive end
Ra'Shede Hageman
was further confirmation.
Think of it more as the Falcons building toward a 5-2 alignment, with three linemen and two outside linebackers getting pressure. As long as the Falcons can do so with consistency, they'll be fine.
The Falcons hope that having heavy hitters up front will create more stress on opposing offensive linemen and open lanes for the linebackers to make plays. And if he develops quickly, Hageman has the potential to be an outstanding inside rusher and a
J.J. Watt
-type pass-deflector. He is the wild card in this whole equation. He'll be motivated by fiery defensive line coach Bryan Cox.
In regard to the true pass-rushers, the Falcons have plenty of faith in third-year player
Jonathan Massaquoi
, who had four sacks last season and has played defensive end. His athleticism should be on display more often from the outside linebacker spot in 2014. Massaquoi told me this offseason that he feels the need to atone for not taking advantage of his opportunities last year.
Stansly Maponga
and rookie
Prince Shembo
are the other two young players that intrigue me. Both have pass-rush ability, although Maponga was used sporadically last season. Folks who watched every game Shembo played at Notre Dame believe he is a much better pass-rusher than run defender or coverage guy.
And don't forget about veteran
Osi Umenyiora
. He led the team with 7.5 sacks but wore down as the season went along. Yes, he's 32 years old and his best days are behind him. But the Falcons could get a lot out of him as a strictly designated pass-rusher, the same role he played at the end of last season. Umenyiora has spent a significant amount of time trying to improve his technique and speed this offseason. To me, that sounds like a veteran determined not to go out with a thud.
When guys like Massaquoi, Maponga and even Umenyiora don't have to bang against offensive tackles regularly, like they did most of the time in a typical 4-3 alignment, they'll be fresher and able to sustain a consistent pass rush. The defensive linemen also should benefit from a strong rotation, considering the Falcons brought back
Jonathan Babineaux
,
Corey Peters
and
Peria Jerry
while adding Soliai, Jackson and Hageman.
There will be an adjustment period all around, particularly for those players getting accustomed to standing up rather than playing with their hands in the ground. The guy who shouldn't flinch is
Kroy Biermann
, who has experience in both roles. But Biermann -- who played just two games in 2013 because of an Achilles injury -- will be counted upon more against the run than the pass.
Of course, let's not forget the key figure in this whole equation: defensive coordinator Mike Nolan. Last year wasn't indicative of what type of defensive mind he is. He's had success in the past out of a 3-4 base. He couldn't be too "multiple" last season, based on personnel. Nolan knows how to disguise coverages and dial up blitzes, when needed. And he'll have more to work with this season, including more capable bodies to sub in and out to keep the pressure consistent.
When you talk about facing the likes of
Drew Brees
and
Cam Newton
twice a year and having to contend with a pair of 6-foot-5 receivers in Tampa Bay's
Vincent Jackson
and
Mike Evans
, it only emphasizes the importance of pressure for a Falcons team trying to return to playoff contention. It won't be about a guy such as Massaquoi suddenly exploding with double-digit sacks, though the Falcons would take it. It will be more about consistency, getting contributions from a number of different players, and keeping bodies fresh over the duration of 60 minutes.
A more balanced offensive attack with a little more emphasis on the run surely wouldn't hurt in terms of keeping the defense off the field. But when it comes down to it, the Falcons' defenders have to pin their ears back and have the desire to get after it.
The pressure is on.
January, 28, 2014
Jan 28
8:15
AM ET
While we're on the
topic of contract extensions
-- the
Atlanta Falcons
announced new deals for team president Rich McKay, general manger Thomas Dimitroff and head coach Mike Smith on Monday – there was at least one other member of the staff who received a new contract after the season.
Although the team never confirmed it, defensive coordinator Mike Nolan, of course, received a new two-year deal. Nolan acknowledged it during last week's Senior Bowl.
"For sure I'm excited about it,'' Nolan said. "I didn't have a contract, so something had to happen. So that was kind of it.''
Since Nolan said his contract expired at the end of the 2013 season, it means he is now signed through 2015. In other words, his contract runs concurrent with Smith's, who received a one-year extension with one year left on the deal he signed in 2011.
Nolan's defense underachieved this past season, in large part due to injury and inexperience. The Falcons lost defensive end/linebacker
Kroy Biermann
to a season-ending Achilles injury and lost linebacker and team leader
Sean Weatherspoon
for a large chunk of games due to a Lisfranc foot sprain. By season's end, Nolan was working with four regular rookie starters: cornerbacks
Desmond Trufant
and
Robert Alford
and linebackers
Paul Worrilow
and
Joplo Bartu
.
The Falcons finished tied for 27th in total defense, 25th sacks per pass play, 31st in rushing defense and dead last in third-down defense.
Through it all, the players never lost faith in Nolan and his scheme.
"Coach Nolan is a real good defensive coordinator,'' Alford said. "Once I heard about [the new contract], I was happy. Coach Nolan is a really good guy. I learned a lot of stuff from Coach Nolan. He knows a lot about defense. And I think the defense can play well around Coach Nolan.''
We'll see how Nolan fares in 2014 with a full complement of players and likely upgrades at key positions.
December, 30, 2013
12/30/13
1:05
AM ET
After a 4-12 season, we should expect the
Atlanta Falcons
to make some changes in order to return to the postseason. But those changes won't involve either of the coordinators.
The Falcons' decision over the weekend to
give defensive coordinator Mike Nolan a two-year contract extension
, as a source confirmed to ESPN.com late Sunday night, showed that coach Mike Smith isn't pointing fingers for his team's demise -- at least not at his most important assistants. Smith already said he was glad to have offensive coordinator Dirk Koetter in the fold moving forward after Koetter flirted with Boise State.
[+] Enlarge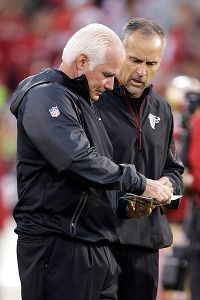 AP Photo/Tony AvelarNews of a contract extension for Mike Nolan (right) reflects the esteem in which coach Mike Smith holds his defensive coordinator.
In Nolan's case, Smith obviously understood that the defense's demise was beyond control. Nolan lost two integral parts early on when versatile linebacker/defensive end
Kroy Biermann
suffered a season-ending Achilles injury and linebacker
Sean Weatherspoon
was sidelined seven games due to a Lisfranc foot sprain.
Nolan was forced to work with two undrafted rookie starters at linebacker in
Paul Worrilow
and
Joplo Bartu
, although both players exceeded expectations. Nolan also had two rookie cornerbacks at season's end with
Desmond Trufant
and
Robert Alford
, although Trufant played like a veteran throughout. And Nolan had inexperienced pass-rushers in second-year player
Jonathan Massaquoi
and rookies
Malliciah Goodman
and
Stansly Maponga
.
Nolan told me that nobody, including himself, wants to hear the excuse of being too young. But the inexperience contributed to the Falcons surrendering 41 plays of 25-plus yards.
I talked to Smith last week about the defensive woes, and his response told me he was more than willing to give Nolan a pass this season.
"We were playing a lot of young players, and when you have young players you want to make sure that they have a good understanding of what you're trying to do, and you don't have the ability to have the multiplicity that you would like to have when you're playing young players," Smith said. "And I think multiplicity is important in game-planning. When you don't have the ability to play multiple coverages and multiple fronts, it does limit you somewhat."
Nolan definitely is a coach the players respect. You can tell by the way they interact with him at practice. It's as if they think he's that old guy who's cool and hip.
Did the Falcons make the right move in extending Nolan's contract? Time will tell. He's a solid coach, in my opinion, and dialed up some nice blitzes the last two games. And once the Falcons get back some of their injured players and upgrade the defensive line, Nolan probably should enjoy more success with different defensive looks. You can't blame him for the countless missed tackles and repeated mental mistakes.
At the same time, Nolan should feel the pressure coming off this season. The Falcons had the league's worst third-down defense and finished tied for 27th in total defense. They also surrendered more than six yards per play, which is unacceptable.
But it's not as if Nolan is incompetent. He just needs a full complement.
December, 18, 2013
12/18/13
8:00
AM ET
FLOWERY BRANCH, Ga. -- The next game on the
Atlanta Falcons
' schedule should carry a little added significance for defensive coordinator Mike Nolan.
Even if it does, Nolan won't let his emotions get in the way of his preparation.
For the second time in 16 games, Nolan will face a San Francisco franchise that once discarded him. He was the team's head coach from 2005-08, following in the footsteps of his father, Dick, who coached the 49ers from 1968-75.
[+] Enlarge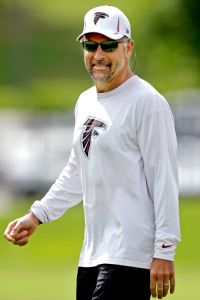 AP Photo/David GoldmanFalcons defensive coordinator Mike Nolan has a long history with the San Francisco 49ers.
Mike Nolan compiled 18-37 record with the 49ers before being let go seven games into the '08 season. On Monday night, he'll return to Candlestick Park for what could be the last game at the historic stadium.
"It was special, it was unique to get the job back there because my father was the head coach," Nolan said. "I would say most of our successes, though, came off the field, which is disappointing from a professional standpoint because we never got to accumulate the wins on the field that you strive to get. But there was so much to be cleaned up and fixed that we spent an awful lot of time just getting ... trying to get a foundation built on a lot of things.
"Everything from strength training to the way we run the building to the way we carry out every day duties, to the schemes we used: all those things. And in the meantime, we were trying to accumulate the good players. Last year, when we played them (NFC Championship Game), I think there was at least seven starters on defense that were guys that we brought in. The part that you miss is the part that they all matured together and really became a strong unit. And they still are and will be for some time to go."
Nolan was in charge when the 49ers drafted core players such as running back
Frank Gore
, tight end
Vernon Davis
, and linebacker
Patrick Willis
, among others. Although he obviously relished the opportunity to lead such a storied franchise, reflecting on his time with the 49ers doesn't necessarily ignite Nolan's desire to become a head coach again.
"I don't think about it too much," he said. "I enjoy what I do. Not every job's a good job, whether it's the top of pinnacle head coach or whether it's the bottom as a quality control guy. Believe me some quality control jobs are better than head jobs. People won't say that, but they are."
The head-coaching position for the 49ers might not have been the ideal position, but the fact that his father held the same title made it a bit more special to Nolan. He once received the league's permission to wear a designer suit on the sideline in honor of his father, who passed away in 2007 at age 75.
The younger Nolan still remembers attending games at Kezar Stadium in 1970.
"I used to sit up in the section called the Christopher Milk section," Nolan recalled. "If you bought enough milk cartons and you tore the back of it off, you could get a free ticket.
"I don't know what it was: My dad, being the head coach, he wouldn't give me a ticket. So I had to go get milk cartons to get a ticket to get into the game."
At least at the 49ers' stadium he'll visit Monday night, Nolan won't have to worry about gaining entrance. He'll have an up-close view from the unfamiliar visitor's sideline.
December, 17, 2013
12/17/13
6:47
PM ET
FLOWERY BRANCH, Ga. –
Atlanta Falcons
defensive coordinator Mike Nolan said veteran defensive end
Osi Umenyiora
met with coach Mike Smith about Umenyiora's new reserve role. Nolan implied Umenyiora was content with the move.
"As I'm sure Mike told you, he had a conversation with Mike and it went very well, was my understanding," Nolan said. "And Osi expressed the same thing, that it went real well."
Umenyiora
Umenyiora, 32, started the first 13 games this season. But in last Sunday's 27-26 win over the
Washington Redskins
, he played just 27 snaps in a reserve role as a designated pass-rusher. Second-year player
Jonathan Massaquoi
started at Umenyiora's usual spot at right defensive end. Smith said he wanted to keep Umenyiora on a "pitch count" to keep him fresh as a pass-rusher, a strategy similar to the one the team used with veteran
John Abraham
before Abraham moved on to Arizona.
Despite his limited playing time, Umenyiora still managed a sack and a forced fumble against the Redskins.
"I thought he did an outstanding job in the game when he did go in," Nolan said of Umenyiora. "He was fresher. He was better prepared for the third down because of that. You know, when you play every down, it can wear on you.
"Whatever's best for them to perform at the highest level is what you want to do, and I think that did help him perform at a high level. I mean, he got the only sack we had in the game. It was a sack-fumble as a matter of fact, and we a got a touchdown out of it … the offense did."
Umenyiora signed a two-year, $8.5 million deal in the offseason, and his cap figure for next season is $4.75 million. He obviously wants to be a starter, but the Falcons seem to be looking to get younger along the defensive line. The coaches could, however, change up the lineup once again when the Falcons travel to San Francisco for a "Monday Night Football" matchup with the 49ers.
Although Umenyiora leads the team with 7.5 sacks and three forced fumbles, his value extends beyond statistics.
"I think he's been a real asset," Nolan said. "What I like about Osi is he's done a good job on the field, but he's also done an outstanding job off the field. And that's been very helpful for our football team.
"A lot of guys have benefited from his presence. I wouldn't say he's Mister Go-Around Vocal, tell guys what to do at all. But I think when a young guy wants to know or wants to watch somebody who's a pro and who shows respect and gets a lot of respect, Osi would be the guy to look at."
December, 12, 2013
12/12/13
2:00
PM ET
FLOWERY BRANCH, Ga. – While offensive players such as
Matt Ryan
and
Tony Gonzalez
expressed support for offensive coordinator Dirk Koetter moving forward, at least one Atlanta Falcon did the same for defensive coordinator Mike Nolan.
Weatherspoon
Linebacker
Sean Weatherspoon
, known as the team's vocal leader, sees no reason why Nolan's status for next season should be questioned, even despite the team's defensive woes.
"We're really comfortable with Mike,'' Weatherspoon said. "Everybody on our defense really speaks highly of him. They really enjoy working with him. We would hope that they keep him around here.
"But, you know, it's a business, man. Things happen. And you just have to continue to keep your focus on the right path. You have to keep working regardless of the situation.''
When asked point blank if he expected to come back next season, Nolan responded, "Come back? That's the team's decision, not mine.''
Nolan went on to talk about the roadblocks encountered by the team this season, specifically the inordinate amount of injuries. He said he has been pleased with some of the defensive gameplans but not totally satisfied with the execution of those game plans.
Nolan's defense ranks 30th (out of 32 teams) against the run, 29th in points allowed, and 26th in total defense as the Falcons prepare to face the
Washington Redskins
on Sunday.
On a positive note, the struggles of the 3-10 Falcons have allowed Nolan to get a closer look at some of his young defenders as the team continues to build toward the future.
"I think the future is bright,'' Weatherspoon said. "I looked on the tape from last week and I remember one play – an outside running play to (Packers running back)
Eddie Lacy
– you see the guys who made the tackle were rookies. You look and see [
Stansly] Maponga
,
Malliciah Goodman
, [
Paul] Worrilow
. You see
Joplo [Bartu
]. You see [
Desmond] Trufant
.
"All the guys in the frame, they're really stepping up here lately and playing a lot of ball. It gives you confidence going into the future. They'll know what they're doing. They're going to be comfortable playing ball. And I think the only way to go is up for them.''
December, 10, 2013
12/10/13
7:30
PM ET
FLOWERY BRANCH, Ga. -- Coordinators Dirk Koetter and Mike Nolan are far from satisfied with the performance of their respective units as the 3-10
Atlanta Falcons
prepare for their final three games of the 2013 season.
Koetter, who is a candidate for the head-coaching position at Boise State, realizes the offense hasn't met expectations coming off last season's 13-3 campaign. Losing top receiver
Julio Jones
to a season-ending foot injury hasn't helped the cause. Koetter hasn't had
Roddy White
and
Steven Jackson
at 100 percent for the entire season. Plus the coach has had to work around poor play along the offensive line.
[+] Enlarge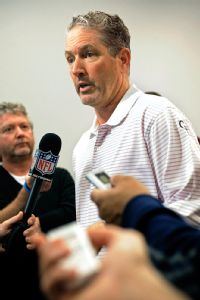 AP Photo/John Amis"Personally, it's tough on everybody when you don't live up to your own expectations," Falcons offensive coordinator Dirk Koetter said.
"Personally, it's tough on everybody when you don't live up to your own expectations," Koetter said. "I know (coach Mike Smith) tells you guys all the time that nobody has higher expectations for the Falcons than the players and the coaches do. So, we haven't lived up to expectations. We have not played as well as we're capable of on offense. And when you're a football player or football coach, losing -- whether you like it or not -- it works on your ego side.
"But basically, life is good. I'm a football coach in the NFL. I'm doing what I love to do and I'm working with great, great guys; players and coaches. But we need to win more games, plain and simple."
The Falcons offense is 20th in red zone percentage, 29th in scoring, 24th in goal-to goal, and 30th in rushing going into Sunday's game against the
Washington Redskins
.
Defensively, the Falcons have surrendered too many explosive runs and pass plays. Nolan's unit ranks 30th in rushing defense, 29th in scoring defense, and 26th in total defense.
"It's been a difficult (season), but I think it's been difficult for everyone for a lot of different reasons," Nolan said. "You know, the injuries that you face, there have been other seasons -- I've been in it 27 years, so I'd be lying to tell you I haven't had others years that were difficult.
"But I have thought that during the season we've had -- it would not show -- but I really think there have been some game plans that I've really been pleased with as far as giving our players a chance. And so going down the road, there are some things that we did that, I think, we'll be able to utilize in the future. And maybe good they didn't go so well because other people won't be expecting us to use them thinking, 'Well, that couldn't have been anything they wanted to carry over.' "
December, 10, 2013
12/10/13
5:27
PM ET
FLOWERY BRANCH, Ga. --
Atlanta Falcons
offensive coordinator Dirk Koetter, who interviewed for the Boise State job Monday, declined to discuss specifics regarding his interaction with the school.
Koetter addressed the media Tuesday afternoon, and the Idaho Statesman reported that he had a second interview with Boise State officials earlier in the day.
"All I can tell you is the same thing Smitty [Mike Smith] told you yesterday: I did talk to Boise State, and that's really all I'm going to say about that right now," Koetter said. "We're working on the Redskins, so let's talk about the Redskins or the Green Bay game."
Koetter was asked if he expected to be away from the team at all to take care of his business with Boise State. The two sides were trying to arrange for Koetter to come to Boise later in the week, pending the outcome of the interviews.
"I'm here, right now; you're looking at me," Koetter said. "I'm in the flesh."
Koetter served as Boise State's head coach from 1998-2000 and compiled a 26-10 record while there. His accomplishments included two consecutive bowl victories and the two-time Big West Coach of the Year. He grew up in Pocatello and played at Idaho State. And Koetter still owns a cabin in the resort town of McCall, located 111 miles north of Boise.
If he takes the job, Koetter would replace Chris Petersen, who left the Broncos to take the head job at the University of Washington.
Right before Koetter addressed the media, Mike Nolan was asked if he planned to continue as the Falcons defensive coordinator next season.
"Come back? That's the team's decision, not mine," he said.
December, 5, 2013
12/05/13
10:00
AM ET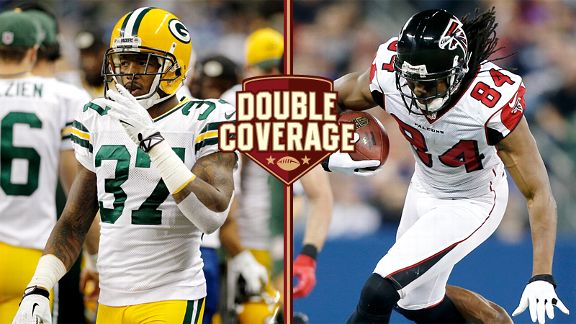 AP PhotoCan Sam Shields and the Packers snap their slump against Roddy White and Atlanta on Sunday?
Last season, the
Atlanta Falcons
were one quarter away from reaching the Super Bowl, and the
Green Bay Packers
reached the divisional round of the playoffs.
Eleven months later, the teams have a combined record of 8-15-1.
That's why the NFL moved the game, which was originally scheduled for prime time on Sunday, to a 1 p.m. ET start.
ESPN Packers reporter Rob Demovsky and ESPN Falcons reporter Vaughn McClure break down the matchup:
Rob Demovsky
: Vaughn, it's hard to believe the Falcons are in playing-out-the-string mode with all of the talent they have on offense. Obviously, injuries have been an issue, especially losing a talented receiver like
Julio Jones
. But unlike the Packers, they didn't lose their quarterback. How come
Matt Ryan
hasn't been able to be a difference-maker?
Vaughn McClure
: Well, it's been hard for Matt Ryan to be himself, playing under duress most of the season. The Falcons have ranked in the top 10 in sacks allowed per pass attempt, but that's only because Ryan has taken shorter drops and delivered the ball quicker. He has still been sacked a career-high 30 times and has been hit countless other times. In the past two games alone -- against the Saints and Bills -- Ryan was sacked 11 times. True, being without Jones hasn't helped Ryan's cause. But also,
Roddy White
hasn't been at full strength all season. Without
Harry Douglas
or
Tony Gonzalez
, Ryan would really be in trouble.
Speaking of quarterbacks, can you explain the different scenarios for the Packers at the position come Sunday, based on
Aaron Rodgers
' injury status?
Demovsky
: Well, it sure looks like Rodgers will be out for at least another week. This was the game he was really targeting to come back for, thinking he could lead them to the playoffs if he got back for the last four games. But his collarbone did not check out well enough Tuesday to be cleared. Even though he plans to practice this week, it doesn't look good for him to play. I was a little surprised that coach Mike McCarthy appears to be going with
Matt Flynn
again. Flynn was completely ineffective in the Thanksgiving debacle at Detroit, and quite frankly, his arm strength does not look good. He didn't have a lot of zip on the ball indoors against the Lions, and it sure won't get any easier to throw in the cold, wintry conditions at Lambeau Field. I wondered if he might go back to
Scott Tolzien
, who looked good in a couple of his appearances but threw too many interceptions.
You mentioned pass protection -- the Packers had issues of their own against the Lions. Flynn was sacked seven times, but on at least a couple of those, he held onto the ball too long. What has been the Falcons' biggest problem in pass protection?
McClure
: The biggest problem has been the offensive line, simply. The guys up front haven't held up their end of the bargain. They've been physically dominated at times, particularly in the loss to the Seahawks. The Falcons lost left tackle
Sam Baker
to season-ending knee surgery, and Baker wasn't the same player he was last season before being placed on injured reserve. Left tackle
Lamar Holmes
, the guy trusted to protect Ryan's blind side, admitted being out of shape at the beginning of the season and is still experiencing growing pains. Center
Peter Konz
, right guard
Garrett Reynolds
, right tackle
Jeremy Trueblood
and Holmes have all been benched at point during the season. Such turnover hasn't helped the group develop any cohesion. And now, it has to face a capable Packers defense.
I know
Clay Matthews
was injured this season, but is he back to the dominant player he was when I covered the NFC North?
Demovsky
: He's starting to look like the player you remember, Vaughn. In his first game back from his broken thumb, he wasn't a factor,because he had to wear that giant club cast. But the next week against the Giants, he was able to play with a much smaller cast. Ever since then, he's been a playmaker again. In the past three games, he has three sacks and a forced fumble. The problem is he's not getting a ton of help. And even when they make big plays like they did against the Lions last week, when they forced four turnovers, the offense can't take advantage of them. Even with Matthews back on the field, the defense has been in a free fall over the past month.
About the only thing the Packers have been able to count on has been their running game, and even that has been a little up and down. But rookie
Eddie Lacy
looks like a force with 806 yards rushing in basically 10 games. I'm sure the Falcons will load up the box to stop him like most teams have tried to do since Rodgers got hurt. Do you think they can stop him?
McClure
: No. Not at all. They struggled to contain speedy backs like Buffalo's
C.J. Spiller
(149 rushing yards) just like they've struggled against powerful backs like Seattle's
Marshawn Lynch
(145 yards). Defensive coordinator Mike Nolan counted 28 missed tackles for his defense over the past two games, which is unacceptable, particularly when they occur in the second level and lead to explosive plays. Although rookie linebacker
Paul Worrilow
has been a tackling machine, he can't do it alone. Like the offensive line, the defense has been dominated physically at times. Lacy's bruising style is the last thing the Falcons want to see. The Falcons are tied for 29th in the NFL in rushing yards allowed per game.
October, 28, 2013
10/28/13
2:00
PM ET
GLENDALE, Ariz. -- A review of five hot issues from the
Atlanta Falcons
'
27-13 loss
to the
Arizona Cardinals
:
[+] Enlarge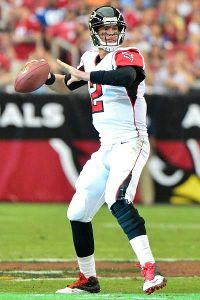 Matt Kartozian/USA TODAY SportsFalcons QB Matt Ryan spent much of Sunday's game trying to avoid being hit by Cardinals defenders.
Big problem:
The Falcons' defense continues to give up big plays, surrendering a backbreaking, 80-yard touchdown run to speedy Cardinals rookie running back
Andre Ellington
. Defensive tackle
Corey Peters
and linebacker
Paul Worrilow
missed the initial opportunity to bring Ellington down up the middle. Then Ellington bounced outside and sprinted by linebacker
Joplo Bartu
and safety
Thomas DeCoud
. Safety
William Moore
, who was on the other side of the play, tried to explain what happened. "Leverage is the name of the game," Moore said. "One person misses their leverage and some more people have to come put their hats on the ball. He got outside the defense, and that's going to happen nine times out of 10 when he gets outside. ... That's one of those plays where everybody could have gotten to the ball a little better." The Falcons have surrendered 11 plays of 40-plus yards this season.
No pointing fingers:
Although quarterback
Matt Ryan
could have used much better protection -- he was sacked four times and hit 11 times -- no one in the locker room said the offensive line needed to do a better job protecting. Wide receiver
Harry Douglas
even seemed to take offense when it was implied that the offensive line didn't do its job. "I'm not singling anybody out," Douglas said. "We win as a team. We lose as a team. We glorify each other as a team. And we're going to fix it as a team. I think everybody across the board -- offense, defense and special teams -- we all could have did something better to win this football game and step up."
Top target:
Speaking of Douglas, he finished with another stellar effort in the loss, catching 12 passes for 121 yards. He was targeted a team-high 18 times. The effort came a week after Douglas posted a career-high 149 receiving yards against Tampa Bay. With
Julio Jones
out for the season following foot surgery and
Roddy White
missing his second straight game due to hamstring and ankle injuries, Ryan looked to Douglas often. The Falcons need Douglas to continue that production when White returns to the lineup.
Drew Davis
, who had a career day versus the Cardinals with five catches for 77 yards and a touchdown, also could be a key part of the equation when White returns.
Tight spot:
Tony Gonzalez
caught three passes for 26 yards to extend his streak of consecutive games with a catch to 202. But all the talk over the next two days will likely relate to whether the Falcons might consider trading Gonzalez to a contender so he can have the chance to retire with a Super Bowl ring. Gonzalez maintains he wants to finish things out in Atlanta, but he's obviously frustrated by the team's 2-5 mark. Ryan was asked if he talked to Gonzalez following Sunday's game. "Talked to him briefly and same as after we lost in the past," Ryan said. "I think everybody takes it personal. He certainly does, and I do. I think the message across the board is that we just have to get back to work."
Rotating line:
When defensive coordinator Mike Nolan addresses the media on Tuesday, he's sure to be asked about his defensive line rotation. Against the Cardinals, veteran starters
Osi Umenyiora
and
Jonathan Babineaux
were pulled from the lineup on a few series, including when Ellington broke loose on that 80-yard touchdown run.
Cliff Matthews
and
Peria Jerry
were on the field with Peters and
Jonathan Massaquoi
. Babineaux said it was just the rotation that was decided upon. We'll see how that rotation pans out for the remainder of the season.
October, 24, 2013
10/24/13
7:00
AM ET
FLOWERY BRANCH, Ga. – Another player might have taken offense to the subtle criticism.
Atlanta Falcons
defensive tackle
Jonathan Babineaux
took it as sound advice.
Babineaux realizes he needs to step up his production in terms of sacks. Some words from defensive coordinator Mike Nolan reinforced the fact. Nolan said Tuesday he wished Babineaux made more plays in the backfield.
Babineaux
"He gets in the backfield as much as anybody I've ever been around," the coach said. "But damn, it's only about half the time that he's getting them down."
Babineaux agreed.
"That's my daily motivation: I don't have any sacks right now," Babineaux said. "I know I can get back there and get pressure. It's all good. But it's better when you have sacks."
Babineaux recorded 22.5 sacks in his first eight seasons and 49.5 tackles for loss, the most tackles for loss by a defensive tackle since 2005. He had 3.5 sacks last season and a career-high and team-leading six in 2009.
Through six games this season, he has no sacks and one tackle for a loss in 341 defensive snaps. Babineaux has played 83 percent of the snaps or more in five of six games.
Although the Falcons are starting to rotate more bodies along the defensive line, Babineaux doesn't need to look over his shoulder. He simply has to produce.
"It's all about production," Babineaux said. "I've been doing this for years. Ain't nothing better than getting the guy down in the backfield. I've been hitting the quarterback a lot lately, but [I've] just got to get him when he's got the ball in his hands.''
Nolan, of course, wants more consistent pressure from his front four as a whole. The Falcons have 14 sacks, led by defensive end
Osi Umenyiora
with four. But six of those sacks have come from linebackers and defensive backs.
Currently, the Falcons stand 25th in the league in sacks per pass play. On Sunday, they'll face an
Arizona Cardinals
team that has allowed quarterback
Carson Palmer
to be sacked 20 times so far this season.
October, 22, 2013
10/22/13
7:30
PM ET
FLOWERY BRANCH, Ga. -- Much was made of Falcons defensive coordinator Mike Nolan's decision to leave the coaching box and be on the sideline last Sunday.
Nolan plans to do the same this week at Arizona. Then he'll decide week-to-week whether or not to continue the same regime.

Some wondered if Nolan's presence truly made a difference for a defense that showed improvement against Tampa Bay thanks to some timely blitzes, yet still had a few hiccups. Nolan refused to pat himself on the back for the transition. He did, however, believe it helped him in terms of communicating with his players.
"We do have a young group, and I thought in calling the game, I'm much more helpful if I can be on the field to do that same thing because I can relay the things that I have to people right there in their face," Nolan said. "I wasn't leaving anything behind by leaving the booth."
Nolan was asked to assess the results of the move following his team's 31-23 victory over the Tampa Bay Buccaneers.
"Well we won the game, I feel good about that," he said. "If we hadn't won the game, I'd probably be back up in the booth."
Nolan illustrated the benefit of being on the field rather than on the sideline. The Falcons started three rookies and played four others.
"When you're up in the booth, the only way I can communicate with the guys is to get on the phone, get somebody to get them to the phone, and talk to them," Nolan said. "Well, they're tired. They want to sit. For them to have some guy come and say, 'Hey, coach wants you on the phone,' they go up and get the phone, they don't know when they're walking to the phone what they're going to get. They don't know if they're going to get somebody yelling in their ear. Plus there's not that face-to-face, 'Listen, here's what's going down.'
"When you're on the sidelines with all the players, if I had something on my mind I want to tell ... like in the booth, I might only call down 15, 20 percent of the time. I also put myself in their shoes. I want to leave them alone because they're in the game. When you're on the field, if there's something on my mind, I can go over and share with a guy.''
Nolan related his thoughts to a specific game situation.
"We're getting ready for two-minute (drill), I know what I'm going to call ... I can't call everybody on defense (from the box) and say, 'Hey guys, here are the calls. Everybody get ready.' So this way, I can group them all up, 'Here's what you're look at. I'm calling this, this, and this.' "
Time will tell if the defense will continue to respond to Nolan's presence.