Atlanta Falcons:

Mike Nolan
December, 5, 2013
Dec 5
10:00
AM ET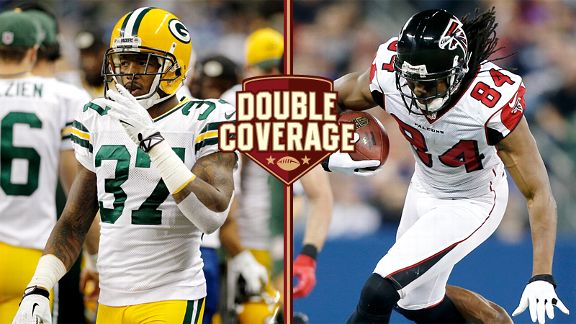 AP PhotoCan Sam Shields and the Packers snap their slump against Roddy White and Atlanta on Sunday?
Last season, the
Atlanta Falcons
were one quarter away from reaching the Super Bowl, and the
Green Bay Packers
reached the divisional round of the playoffs.
Eleven months later, the teams have a combined record of 8-15-1.
That's why the NFL moved the game, which was originally scheduled for prime time on Sunday, to a 1 p.m. ET start.
ESPN Packers reporter Rob Demovsky and ESPN Falcons reporter Vaughn McClure break down the matchup:
Rob Demovsky
: Vaughn, it's hard to believe the Falcons are in playing-out-the-string mode with all of the talent they have on offense. Obviously, injuries have been an issue, especially losing a talented receiver like
Julio Jones
. But unlike the Packers, they didn't lose their quarterback. How come
Matt Ryan
hasn't been able to be a difference-maker?
Vaughn McClure
: Well, it's been hard for Matt Ryan to be himself, playing under duress most of the season. The Falcons have ranked in the top 10 in sacks allowed per pass attempt, but that's only because Ryan has taken shorter drops and delivered the ball quicker. He has still been sacked a career-high 30 times and has been hit countless other times. In the past two games alone -- against the Saints and Bills -- Ryan was sacked 11 times. True, being without Jones hasn't helped Ryan's cause. But also,
Roddy White
hasn't been at full strength all season. Without
Harry Douglas
or
Tony Gonzalez
, Ryan would really be in trouble.
Speaking of quarterbacks, can you explain the different scenarios for the Packers at the position come Sunday, based on
Aaron Rodgers
' injury status?
Demovsky
: Well, it sure looks like Rodgers will be out for at least another week. This was the game he was really targeting to come back for, thinking he could lead them to the playoffs if he got back for the last four games. But his collarbone did not check out well enough Tuesday to be cleared. Even though he plans to practice this week, it doesn't look good for him to play. I was a little surprised that coach Mike McCarthy appears to be going with
Matt Flynn
again. Flynn was completely ineffective in the Thanksgiving debacle at Detroit, and quite frankly, his arm strength does not look good. He didn't have a lot of zip on the ball indoors against the Lions, and it sure won't get any easier to throw in the cold, wintry conditions at Lambeau Field. I wondered if he might go back to
Scott Tolzien
, who looked good in a couple of his appearances but threw too many interceptions.
You mentioned pass protection -- the Packers had issues of their own against the Lions. Flynn was sacked seven times, but on at least a couple of those, he held onto the ball too long. What has been the Falcons' biggest problem in pass protection?
McClure
: The biggest problem has been the offensive line, simply. The guys up front haven't held up their end of the bargain. They've been physically dominated at times, particularly in the loss to the Seahawks. The Falcons lost left tackle
Sam Baker
to season-ending knee surgery, and Baker wasn't the same player he was last season before being placed on injured reserve. Left tackle
Lamar Holmes
, the guy trusted to protect Ryan's blind side, admitted being out of shape at the beginning of the season and is still experiencing growing pains. Center
Peter Konz
, right guard
Garrett Reynolds
, right tackle
Jeremy Trueblood
and Holmes have all been benched at point during the season. Such turnover hasn't helped the group develop any cohesion. And now, it has to face a capable Packers defense.
I know
Clay Matthews
was injured this season, but is he back to the dominant player he was when I covered the NFC North?
Demovsky
: He's starting to look like the player you remember, Vaughn. In his first game back from his broken thumb, he wasn't a factor,because he had to wear that giant club cast. But the next week against the Giants, he was able to play with a much smaller cast. Ever since then, he's been a playmaker again. In the past three games, he has three sacks and a forced fumble. The problem is he's not getting a ton of help. And even when they make big plays like they did against the Lions last week, when they forced four turnovers, the offense can't take advantage of them. Even with Matthews back on the field, the defense has been in a free fall over the past month.
About the only thing the Packers have been able to count on has been their running game, and even that has been a little up and down. But rookie
Eddie Lacy
looks like a force with 806 yards rushing in basically 10 games. I'm sure the Falcons will load up the box to stop him like most teams have tried to do since Rodgers got hurt. Do you think they can stop him?
McClure
: No. Not at all. They struggled to contain speedy backs like Buffalo's
C.J. Spiller
(149 rushing yards) just like they've struggled against powerful backs like Seattle's
Marshawn Lynch
(145 yards). Defensive coordinator Mike Nolan counted 28 missed tackles for his defense over the past two games, which is unacceptable, particularly when they occur in the second level and lead to explosive plays. Although rookie linebacker
Paul Worrilow
has been a tackling machine, he can't do it alone. Like the offensive line, the defense has been dominated physically at times. Lacy's bruising style is the last thing the Falcons want to see. The Falcons are tied for 29th in the NFL in rushing yards allowed per game.
October, 28, 2013
Oct 28
2:00
PM ET
GLENDALE, Ariz. -- A review of five hot issues from the
Atlanta Falcons
'
27-13 loss
to the
Arizona Cardinals
:
[+] Enlarge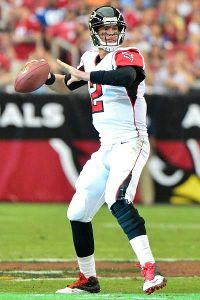 Matt Kartozian/USA TODAY SportsFalcons QB Matt Ryan spent much of Sunday's game trying to avoid being hit by Cardinals defenders.
Big problem:
The Falcons' defense continues to give up big plays, surrendering a backbreaking, 80-yard touchdown run to speedy Cardinals rookie running back
Andre Ellington
. Defensive tackle
Corey Peters
and linebacker
Paul Worrilow
missed the initial opportunity to bring Ellington down up the middle. Then Ellington bounced outside and sprinted by linebacker
Joplo Bartu
and safety
Thomas DeCoud
. Safety
William Moore
, who was on the other side of the play, tried to explain what happened. "Leverage is the name of the game," Moore said. "One person misses their leverage and some more people have to come put their hats on the ball. He got outside the defense, and that's going to happen nine times out of 10 when he gets outside. ... That's one of those plays where everybody could have gotten to the ball a little better." The Falcons have surrendered 11 plays of 40-plus yards this season.
No pointing fingers:
Although quarterback
Matt Ryan
could have used much better protection -- he was sacked four times and hit 11 times -- no one in the locker room said the offensive line needed to do a better job protecting. Wide receiver
Harry Douglas
even seemed to take offense when it was implied that the offensive line didn't do its job. "I'm not singling anybody out," Douglas said. "We win as a team. We lose as a team. We glorify each other as a team. And we're going to fix it as a team. I think everybody across the board -- offense, defense and special teams -- we all could have did something better to win this football game and step up."
Top target:
Speaking of Douglas, he finished with another stellar effort in the loss, catching 12 passes for 121 yards. He was targeted a team-high 18 times. The effort came a week after Douglas posted a career-high 149 receiving yards against Tampa Bay. With
Julio Jones
out for the season following foot surgery and
Roddy White
missing his second straight game due to hamstring and ankle injuries, Ryan looked to Douglas often. The Falcons need Douglas to continue that production when White returns to the lineup.
Drew Davis
, who had a career day versus the Cardinals with five catches for 77 yards and a touchdown, also could be a key part of the equation when White returns.
Tight spot:
Tony Gonzalez
caught three passes for 26 yards to extend his streak of consecutive games with a catch to 202. But all the talk over the next two days will likely relate to whether the Falcons might consider trading Gonzalez to a contender so he can have the chance to retire with a Super Bowl ring. Gonzalez maintains he wants to finish things out in Atlanta, but he's obviously frustrated by the team's 2-5 mark. Ryan was asked if he talked to Gonzalez following Sunday's game. "Talked to him briefly and same as after we lost in the past," Ryan said. "I think everybody takes it personal. He certainly does, and I do. I think the message across the board is that we just have to get back to work."
Rotating line:
When defensive coordinator Mike Nolan addresses the media on Tuesday, he's sure to be asked about his defensive line rotation. Against the Cardinals, veteran starters
Osi Umenyiora
and
Jonathan Babineaux
were pulled from the lineup on a few series, including when Ellington broke loose on that 80-yard touchdown run.
Cliff Matthews
and
Peria Jerry
were on the field with Peters and
Jonathan Massaquoi
. Babineaux said it was just the rotation that was decided upon. We'll see how that rotation pans out for the remainder of the season.
October, 24, 2013
Oct 24
7:00
AM ET
FLOWERY BRANCH, Ga. – Another player might have taken offense to the subtle criticism.
Atlanta Falcons
defensive tackle
Jonathan Babineaux
took it as sound advice.
Babineaux realizes he needs to step up his production in terms of sacks. Some words from defensive coordinator Mike Nolan reinforced the fact. Nolan said Tuesday he wished Babineaux made more plays in the backfield.
Babineaux
"He gets in the backfield as much as anybody I've ever been around," the coach said. "But damn, it's only about half the time that he's getting them down."
Babineaux agreed.
"That's my daily motivation: I don't have any sacks right now," Babineaux said. "I know I can get back there and get pressure. It's all good. But it's better when you have sacks."
Babineaux recorded 22.5 sacks in his first eight seasons and 49.5 tackles for loss, the most tackles for loss by a defensive tackle since 2005. He had 3.5 sacks last season and a career-high and team-leading six in 2009.
Through six games this season, he has no sacks and one tackle for a loss in 341 defensive snaps. Babineaux has played 83 percent of the snaps or more in five of six games.
Although the Falcons are starting to rotate more bodies along the defensive line, Babineaux doesn't need to look over his shoulder. He simply has to produce.
"It's all about production," Babineaux said. "I've been doing this for years. Ain't nothing better than getting the guy down in the backfield. I've been hitting the quarterback a lot lately, but [I've] just got to get him when he's got the ball in his hands.''
Nolan, of course, wants more consistent pressure from his front four as a whole. The Falcons have 14 sacks, led by defensive end
Osi Umenyiora
with four. But six of those sacks have come from linebackers and defensive backs.
Currently, the Falcons stand 25th in the league in sacks per pass play. On Sunday, they'll face an
Arizona Cardinals
team that has allowed quarterback
Carson Palmer
to be sacked 20 times so far this season.
October, 22, 2013
Oct 22
7:30
PM ET
FLOWERY BRANCH, Ga. -- Much was made of Falcons defensive coordinator Mike Nolan's decision to leave the coaching box and be on the sideline last Sunday.
Nolan plans to do the same this week at Arizona. Then he'll decide week-to-week whether or not to continue the same regime.

Some wondered if Nolan's presence truly made a difference for a defense that showed improvement against Tampa Bay thanks to some timely blitzes, yet still had a few hiccups. Nolan refused to pat himself on the back for the transition. He did, however, believe it helped him in terms of communicating with his players.
"We do have a young group, and I thought in calling the game, I'm much more helpful if I can be on the field to do that same thing because I can relay the things that I have to people right there in their face," Nolan said. "I wasn't leaving anything behind by leaving the booth."
Nolan was asked to assess the results of the move following his team's 31-23 victory over the Tampa Bay Buccaneers.
"Well we won the game, I feel good about that," he said. "If we hadn't won the game, I'd probably be back up in the booth."
Nolan illustrated the benefit of being on the field rather than on the sideline. The Falcons started three rookies and played four others.
"When you're up in the booth, the only way I can communicate with the guys is to get on the phone, get somebody to get them to the phone, and talk to them," Nolan said. "Well, they're tired. They want to sit. For them to have some guy come and say, 'Hey, coach wants you on the phone,' they go up and get the phone, they don't know when they're walking to the phone what they're going to get. They don't know if they're going to get somebody yelling in their ear. Plus there's not that face-to-face, 'Listen, here's what's going down.'
"When you're on the sidelines with all the players, if I had something on my mind I want to tell ... like in the booth, I might only call down 15, 20 percent of the time. I also put myself in their shoes. I want to leave them alone because they're in the game. When you're on the field, if there's something on my mind, I can go over and share with a guy.''
Nolan related his thoughts to a specific game situation.
"We're getting ready for two-minute (drill), I know what I'm going to call ... I can't call everybody on defense (from the box) and say, 'Hey guys, here are the calls. Everybody get ready.' So this way, I can group them all up, 'Here's what you're look at. I'm calling this, this, and this.' "
Time will tell if the defense will continue to respond to Nolan's presence.