Atlanta Falcons:

Mike Tice
April, 23, 2014
Apr 23
6:00
AM ET
Seeing new defensive end
Tyson Jackson
toss 120 dumbbells around like trash bags Tuesday was a positive sign for an
Atlanta Falcons
team desperately in need of some heavy lifting.
Yet such strength means nothing if the Falcons fail to use it to their advantage on the field. Just ask general manager Thomas Dimitroff.
"It's functional strength," Dimitroff said this offseason. "Our guys were considerably stronger last year than they were the year before, interestingly enough, and we had some challenges with it. What I'm saying it, yes, we're going to continue to focus on strength increase. But it's the functional strength. It's being able to put them in the right spot to utilize their strength."
[+] Enlarge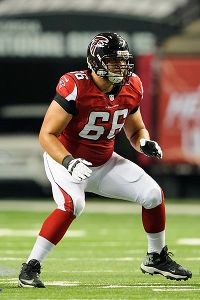 AP Photo/Paul AbellPeter Konz, who was pushed around at times last season, has "been living in the weight room."
That will all come in time. For now, the Falcons are using offseason workouts to get their bodies prepared for what should be a more physical 2014 campaign.
Coach Mike Smith seemed a bit more animated Tuesday as he explained part of the formula would be for winning the line of scrimmage, on both sides of the ball.
"One of the emphasis points for us as a coaching staff was to evaluate everything that we do," Smith said. "One of the things that became very apparent for us was that we need to get bigger and stronger. I think we've started doing that with our players. ... It's going to be very important for us to be a much bigger and stronger football team."
Smith is counting on AJ Neibel and his strength-and-conditioning staff to produce results as the Falcons go through Phase I of the offseason workout program. Smith and the other coaches are not allowed to oversee activity during the first two weeks, which started Monday.
"The offseason program has changed," Smith said, again emphasizing the bigger-stronger campaign. "If you'll look back and look what I said the very first time I was here in this room -- not in this room but over in that team meeting room -- I talked about what it takes to win in the National Football League. And I believe I said that you have to win the line of scrimmage. You have to have bigger and stronger players than your opponent. I feel like we've lost our way. I've lost my way a little bit.
"And the emphasis moving forward is going to be a bigger and stronger football team. And we're going to win the line of scrimmage."
Adding big, physical players such as offensive guard
Jon Asamoah
, nose tackle
Paul Soliai
, and Jackson were the first steps toward improvement. New offensive line coach Mike Tice immediately encouraged center/guard
Peter Konz
to bulk up, and Konz, who was pushed around more often than not last season, responded by "living in the weight room" so far this offseason.
"I think it's more for the younger guys," Tice explained in January, during a break at this year's Senior Bowl practices. "I think the younger guys, as they grow into their bodies and they stop growing and they start maturing, physically, I think that they get stronger and take a big leap and not only take a big leap with strength, but when they gain strength, they gain confidence.
"I see us in a couple different areas needing to gain that confidence. And I think a good offseason in the weight room will help some guys."
The first two players quarterback
Matt Ryan
mentioned Tuesday in terms of working hard in the weight room were tackle
Lamar Holmes
and Konz. The Falcons' offensive line obviously failed at the line of scrimmage last season as Ryan was the most pressured quarterback in the league.
"I think everybody takes a good, hard look in the mirror when things go well and then also when things don't go well," Ryan said. "And I know that's one of the most important things for me as a player and as a professional is to take a good, honest evaluation of yourself after a season and try and find areas that you can improve. And so those guys, they've made a conscious effort to get into the weight room and to move weight.
"We're not naive. Those guys (the offensive linemen) have taken some heat. And they've had to answer questions and tough questions all of last season and through the offseason so far. And I think they've taken it as a challenge. And they're in there working as hard they possibly can. I've been really impressed with the way they've handled it professionally and also how they have taking it personally, too, and want to become better and are doing everything that they can in order to improve."
Konz appears to be taking things personal. But again, he understands it's about more than just bulking up.
"You know what? We never talk about strength in the film room because it's all about technique," Konz said near the end of last season. "If you open up any book, it's all about leverage. And strength is important when you know how to use it with your footwork.
"Strength is very important, when used in combination with technique. That's what most important: lowest man wins. If you've got your hands on somebody and you've got them, they're going to have a hell of a time trying to get away from you."
If the Falcons don't improve up front, the season could get away from them again.
February, 19, 2014
Feb 19
10:40
AM ET
There's no pressure on new
Atlanta Falcons
offensive lineman
Gabe Carimi
. Not this time.
When Carimi entered the league in 2011, high expectations followed him as the
Chicago Bears
' first-round pick and the 29th overall selection. He was the starting left tackle and Outland Trophy winner at Wisconsin, the same school that produced five-time All-Pro and perennial Pro Bowler
Joe Thomas
.
[+] Enlarge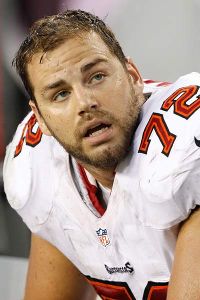 Kim Klement/USA TODAY SportsThe Falcons have signed OT Gabe Carimi, a former first-round pick of the Bears in 2011, to help add depth to the line for next season.
The folks in Chicago expected Carimi to come in and give the Bears an immediate jolt. Instead, he suffered an immediate setback, dislocating his right knee cap in the second game of his rookie season against the
New Orleans Saints
-- the week after he made his NFL debut against the Falcons. He then dislocated it again tripping over an item in the Bears' training room.
"It was just having to go through the process of things taking longer than it should," Carimi said of his bout with knee issues. "When it's an injury that you haven't dealt with and it takes longer than you want … and then knowing that you're not able to do what you're capable of doing, it's frustrating. But I feel like I'm kind of leaving all that stuff in the past now and moving forward. I feel healthy now. That's all that matters."
Whatever the Falcons can get out of Carimi will be a bonus. He started 16 games in two seasons with the Bears before being trading to Tampa Bay in exchange for a sixth-round draft pick. He was then released by the Buccaneers shortly after Lovie Smith, who coached Carimi with the Bears, took over as the Bucs' new head coach.
One Chicago tie helped bring Carimi to Atlanta. New Falcons offensive line coach Mike Tice held the same role with the Bears and always expressed faith in Carimi. Tice had also vouched for Carimi before he was drafted. Tice's son, Nate, was a reserve quarterback at Wisconsin and teammate of Carimi's.
"I feel like he's helped give me a good opportunity to have a positive impact on this team," Carimi said of Coach Tice. "I know there's lot to prove, and I feel like I can prove it."
It's a low-risk situation, from the Falcons' perspective. Carimi signed a one-year and was added to provide depth on the right side of the line, not to assume a starting role. Carimi could play either right tackle or right guard, and even played some jumbo tight end last season with the Bucs.
"I really doesn't matter where I am," Carimi said. "Whenever they feel I can help impact the team, that's where I want to be."
Tice obviously believes he can motivate Carimi into being a contributor for a line that struggled miserably last season.
Garrett Reynolds
, formerly the Falcons' starting right guard, was released Tuesday. The future of former starting center
Peter Konz
, Carimi's roommate at Wisconsin, remains in doubt, although Konz apparently is living in the weight room this offseason.
The Falcons seem likely to add a starting-caliber guard in free agency, with starting tackle
Sam Baker
back from injury, and they could target an offensive tackle such as Auburn's
Greg Robinson
and Texas A&M's
Jake Matthews
with the sixth-overall pick in the draft. Such a trio of linemen would be counted upon heavily.
Anything from Carimi would exceed expectations, although critics would say he has little to offer.
"I don't read too many articles, so I don't look at expectations like that," Carimi said. "I just want to be the best I can be."
January, 21, 2014
Jan 21
5:41
PM ET
MOBILE, Ala. -- For now, new
Atlanta Falcons
offensive line coach Mike Tice is focusing his attention on draft prospects while helping to coach the Senior Bowl's North roster.
Blalock
Baker
Tice, however, already got a jump on dissecting some of the linemen he has returning next season.
Specifically, Tice noted left tackle
Sam Baker
and left guard
Justin Blalock
.
"I felt like when Baker was healthy, he played at a very high level," Tice said. "Of course, he's been a tried-and-true player. The Falcons can win and have won a lot of games with him. I felt like Blalock was in that same mold. He's a player we can win football games with, week in and week out.
"But in that regard, I think both players have some things that they need to work on. I think we can get everybody in the room better. As we take each guys in the room and get him better, then collectively as a group we'll get better."
Tice expanded on his goal for the offensive line in 2014 and the challenges he faces.
"I think we have to learn how to finish better," Tice said. "I think we have to have our young guys take a big step and improve, and they will. And really, I just want to make sure that they're playing the game with bad intentions. Nastiness is created by work habits. And work habits create that great finish. And that great finish creates people saying, 'Gosh, they're tough.' They're only talking about their finish when they say they're tough."
January, 8, 2014
Jan 8
1:45
AM ET
If the
Atlanta Falcons
wanted to bring a little toughness to the offensive line, Mike Tice was the right guy.
A source confirmed to ESPN.com that
Tice agreed to a two-year deal
to become the team's offensive line coach. The one-time
Minnesota Vikings
head coach took a year off this season, trying to enjoy a relaxing life in the Seattle suburbs with his wife, Diane, after being let go by the
Chicago Bears
. But even as he watched the 2013 season from afar, the 54-year-old Tice maintained a burning desire to be on the field working hands-on with the guys up front.
No, Tice's first stint as an offensive coordinator in 2012 didn't pan out, and he learned some valuable lessons from the experience. However, there was no doubt what type of impact Tice had while coaching the Bears' offensive line for two seasons prior to being promoted to coordinator. He got the most he could out of marginal talent.
[+] Enlarge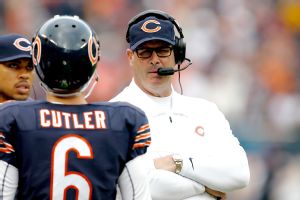 AP Photo/Scott BoehmMike Tice will be the Falcons' next offensive line coach after agreeing to a two-year deal.
One former member of the Bears staff told me Tuesday night that Tice was one of the best assistant coaches the team had under Lovie Smith, partially because Tice "didn't take any crap.'' Tice refused to put up with
Jay Cutler
's stubborn behavior, although Cutler won out in terms of remaining with the team.
But Tice's latest endeavor isn't about a coordinator's relationship with his quarterback. It's about a position coach motivating a group of five to play tough while remaining in unison.
I'll never forget what Tice told me in November of 2011 when he discussed harping on his offensive linemen about keeping their hands high, maintaining good balance, not crossing over, not bringing the feet together, and keeping the helmet out.
"They get sick of hearing about it,'' he said. "They have to do those five things in sequence so when we're slowing down the tape, they look like, 'The Rockettes.' ''
The Falcons line has looked more like the "Three Stooges'' as of late, with a comedy of errors. It contributed to quarterback
Matt Ryan
being sacked a career-high 44 times this season. And the line's inability to consistently block was the main reason the Falcons finished dead last in the league in rushing at just 77.9 yards per game.
The organization obviously was tired of the line being the laughing stock, which is why offensive line coaches Pat Hill and Paul Dunn were let go at season's end. Team owner Arthur Blank even agreed the Falcons needed to get tougher up front.
Tice, a long-time NFL tight end who actually played quarterback in college at Maryland, developed a knack for offensive line play over the years. He learned under great offensive line instructors such as Joe Bugel, Howard Mudd, Jim Hanifan and Chuck Knox. Tice translated that wealth of knowledge into tutoring the likes of Pro Bowl linemen such as
Matt Birk
,
Korey Stringer
, and
Todd Steussie
with the Vikings.
Now, Tice inherits a line lacking Pro Bowl-caliber players. No one is expecting him to perform miracles, and the Falcons obviously need to add more talented linemen for Tice to work with moving forward. But no matter which players are in his group come the start of the season, he won't be afraid to get it any of their faces.
Yes, it's the kind of toughness the Falcons sorely need.
December, 30, 2013
12/30/13
10:50
PM ET
FLOWERY BRANCH, Ga. -- When
Atlanta Falcons
general manager Thomas Dimitroff and head coach Mike Smith met the media Monday, they were careful not to single out any individual for the team's 4-12 implosion.
In fact, Smith said the responsibility "solely goes on me" in terms of not fulfilling expectations.
However, both Smith and Dimitroff made it clear how significant not winning the line of scrimmage was in terms of the team's demise. So it was no surprise when the Falcons parted ways with offensive line coaches Pat Hill and Paul Dunn as well as defensive line coach Ray Hamilton Monday evening.
The Falcons sorely need to get better up front, and adding better linemen is just one step in the process. Dimitroff said he has no desire to be a finesse team, so the Falcons need to find line coaches capable of bring out the "nastiness'' in the team's offensive and defensive linemen.
[+] Enlarge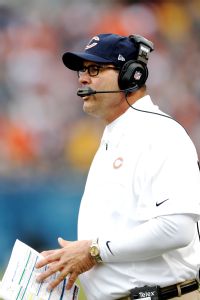 AP Photo/Scott BoehmMike Tice has worked with Falcons coach Mike Smith and offensive coordinator Dirk Koetter before.
With so much coaching turnover on "Black Monday'' there are sure to be plenty of options available. And at least one free-agent coach is interested in bringing his expertise to Atlanta.
Former
Minnesota Vikings
head coach Mike Tice, who was last the offensive coordinator in Chicago but took a year off from coaching, has a strong desire to work with the Falcons offensive line, a source told ESPN.com. Tice didn't have much success as a coordinator, but he did show plenty of passion while tutoring a below-average Bears' offensive line.
Not to mention Tice worked with both Smith and Falcons offensive coordinator Dirk Koetter in Jacksonville, so there is some familiarity.
However the Falcons proceed, they need to spend every ounce of their offseason energy trying to improve every aspect of their line play, on both sides.
Dimitroff was asked specifically what went wrong with the offensive line this past season, as quarterback
Matt Ryan
was sacked a career-high 44 times and the running game ranked dead last in rushing yards per game.
"I believe where things went awry offensive line-wise is more the missed assessment on the readiness of this offensive line to play together as a unit,'' Dimitroff said. "I thought over and over how I could summarize that, and that's what I came up with.
"I think individually, we have some players that are developing along the offensive line that, we think, have upside. Some were challenged more than others this year. Some played, at times, well, other times, struggled. And we're going to do all in our power to make sure that we correct that at many levels.''
Dimitroff went on to talk about future acquisitions and the coaches doing a better job developing players -- somewhat foreshadowing the coaching changes. Although Dimitroff sounded somewhat hesitant about breaking tradition and addressing offensive line needs with spending spree in free agency, he didn't rule out making such a move. Some of the names expected to be available include
Branden Albert
,
Michael Oher
, and
Anthony Collins
, to name a few.
Plus the Falcons hold the No. 6 pick in the draft, so the belief is they'll look to fill a void on either the offensive or defensive line. Speculation has focused on South Carolina defensive lineman Jadeveon Clowney and Texas A&M offensive tackle Jake Matthews, if either remains available and if the Falcons keep their current spot in the order.
But based on Dimitroff's assessment, targeting a pass-rusher would take priority over drafting another first-round offensive lineman. Since 2008, the Falcons have spent a first-round pick (
Sam Baker
), a second-round pick (
Peter Konz
) and two third-round picks (
Mike Johnson
and
Lamar Holmes
) on offensive linemen.
"That's been our approach because we believe that you do not necessarily have to go extremely high in the draft to acquire, because that's a position where you're going to continue to develop your football players,'' Dimitroff said of offensive line prospects.
"We're not going to second guess or question what we've done from an offensive line standpoint. We do believe that we have talent along the offensive line that will continue to develop. With that, they need to continue to develop on their own as well as with our coaching staff encouraging them and pushing them to be the best that they can be. That's important for us.''
The general theme here is clearly evident: It's all on the line for the Falcons.