Atlanta Falcons:

Paul Soliai
May, 15, 2014
May 15
11:00
AM ET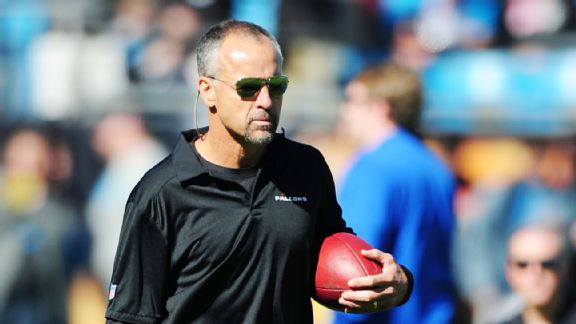 Scott Cunningham/Getty ImagesFalcons defensive coordinator Mike Nolan won't be lacking depth up front in 2014.
The
Atlanta Falcons
aren't panicking -- at least not yet -- over their inability to secure a top pass-rusher this offseason.
Sure, it would have been a nice luxury to land a proven talent such as
Brian Orakpo
or even a promising rookie such as
Jadeveon Clowney
,
Khalil Mack
or
Dee Ford
. But the Falcons have a game plan, regardless of what outside perception might say.
The coaches and players fully understand the urgency. They know how pathetic the pass rush was last season, when the Falcons sacked or put quarterbacks under duress on just 22.4 percent of dropbacks, second-worst in the NFL. Not to mention the Falcons allowed opponents to convert 45.93 percent on third down, resulting in the league's worst third-down defense.
You know you're in trouble when you make
Geno Smith
look like an All-Pro.
So how are things supposed to improve? There is plenty of reason to be skeptical, including the absence of a speed-rusher. But I believe a collective effort will help the Falcons take significant strides with their defensive pressure and compensate for the lack of an elite pass-rusher.
[+] Enlarge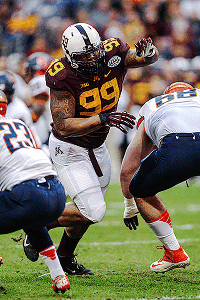 Troy Taormina/USA TODAY SportsAthletic rookie Ra'Shede Hageman could give a boost to the Falcons' pass rush in 2014.
Really. I do.
Altering the defensive approach is the first step. Although coach Mike Smith continues to preach defensive multiplicity without revealing much detail, the Falcons
will
have more of a 3-4 look in 2014. Believe that. It was obvious when players started talking about it immediately after last season. Then the Falcons added bulky nose tackle
Paul Soliai
and defensive end
Tyson Jackson
up front. Drafting defensive end
Ra'Shede Hageman
was further confirmation.
Think of it more as the Falcons building toward a 5-2 alignment, with three linemen and two outside linebackers getting pressure. As long as the Falcons can do so with consistency, they'll be fine.
The Falcons hope that having heavy hitters up front will create more stress on opposing offensive linemen and open lanes for the linebackers to make plays. And if he develops quickly, Hageman has the potential to be an outstanding inside rusher and a
J.J. Watt
-type pass-deflector. He is the wild card in this whole equation. He'll be motivated by fiery defensive line coach Bryan Cox.
In regard to the true pass-rushers, the Falcons have plenty of faith in third-year player
Jonathan Massaquoi
, who had four sacks last season and has played defensive end. His athleticism should be on display more often from the outside linebacker spot in 2014. Massaquoi told me this offseason that he feels the need to atone for not taking advantage of his opportunities last year.
Stansly Maponga
and rookie
Prince Shembo
are the other two young players that intrigue me. Both have pass-rush ability, although Maponga was used sporadically last season. Folks who watched every game Shembo played at Notre Dame believe he is a much better pass-rusher than run defender or coverage guy.
And don't forget about veteran
Osi Umenyiora
. He led the team with 7.5 sacks but wore down as the season went along. Yes, he's 32 years old and his best days are behind him. But the Falcons could get a lot out of him as a strictly designated pass-rusher, the same role he played at the end of last season. Umenyiora has spent a significant amount of time trying to improve his technique and speed this offseason. To me, that sounds like a veteran determined not to go out with a thud.
When guys like Massaquoi, Maponga and even Umenyiora don't have to bang against offensive tackles regularly, like they did most of the time in a typical 4-3 alignment, they'll be fresher and able to sustain a consistent pass rush. The defensive linemen also should benefit from a strong rotation, considering the Falcons brought back
Jonathan Babineaux
,
Corey Peters
and
Peria Jerry
while adding Soliai, Jackson and Hageman.
There will be an adjustment period all around, particularly for those players getting accustomed to standing up rather than playing with their hands in the ground. The guy who shouldn't flinch is
Kroy Biermann
, who has experience in both roles. But Biermann -- who played just two games in 2013 because of an Achilles injury -- will be counted upon more against the run than the pass.
Of course, let's not forget the key figure in this whole equation: defensive coordinator Mike Nolan. Last year wasn't indicative of what type of defensive mind he is. He's had success in the past out of a 3-4 base. He couldn't be too "multiple" last season, based on personnel. Nolan knows how to disguise coverages and dial up blitzes, when needed. And he'll have more to work with this season, including more capable bodies to sub in and out to keep the pressure consistent.
When you talk about facing the likes of
Drew Brees
and
Cam Newton
twice a year and having to contend with a pair of 6-foot-5 receivers in Tampa Bay's
Vincent Jackson
and
Mike Evans
, it only emphasizes the importance of pressure for a Falcons team trying to return to playoff contention. It won't be about a guy such as Massaquoi suddenly exploding with double-digit sacks, though the Falcons would take it. It will be more about consistency, getting contributions from a number of different players, and keeping bodies fresh over the duration of 60 minutes.
A more balanced offensive attack with a little more emphasis on the run surely wouldn't hurt in terms of keeping the defense off the field. But when it comes down to it, the Falcons' defenders have to pin their ears back and have the desire to get after it.
The pressure is on.
April, 1, 2014
Apr 1
11:30
AM ET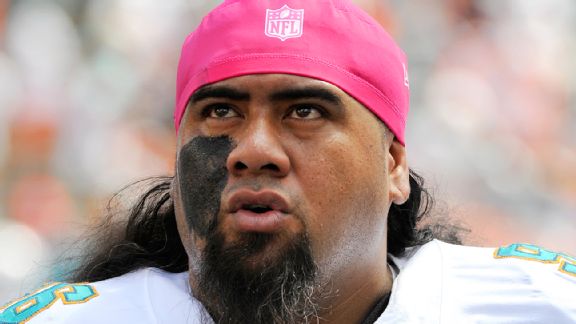 Doug Murray/Icon SMIAfter seven seasons in Miami, Paul Soliai will begin a new chapter in Atlanta.
Suddenly, there was silence.
The team on the phone line had to be thinking all sorts of random thoughts at that moment. Was something said to make negotiations fall apart? Was another team trying to call and get in on the action? Was a cell tower down in the area?
No, there was a simple explanation why agent David Canter's conversation with
Atlanta Falcons
contract negotiator Nick Polk got cut off while they discussed 30-year-old nose tackle
Paul Soliai
.
Blame it on the baby.
"I was holding my 2-year-old son, Austen, because we were talking very early in the morning, and my son pressed the button and hung up on them," Canter explained with a laugh. "I called Nick right back because I didn't want him to think I hung up on him."
Their contract talks got back on track in a big way. Canter's numerous discussions with Polk and the Falcons during the three-day NFL negotiation period resulted in a five-year deal for Soliai worth $33 million, with $14 million guaranteed -- somewhat defying the odds of age and position.
Canter was on a pirate-ship cruise with his wife and sons in Fort Lauderdale, Fla., when multiple teams, including the Falcons,
Minnesota Vikings
and
Indianapolis Colts
, started to inquire about Soliai on March 8.
"We were docking at 12:08 p.m. that Saturday when the first call came in," Canter recalled. "I really don't remember what team it was because I literally hung up the phone on them to take a call from another team. I honestly didn't expect a phone call Saturday right after noon."
A big part of Soliai wanted to remain with the
Miami Dolphins
, who drafted him in the fourth round out of Utah in 2007. But there was a natural fit in Atlanta, where his former defensive coordinator for the Dolphins, Mike Nolan, now holds the same title.
"When you're Mike Nolan and you're [general manager] Thomas Dimitroff and you're sitting there in your meetings and you're talking about moving to a 3-4, you need an anchor for a 3-4," Canter explained. "There's no better anchor, in my opinion, than Paul Soliai."
Here is the evolution of Soliai's free-agent contract through the eyes of the guy who negotiated it.
Testing the market
They had been through this process before.
In 2012, Canter and Soliai had thoughts of moving on from Miami. In fact, they were set to take a free-agent deal with the
Denver Broncos
. But the trip to Denver was canceled at the last minute.
"Paul looked me in the eyes and said, 'I'm not comfortable leaving Florida,'" Canter recalled. "He said to me, 'I know you're close to terms with the Broncos, but call Miami and tell them I want to come back.' So we took a two-year, $11.5 million contract to remain in Miami."
Signing just a two-year deal allowed Soliai to test the market again this offseason. Canter tried to facilitate an extension with the Dolphins, but it never materialized. He said he met with former general manager Jeff Ireland in the parking lot following Miami's loss to the
New York Jets
in the 2013 season finale. Ireland told Canter that Soliai was one of the Dolphins' top three offseason priorities. But Ireland and the team parted ways in January.
So Canter felt somewhat in limbo with a client who wanted to stay put, yet likely wasn't going to be offered the compensation he desired.
"I actually needed a number from Miami in August," Canter explained. "We had a three-year extension on the table, but the major issue was guaranteed money."
Canter felt Soliai was taking a chance by playing the '13 season without an extension. The agent's worst fear almost became a reality when Soliai suffered a knee injury in Week 2 against the Colts. It knocked him out of just one game -- against, coincidentally, the Falcons.
The Dolphins, under new general manager Dennis Hickey, apparently made another attempt to re-sign Soliai the Friday before free agency began. Canter said the offer was similar to the two-year, $12 million deal defensive tackle
Randy Starks
accepted to remain in Miami.
When contacted for this story, the Dolphins declined to comment on their talks with Soliai.
Canter knew what type of money he desired all along. He huddled with his analytics consultant, Brian McIntyre, at season's end and figured $6 million to $8 million per year would be the price range for Soliai.
Atlanta, intent on beefing up both the offensive and defensive lines, made the most sense. Soliai's lone Pro Bowl season came under Nolan in 2011. And current Falcons defensive line coach Bryan Cox was the Dolphins' pass-rush coach that same season.
"With Atlanta, we heard rumors that there might be a change to a 3-4, so we started really looking at Atlanta as possibly an attractive team in January," Canter said. "But you really don't know until you get to Indianapolis at the combine because teams want to see the other defensive linemen that are out there."
Canter proclaimed himself open for business at the combine by hand-delivering analytics packages he developed with McIntyre that broke down all 12 of his free agents, including Soliai. The information also was distributed via email to all 32 teams before the combine.
The section devoted to Soliai emphasized that teams shouldn't focus on him being an aging guy playing an undervalued position.
"The first thing you had to fight wasn't the position; the first thing you had to fight was the age," Canter said. "There's ageism in the NFL. There's this belief that a player that is 30 years old just isn't worth any money anymore, or not nearly as much money."
Soliai hadn't necessarily taken the pounding you would expect from a seven-year interior lineman. He played just 45.7 percent of the Dolphins' defensive snaps in 2013.
"The reality is that snap count is what matters," Canter said. "Now, that can be a positive and a negative for Paul. He didn't, for whatever reason in Miami, play on third down a lot. So some teams would say, 'He's not a three-down player.' I disagree with that. Paul disagrees with that. We've proven when he is in on third down, with our analytics packages, that the team actually performed better."
Soliai missed only one game the past four seasons, which Canter pointed to as a sign of durability. Even after the brief knee scare in 2013, the tandem felt little to worry about in free agency.
"This guy doesn't have an injury history," Canter said of Soliai. "To use Paul's quote, 'I'm Samoan. We don't get hurt.'"
Sealing the deal
By Monday, March 10, the eve of free agency, Canter believed the Falcons would be the major player in the Soliai deal. There were a few more discussions with Polk, including one during which Dimitroff jumped on the line for 10 minutes. Canter figured he would get at least the $6 million per year range from the Falcons with at least $10 million guaranteed. He said seven teams total inquired about Soliai.
"Monday afternoon, I started to get the feeling that I was going to lose teams," he said. "I thought I had another team that I was going to really be able to play against Atlanta. Obviously, I couldn't call them because I'm going to lose leverage.
[+] Enlarge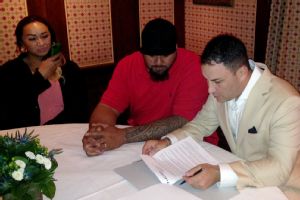 Courtesy of DEC ManagementSoliai and his agent, David Canter, reviewed the nose tackle's contract at an Atlanta restaurant.
"So Monday afternoon, after I hung up the phone with Nick, I started sending text messages to teams and said, 'Hey, if you want in on Paul, here's the range we're going to be in. Can you beat that? Can you get to $6.5 [million average per year]?'" Canter said. "A lot of teams, they won't say no, flat out. They'll say, 'We have something else working. If we don't get that done, we're coming to you.' That's not good enough for me."
Once Tuesday came, Canter and Soliai knew it was all but a done deal. Late that afternoon, Canter tried to push for a little more.
"There was a point in time when the Atlanta deal almost went away," he said. "I was set on $8 million a year for the first two years. Obviously, Atlanta wasn't going to go there. And we didn't get there. But we got $7 million a year. So, then I pushed for $15 million over two years fully guaranteed. During those conversations, I felt like we had to pause and reset and they had to pause and reset."
The sides eventually agreed to the five-year deal with $11 million going to Soliai in the first year.
Without discussing financial terms, Dimitroff explained the negotiations from the Falcons' perspective.
"When going through any negotiation, the ultimate goal is to reach a deal that is mutually beneficial for both the team and the player," Dimitroff said. "I think the three-day period in which you can talk with agents has become very beneficial for both sides. It is important to have constructive and honest dialogue during that time. And if that is the case, it can help you when free agency begins."
After the deal was done, Canter texted Miami out of courtesy, and he said the response back was, "Tell Paul we wish him the best of luck."
When the agreement was announced, Canter was watching with McIntyre on ESPN and actually negotiating the delivery of a Range Rover to another client,
Kansas City Chiefs
cornerback
Sean Smith
.
"I had to get free window tinting thrown into the deal for Sean because the truck was late being delivered," Canter said.
Soliai still had some questions that needed to be answered, such as where the nearest Wal-Mart or Super Target was located in relation to the Falcons' facility and how he could avoid the "challenging" traffic in the city. He nixed the possibility of living in a subdivision popular among the players because it wasn't close enough to a grocery store.
Any last-minute concerns Soliai had calmed when he saw the contract numbers in front of him. The final step in the process occurred at the popular Bones restaurant in the Buckhead area of Atlanta. Soliai, his family and Canter dined with a group that included Dimitroff, assistant general manager Scott Pioli, head coach Mike Smith, Polk, Nolan and Cox. As Canter dug into a bone-in filet and Soliai into a veal steak, Canter reiterated to Soliai how fortunate he was to join such an organization.
"There are so many amazing football minds in that building, and that's kudos to Thomas Dimitroff, Mike Smith and [owner] Arthur Blank for putting together a hierarchy of coaches and front-office people who have been either general managers or head coaches or pro personnel directors," Canter said. "It blew our minds at dinner."
Canter and Soliai scanned the contract details at the dinner table. Canter tried to go line by line over the contract, but Soliai just wanted to sign.
"Ever since I signed with David, I've been in good hands," Soliai said. "My family has been taken care of."
So now Soliai was set to call Atlanta his new home. He mentioned renting out his place in Florida because he already has a residence back in Utah.
As for Canter, he didn't leave town without making one final push: He tried to nudge the Falcons to sign more of his free agents, including safety
Steve Gregory
and cornerback
Brice McCain
.
"I went up to Thomas Dimitroff and [director of player personnel] Lionel Vital and I was like, 'Let's do another deal. Let's get another guy in the building,'" Canter said. "Maybe I'm a little too aggressive. But that's why guys hire me."
March, 25, 2014
Mar 25
11:35
AM ET
New
Atlanta Falcons
return man
Devin Hester
said he's not the type of player to come in and demand a jersey number if it's already taken.
Hester
Hester wore No. 23 as a member of the
Chicago Bears
, but that number is taken by cornerback
Robert Alford
in Atlanta. So Hester decided to go with No. 17, as the Falcons announced Tuesday morning.
Hester wore No. 4 in college at Miami. He was allowed to wear No. 23 with the Bears after starting his career as a defensive back. There was some talk that he might have to give up the number once he became a primary receiver, but Hester was allowed to keep it.
NFL rules allow receivers to wear the Nos. 10-19 and 80-89, so Hester is compliant with his new number.
In terms of the other newcomers signed in free agency, all four will wear different numbers: nose tackle
Paul Soliai
(from No. 96 to No. 97), defensive end
Tyson Jackson
(from No. 94 to No. 99), offensive guard
Jon Asamoah
(from No. 73 to No. 75), and cornerback/returner
Javier Arenas
(from No. 35 to No. 28).
March, 12, 2014
Mar 12
9:20
AM ET
Soliai
The
Atlanta Falcons
landed one of their top free-agent targets when they hauled in big nose tackle
Paul Soliai
from the
Miami Dolphins
.
There were a number of interested teams, but the
Falcons were willing to spend the money on Soliai
, who received a five-year deal worth a max value of $33 million, and $14 guaranteed.
The Falcons entered free agency with about $18.5 million in cap space and freed up another $10 million by releasing
Tony Gonzalez
and
Thomas DeCoud
. Added to Soliai were the signings of
Tyson Jackson
,
Jon Asamoah
,
Jonathan Babineaux
, and
Joe Hawley
. The cap figures for those four are not publicly available just yet.
According to ESPN Statistics & Info, Soliai received a $7 million signing bonus. His average per year is $6.4 million and average over the first three is $6.5 million.
He'll count $5.4 million against the $133 million cap this season.
March, 11, 2014
Mar 11
5:45
PM ET
It was clear from the outset how the
Atlanta Falcons
wanted to approach free agency: Get stronger up front.
The offensive and defensive lines struggled miserably last season. So if money was going to be spent on free agents, it was bound to be spent on offensive and defensive linemen, not safeties or tight ends.
Such was the case when the Falcons agreed to terms with defensive linemen
Paul Soliai
and
Tyson Jackson
, and offensive guard
Jon Asamoah
.
Soliai
Asamoah
Starting with Soliai, the Falcons rewarded the big nose tackle with a five-year contract with a max value of $33 million with $14 million guaranteed, according to a source familiar with the negotiations. The 6-foot-4, 340-pound Soliai immediately becomes the Falcons' most intimidating defensive lineman. And he'll be counted upon to take on double teams and pave the way for the linebackers to make plays with the Falcons expected to move toward more of a 3-4-based scheme.
Jackson (6-4, 296) will be a key figure up front, too. The former third-overall pick in 2009 was drafted by Falcons assistant general manager Scott Pioli when Pioli was the Chiefs' general manager. Jackson reportedly received a five-year deal worth a max of $25 million.
And Asamoah, who also agreed to a five-year deal (financial terms were not immediately available), might be the guy with the biggest burden to carry. The offensive line has been horrendous, allowing
Matt Ryan
to be the league's most pressured quarterback last season. The Falcons hope Asamoah steps in at right guard and develops into a stabilizing force. He is known for his pass protection and should be able to provide support as a run-blocker.
"Jon is a physical, experienced offensive lineman that will add a veteran presence to our offensive line," Falcons coach Mike Smith said about Asamoah.
The Falcons got it right. They addressed the most pressing needs from the outside and also re-signed two other key figures in center
Joe Hawley
and defensive tackle
Jonathan Babineaux
. Hawley should start in the middle with Asamoah and left guard
Justin Blalock
next to him. Babineaux should add depth to the defensive line rotation.
It all could equal a climb back to the top for the Falcons, although other aspects still need to take shape. The release of former Pro Bowl free safety
Thomas DeCoud
means the Falcons have to find a capable replacement next to strong safety
William Moore
. There is still a void at tight end with
Tony Gonzalez
retiring, although
Levine Toilolo
will be counted upon to elevate his game.
More importantly, the Falcons need to look at adding an offensive tackle and pass-rusher, maybe through the draft. The names that immediately come to mind are Auburn offensive tackle
Greg Robinson
, Texas A&M offensive tackle
Jake Matthews
, Michigan offensive tackle
Taylor Lewan
and Buffalo outside linebacker
Khalil Mack
. Right now, the Falcons hold the sixth-overall pick in the draft.
It will make for some interesting decisions to come. But for now, the Falcons made the right choice.
"We were focused on adding pieces along our offensive and defensive lines, and I feel we were able to accomplish that today," general manager Thomas Dimitroff said.
Certainly the Falcons have much more to accomplish.
March, 10, 2014
Mar 10
8:00
AM ET
The potential for a significant change in strategy seems likely to determine how the
Atlanta Falcons
approach the official start of free agency on Tuesday.
There have been whispers among Falcons players about a switch to a 3-4-defensive scheme. Such a move could be a wise one, if the Falcons can put together quality personnel to effectively execute such a defense.
At season's end, head coach Mike Smith said he would evaluate every aspect of the team, including scheme.
Defensive coordinator Mike Nolan brought in some 3-4 principles after joining the Falcons, but his base has been a 4-3 look. When he came over from the
Miami Dolphins
in 2012, many wondered if the Falcons would immediately switch to a 3-4.
[+] Enlarge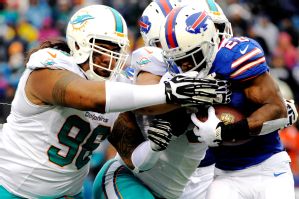 AP Photo/Gary WiepertNose tackle Paul Soliai has found success playing in Mike Nolan's 3-4 scheme before.
"It's my philosophy that you build your scheme around the players, not the other way around," Nolan said back in January of '12. "What has been built (in Atlanta), I think is a very solid foundation on a 4-3 defense."
That was then. This is now.
The Falcons are coming off an atrocious season in which they finished dead last in third-down defense, second-to-last in run defense, and tied for 27th in total defense. They allowed two unheralded running backs -- Tampa Bay's
Bobby Rainey
(163 rushing yards) and Arizona's
Andre Ellington
(154 yards) -- to bust loose for career-best rushing efforts. Stopping the run and eliminating big plays has to be the Falcons' defensive focus in '14.
Asking the current group of players to switch defenses on the fly would be a challenge but manageable. However, adding two or three guys with more 3-4 experience could make such a transition seamless.
If a change is indeed in the works, the Falcons would be smart to look into Miami's
Paul Soliai
, if they haven't made a call about the big nose tackle already. He was an integral part of the Dolphins' defense under Nolan in 2011, when Miami ranked third against the run, sixth in scoring, and seventh on third down.
At 6-foot-4 and 340-pounds, the 30-year-old Soliai would be the ideal guy to help plug the middle for a Falcons defense in dire need of run-stuffers. He takes on double teams with vengeance and has a knack for deflecting passes.
If not Soliai in the middle, maybe the Falcons could turn their attention to veteran nose tackle
Ryan Pickett
(6-2, 340) from Green Bay. Pickett, who turns 35 in October, has been disruptive in the Packers' 3-4 scheme. He could return to Green Bay, however.
In terms of the defensive ends to pair with the nose tackle, one player immediately makes sense:
Tyson Jackson
(6-4, 296). The former third-overall pick was drafted in Kansas City by Scott Pioli, currently the Falcons assistant general manager. Dallas'
Jason Hatcher
, who has experience in the 3-4, also has been linked to the Falcons this offseason. The Falcons also could look at recently re-signed
Corey Peters
as a defensive end in a 3-4 look, provided he recovers from an Achilles tear.
Any talk of a 3-4 might explain why the Falcons would have targeted outside linebacker
Brian Orakpo
as a pass-rusher had he not been franchised by Washington, why they're not in a rush to re-sign veteran defensive tackle
Jonathan Babineaux
, and why defensive end
Osi Umenyiora
reportedly was asked to take a pay cut. Umenyiora essentially wouldn't have a role in such a scheme.
But a 3-4 would accommodate some of the young, athletic outside linebackers/pass-rushers coming out of college these days such as Buffalo's
Khalil Mack
and UCLA's
Anthony Barr
. Such a player could be paired with
Kroy Biermann
, who has experienced in a hybrid role, as the outside linebackers.
Paul Worrilow
and a healthy
Sean Weatherspoon
could comprise the inside tandem, if the Falcons decided to go in the 3-4 direction.
Of course, the Falcons also have some tweaking to do in the secondary, with free safety
Thomas DeCoud
likely to be released. Top free-agent safety
Jairus Byrd
from Buffalo is likely to be out of the Falcons' price range, but they still could look into Byrd, Indianapolis'
Antoine Bethea
, and Carolina's
Mike Mitchell
. The Falcons also could look at veteran defensive back
Champ Bailey
as a nickelback and mentor to young corners
Desmond Trufant
and
Robert Alford
.
The Falcons are $18,649,379 under the cap right now with $7 million more set to be added once retiring tight end
Tony Gonzalez
comes off the books.
Free agency, as well as the possible shift to the 3-4, will determine which way the Falcons lean in the draft